Man overboard is a term used to describe someone who has gone off the cruise ship and requires rescue.
And while it's understandable for people who board a cruise ship to worry about going overboard, actual man overboard incidents are rare, considering how tens of millions of people sail each year without incident.
Man overboard incidents tend to get much heavy media coverage, leading those unfamiliar with the cruise industry to believe it happens frequently.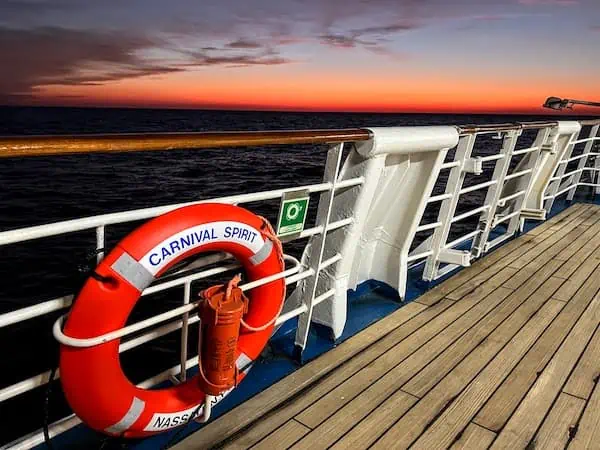 But what, exactly, does a "man overboard" incident entail? How often does it happen? And when someone does wind up in the water, what happens next? This article will explore these questions based on research, expert interviews, and cruise line policies.
What is a man overboard incident?
In simplest terms, a man overboard incident is exactly what it sounds like. Somehow, a person winds up going into the sea and needs rescuing. How they wound up going over the railing is less critical than the need to get them out of the water as quickly as possible.
How often do people fall off cruise ships?
So just how often do people go overboard? As it turns out, an expert in the field can answer that question. Professor Ross Klein of Memorial University in St. John's, Newfoundland, Canada, has been gathering information regarding man overboard incidents since 1995. As of 2023, he has tracked 387 situations in which passengers or crew members on board cruise ships or ferryboats went overboard.
Meanwhile, the Cruise Lines International Association reported 212 man overboard incidents, specifically on cruise ships, between 2009 and 2019. Doing the math, that averages out to around 19 incidents each year. On its face, that can sound quite shocking until you look at the big picture and realize that it's 212 people out of the 224 million took cruises during that time. The odds of hitting the Powerball Jackpot is one in 292 million.
Is it hard to fall off a cruise ship?
Generally speaking, going overboard is almost impossible unless you are doing something you probably shouldn't. Sadly, it's much easier to jump off a cruise ship, which is entirely different (although it still qualifies as a "man overboard" incident.).
Looking at the history of such incidents, most incidents fall into one of these categories:
Alcohol or drug-related
Reckless or irresponsible behavior
Suicide attempts
Foul play
Rough sea conditions
Sadly, in many cases, we never truly know how or why the person went overboard. Most often, they are alone during the incident, which is why it can sometimes be hours before their absence is discovered and the severity of the situation is realized. And as one might expect, these situations often have tragic, fatal endings. Not all man overboard incidents result in a person's death. In July of 2023, a woman tumbled off Mariner of the Seas while attempting to take a selfie and was rescued shortly after.
What happens during a man overboard on a cruise?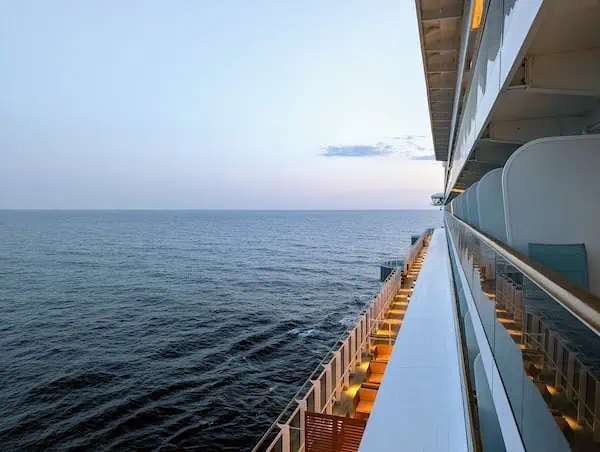 A man-overboard incident will immediately trigger a coordinated, systematic, and ship-wide emergency response designed first to ensure that a man overboard incident occurred as false alarms can happen from time to time. That said, here's a look at what happens during a man overboard incident.
1. Crew response
Once the bridge team is aware of the situation, they will sound the internal alarm followed by the word Oscar three times on the PA system. The words "Oscar, Oscar, Oscar" will be heard throughout the ship, alerting the entire crew to what has occurred.
If the passenger can still be seen, the ship will stop and deploy lifeboats and rescue boats to retrieve them.
A search-and-rescue mission will commence if the passenger is reported missing. Rather than stopping, the ship will return to where it is believed the person entered the water.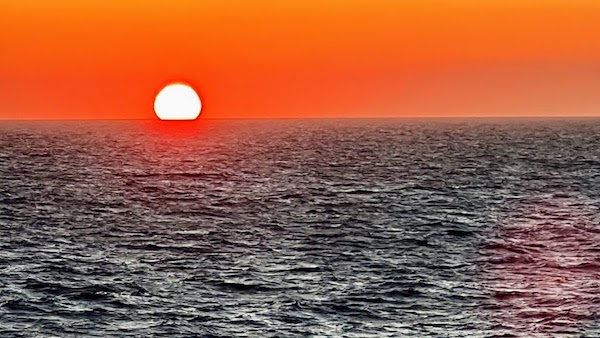 2. Search and rescue efforts
The ship's command will notify the local Coast Guard and participate in the search and rescue mission. The Coast Guard has several key responsibilities during a man overboard incident, including coordinating with the vessel to obtain all the necessary details about the situation once they receive a distress or emergency call.
The Coast Guard's search and rescue operation may involve deploying aircraft, cutters, and a specialized rescue team. If the victim is found, the Coast Guard will conduct a medical evaluation and arrange a transfer to a shoreside medical facility either via cutter or helicopter.
Passengers who have gone overboard and located by the ship are brought on board for further evaluation and treatment before being transferred to the Coast Guard.
While every cruise ship has a highly detailed systematic approach for a man overboard emergency, there is no guarantee that the victim will be found. Unfortunately, only a few people are successfully rescued during a man overboard incident.
What can I do to prevent falling off a cruise ship?
What happens in the aftermath of a man overboard situation is the cruise ship's and crew's responsibility. But as passengers, there are things we can do to avoid putting ourselves in this dangerous situation.
Always be aware of your surroundings, especially if you're on the upper deck of the cruise ship.
Do not stand or sit on the railings or other precarious perches; don't put your head outside or lean through the open windows or over the balcony railing.
Be mindful when moving about the ship during bad weather or when traversing rough seas.
Never leave a child unattended or allow them to climb atop furnishings near railings or balconies.
Always follow any instructions issued by crew members to the letter.
Man overboard technology and modern-day cruising
During discussions about cruise ship safety, one of the most common questions is whether vessels have systems to detect when someone goes overboard, and if not, why? As it turns out, the Cruise Vessel Security and Safety Act of 2010 did require that U.S. ships implement technology that could "be used for capturing images of passengers or detecting passengers who have fallen overboard, to the extent that such technology is available."
As you might guess, the "to the extent that such technology is available" has been something of a loophole giving cruise lines the ability to avoid implementing these systems. Questions have also been raised about the reliability of the technology in question.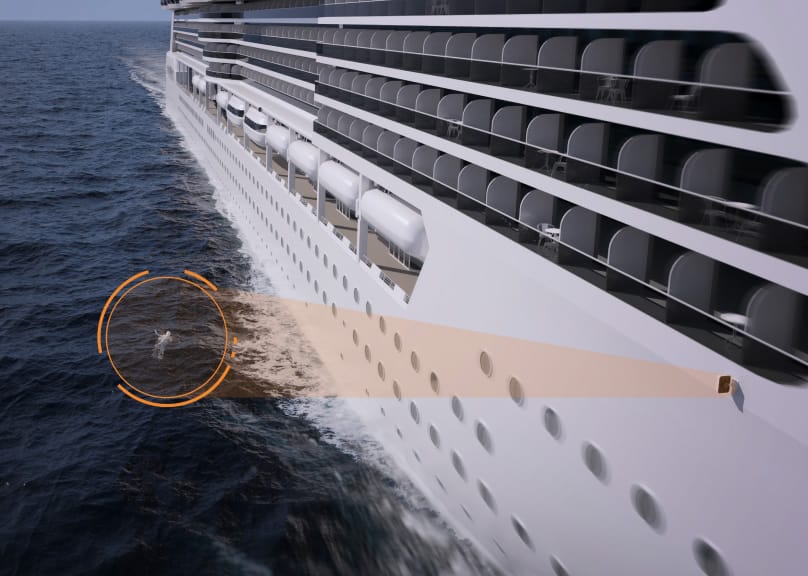 Proper use of a man overboard (MOB) system can mean the difference between a successful rescue and a tragic outcome.
However, when you look at the cruise industry collectively, the technology is on very few cruise ship ships. Disney Cruise Line is the only cruise line on record saying its vessels have the system installed.
In spring 2023, man overboard detection company MARSS MOBtronic made significant progress after conducting 120 tests using their system and achieved a 100% success rate in detecting people who had fallen overboard. Those systems come at a price. MARSS recently told USA Today that each installation starts at around $200,000.
"Most cruise lines will claim that MOB systems are not reliable and give false-positive results, and as such, the systems are not really 'available,'" says Jim Walker, an attorney with Walker and O'Neill Maritime Lawyers. Manufacturers will tell you that the systems are highly reliable — around 97 percent. I have seen such systems, and they are impressive in my view."
He adds that "sailing without a system will always result in delayed search and rescue efforts. It's truly akin to searching for a needle in a haystack."
If someone goes overboard in the middle of the night and it's not noticed until the next day, the ship could be as far as 100 miles away by the time it's reported.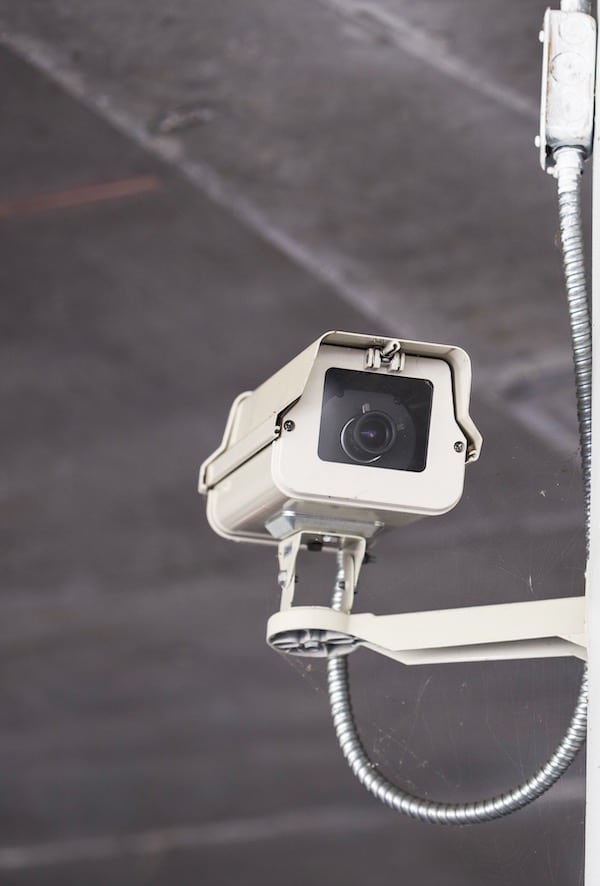 One thing cruise ships have in place is closed-circuit television monitors (or CCTV), which record activity around the ships. CCTV footage is generally used to compile important information about the individual in question, including where exactly the man overboard took place. During an incident, the security team can also review the footage to determine the last place the guest used their onboard spending card, rewind the tape to that time, and follow the guest around the ship until they reach the moment they're looking for.
But can CCTV footage be used in court?
Any time a person goes overboard, authorities open an active investigation. Some cases occasionally make it to the courtroom. Often litigation involves the family of the person that went overboard. A lot of the cases filed are where the guest was overserved alcohol. The outcome of these cases is in the hands of the jury.
Walker says that "the FBI has jurisdiction when there is a report of a suspicious death to request or subpoena CCTV footage when a person goes overboard," adding that he is aware of several cases in which this has happened. And yes, he says, "cruise lines are required to respond to a subpoena from the FBI."
He has not, however, "heard of the FBI or Coast Guard making a request for MOB data for no reason other than there are so few cruise ships which have installed such systems."
Conclusion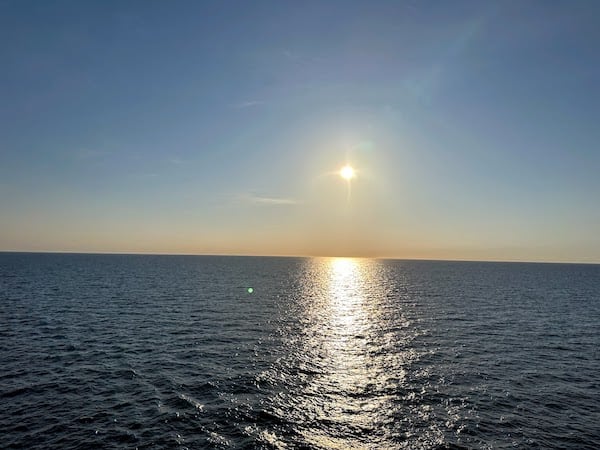 It's doubtful that you will ever be in a man overboard situation. Not only is it rare that you will find yourself going overboard, but there's little chance of you ever being on board a ship when such an incident happens.
Being prepared and aware of your surroundings is always a good idea. Hopefully, the information we've provided will help you avoid putting yourself into a dangerous situation while also giving you an idea of what to do — and not to do — should you see someone going overboard.
FAQ
How long does it take to find someone who has gone overboard?
There is no definitive answer. Several factors come into play, including when the ship was notified of the situation, the time of day, water temperature, location, ocean conditions, and the amount of time that has gone by will all impact the outcome.
Why do people jump off cruise ships?
There are a variety of reasons that guests go overboard. Several factors can lead someone to consider it, such as alcohol, mental health problems, chronic pain, feelings of hopelessness or erratic or reckless behavior. If you know of anyone on a cruise who is expressing thoughts of ending their life, contact the ship immediately so that they can get help for that person.
What if I see someone jump off a cruise ship?
If you see someone jump off a cruise ship, immediately shout "Man Overboard" loudly enough for everyone to hear while visually tracking the person, throw a life ring, and dial 911 on the ship's phone. Do not jump into the water to rescue the person. Even the strongest swimmer may not be prepared to deal with the harsh realities of the ocean.  
Can someone survive falling off a cruise ship?
Surviving a cruise ship fall will depend on several factors, like how quickly the overboard is reported/discovered, the response time of the crew members, the water's temperature, the person's ability to swim, their physical condition, and the weather.