Among the new venues to be rolled out onboard Carnival Horizon will be Bonsai Teppanyaki, a first for Carnival Cruise Line. Clearly, the line expects the Teppanyaki experience to be popular, as it will also be featured on their next ship, the currently-under-construction (and open for bookings) Carnival Panorama. So what can you expect from the restaurant… and how much will the for-fee experience cost? Read on for all the details.
How Much Bonsai Teppanyaki Will Cost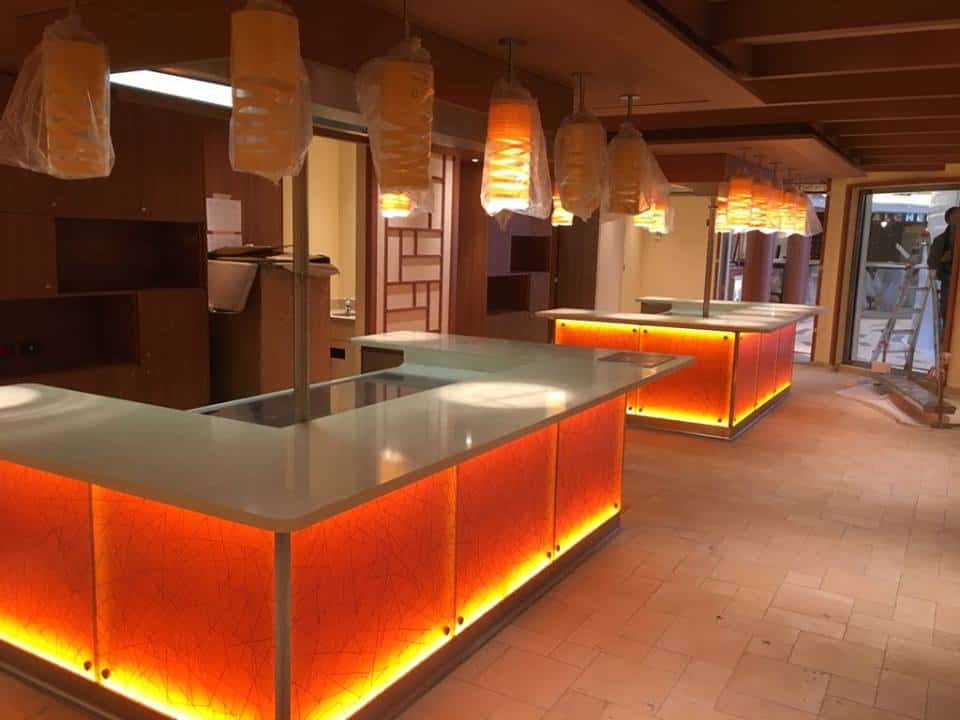 Located inside the popular Bonsai Sushi on deck 5, the Teppanyaki restaurant is the perfect place for groups, as it is a combination of a great meal and entertaining show as the chefs juggle, joke, and cook for 16 guests at a time. Because there's limited seating available, it's definitely recommended that you make reservations. And obviously, the bigger your group, the more important it becomes to make a reservation. Also, note that this isn't only available for groups. As with similar restaurants, parties will be seated together in a communal style (which also makes this a fun way to meet new people).
Meals at Bonsai Teppanyaki will consist of an appetizer, soup or salad, main course, and dessert, and cost between $25-$30 per person, depending on what protein you decide to go with for the entrée. (And yes, lobster tail is an option.)
What Is Dinner Like In A Teppanyaki Restaurant?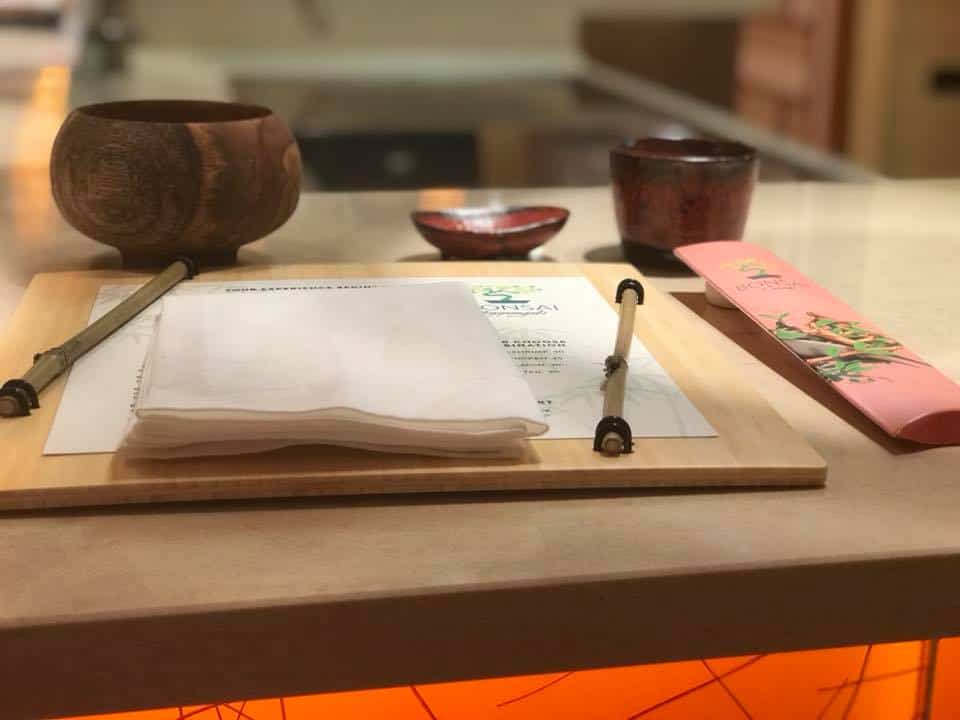 For those who've never eaten in a Teppanyaki restaurant before, the good news is that there aren't really a whole lot of decisions to be made! This isn't like going to a place where there's a huge, expansive menu. Instead, there are really only a few choices you have to make, especially since the appetizer portion of the meal is the same for everyone. It includes:
White shrimp in soy butter and a salsa vinaigrette
Pork belly yakitori with sesame asparagus fries and seaweed salad
Spice Tuna on the Rocks with an onion sesame sauce and den miso
All guests will also have a choice of either Miso soup or a Kabuki salad with ginger dressing. Then comes the part where you have to make the big decision, because you have to pick the protein for your entry (all of which are served with fried rice and stir-fried vegetables).
The options are:
Teriyaki salmon with savory and sweet teriyaki glaze
Lobster tail with yuzu cream and citrus kosho
Shrimp with young lettuce and gyukuro tea
Shichimi spiced grilled chicken in a teriyaki sauce
Grilled tofu with vegetables, yaki udon, and a teriyaki anticucho sauce
Black cod with a soy reduction
Filet Mignon with trufae salt and garlic chips
Guests can also choose to do sort of a mix-and-match, with the following combos available:
Filet Mignon and Shrimp
Shrimp and Spiced Grilled Chicken
Filet Mignon and Teriyaki Salmon
Filet Mignon and Lobster Tail
And should you still have room after the meal (trust us… it's more food than it sounds like!), dessert is a Chocolate Bento Box with green tea ice cream
Making  Bonsai Teppanyaki Reservations
As we said before, reservations are highly recommended as the restaurant has both limited hours and seating. If you've never made reservations for one of Carnival Cruise Line's specialty restaurants in the past, let us walk you through the process!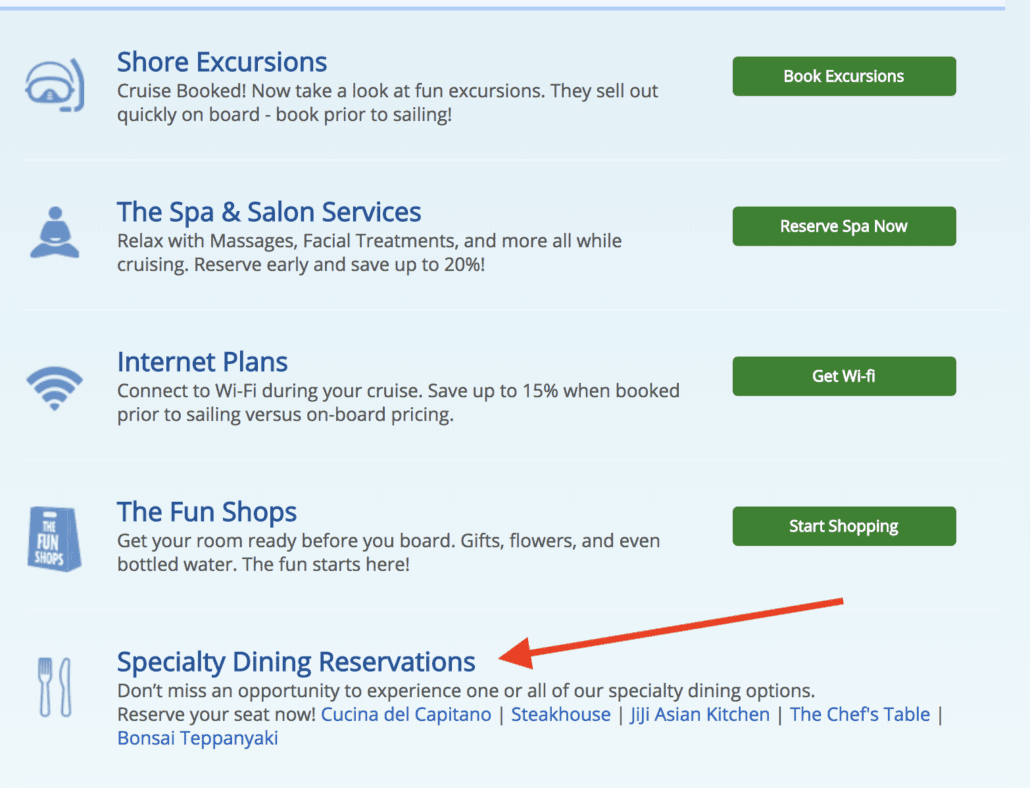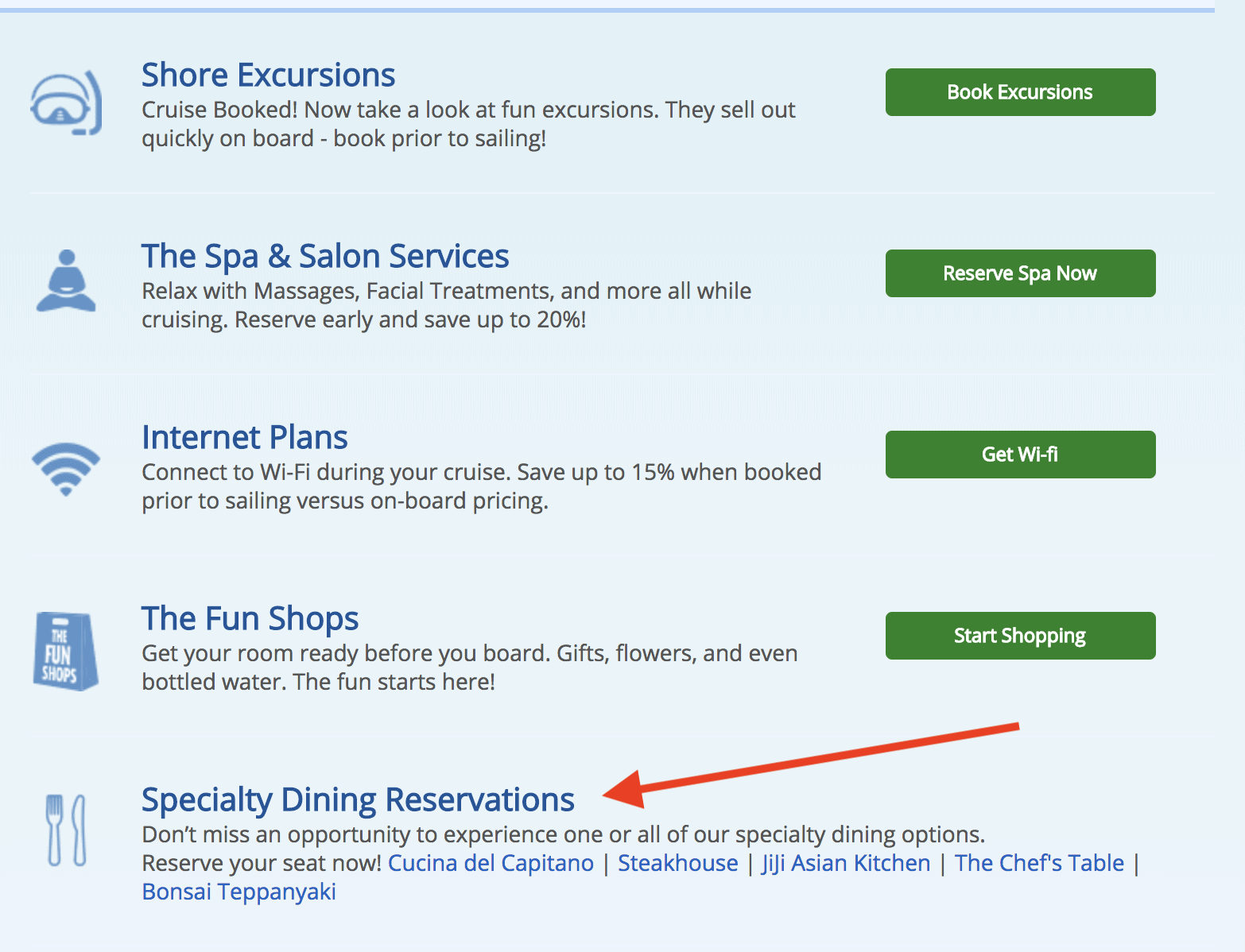 While logged in at Carnival.com, go to the Manage My Booking section and select your sailing. That will take you to My Cruise Manager, pictured above. Scroll down through the various options until, toward the bottom, you see Specialty Dining Reservations. See how in the example above, the names of the specialty restaurants are in a different font color? Click on whichever one you're interested (in this case, Bonsai Teppanyaki) and it will take you directly to a reservations page that shows which times are available. In the example below, they have three dining times available: 5:30, 7:15, and 9 pm.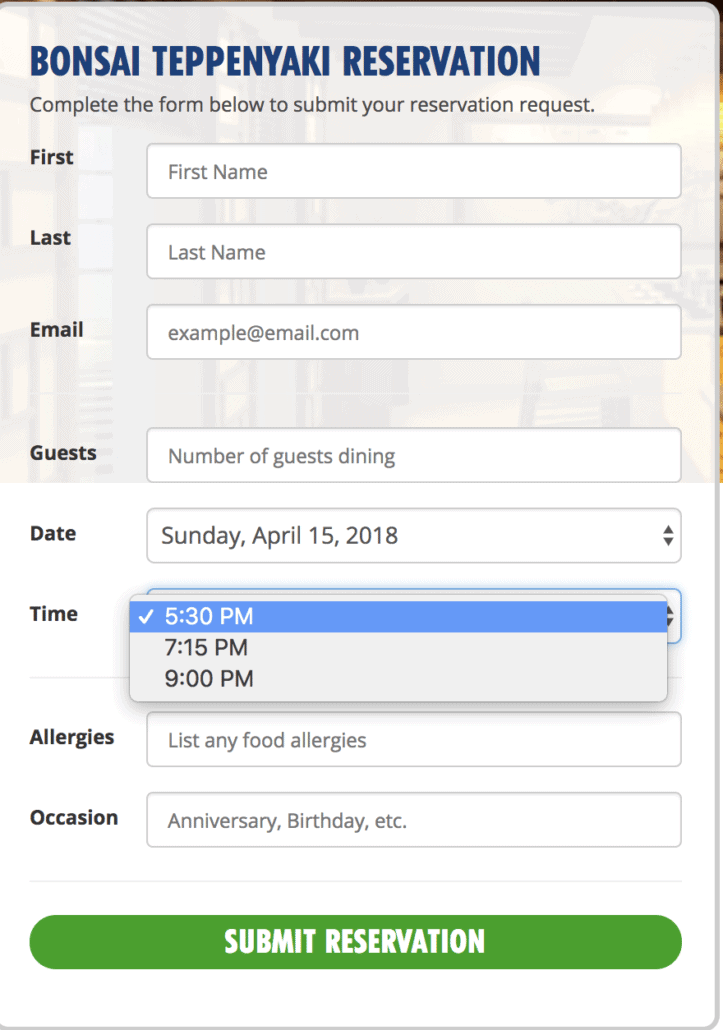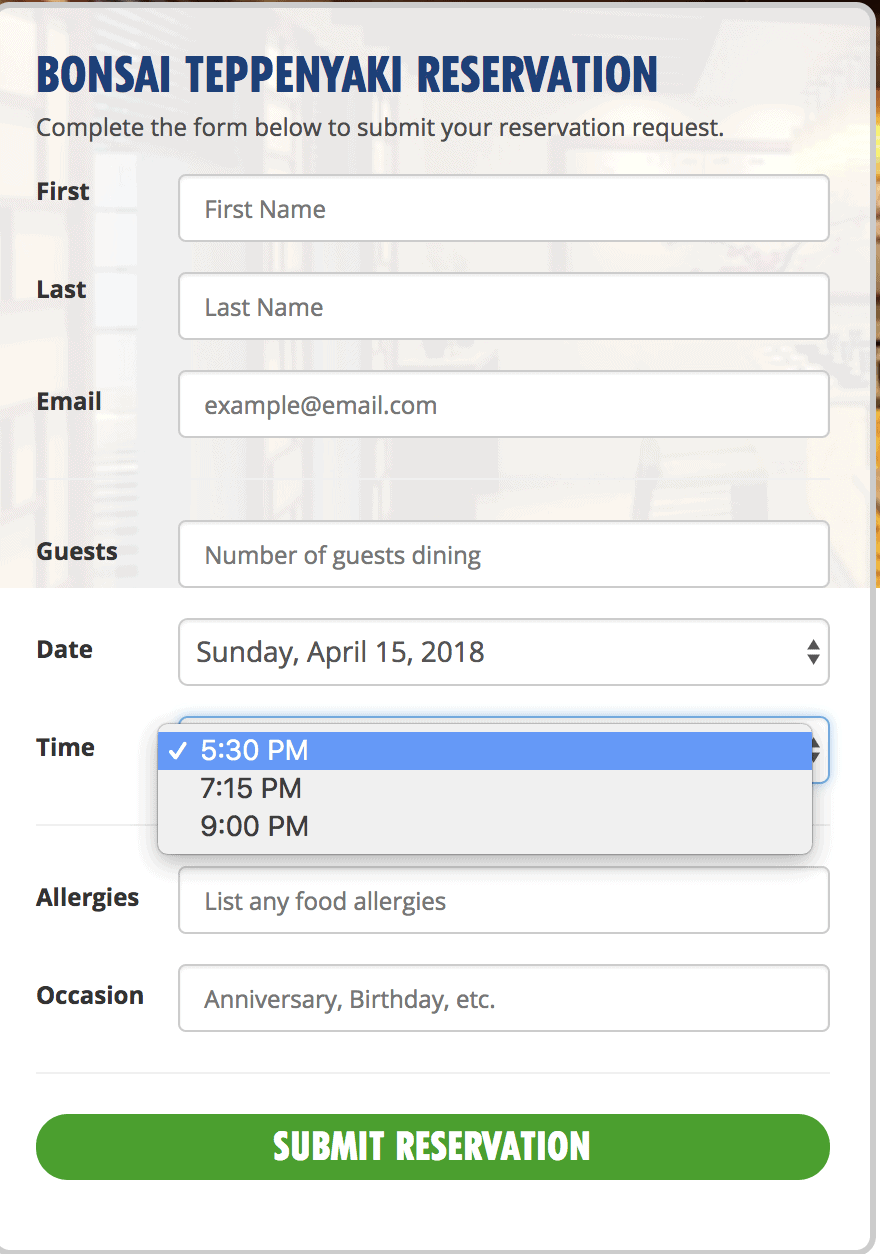 Now, it's possible that no reservation times will be available on the night you want, or perhaps only one option. You'll also have the opportunity to let the restaurant know if you have any specific food allergies, and if it happens to be a special occasion. Then simply hit "submit reservation," and the system takes care of the rest.
Should you need to make a change to your reservation once onboard, you can either call or stop by the restaurant. If there aren't reservations available when you attempt to book in advance, it's also worth swinging by after you've boarded the ship to see if something has opened up (or if perhaps there has been a cancellation). As with all specialty dining reservations, the cost will appear on your final bill at the end of the trip.
Will you be giving Bonsai Teppanyaki a try?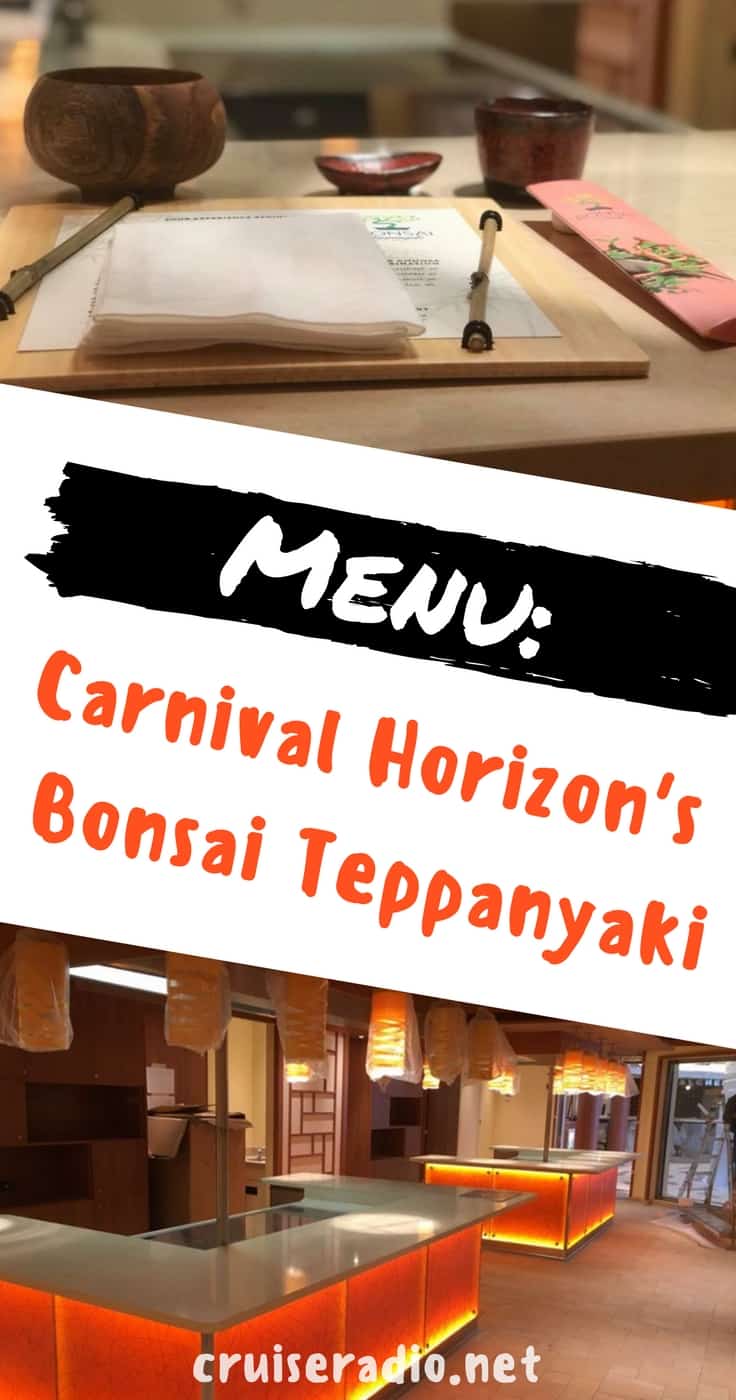 SaveSave
SaveSave