The Crown Grill Steakhouse is Princess' signature steakhouse found on most of its cruise ships. The venue prides itself on its selection of fine cuts of steak and seafood.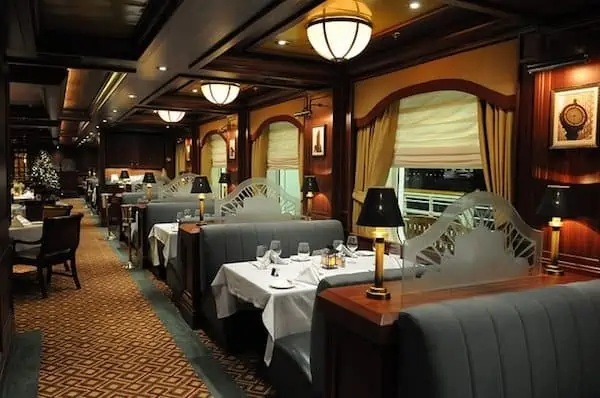 Cost
Crown Grill has a cover charge of $29 per person. It includes a full meal with one main course. Additional main courses cost $10 each. You can expect a 1.5 to a two-hour dining experience in the steakhouse unless you want to catch a show, then advise your server ahead of time and they will expedite your meal.
Dress Code
Even though guests tend to use the steak house for special occasions like anniversaries or birthdays, you by no means need to wear a suit and tie. As long as you're wearing nice slacks or dark jeans, you'll be fine.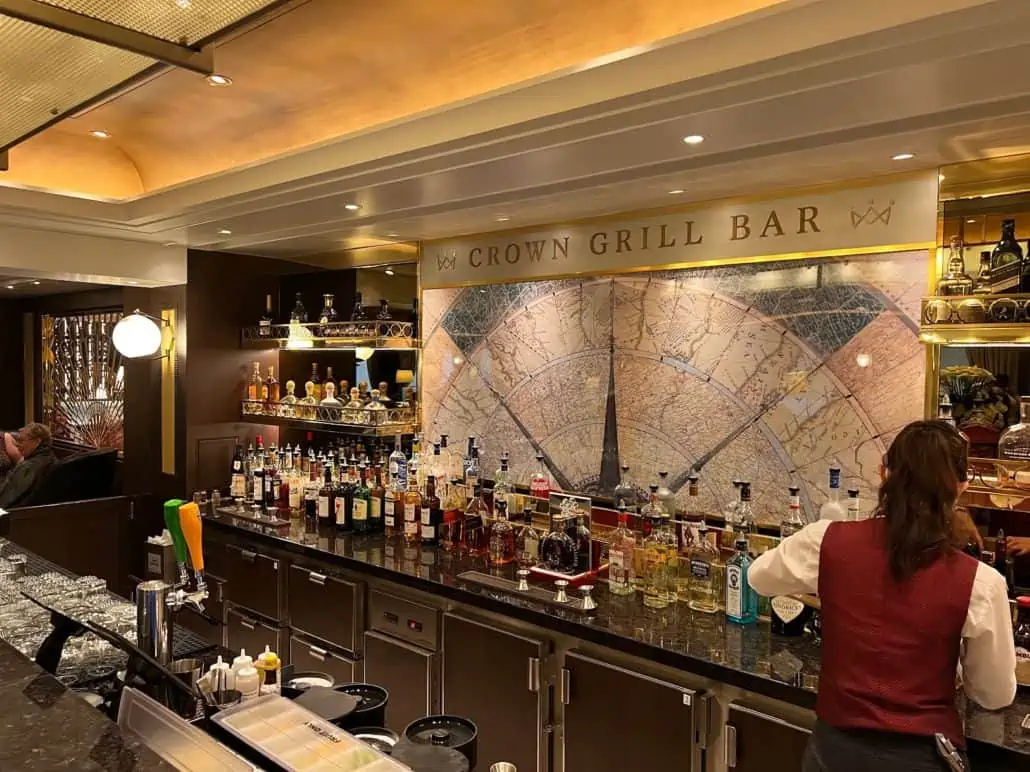 Atmosphere
The venue itself is quiet and set back off the main walkway, usually with a bar dividing the steakhouse from people passing by.
Which Ships Have Crown Grill?
Caribbean Princess
Crown Princess
Discovery Princess
Emerald Princess
Enchanted Princess
Golden Princess
Grand Princess
Majestic Princess
Regal Princess
Royal Princess
Ruby Princess
Sky Princess
Star Princess
Menu
Appetizers
Black Tiger Prawn and Papaya Salpicon: Mustard seed aioli
Hand-Cut Beef Filet Tartare: Plancha sear, fried quail egg, smoky dressing, crispy polenta sticks
Mediterranean-Style Spiny Lobster Cake, Tarragon Foam: Cured olives, grilled asparagus
Seared Jumbo Sea Scallops, Salmon Caviar, Herb Beurre Blanc: Wilted fennel and leeks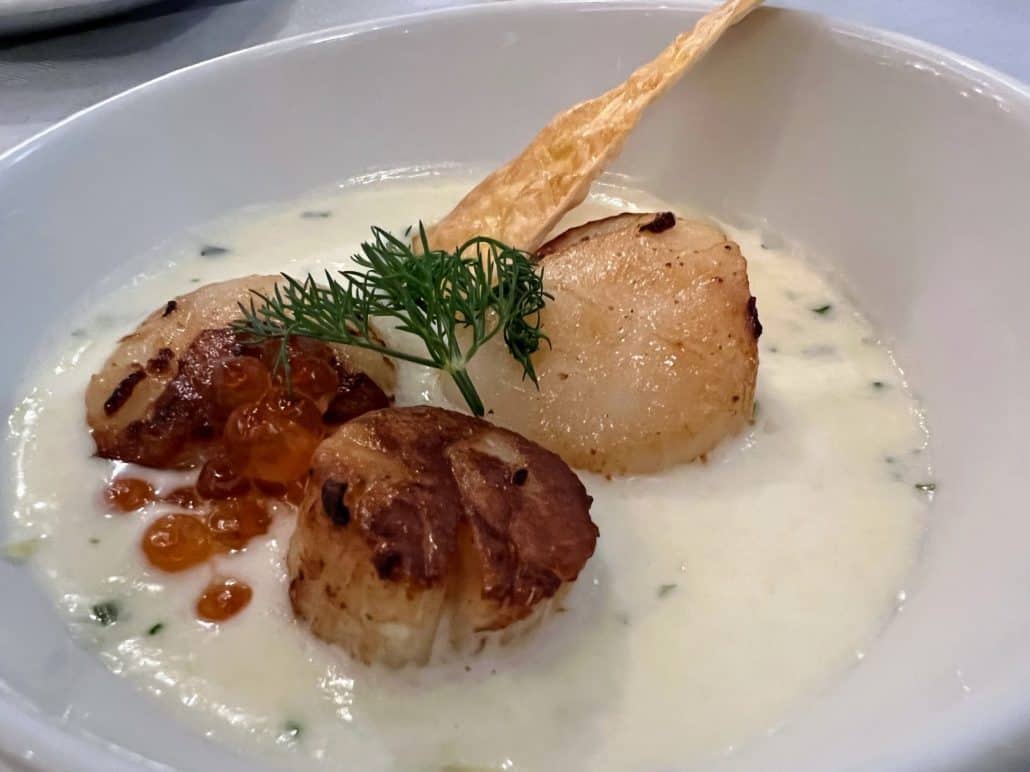 Soup and Salad
Shrimp and Pancetta Bisque: Chickpea croutons
Black and Blue Onion Soup: Fresh thyme, Jack Daniels, roquefort crust
The Grill Salad, Grape-Balsamic Dressing: Mesclun greens, roasted bell peppers, avocado
Marinated Goat Cheese and Tomato Salad: Baby spinach, beets, basil vinaigrette
Seafood
Mussel and Smoked Sausage Pot: White wine, shallots, garlic-parmesan pull-apart bread
Chilean Sea Bass and Brioche-Breaded King Prawns: Leek and mushroom ragout, champagne mousseline
Grilled Jumbo Prawns in Whiskey, Chili and Garlic Marinade: Fried onion rice
Maine Lobster Tail: 6-7 oz, Broiled with pepper butter or split and grilled with garlic
Chops
Premium Beef Chop: 16 oz, Blackened with mushrooms and onions
Madeira-Glazed Wisconsin Veal Chop: 12 oz, Fines herbs
New Zealand Double Lamb Chops: 9 oz, Rosemary essence
Porterhouse: 22 oz, The best of filet and sirloin, grilled on the bone
Steaks
New York Strip: 12 oz, Traditional thick cut sirloin
Kansas City Strip: 16 oz, traditional bone-in sirloin
Rib-eye: 14 oz, Rich with heavy marbling
Filet Mignon: 8 oz, classic, tender and delicate
Crown Grill's Surf & Turk: 8 oz filet mignon, 6-7 oz Maine lobster tail served with drawn butter and your choice of sauce and sides ($10 additional charge)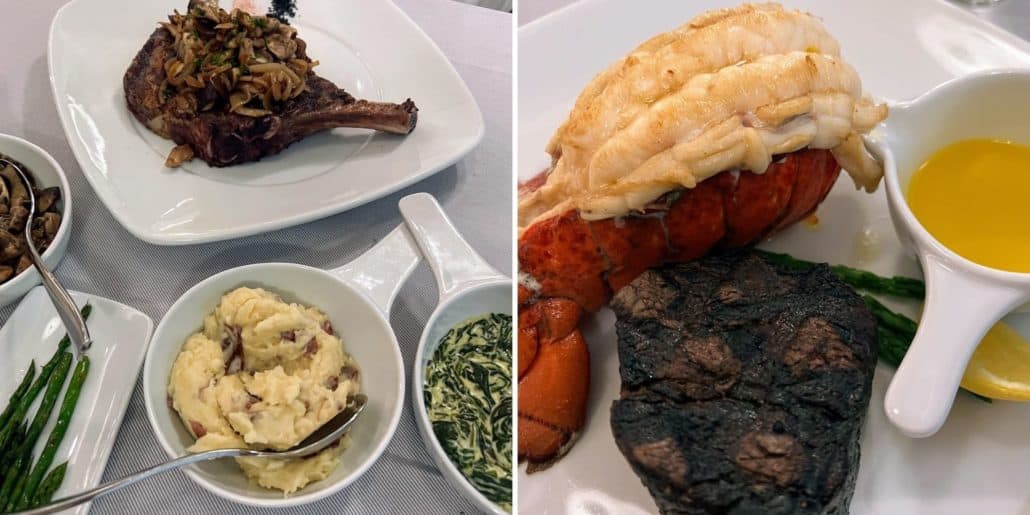 Salt Selection
Hawaiian Black Salt
Smoked Applewood Salt
Himalayan Mountain Pink Salt
Sides
Loaded baked Idaho potato
Garlic and herb French fries
Red skin mashed potatoes
Roasted marrow bone & shallot crushed potatoes
Grilled asparagus
Creamed spinach
Sautéed wild mushrooms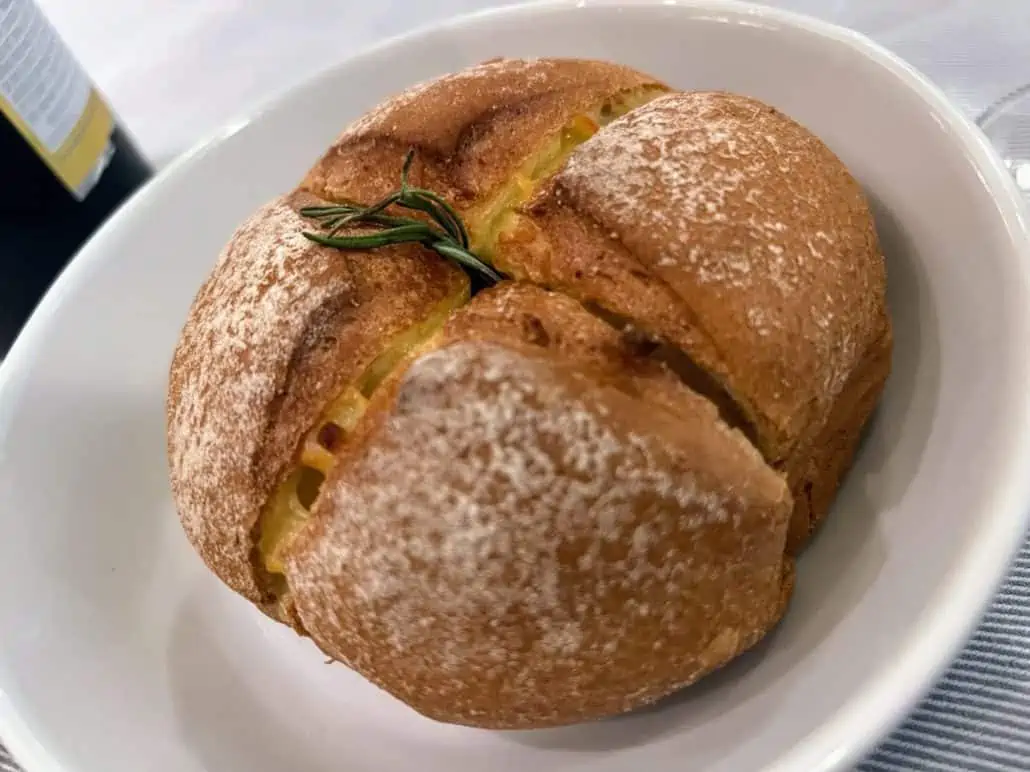 Desserts
Apple & Rhubarb Cobbler: Blueberry drizzle, vanilla ice cream
Key Lime Pie Bar: Date-pecan crust, crispy chocolate mousse, caramelized meringue, raspberry coulis
Salted Caramel Crème Brulee Cheesecake: Vanilla cream, honeycomb
Triple Chocolate Treasure: Dark chocolate mousse, orange crémeux, hazelnut filling, blonde brownie crust, golden chocolate macaroons
Pin it!