Celebrity Cruises' steakhouse on all of its Edge-class ships is called Fine Cut. This venue is an upscale dining experience with spectacular views (especially if you have a reservation during sunset).
Cost
Fine Cut Steakhouse costs $55 per person for adults. Kids ages 7 to 12 cost $10 each, and kids under 7 eat free.
Dress Code
As with other venues on the ship, you can get away with smart casual or dress to impress.
Atmosphere
The ambiance can be both quiet and loud, depending on the activity happening in the main Grand Atrium. There's a martini bar downstairs that comes to life at night, and if you are dining during one of the listed showtimes (usually twice per evening), the noise bleeds into the steakhouse. As an alternative, you can always request a window table or booth in the back corner.
Which Ships Have Fine Cut Steakhouse?
Currently found on:
Celebrity Edge
Celebrity Apex
Celebrity Beyond
Celebrity Ascent (under construction)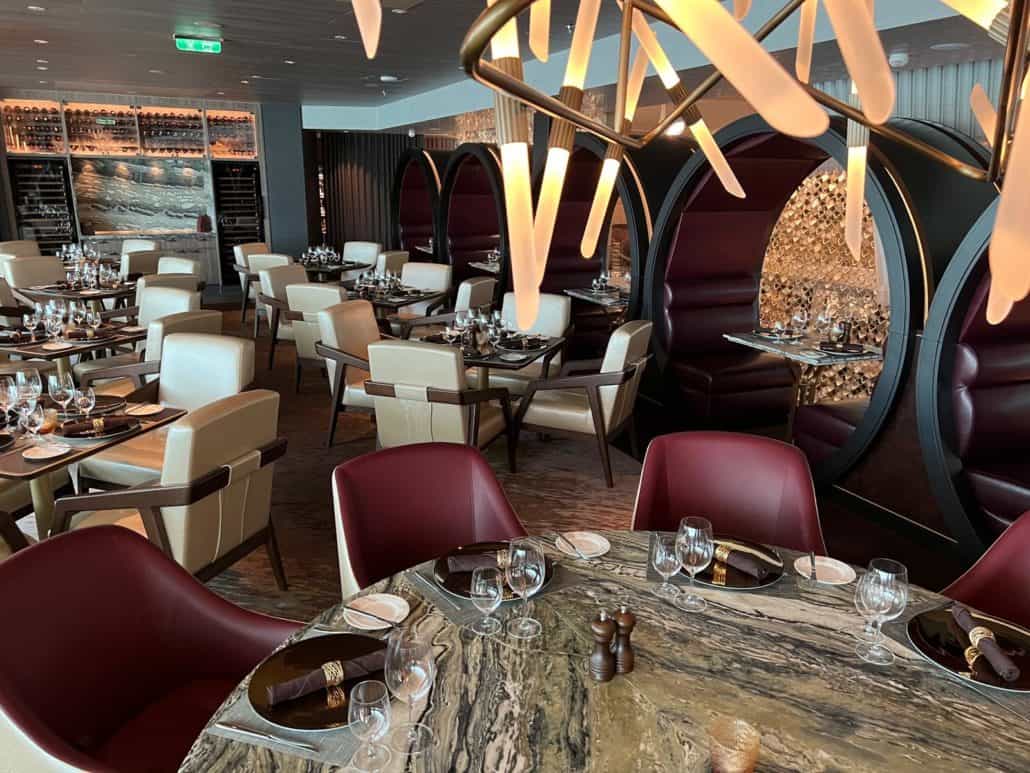 Here's the menu for Celebrity Cruises' Fine Cut Steakhouse.
Starters
Lobster Cocktail: Melon, creamy horseradish, grapefruit, bib lettuce
Ahi Tuna Tartare: Wasabi mayo, sesame lavash, avocado
Ricotta Gnocchi: Artichoke purée, Iberico ham, herbed crispy crumbs, truffle oil
Signature Crab Cake: Lemon pepper aioli, pickled radish, baby lettuce
The Steakhouse "Wedge:" Iceberg lettuce, smoked Nueske bacon, blue cheese, pickled shallots, cherry tomato
Black Pepper Bacon: Steakhouse sauce glaze
Heirloom Tomato Salad: Watermelon pickle, burrata, toasted mustard seeds, balsamic reduction
Kale, Applewood Nueske's Bacon: Pecans, cranberries, lemon dressing
Baby Arugula Salad: Endive, poached pears, goat cheese fritter, port wine dressing
The King Caesar Salad: Hearts of romaine, herb baguette croutons, aged parmesan, caviar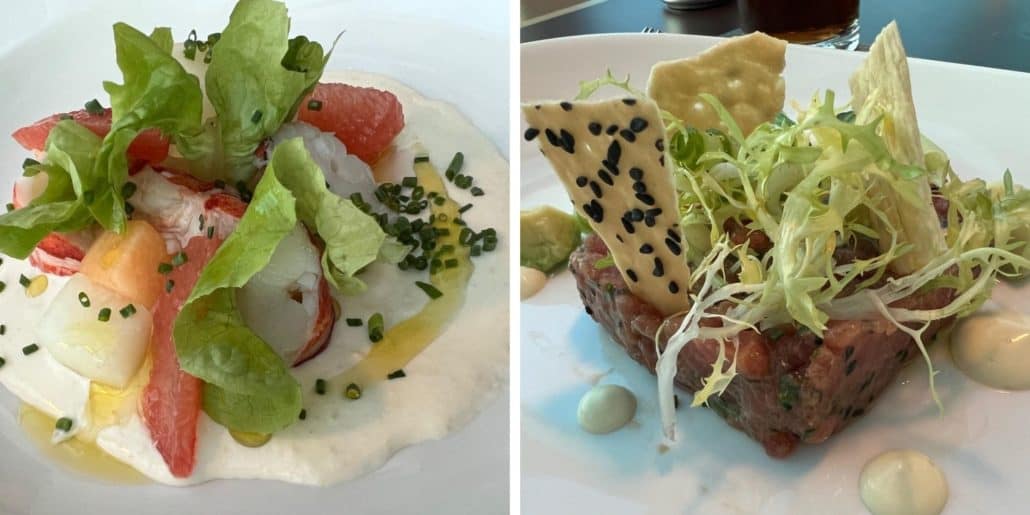 Entrées
Pan Seared Dover Sole: Cauliflower purée, almond gremolata, crispy panko, brown butter vinaigrette
Lemon Poached Lobster Tail: Melted leeks, shiitake mushrooms, lobster ravioli, beurre blanc sauce
Slow Pan Roasted Chicken: Crème fraiche Yukon potato purée, Napa cabbage, caraway seeds, natural jus
Grass Fed Lamb Chops: Saffron potato fondant, roasted baby vegetables, natural reduction
Roast Prime Rib of Beef: Herb-pepper crust, au jus
Barley Bourguignon "Risotto:" Glazed vegetables, red wine, aged parmesan
From the Grill
Filet Mignon: 6 oz or 9 oz
Bone-In Filet Mignon: 9 oz
USDA Prime Boneless Ribeye: 14 oz
USDA Prime Boneless NY Strip: 14 oz
USDA 30 Day Dry Aged Prime Bone In NY Steak: 18 oz
Certified Black Angus Tomahawk: 30 oz (for two)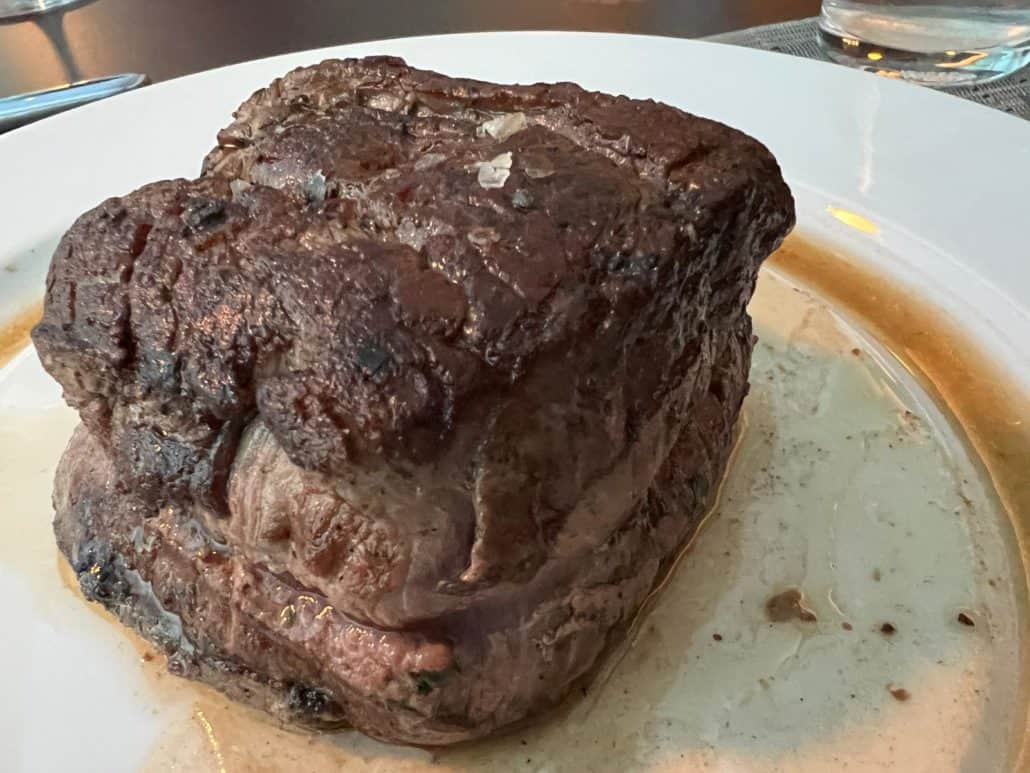 Premium Toppings
Bearnaise Sauce
House Steak Sauce
Creamy Au Poivre Sauce
Bordelaise Sauce
Chimichurri Sauce
Black Truffle Butter
Maytag Blue Cheese Crust
Sides
Smoked Bacon Mac & Cheese
Sautéed Spinach
Gruyère Tater Tots
Grilled Asparagus
Parmesan Truffle Fries
Roasted Mushrooms
Creamed Spinach
Desserts
Ultimate Chocolate Sundae: Neapolitan ice cream, hot fudge, sliced almonds, whipped cream, caramel sauce
Apple Walnut Cobbler: Vanilla anglaise, rum soaked raisins, cinnamon ice cream
Double Chocolate Brownie: Toasted almonds, vanilla ice cream, chocolate sauce, whipped cream
NY Strawberry Cheesecake: Graham cracker crust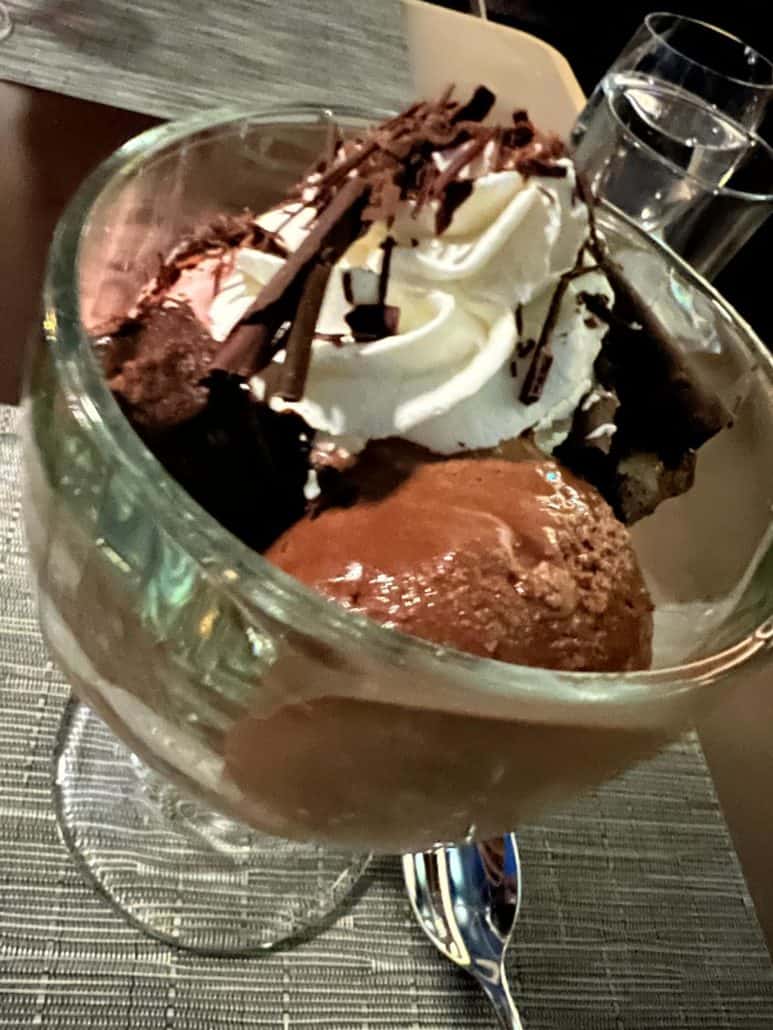 Coffee
Coffees incur an additional charge, which is notated on each.
Single Espresso – $4
Double Espresso – $5
Macchiato – $4
Cappuccino – $5
Latte – $5
Americano – $5
Mocha – $5
White Chocolate Mocha – $5
Caramel Macchiato – $5
A wine menu is also available.
RELATED: DINNER MENU: Rooftop Garden Grill On Celebrity Beyond
Pin it!