Rotterdam is the only Holland America Line ship where you will find Half Moon Bar. This venue was created to highlight Holland America's history through cocktails, each with the company's own twist. If you enjoy a pre-dinner or after-hours drink and want to experience a real taste of Holland America, literally and figuratively, this is the spot to be.
The line's food and beverage team created all the beverages found at this bar, and designed each one to give you a taste of the past.
After all, Holland America Line was the inventor of the first booze cruise out of New York City.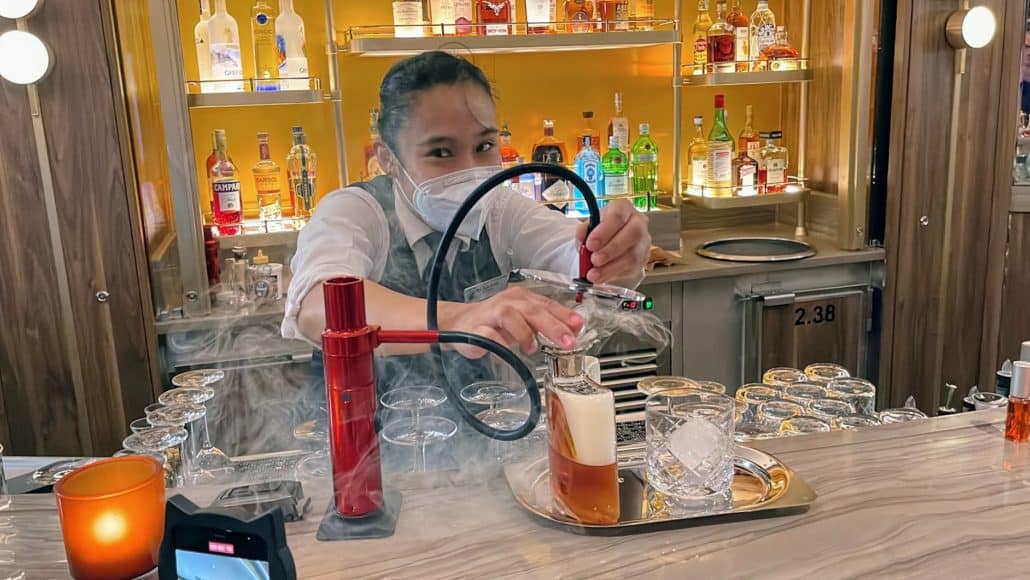 Cocktails at Half Moon Bar
De Halve Maen: Refreshing and bright, the Halve Maen is made of Old Duff genever, lemon rose water shrub, and DDG bitters. It's an ode to the Dutch sense of exploration and the botanical wonderland Henry Hudson found in present day New York.
Nieuw Amsterdam: Strong and aromatic, Nieuw Amsterdam is our twist on the classic Manhattan. This cocktail is a no-nonsense, balanced tribute to the Dutch colony that paved the way for New York.
Three Mile Run: A delicious combination of lemon, honey, and your choice of liquor. Three Mile Run is a Prohibition cocktail that celebrates the freedom and wonder of being at sea. Choose gin for a Bee's Knees, whiskey for a Gold Rush, or rum for a Honey Bee.
The Original: The Original celebrates our first ship, the Rotterdam I, made with Dutch gin and a hint of single malt Scotch; ingredients inspired by the building of the ship. This cocktail harkens back to our Dutch beginnings.
Sea Castles: A twist on the classic Sidecar, Sea Castles is a Cognac cocktail that evokes our ships of state.
May She Be Blessed: A celebratory drink with depth, May She Be Blessed is a Champagne cocktail with your choice of essence to christen your own unique libation. This cocktail is an ode to the godmothers who bless our ship.
Rotterdam VII: Sweet, floral, and nuanced, the Rotterdam VII is a smoked gin and maraschino cocktail, dedicated to this ship and her unique blend of tradition and innovation.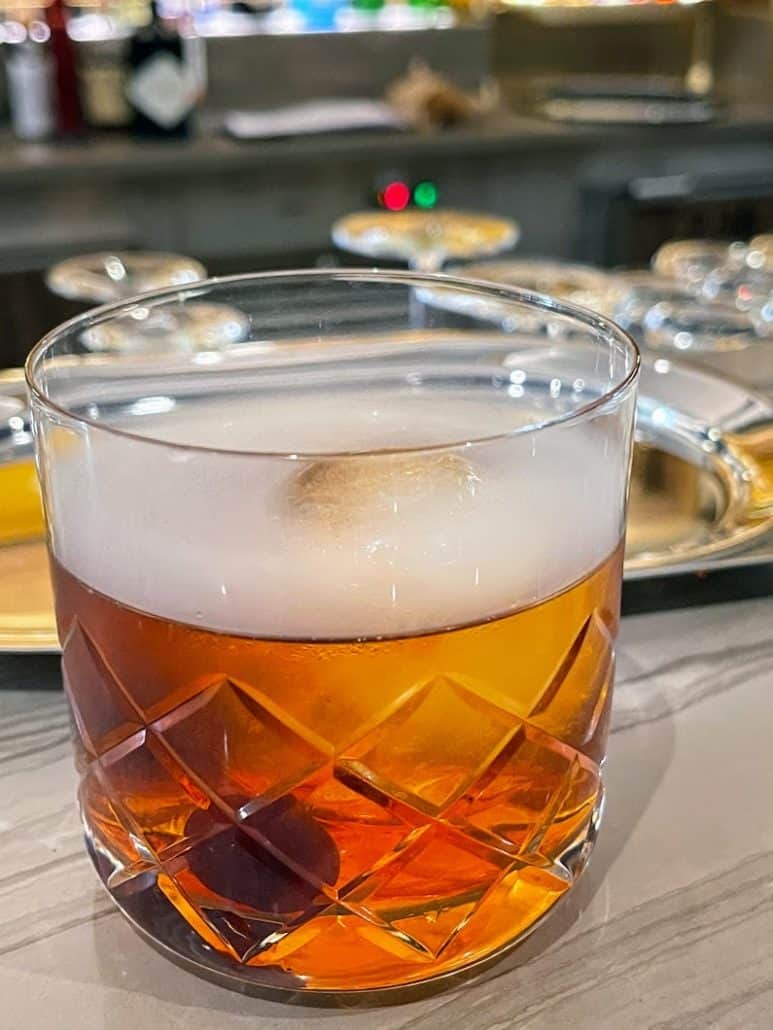 Wines By The Glass
Sparkling & Champagne
La Marca: Prosecco — $9
Le Grand Courtâge: Brut Rosé — $11
Veuve Clicquot Yellow Label: $18
White
Danzante: Pinot Grigio — $9
Caliterra Reserva: Sauvignon Blanc — $9
Chateau Ste. Michelle: Riesling — $9
Frescobaldi Pian di Rèmole: Bianco — $9
Chateau Ste. Michelle Mimi: Chardonnay — $9
Clos du Bois: Chardonnay — $11
Rosé
Beringer: White Zinfandel — $9
Domaine Houchart: Rosé — $10
Château Miraval Côtes De Provence: Rosé — $14
Red
Robert Mondavi Private Selection: Pinot Noir — $9
Sokol Blosser Evolution: Pinot Noir — $12
Columbia Crest Grand Estates: Merlot — $9
McPherson: Shiraz — $9
Crios: Malbec — $10
Frescobaldi Pater: Sangiovese — $9
Sextant: Zinfandel — $11
Oberon: Cabernet Sauvignon — $14
Errazuriz: Cabernet Sauvignon — $9
Beer
Heineken — $7
Heineken Light — $7
Heineken 0.0 — $7
Amstel Light — $7
Corona Extra — $7.25
Corona Premier — $7.25
Newcastle Brown Ale — $7.25
Anchor or Steam — $7.75
Samuel Adams Boston Lager — $7.25
Blue Moon Belgian White — $7.5
Lagunitas IPA — $7.75
Lagunitas Little Sumpin' Sumpin' Ale — $7.75
Sierra Nevada IPA — $7.75
Rekorderlig Pear Cider — $7
Rekorderlig Strawberry Lime Cider — $7
Zero Proof
Open Water 16 oz: Aluminum Bottle — $4.50
Acqua Panna 1L: $5.50
San Pellegrino 750mL: $5.50
Perrier 330L: $3.25
Coca-Cola Soft Drinks: $2.50
Bitter Lemon: $2.50
Red Bull Energy Drink: $5
Red Bull Sugar Free Energy Drink: $5
READ NEXT: Lunch Menu: Pinnacle Grill on Holland America Line
Pin it!