Carnival Cruise Line's ship Mardi Gras features two restaurants in partnership with Guy Fieri, and one of them is a smokehouse and brewhouse. Within that venue is a full bar serving up unique cocktails, beers (some brewed onboard!) and whiskeys.
Here's the full menu at the Pig & Anchor Bar inside Guy's Pig & Anchor Smokehouse | Brewhouse.
Cocktails
Blackberry Bourbon Fizz — Buffalo Trace Bourbon, lemon, thyme
Southern Peach — Tito's Vodka, peach puree, lemon, aperol, sparkling wine
Western Sour — Woodford Reserve, grapefruit, lime, agave
Rock and Rye Punch — Homemade rock and rye, orange, pineapple, lime
Smoky Watermelon Margarita — 1800 Silver Tequila, watermelon, lime, topped with a Creyente Mezcal float
ParchedPig Shandy — Lemonade and ParchedPig Farmhouse Ale with Patron Silver Tequila
Kentucky Mule — Buffalo Trace Bourbon, lime, ginger beer
Lynchburg Lemonade — Jack Daniel's Tennessee Whiskey, lemonade, Triple Sec, Sierra Mist
Pig & Anchor Bloody Mary — Veggie-infused Tito's Vodka, tomato juice, Tabasco, Worcestershire sauce, fresh lime juice, salt and pepper
Bacon Manhattan — Bacon-infused Templeton Rye Whiskey, Sweet Vermouth, smoked bitters
Southern Gentleman — Gentleman Jack, maple syrup, cherry bitters
Bourbon Smash — Woodford Bourbon, lemon, mint, honey
Smoked Boulevardier — Buffalo Trace Bourbon, Campari, Sweet Vermouth with rosemary smoke
Cocktails above can be "Hog Sized" in a 32 oz. mason jar, yours to keep for $23. Refills are $17.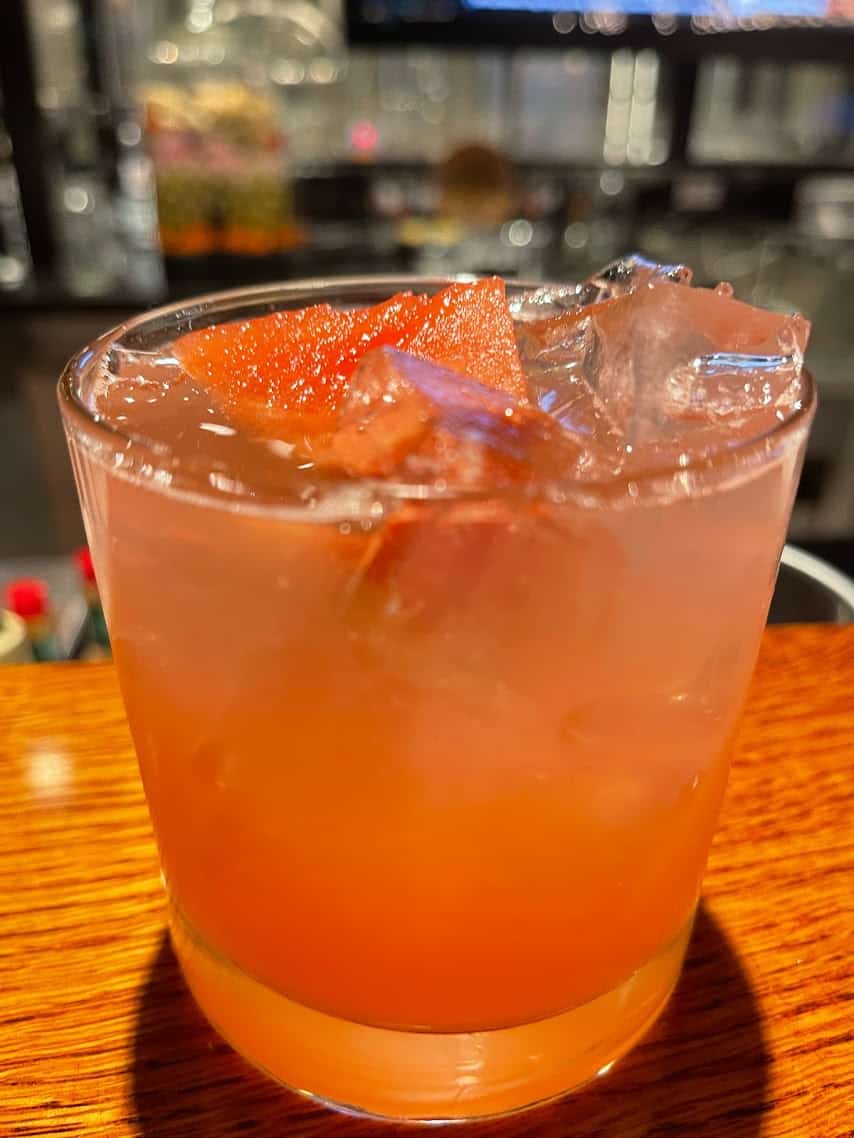 Beer
Craft Brews Made Onboard
Toasted Amber — Balanced and smooth with toasty malt and caramel notes
Farmhouse Ale — Refreshing and fruity, mild spice. Complex with a dry finish
West Coast IPA — Bitter and bright with citrus and pine notes
Smoked Porter — Full-flavor, robust, brewed with malts smoked on board
All four of the above are available as a sampler flight.
Growlers are also available, you get 64 oz. of your favorite beer for $49. Refills are $16.69.
Beers are also available to "Hog Size" in a 32 oz mason jar for $15. Refills are $9.
Other Craft Beers
Thirsty Frog Caribbean Wheat
Brew Hub Matte Black Lager
Blue Moon
Island Coastal Lager
Sam Adams
Sierra Nevada Pale Ale
Domestic
Bud Light
Coors Light
Michelob Ultra
Miller Lite
Miller High Life
Import
Corona
Dos Equis
Estrella Daura (gluten free)
Heineken
Pilsner Urquell
Paulaner Hefe-Weizen
Zero-Proof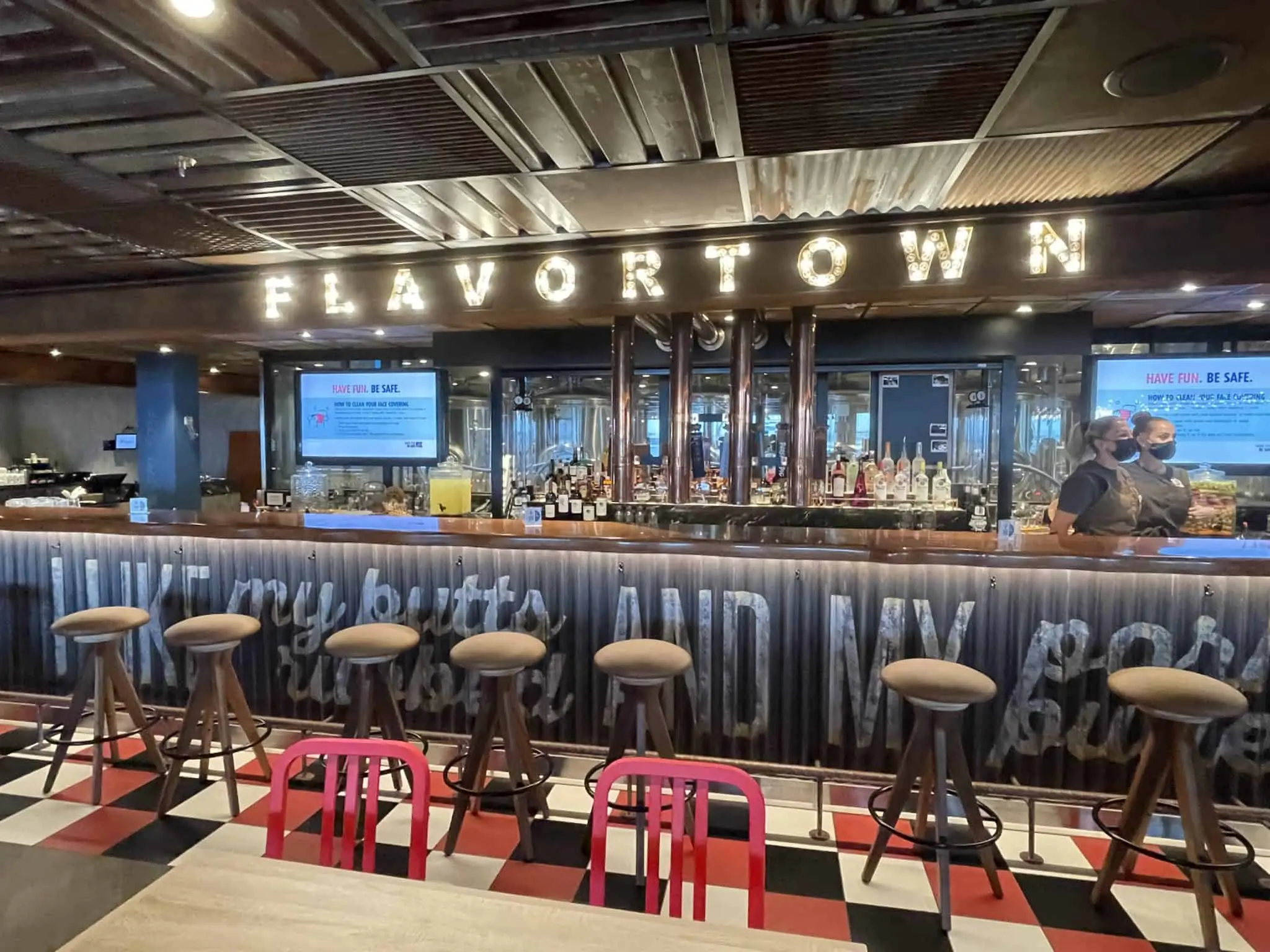 Whiskeys
Bourbon Whiskey
Basil Hayden's
Blanton's
Breckenridge
Buffalo Trace
Duke
Eagle Rare 10 Year
Elijah Craig "Small Batch"
High West Prarie
Old Forester 80 Proof
Woodford Reserve
Rye Whiskey
High West Double Rye
Jack Daniel's Rye
Old Overholt
Sazerac Rye
Templeton Rye
American Whiskey
TX Whiskey
Wild Turkey Rare Breed
Tennessee Whiskey
Gentleman Jack
Jack Daniel's
Jack Daniel's Honey
Irish Whiskey
Jameson
Jameson Caskmates
A sampler is also available of Jack Daniel's Tennessee Rye, Buffalo Trace Bourbon, Old Forester 80 Proof Bourbon, and Wild Turkey Rare Breed Bourbon for $16.
Zero-Proof Favorites
Homemade Lemonade — Served traditionally or with syrup: blackberry, pomegranate, peach, or watermelon
Watermelon Cooler — Fresh watermelon, lemon, watermelon syrup, Sierra Mist
Zero-Proof Shandy — Fresh lemonade, Heineken 0.0
READ NEXT: MENU: Guy's Pig & Anchor Smokehouse on Carnival's Mardi Gras