Disney Magic recently underwent a renovation in dry dock, and emerged with a fun, new rotational-dining restaurant based on the story of Rapunzel as depicted in "Tangled." If you want to learn more about the ship's enhancements, click here.
The menu features some classic cruise ship favorites, as well as unique dishes that are themed to the film. Here's the menu below:
Appetizers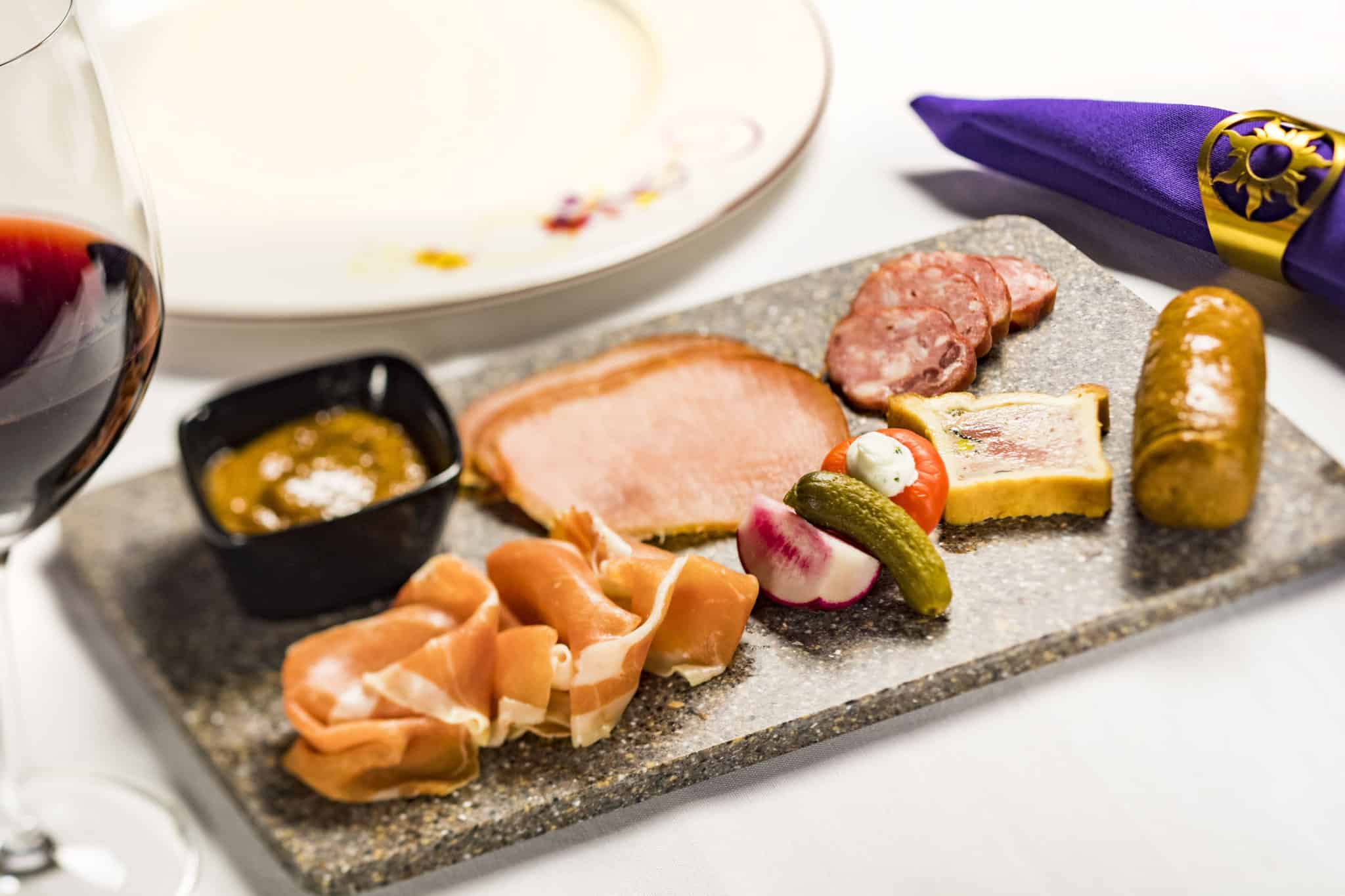 Snuggly Duckling Platter – a selection of Charcuterie with Pumpernickel and German Mustard
Ravioli "Tiroler" – filled with Puffed Beef and Portobello Mushrooms tossed in a Red Wine-Thyme Reduction served with Roasted Carrots and Pearl Onions
Crisp Isle of Corona Shrimp – with Pea Purée, Fried Potato, Pancetta, and Pea Shoots served with a Lemon-Tarragon Caper Mayonnaise
Ahi Tuna Tartar – with Basil, Cucumber, Mango, Wasabi, Sesame Wonton Crisp, and a sweet Chili-Mayonnaise
Soups & Salads
Maximus Salad – Cucumber Salad, Potato Salad, and Carrot Salad topped with Baby Oakleaf and Lolla Rosa
Romaine Wedge and "Hot" Smoked Salmon Salad – with Raspberries, Candied Pecans, and Brie Cheese served with a creamy Lemon-Parsley Dressing
Potato Cream Soup – with Carrots, Leeks, Celery, and Knockwurst
Bread Service
Pretzel Bread – with whole-grain Mustard Dip
Main Course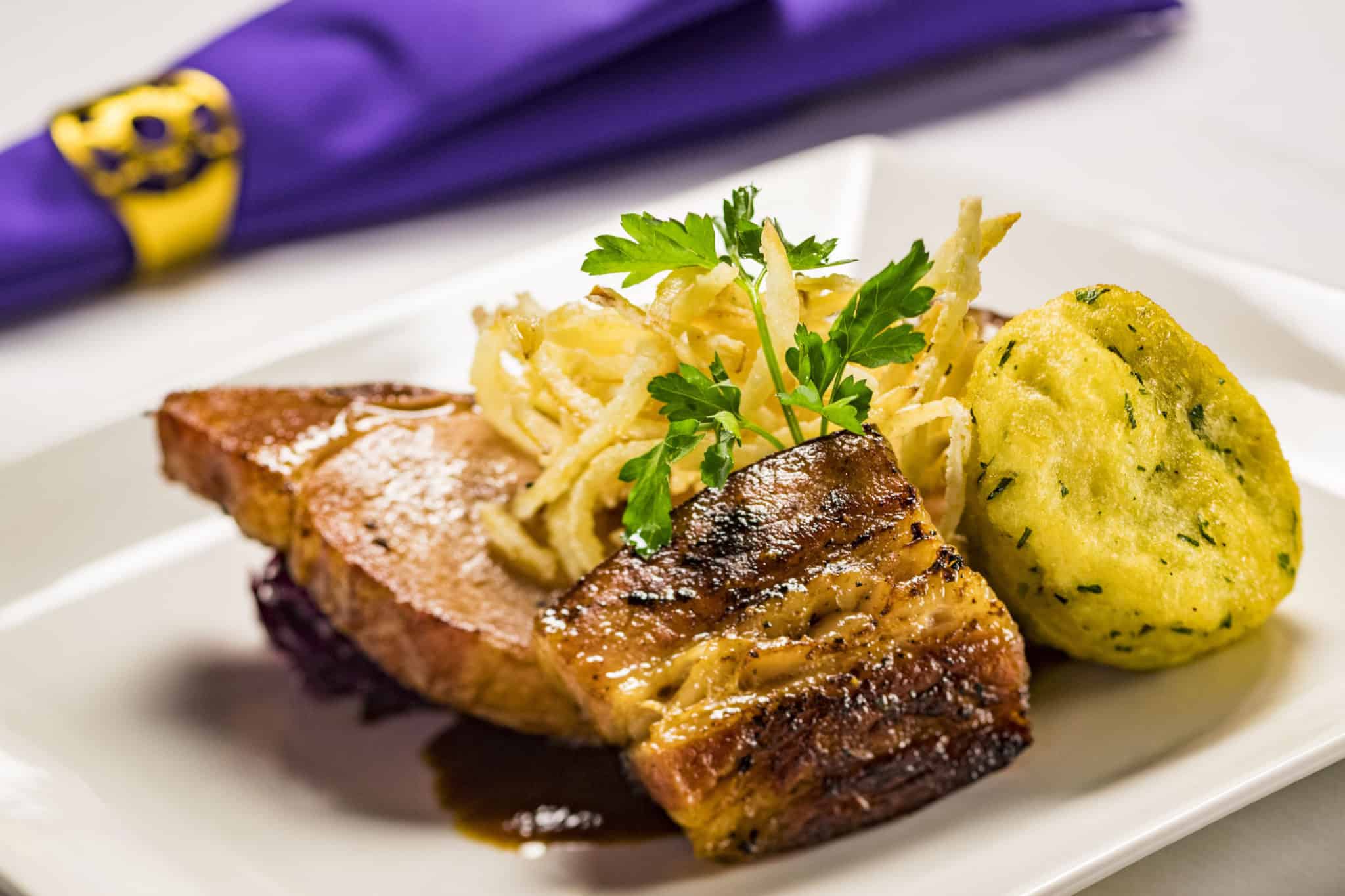 Pan-seared Sea Bass Filet – with White Asparagus, Leeks, Spinach, Broccoli, Peas, Tangled Kohlrabi and Carrots served with a Champagne-Truffle Vinaigrette
Flynn Rider Platter – Grilled Smoked Pork Loin served with Roasted Smoked Pork Belly, Bockwurst, Braised Red Cabbage, Fried Potato Dumpling, and a Spätburgunder Wine Jus
Tangled Pasta – Angel Hair Pasta tossed in Basil-Pesto with Caramelized Sea Scallops, Roasted Vine Tomatoes and a Sun-dried Tomato Tapenade served with Roasted Meyer Lemon
Oktoberfest Lemon and Thyme Roasted Chicken – with Fondant Potato, Buttered Kale, Baby Turnips, Romanesco, and a Red Wine-Chicken Jus
Captain of the Guards Roasted Prime Rib of Beef – with a Double Baked Potato, Broccoli, Sweet Roasted Carrots, and a Red Wine-Veal Sauce
Vegetarian Entrées
Spinach, Zucchini, Eggplant, and Ricotta-filled Potato Crêpe – baked in a Tomato Provençale Sauce and topped with Buffalo-Mozzarella Cheese and Basil
Chili-spiced Tofu Ramen – with Soy-Vegetable Stock, strands of Rice Noodles, Shiitake Mushrooms, Baby Bok Choy, Red Onion, Red Bell Pepper, and Cilantro
Lighter Options
Lobster Salad – with Green and White Asparagus Spears, Radish, Green Onions, Cucumber, Avocado, Spinach, Escarole, and Arugula tossed in a Citrus-Parsley Dressing
Grilled Grain-fed Sirloin Steak
Slow-Roasted Breast of Chicken
Oven-Baked Filet of Salmon
The above entrées are served with garden vegetables and your choice of steamed white rice or a baked potato.
Desserts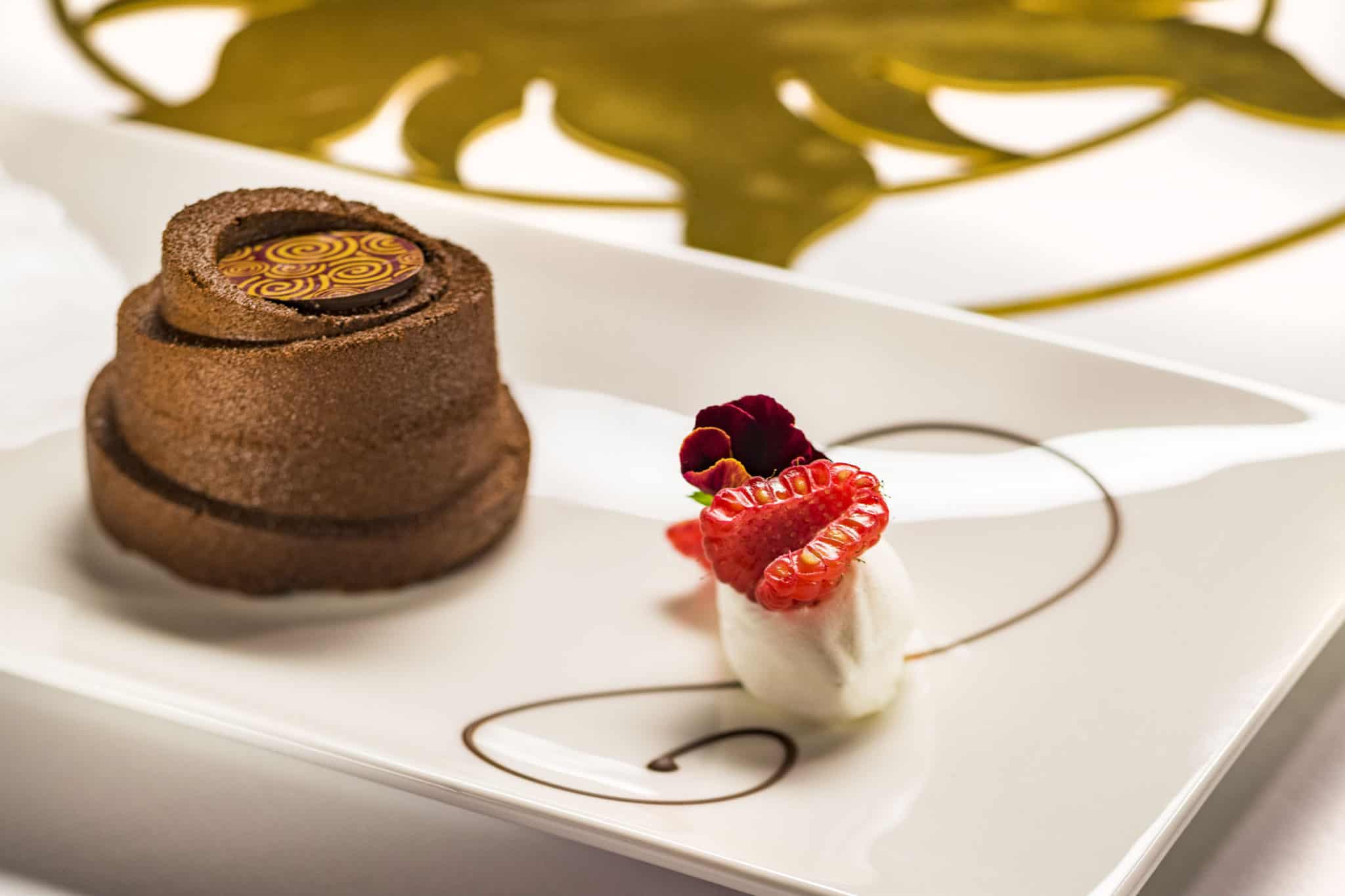 Rapunzel's Fry Pan Sweet Bread – Fry Bread dusted with Powdered Sugar, Chocolate-Hazelnut Sauce, and Vanilla Bean Ice Cream served in Rapunzel's Fry Pan
Crème Brûlée Cheesecake – layer of Baked Cheesecake with Caramelized Crème Brûlée served with Fresh Whipped Cream
Warm Braided Apple Strudel – served with Vanilla Sauce and Butter Pecan Ice Cream
Birthday Cupcake Sundae – Butter Cupcake with Strawberry Compote, Birthday Ice Cream, Dipped Cream, and topped with Celebration Confetti
Gothel Blackforest Tower – Rich Chocolate Crème, Cherry Compote, and Chocolate Cake Tower
No Sugar Added:
Lemon-Raspberry Mousse Bombe – Citrus Lemon Mousse embedded with Fresh Raspberries
Photos: Matt Stroshane/Disney Cruise Line