When Symphony of the Seas debuted in 2018, it came with a brand-new specialty restaurant: Hooked Seafood. The New England-inspired venue is light and bright, with modern and nautical interior design elements.
Since then, it can be found on two additional Royal Caribbean ships, and we're hoping the line continues to include it on future and renovated vessels. With that said, here's an overview of the restaurant, including its menu.
Cost
Dinner at Hooked costs $42.99 per person, though the price may vary slightly depending on the ship.
Dress Code
The dress code at Hooked is casual, which Royal Caribbean says means things like jeans, polos, sundresses, and blouses. Swimwear is not allowed, and shorts are permitted at lunchtime. However, you'll likely be fine wearing nicer shorts to dinner here as well.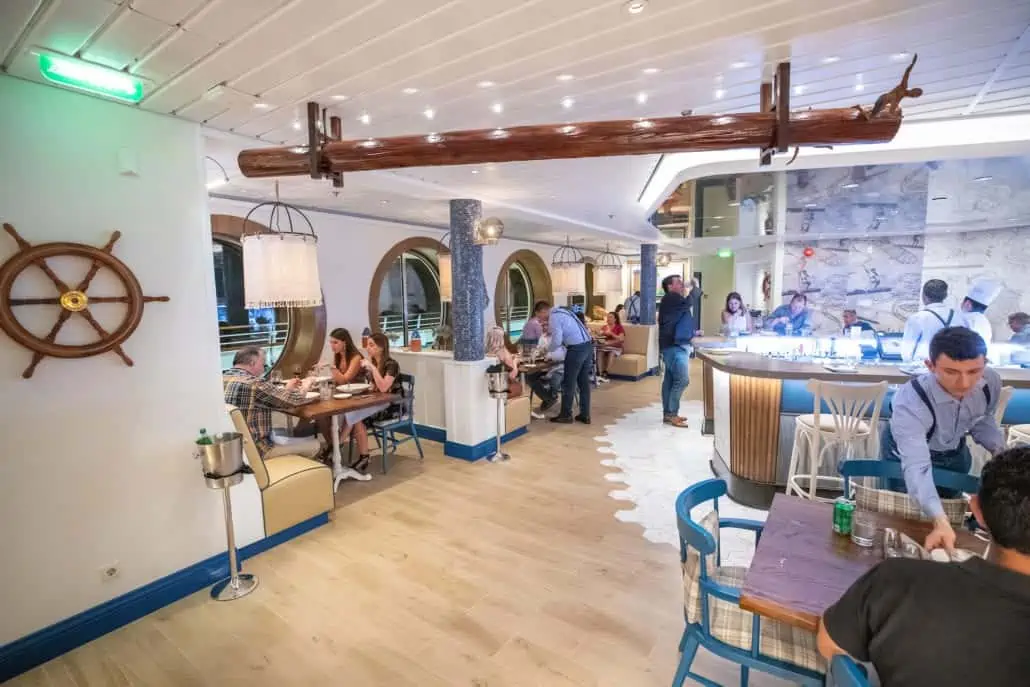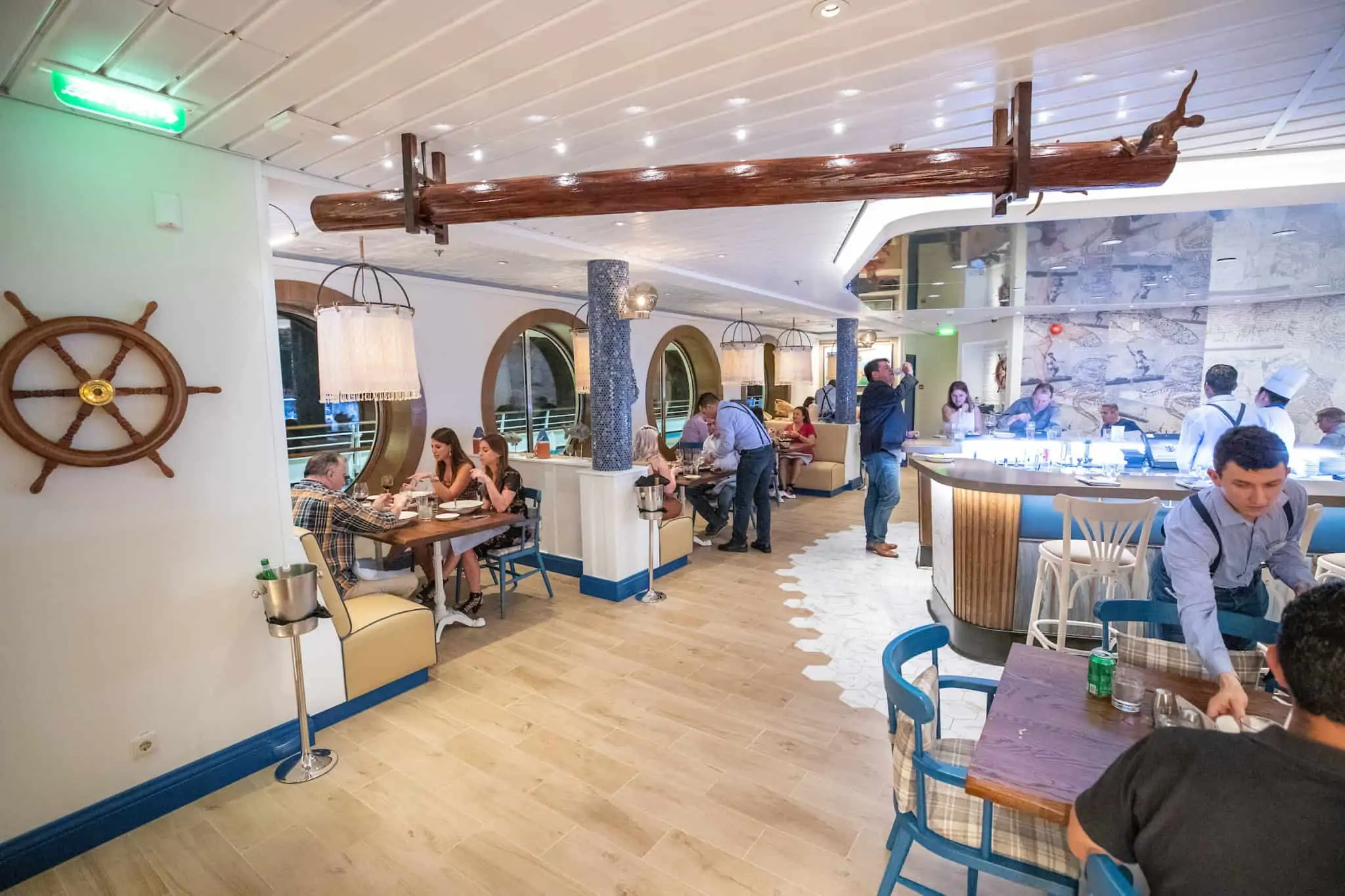 Which Ships Have Hooked Seafood?
Navigator of the Seas
Symphony of the Seas
Wonder of the Seas
Menu
Starters
Soft-shell Crab: Fried golden brown served with creamy remoulade sauce
Shrimp Cocktail: Traditional or spiced up Mexican style
Maryland Crab Cake: Classically paired with tartar sauce
Ceviche: Traditional citrus-cured or spicy ceviche ají amarillo
Fresh-shucked Oysters: Half dozen oysters with a duo of mignonettes — select from Royal's market-fresh options
Baked Oysters: Broiled oysters on the half shell served with fresh lemon, two of each style: Rockefeller, leeks and white wine, brie and Champagne
Clam & Crab Chowder: Tender clams and lump crab meat elevate this New England favorite
Fresh Hand-tossed Salad: Mesclun greens, tomatoes, onions, orange segments and strawberries dressed in a lemon-mustard vinaigrette (can add grilled chicken or shrimp)
Main Catches
Alaskan Salmon: Prepared to order with buttered seasonal vegetables and lemon
Drunken Mussels: Steamed mussels in a garlic white wine or tomato sauce, served with crispy Cajun fries and aïoli (also available as an appetizer portion)
Messy Fish Sandwich: Golden fried cod topped with coleslaw and homemade tartar sauce on a toasted brioche bun, served with fries or choice of side
Royal Seafood Platter: Lightly battered deep-fried cod, soft-shell crab, tiger prawns, scallops and black mussels, served with creamy remoulade and Cajun fries (selection based on market availability)
Surf & Turf: Tender steak and lobster tail grilled to order, served with baby vegetables and melted butter (ask about the Turf & Turf option)
Whole Maine Lobster — 2 lb.: Stuffed with crab, topped with creamy béchamel sauce and grated Gruyere, then baked until golden brown served with choice of side
The Captain's Platter: 4 oz. lobster tail, fresh fish filet, and shrimp all grilled to perfection, served with warm melted butter and choice of side (ask about the day's market-fresh options)
Maine Lobster Roll: Sweet, melt-in-your-mouth lobster meat salad served in the traditional style on a grilled bun with fries or choice of side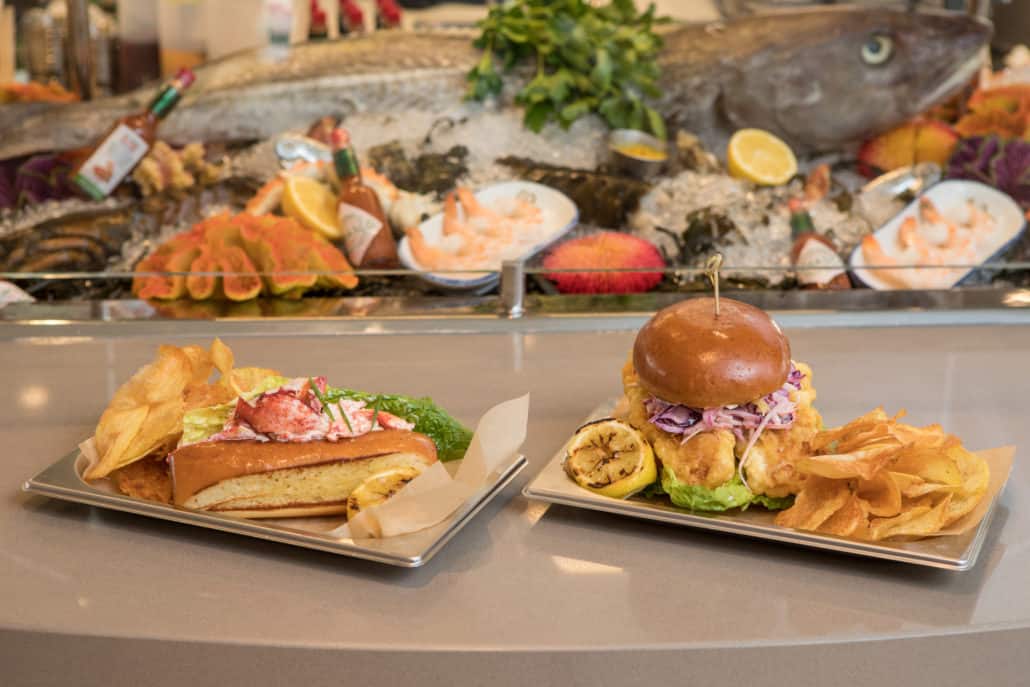 Sides
French Fries: Regular or Cajun
Coleslaw
Corn on the Cob: Grilled until tender
Lobster Mac & Cheese: Tender lobster meat, gooey cheddar, and gratinated Parmesan
Seasonal Vegetables
Desserts
Coconut Cream Pie: Rich coconut custard topped with whipped cream and toasted coconut
Cherry Pie: Sweet and tart — the classic all-American recipe
Lemon Tart: Tangy lemon custard in a flaky, buttery crust
Decadent Chocolate Brownie: Served with chocolate fudge, salted caramel sauce, and vanilla ice cream
Kid's Menu
Appetizers
Traditional Shrimp Cocktail
Fresh Tossed Salad: Choice of grilled chicken or shrimp, dressed in a lemon-mustard vinaigrette
Maryland Crab Cake: Classically paired with tartar sauce
Entrées
Messy Fish Sandwich: Golden fried cod topped with crisp coleslaw and homemade tartar sauce on a toasted brioche bun (chicken sandwich option is also available)
Kids' Steak: Beef tenderloin grilled to order, seasonal vegetables and a side of creamy mac & cheese
Coconut Shrimp: Crispy coconut shrimp skewer served with french fries and seasonal vegetables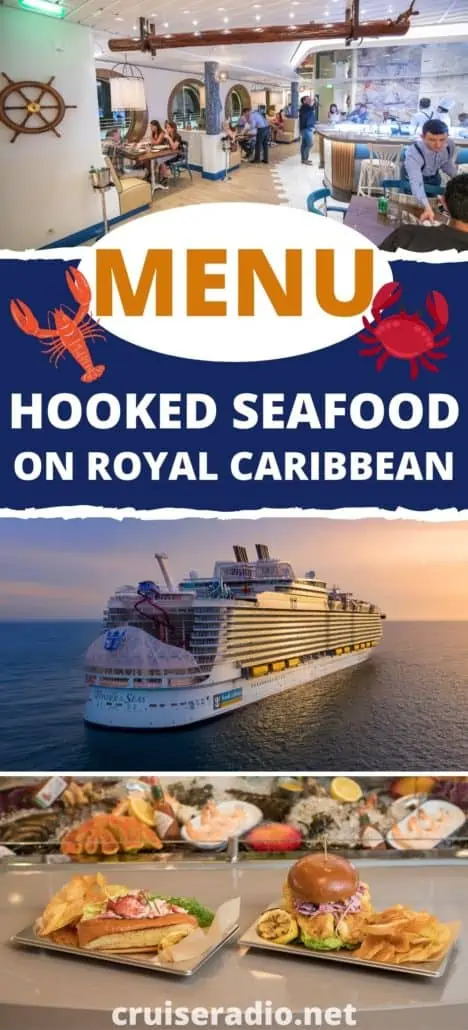 READ NEXT: Wonder of the Seas Dining Guide: Which Restaurants are Complimentary?