Holland America Line's newest upcoming ship Nieuw Statendam is set to debut this coming December. When the ship sets sail from the Fincantieri shipyard in Italy, it will feature several stateroom enhancements.
The newest 2,666-guest Pinnacle-class ship will have eight more cabins than sister ship Koningsdam, and all categories have been reimagined from top to bottom with more thoughtful touches and additions.
Among the most noticeable is the redesigned Pinnacle Suite – the largest on the ship – as well as reconfigured Family Staterooms. That being said, Nieuw Statendam will still display all stateroom hallmarks that were introduced on Koningsdam, including single-cruiser cabins as well as a wide range of suite configurations.
Staterooms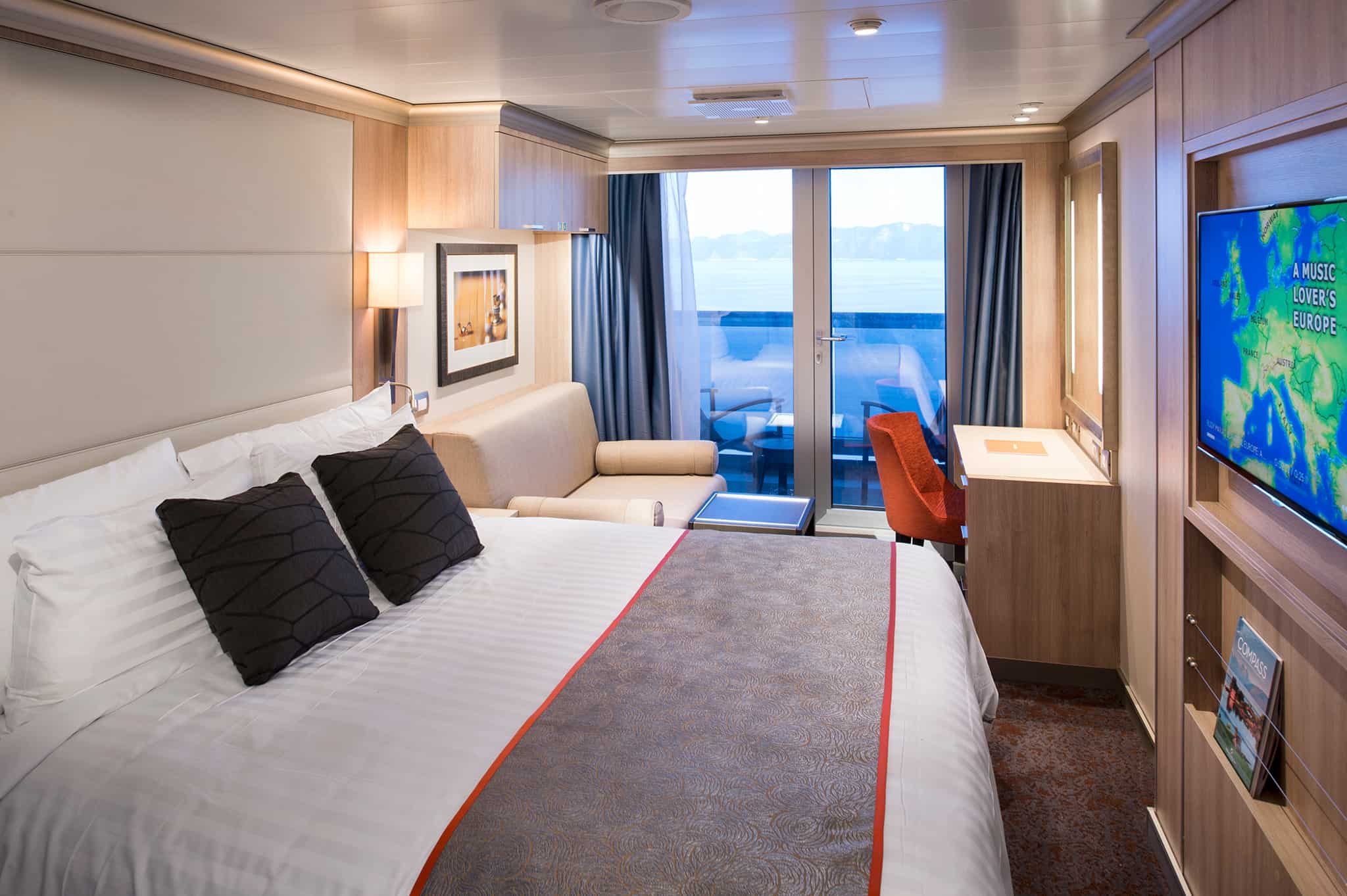 Nieuw Statendam adds five more oceanview and three more interior rooms, bringing the total stateroom count to 1,339. The vessel has 103 oceanview and 280 interior cabins, ranging from 225 to 266 square feet. The ship will also have 851 verandah or verandah spa accommodations, bringing the total cabins that have a verandah, including suites, to 912.
The 32 family oceanview staterooms range from 222 to 231 square feet, and have been reconfigured to offer more living space. Accommodating up to five guests, family staterooms offer special amenities including two bathrooms and extra closet space. The 12 single oceanview cabins for solo cruisers range from 127 to 172 square feet, and are located on the forward main deck.
Suites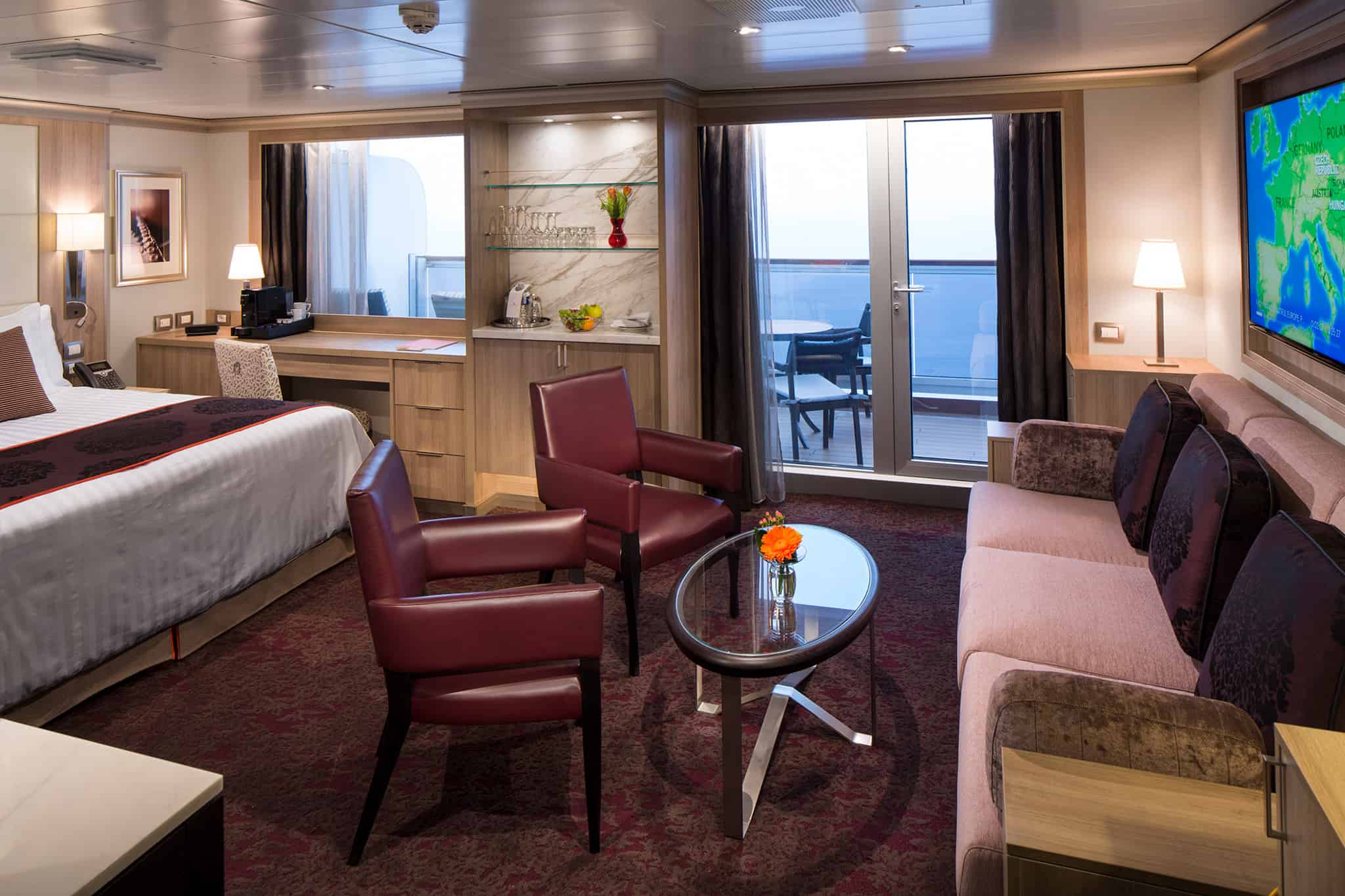 On Nieuw Statendam, suites are larger and more luxurious than ever on Holland America. A grand Pinnacle Suite is a massive 1,290 square feet with a bedroom, living room, dining area, dressing room, and verandah with whirlpool. The Pinnacle Suite was reconfigured to offer an open-concept design, and guests are greeted by a spacious grand entrance, refreshed color scheme, and luxe touches like custom furniture and a double-sided television.
43 Nepture Suites and 2 Neptune Spa Suites range from 465 to 855 square feet. Guests in these accommodations, as well as the Pinnacle Suite, have access to the exclusive Neptune Lounge, a private place to relax, socialize with other suite guests, and have access to a concierge. This ship's lounge was enlarged to allow for additional seating and more windows, giving a feeling of openness. The fleetwide lounges provide worktables, a large screen television, a library, sofas and chairs, and complimentary refreshments throughout the day.
The 14 Signature Suites are up to 400 square feet, and the 104 Vista Suites range from 260 to 356 square feet. Signature and Vista suite guests receive a number of special amenities, including oversized bath towels, fresh flowers, a pillow menu, mini bar, and one-touch phone concierge service.
Those looking for a relaxing spa-centric cruise can book a Spa Suite or Verandah Spa, Outside Spa, or Inside Spa stateroom, located near the Greenhouse Spa & Salon. These cabins come with yoga mats for use during the voyage and an iPod docking station.
Other Details
With sophisticated décor and amenities, suites and staterooms aboard Nieuw Statendam feature a host of modern details, such as bedside USB ports, customized wood cabinets, and frameless glass shower doors.
Additional amenities found in every cabin include Holland America's signature Mariner's Dream bed with cotton linens, plush bathrobes for use during the cruise, a premium massage showered, flat-screen TV's with video on demand, a mini fridge, free fresh fruit on request, and soaps, lotions, and shampoo from Elemis Aromapure.
Due for delivery on December 1, 2018, Nieuw Statendam is currently under construction at Fincantieri's Marghera shipyard in Italy. The 2,666-guest, 99,500-ton ship will feature familiar elements as well as state-of-the-art enhancements that chart a new course forward for Holland America.
For more information, visit hollandamerica.com.
Photos: Holland America Line