MSC Cruises celebrated the float out today of their new next-generation ship, MSC Meraviglia, which will debut this coming June.  The cruise line held a ceremony for the event, and also for another reason: they've announced the name of the second Meraviglia-class ship: MSC Bellissima.  The vessel will enter service in spring 2019.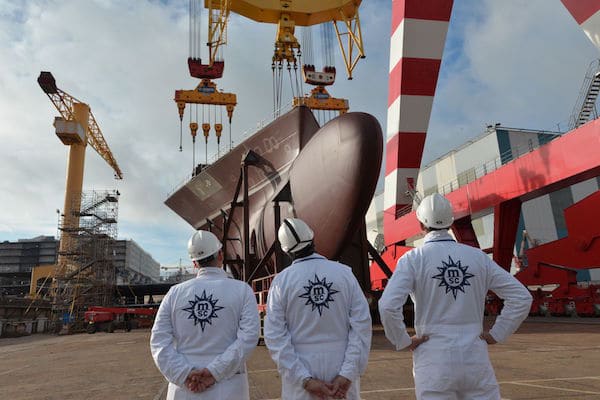 "We are so pleased to be able to make this announcement on the very day that her sister ship MSC Meraviglia is touched for the first time by water, a moment that symbolizes the real 'birth' of a ship," said CEO of MSC Cruises Gianni Onorato.
The float out is a key moment for any new ship being built.  The dry dock is flooded, and then the ship is moved to a wet dock where she enters the final construction phase.  Today's event was able to show guests and the media some of the modern design that will make the Meraviglia-class ships uniquely innovative, and a destination in and of themselves.  Some of Meraviglia's onboard features will include a Carousel Lounge for Cirque du Soleil shows, a 315-foot long promenade with an LED sky, and an enhanced MSC Yacht Club, the line's ship-within-a-ship concept.  For more information on the upcoming ship, visit our article detailing it here.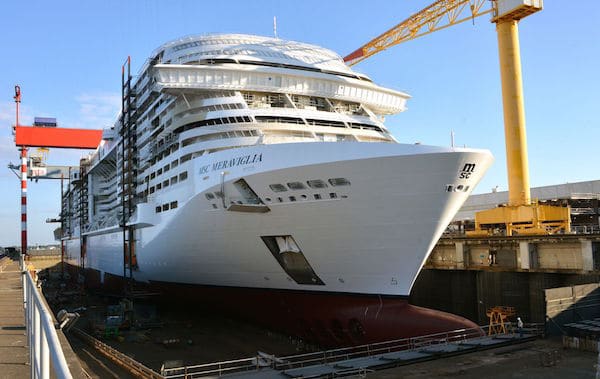 Laurent Castaing, president of STX France said "We are extremely proud to design and build MSC Cruises' next generation of cruise ships. We are aware and thankful for the trust this amazing company has in our innovation ability. It's been more than 12 years that our industrial partnership has started, and we are always excited by the challenges of fulfilling MSC ambitions."
Photos: MSC Cruises