MSC Cruises is gearing up for the autumn debut of its new flagship, MSC Seashore. 
65 percent of the vessel's public spaces have been reimagined since they first debuted on Seashore's sister Seaside-class ships. The vessel will boast nearly 140,000 square feet of outdoor space, a larger casino, and numerous pools and hot tubs.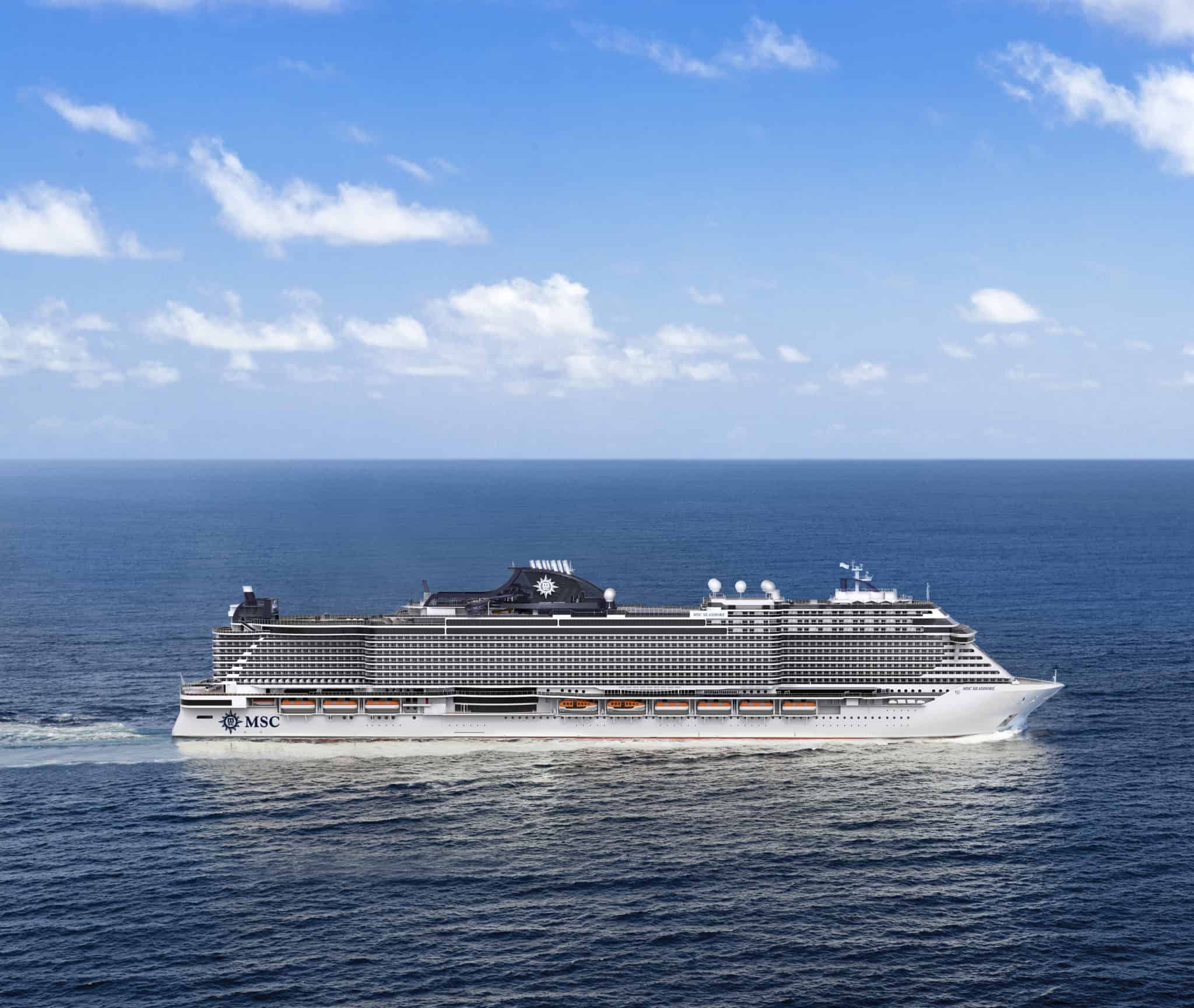 "With every new cruise ship we introduce, MSC Cruises continuously looks to enhance and innovate the guest experience by adding new, immersive onboard features." said Rubén Rodríguez, president of MSC Cruises USA.
"With anticipation building for our return to cruising from U.S. ports, we can't wait for our guests to rediscover what they know and love about MSC Cruises… both on our ships returning to cruising this summer and on the new MSC Seashore arriving in Miami this November."
1. Six Pools and Water Areas
Designed for warm climates, MSC Seashore will feature six different swimming pools to relax and cool off.
The aft pool has been redesigned to create an infinity pool on deck 8 with a glass wall. It will be one of the largest infinity pools at sea and offer a variety of depths.
The Long Island pool is the main lido deck pool, which will be surrounded with ample deck space and feature two depths as well as a fountain.
The ship will include two infinity whirlpools — one on each side of the ship on the outer promenade deck. Each will offer 20 sea-facing seats with water jets.
The Jungle Pool has been enhanced with the pool area spread over two decks, and a magrodome that can be closed to create an indoor pool area when needed. It's located near the buffet on deck 16, perfect for a lunchtime snack with the family.
Spanning two decks, The Pirates Cove Aquapark will include adventure trails, treasure hunts, a galleon for kids, and more. The Kraken's tentacles wrap around the adventure trail on its way to the Long Island Pool, which is connected to this aquapark area. The Aquapark will also feature a waterslide with a virtual reality component that takes guests on an adventure through a medieval town being attacked by the Kraken.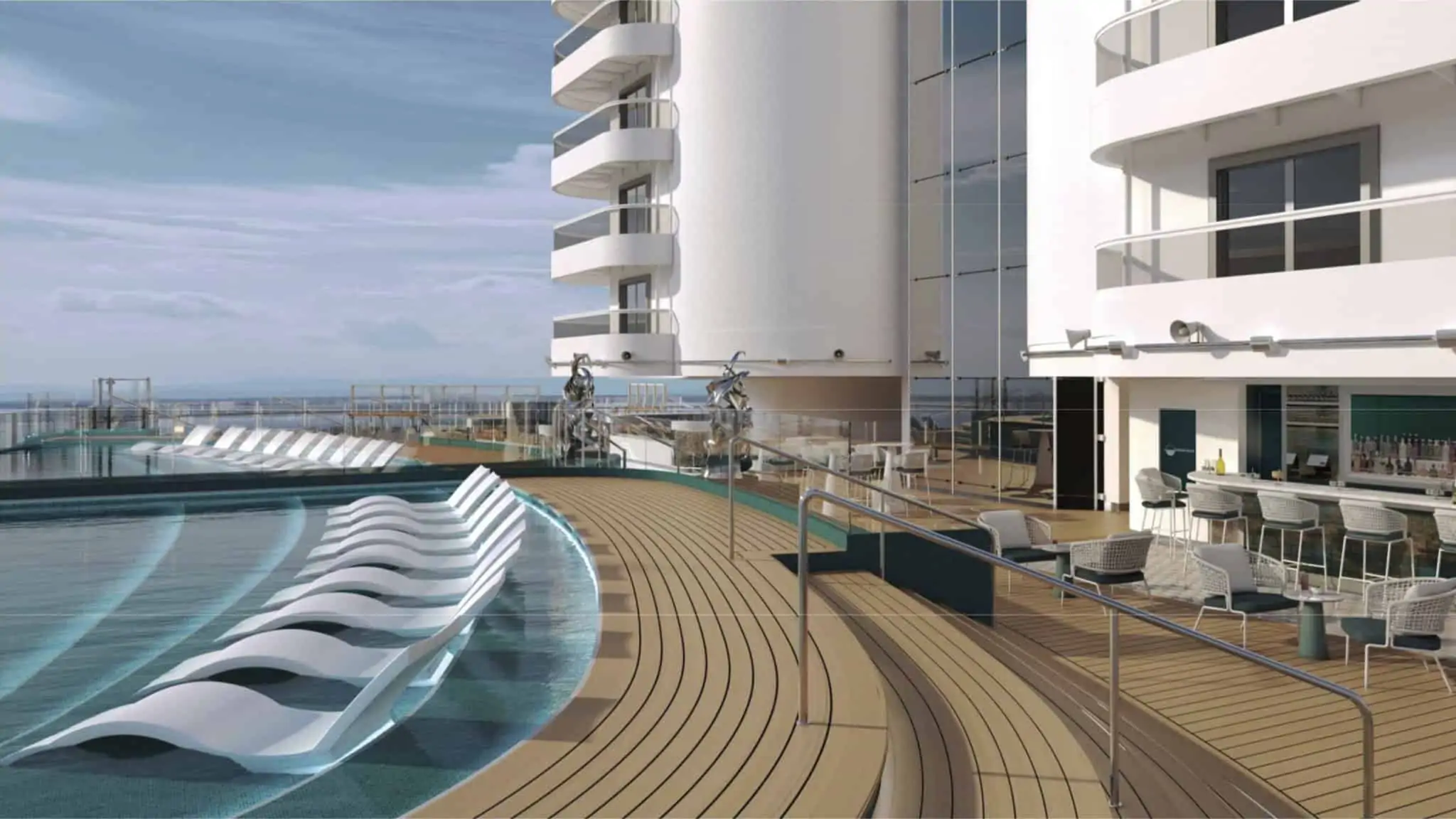 2. An Expanded Casino
Those who love to spend time in the casino during a cruise are sure to be pleased with the casino aboard MSC Seashore, which will be larger than any of the other Seaside-class ones.
Located on deck 7, the 12,000+ square foot casino will feature 182 slot machines, 12 tables, and the latest gaming technology.
The space will feature a mix of reel, video, and poker slot machines, as well as classics such as Roulette, Blackjack, Three Card Poker, and Ultimate Texas Hold'em Poker.
READ MORE: MSC Cruises Begins Construction on Most Eco-Friendly Ship Yet
3. Simulators and a Cinema
An assortment of entertainment amenities will be found onboard the ship, including a full-size F1 simulator and a XD cinema where passengers can dive into alternate worlds.
Seashore will also include a rafting simulator experience called Run the River. Equipped with VR headsets and special effects, the virtual indoor attraction has never been seen before in the water park industry. The rafting simulator will take guests on an extreme sport experience with full rafting sensations, all while they take in the beautiful surroundings and are involved in thrilling scenes.
4. MSC Aurea Spa
The MSC Aurea Spa will be an expansive space on MSC Seashore, featuring a large number of treatment rooms and a professional hair salon, nail salon, and barber shop.
The spa will also include a medi-spa center and an outdoor area to relax in the sun. And, of course, the spa will also boast a thermal area complete with a sauna, steam bath, whirlpool, and more.
5. Mall-Style Shopping
The shopping area on MSC Seashore will feature a completely new layout that's 72 percent larger than that of her sister ships.
Highlights include:
A massive New York-themed piazza with 10,452 square feet of space across three decks.
World-class brands and a brand-new fragrance bar with videos and details about fan-favorite perfumes, as well as a tasting bar in the Duty-Free shop
The dedicated jewelry area has more than tripled in size and will now feature three separate watch and jewelry spaces.
The MSC Shop will have a new design inspired by the shape of a snail shell, where passenger can find MSC-themed and ship-specific merchandise.
READ NEXT: Got 132 Nights? There's a New World Cruise For You.