MSC Cruises has revealed the schedule for the October 2019 to March 2020 winter season. With 17 ships and a large array of destinations around the world, the line has an itinerary for every guest looking for a winter cruise getaway.
Mediterranean
With bookings opening on March 5, 2018, MSC Grandiosa is one of two ships that will enter into service in 2019, and will be spending her inaugural winter season in the western Mediterranean. The ship is named to signify magnificence and grandeur, which will be fitting for the ultra-modern mega ship.
MSC Sinfonia will offer longer 11, 12, and 14-night cruises in the Mediterranean for those looking for a longer break. New for this season will be a 14-night voyage that calls at the historic port of Haifa, Israel with two full days to explore Jerusalem and Bethlehem. This new itinerary also calls in Civitavecchia (Rome), Messina, Genoa, Barcelona, Marseille, Rhodes, Limassol, and Heraklion.
Sinfonia will also be sailing a new 12-night itinerary from Genoa to exotic destinations across the Mediterranean and Atlantic. Destinations include the sun-drenched island of Tenerife and the Moroccan city of Tangier, known for its huge local markets and white-washed hillsides. Other highlights include the Roman-Spanish city of Cartagena, the Gothic-tinted Portuguese city of Funchal, and Civitavecchia which is the port entry to Rome.
North America
Before MSC Meraviglia begins cruising from Miami, MSC has introduced new voyages from New York City. The ship will offer two 10-night cruises from the Big Apple, calling in Bar Harbor, Boston, Portland, Charlottetown, Corner Brook, Halifax, Québec, St. John, and Sydney. Prior to arriving in New York, Meraviglia will complete a 17-night transatlantic cruise from Kiel, Germany with ports of call in Denmark, the UK and Ireland, Iceland, and Canada.
Caribbean
During the 2019-2020 winter season, MSC Cruises will deploy six ships in the Caribbean. A key highlight will be the opening of Ocean Cay MSC Marine Reserve, a new private island just for MSC guests. The Bahamian paradise will offer 40 acres of golden beaches split into six unique areas. MSC Seaside, Meraviglia, Divina, and Armonia will all call at the island's specially-built pier, so that no tendering is required to get to shore.
From her new Miami homeport, Meraviglia will offer two itineraries in the western Caribbean. MSC Seaside will continue to sail seven nights from Miami to the eastern and western Caribbean.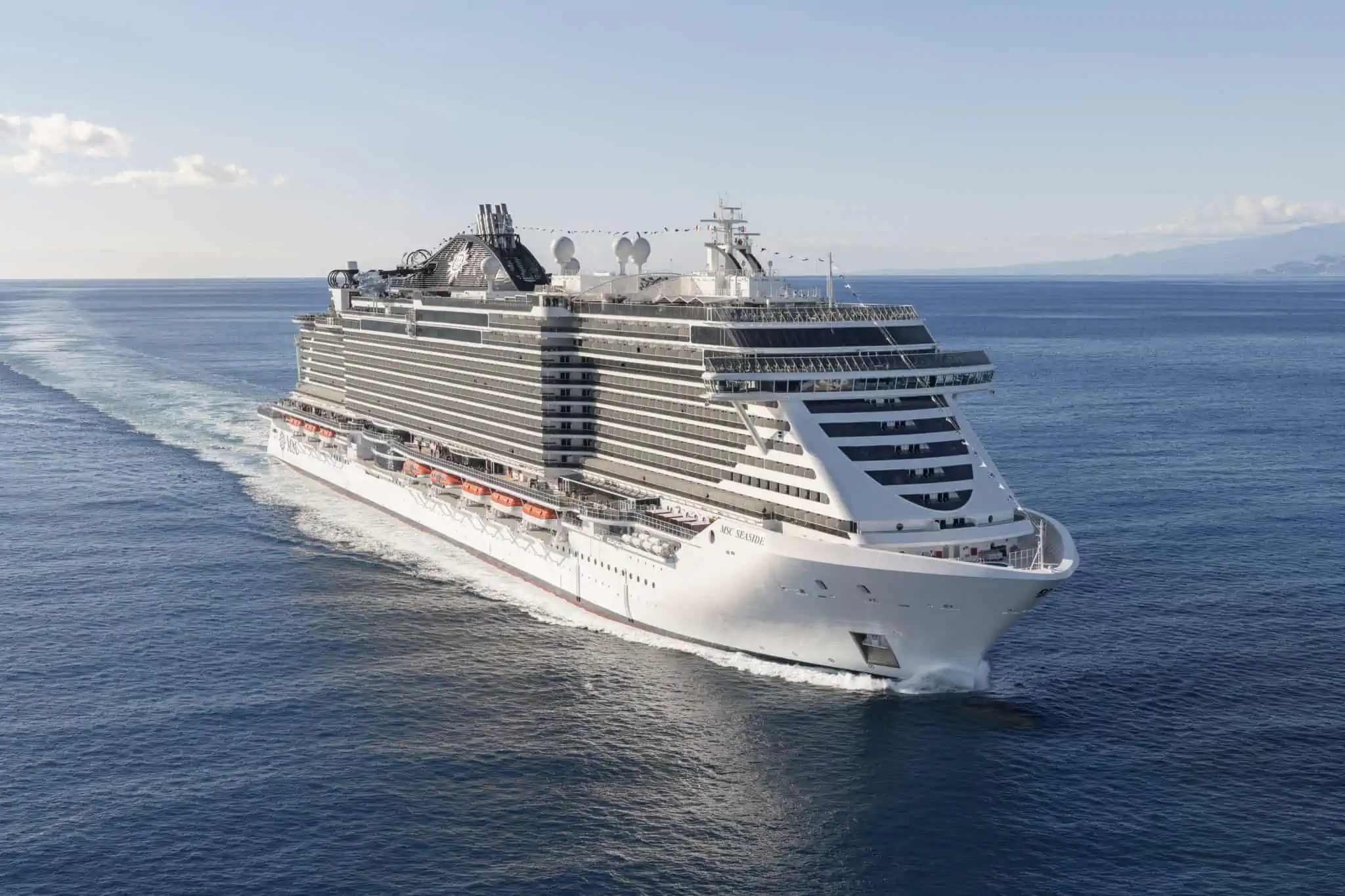 MSC Divina will return from the Mediterranean in November 2019 offering two long cruise from Miami. The ship will offer an 11-night voyage to Jamaica, Colombia, Panama, Costa Rica, Mexico, and the Ocean Cay MSC Marine Reserve. A 10-night cruise will include Antigua and Barbuda, St. Kitts and Nevis, St. Maarten, Tortola, and Ocean Cay MSC Marine Reserve.
MSC Preziosa will offer two embarkation ports in the French Antilles, setting sail from Fort de France in Martinique and Pointe-a-Pitre in Guadeloupe. The two 7-night/7-port cruises can also be combined into a 14-night cruise, visiting Tortola, St. Maarten, Dominica, St. Kitts and Nevis, Antigua, Barbuda, St. Lucia, Barbados, Trinidad and Tobago, Grenada, and Saint Vincent & the Grenadines.
United Arab Emirates
MSC Cruises will be introducing one of its newest ships to the United Arab Emirates. MSC Bellissima will enter service in March 2019 in the Mediterranean, and then will move to the Middle East for winter. There, it will offer two different 7-night itineraries taking guests to Sir Bani Yas Island, exclusive to MSC guests when in port, and to Khasab and Muscat in Oman or Bahrain and Qatar. MSC Lirica will join Bellissima in the region with a series of long cruises in the Persian Gulf. The 14-night cruise includes calls in the Indian ports of Mumbai and Goa with an overnight, while the 11-night stops in Muscat and an overnight stay in Oman.
World Cruise
With a brand new itinerary, MSC's second World Cruise will commence on MSC Magnifica from Civitavecchia, Genoa, Barcelona, and Marseilles in January 2020. With more than 40 destinations in 23 countries, guests will be able to cross five continents on a three-month plus voyage to some of the world's most popular destinations.
The earlier you book with MSC, the better the benefits. By booking ahead guests can enjoy significant savings and a wider choice of cabins within the Fantastica, Aurea, or MSC Yacht Club experiences. To learn more, visit msccruises.com.