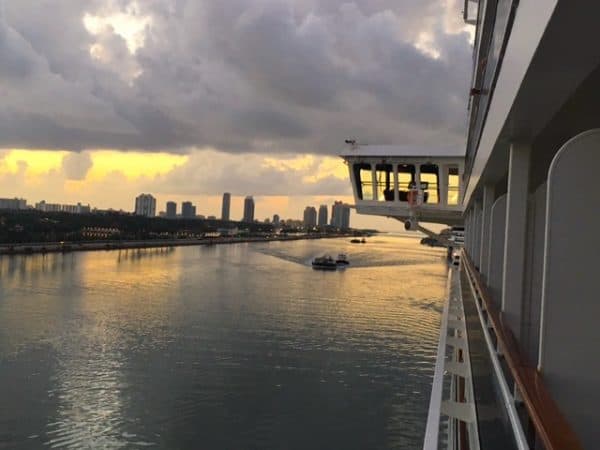 The worst day of the cruise is finally upon us – disembarkation! It's the worst day because it means we have to get off the ship and go home. No more cooked meals, no more rooms being cleaned twice a day, and no more trips to the coffee bar (back to Dunkin' Donuts!).
Choose Self-Assist
I've always liked to be the first person off the ship. When I sailed Carnival Conquest in January, I was the second person off the ship. To me, if the cruise is over, you might as well close the chapter and not prolong the departure or reality.
The second day of the cruise, we had a form in the room asking if we wanted to do self-assist disembarkation. That would assign what luggage tag we got the last night of the cruise. Since I choose self-assist, I was zone one, meaning the first to disembark the ship at 6:45. We met in the casino at 6:45 and as soon as we got there, they started moving us towards the gangway and off the ship. From gangway to curb was 15 minutes. I'd assume it'd move a little bit slower for the people who checked their luggage because there was barely anyone doing self-assist.
Parking Garage
I drove down this trip and parked in the parking garage. If I was sailing out of any port other than Miami, I would park offsite. I don't know enough about the offsite parking lots or the safety of them in Miami. Since this was a four night cruise, I ate the $80 ($20 per-night parking fee).
Would I Recommend?
This is a double-edged question because while the cruise line does have a (very) European flare to it, it's also different from other cruise lines. If you are used to cruising Carnival, Royal Caribbean, or Norwegian Cruise Line, then you probably wouldn't enjoy it. This is not your mass market cruise experience, and MSC prides themselves on being different.
If you're an open-minded traveler who like visual entertainment, European-style service, and love stunning public spaces and venues aboard your cruise – you'd enjoy this.
Coming Soon!
There is more coverage coming on this ship over the next few weeks as we do a deep dive into the experiences, what makes it different from other lines, and other posts.
Thank You
Thank you for reading this and a big thank you to MSC Cruises for offering me this four-night western Caribbean cruise aboard MSC Divina. Even though the cruise was complimentary, it has no reflection on my thoughts or opinions (and trust me, I have plenty!).
Check out our previous MSC Divina blogs:
Pin this!