MSC Cruises has announced a new addition to their lineup of family-friendly offerings; a web series called "Kelly and Kloe On Board."  The new programming will engage younger guests, so that the fun can begin before the cruise, and continue well after disembarkation.
Details
The "Kelly & Kloe On Board" experience will be rolled out fleetwide this month.  It follows the story of two young girls who spend time aboard an MSC ship with their father, the Master.  One day, despite promising him they would spend the afternoon studying in their room, they decide to embark on an adventure filled with mischief and fun with their butler and two crew members in tow.  During their escapade throughout the ship, they experience magic, video games, 4D movies, a water slide, sports, and dances.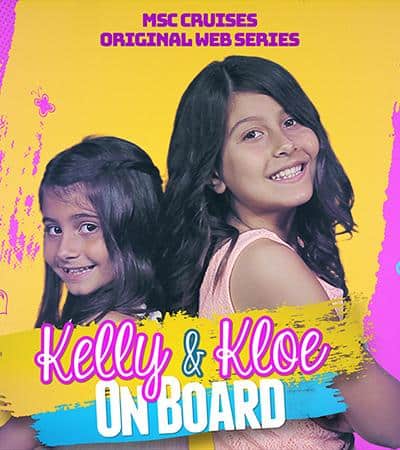 The full day of kids' entertainment that will be designed around the "Kelly and Kloe" story will allow kids aboard the ship to explore and play like Kelly and Kloe did.  It will feature seven different activities, where kids can learn the theme song and dance routine from the series, take part in a selfie contest dressed up as the characters, and get creative with the chance to write their own episode and continue the story.
Where to Watch
The web series can be watched on MSC Cruises' website.  The first season features four 3-minute episodes that kids can watch before – or after – their cruise vacation to relive the fun they had onboard.  To watch, click the link here.