MSC Cruises has revealed an all-star lineup of international chefs that will be onboard their first-ever World Cruise, setting sail in January.
MSC Magnifica will depart for her epic 2019 journey across the globe on January 5, 2019 from Genoa, Italy. Passengers will be in for a true gastronomic experience, not only in the ports but also with the international onboard dining. The impressive group of chefs will create their own special dishes while they sail onboard for portions of the cruise.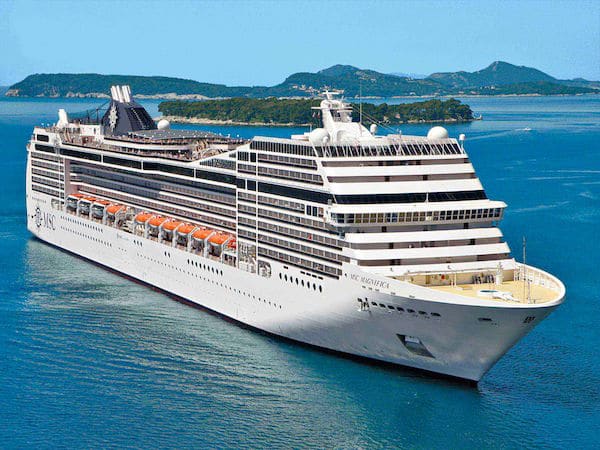 Meet the Chefs
The roster of chefs that will be joining the World Cruise include:
Michelin-starred Spanish chef, Ramón Freixa

Decorated Indian-American chef, Vikas Khanna

Award-winning Italian chef, Carlo Cracco

Two-time World Champion in pastry, French chef Jean-Philippe Maury

Restaurateur, cookbook author and chef, Roy Yamaguchi

Expert in all four schools of Chinese cooking, Chef Jereme Leung

Veteran chef and restaurateur, Brazilian chef, Allan Vila Espejo

MasterChef Colombia jury member Chef Jorge Rausch

Sydney Morning Herald's "Chef of the Year," French-Canadian chef, Serge Dansereau
Each chef will develop a three or four-course menu for guests to enjoy during a dedicated evening, each reflecting the chef's personal skill and flair. For his evening onboard, Pastry Chef Jean-Philippe Maury will instead prepare a decadent dessert. Most of the chefs will embark with a select team for a portion of the voyage, working with the onboard chefs to prepare their special creations. During the exclusive meals, the chefs will greet and interact with passengers while they enjoy their dishes.
The 2020 MSC World Cruise
The 2019 World Cruise has already been sold out for a while now, but those who want to be a part of MSC's next World Cruise still can grab one of the few spots left for the next year's voyage, which departs January 5, 2020.
The 2020 trip will visit 43 destinations across 23 countries, stopping in many brand new destinations for MSC Cruises. Some include:
Ushuaia, Argentina:

The most southern city in the world, this Argentinian fishing village offers stunning water scenery with often snow-topped mountains.

Rapa Nui, Easter Island:

This storied island is famed globally for its unique collection of carved-stone figurines dating back to the 13th century.

Darwin, Australia

: Located at the northern tip of the country, the region allows guests to experience the true Australia, with beaches, lagoons, sports and local wildlife in close proximity.

Valparaiso, Chile:

Recognized for its small, bright-colored houses on its coastal hills, Valparaiso offers visitors spectacular views out to the Pacific or exploration in the city, marveling at photo-worthy walls of art

Mumbai/Bombay, India:

The bustling city of Mumbai (previously called Bombay) offers endless tastes, scents and sights around every corner.

 

Salalah, Oman

: With multiple waterfalls, exotic lush flora and unusual animals, Salalah is an unforgettable destination.
For more information on the 2020 World Cruise, click here.