Last week, Carnival Cruise Line became the latest cruise line to announce that they would begin charging for late night room service. Explaining that it was an attempt to cut down on food waste, Carnival said they would begin charging for food items delivered between 10 p.m. and 6 a.m. while also pointing out that unlike their major competitors, they continue to offer free room service options from 6 a.m. to 10 p.m. So what does the newly-revamped menu feature? Read on.
Details On Carnival's Room Service Menu
Driving home the fact that the new room service menu offers a wide variety of items for a reasonable price, the new menus tout the motto "A Little $ For A Lot Of Yummy." The daytime menu features both "On The House" items (including salads, sandwiches and desserts) and items carrying an extra charge (including wings, pizza, chicken tenders, fries and a banana split), the most expensive of which is the Spicy Fried Firecracker Shrimp at $6. Drink wise, the daytime menu features free juices, teas and coffees as well as sodas and beers at regular bar prices.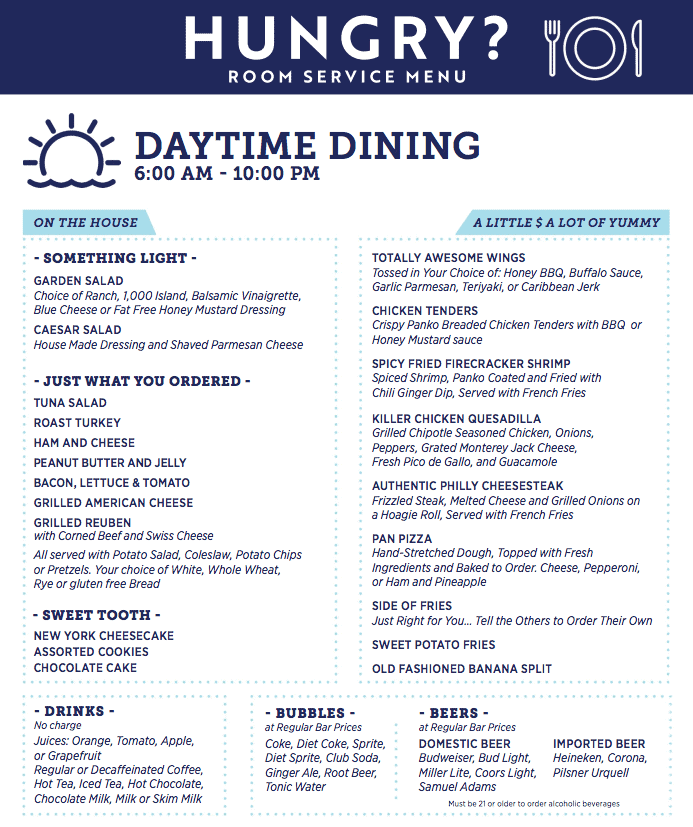 All items on the late-night menu have a fee attached, including a $2 charge for the various beverages available for free during the daytime.  The late-night menu offers all of the for-fee items available during the day (at the same price), as well as a host of new selections. Among the additions are a Portabella & Veggie bun (priced at $4), a Roast Turkey Wrap ($5), Omelette & French Fries ($5), and a Grilled Cheese, Bacon and Tomato sandwich ($5). There are also several desserts, including a Doughnut Sandwich that runs $3.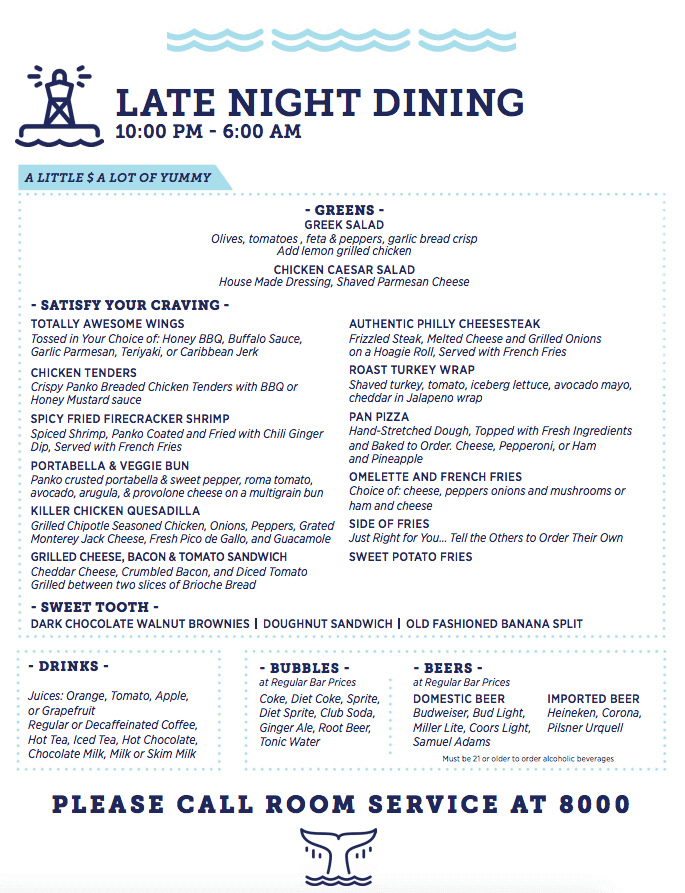 Clearly, the items are priced cheap enough to be attractive while also, by virtue of the fact that they aren't free, making one think about how much they order. (Translation: After a night of drinking, you might think twice before ordering everything on the menu if you know you'll have to pay for what you get.) The biggest difference between Carnival's late-night room service fee and what both Royal Caribbean and Norwegian Cruise Lines charge? Carnival is charging by the item, whereas the others go with a flat fee of $7.95 per order.
What do you think of the new items? Will you be less likely to order late-night room service because of the charge?