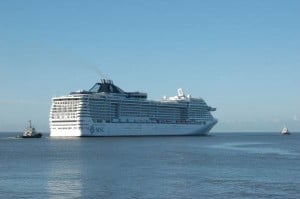 MSC Divina successfully completed her initial sea trials yesterday, returning to the Louis Joubert dock after 3 days on the open seas off the coast of Brittany, France.
The ship performed to the full satisfaction of the MSC Cruises team. The rigorous trials involved around 360 people and more than 60 separate tests, covering everything from speed and manageability to sound levels and vibration.
Further testing will be performed continuously up until the next big event in MSC Divina's busy schedule: the flag changing ceremony on May 19 in Saint-Nazaire.
A maiden cruise to Marseille will then bring the new ship to her grand christening on May 26. The spectacular evening of entertainment and celebration will be dedicated to the Mediterranean and the passion of its people, and will again see Italian screen legend Sophia Loren cutting the ribbon as the godmother of the MSC Cruises fleet.
Source: MSC Cruises
Subscribe to our Cruise News Updates.