Today we boarded Holland America's Nieuw Amsterdam. Luckily, for us, we stayed at the Pan Pacific Hotel last night so getting to the cruise terminal was super easy (it was inside the hotel!). A cool service that the hotel offers cruise guests that stay there pre-cruise is that they collect your bags inside your room on embarkation morning and deliver them to the ship. The next time you see your bag will be in your stateroom onboard. I love that. Holland America also does that on their land tours in Alaska.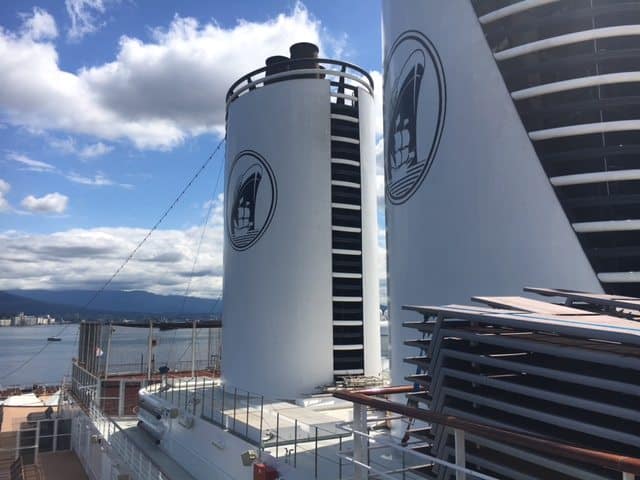 Embarkation
Embarkation was easy and I'm glad we got there early with two ships in port. We checked-in, made our way past security, through Canadian customs, and into the waiting area. I didn't realize we had to clear customs before getting on the ship in Canada but now that I think about it, it makes sense. You'd have to do the same thing flying out of Vancouver.
There were two ships in port today, Coral Princess and Nieuw Amsterdam (our ship), so customs had to process over 5,000 guests embarking between the two ships. Checking in early was key. We waited less than five minutes in the customs line.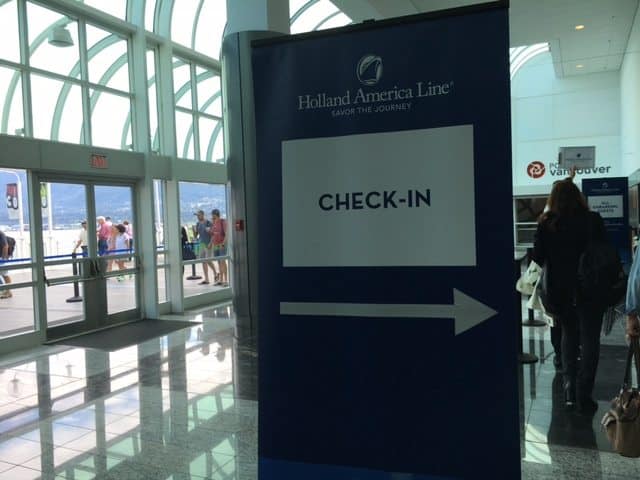 Now Boarding
I've been on the sister ship to Nieuw Amsterdam, ms Eurodam, twice – so I knew what to expect as far as the ship layout. The rooms weren't ready when we boarded at 11:30 (I was the first one on the ship) so we went up to the Lido deck to get something to eat. The first place I hit was the Dive-In burger joint where I had a Nathan's hot dog. They also have a lot of 1/3 pound burgers, a grilled portabella mushroom, and a chicken selection. I won't say that it gives Guy's Burger Joint a run for their money, but it's my second favorite pizza joint at sea. The first time I had it was on ms Koningsdam earlier this year.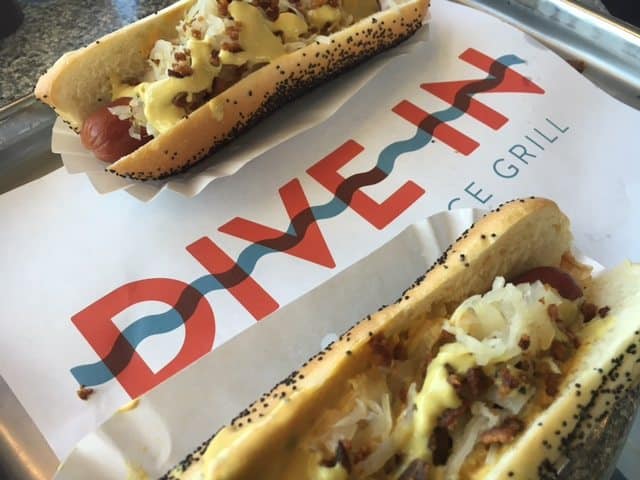 Stateroom
On this sailing, I have a balcony stateroom on deck four, aft. Holland America staterooms are pretty standard across the board with plenty of space, and drawers on the bottom end of the bed. My reservation said this was a guarantee balcony stateroom so I didn't get my assignment until a couple days before the cruise. At first I didn't know what I was going to get but I'm glad they waited until last minute. The balcony is huge! Holland America's ships tend to have larger balconies but this one has some serious square footage. The bathroom also has a tub, which is great because a tub means space when I'm taking a shower.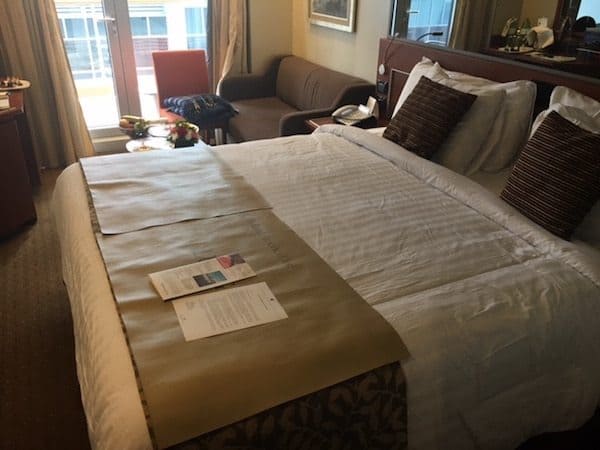 Life Boat Drill
Holland America calls out everyone's cabin during the muster drill to make sure everyone attends. I was surprised they still manually call out the rooms with the technology available. Regardless, I'd rather be safe.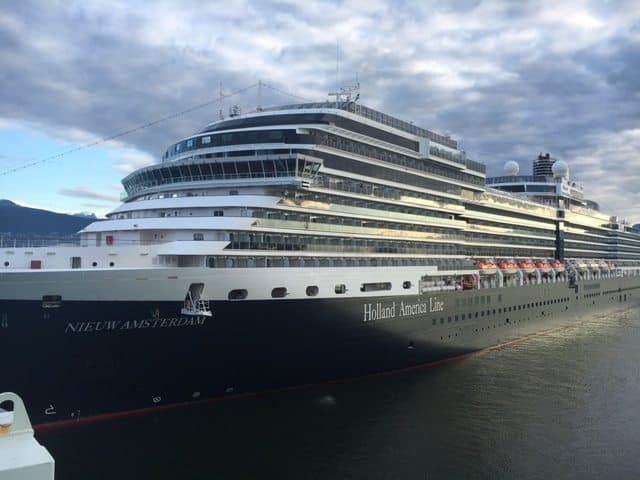 Sail Away
This had to be one of the best sailaways I've ever experienced. The weather, the views, the atmosphere and camaraderie were all on point. Canada Place is an elevated walkway that runs along the cruise ship, so all the landside folks were waving their farewells to us as we exchanged our farewells.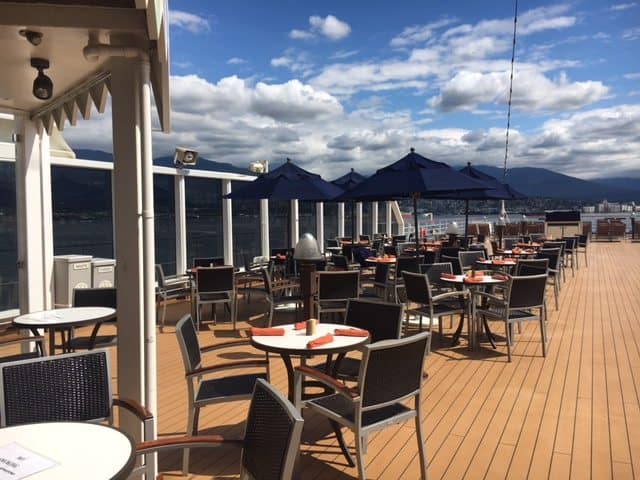 Dinner
It was good to be on a cruise again where I actually enjoyed the dinner. The menu was straightforward and easy to read. Created and designed by a member of their Culinary Council team, I went with Ketchikan Fisherman's Chowder, Caesar Salad (hold the fish!), and Grilled Salmon with a ginger cilantro glaze. Dessert was a not-so-baked Alaska.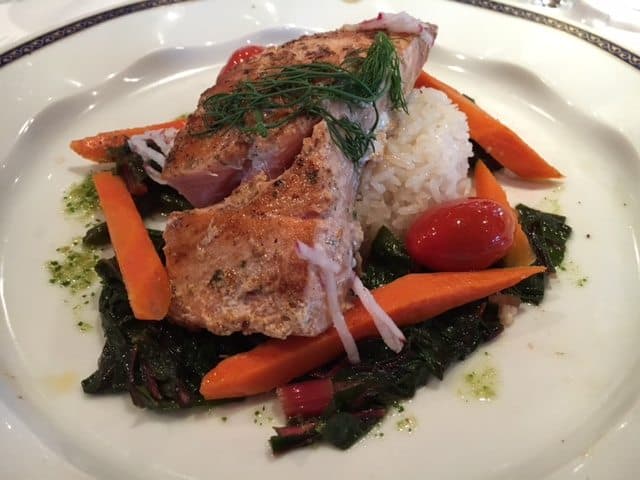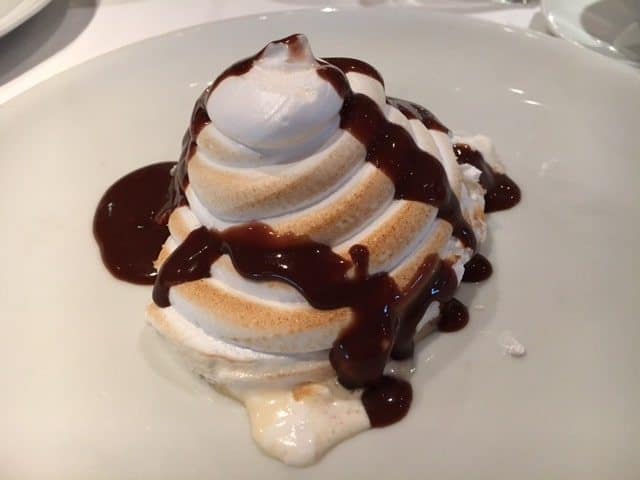 Welcome Aboard Show
This was a typical song-and-dance type show that lasted 45 minutes. The cruise director talked about the shows, found a couple that has been married for 60+ years, and then brought out a comedian. The comedian, Buzz Sutherland, was pretty funny and brought in a lot of clean Alaskan humor. I say this a lot, but I really can appreciate a comedian who can make you laugh without being raunchy.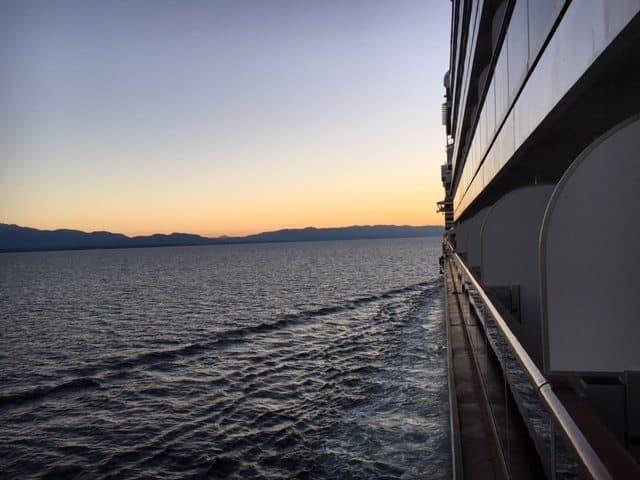 I'm writing this on my balcony, it's close to 11 pm, and it's still dusk out. Long days here in Alaska. Tomorrow is a scenic sea day as we head toward Juneau. We arrive there at 1 pm the following day.
Goodnight.
Check out the rest of the voyage's SeaBlogs by clicking the links below!
Pin this!