Norwegian Cruise Line's popular Free At Sea program has been expanded to include additional perks which can be purchased by passengers.
Free At Sea Plus Perks Program
For years, Norwegian Cruise Line has offered its Free At Sea program as a booking incentive. Passengers receive a variety of perks based on what type of stateroom they book. The perks range from a beverage package to shore excursions and wifi minutes.
Additionally, Norwegian has separately sold the ability to upgrade these perks. For example, those who receive the Premium Beverage Package as a booking perk were able to, for a price, upgrade to the Premium Plus Beverage Package. Similarly, they could buy upgraded wifi and dining packages.
Now, for the first time, Norwegian is offering passengers the ability to essentially bundle these individual upgrades into one package known as Free At Sea Plus. The package is available on both new reservations or on bookings made on or after January 18, 2022.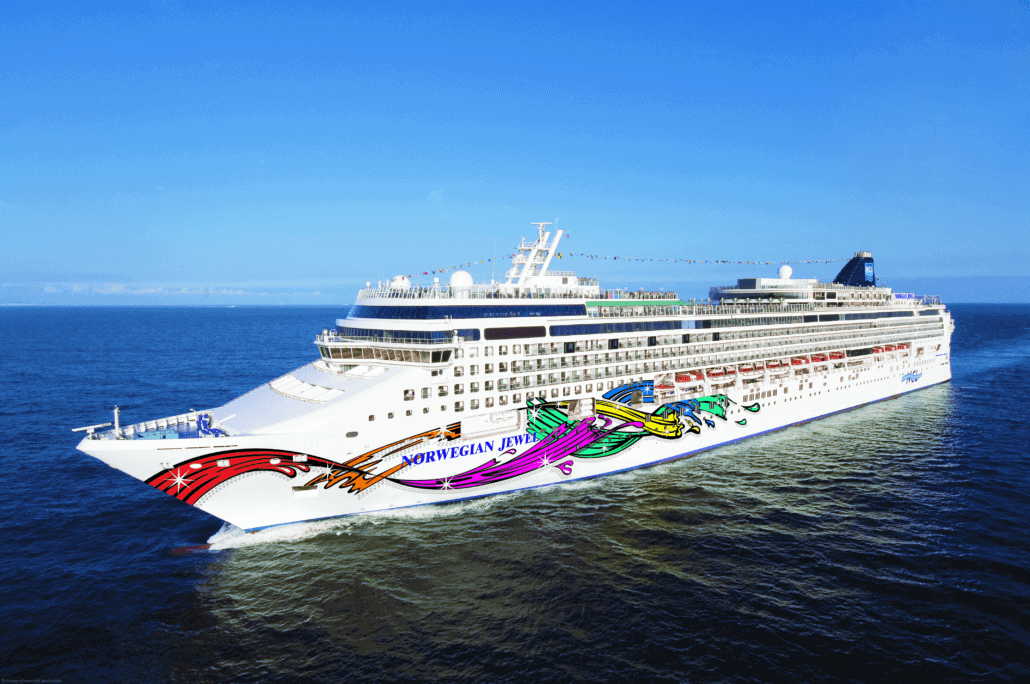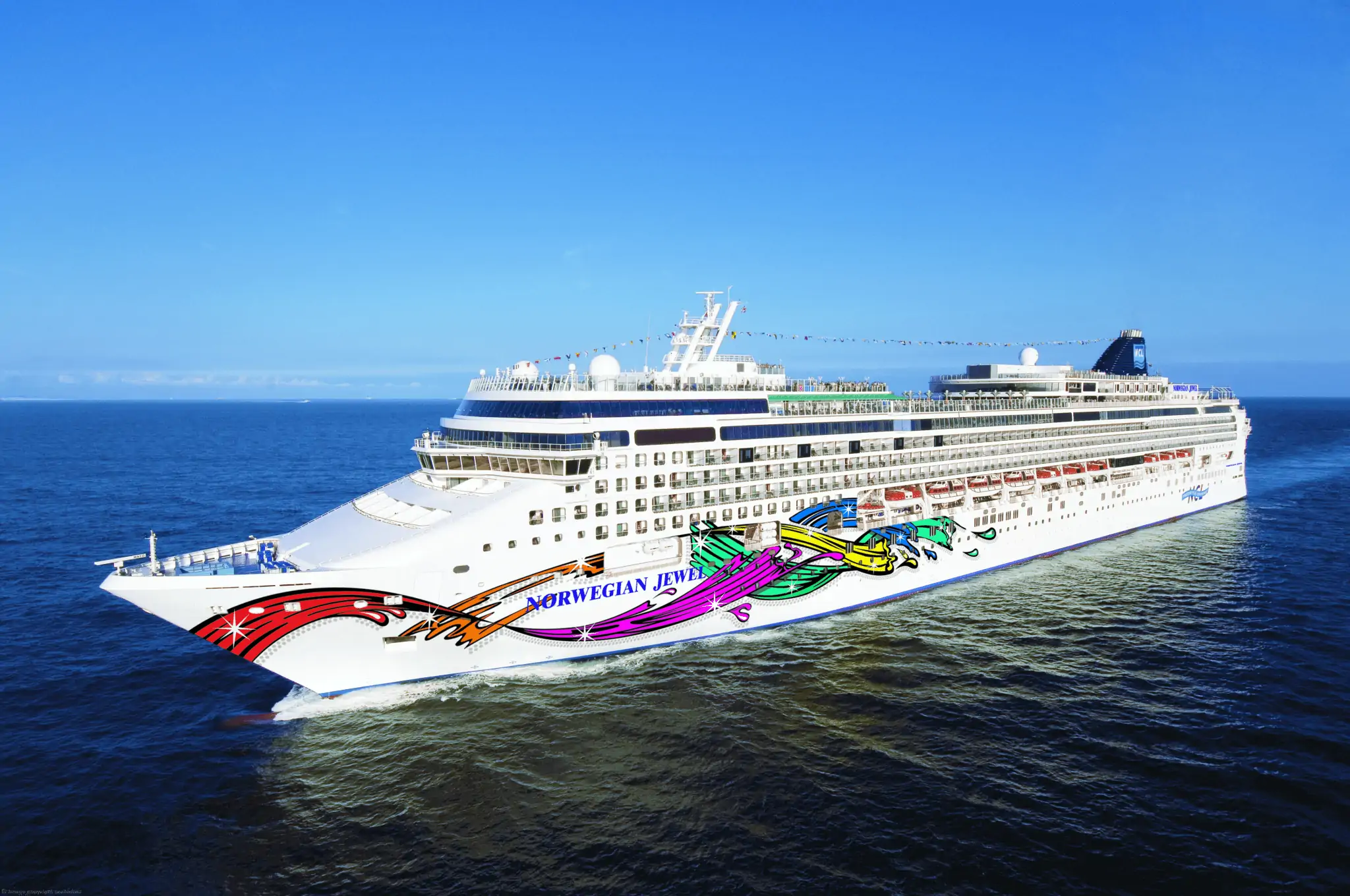 How Much Does The Program Cost?
While the Free At Sea perks offered at the time of booking are free (although a service charge is added to the beverage and dining packages), the Free At Sea Plus packages costs $49 per person, per day for adults, and $29 per person, per day for children. (Solo cruisers get a slight break, with Free At Sea Plus costing them $42 per person per day.)
MORE: 10 Secrets and Money-Saving Tips the Cruise Lines Don't Usually Tell You
What Are The Additional Perks?
The question guests will have is whether or not the package is worth their money, and that could depend on what kind of cruiser they are. For example, for many, the Premium Beverage Package suits their needs fine. But those who drink top-shelf liquor, enjoy Starbucks, and want bottled water will be drawn to the Free At Sea Plus package, as those are all included in the Premium Plus drink package, as are energy drinks and some designated bottles of wine in various restaurants.
The upgrade also includes — no matter the length of sailing — two additional nights of dining in the onboard specialty restaurants. So while the original Free At Sea package includes two specialty meals on a seven-night sailing, the Free At Sea Plus package offers a total of four. (See the chart below for further details.)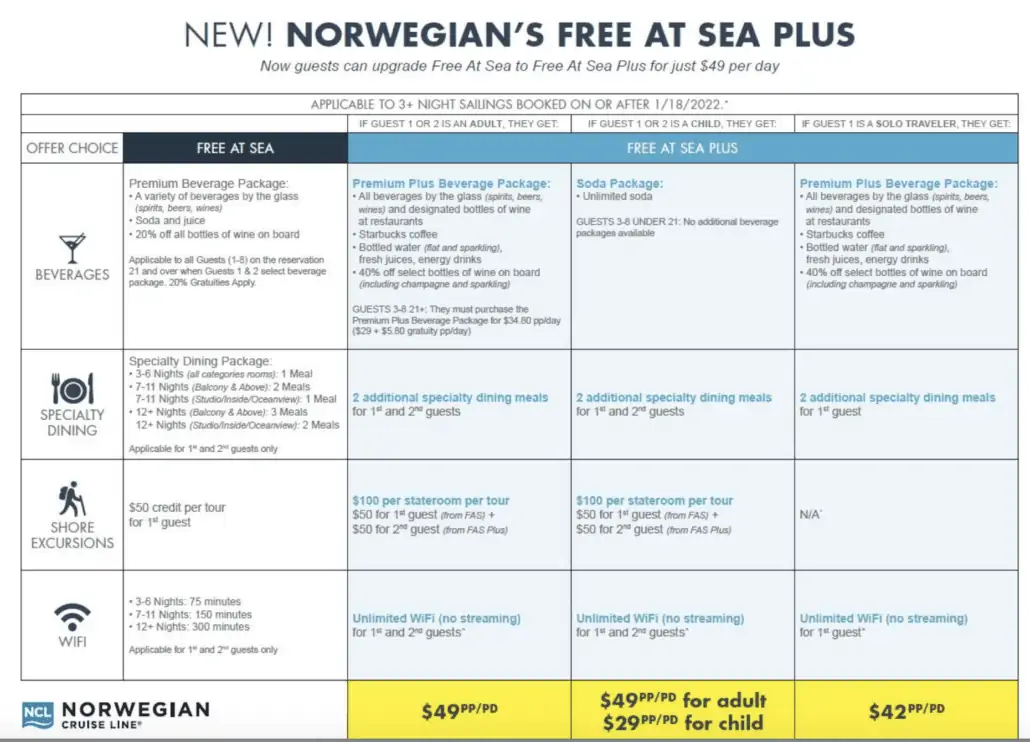 Another upgrade involves internet access. While a seven-night sailing with Free At Sea includes 150 wifi minutes, the Free At Sea Plus program offers unlimited wifi (although this does not include streaming, which can be added for an additional charge). The original Free At Sea packages offers the first guest on the reservation a $50 shore excursion credit, while the Free At Sea Plus gives that same credit to both the first and second guest on a reservation.
Guests interested in purchase the upgrade can do so through their travel agent or by calling Norwegian Cruise Line. At present, it is not available to book directly through the website.
READ NEXT: Overview: Norwegian Cruise Line's Vibe Beach Club