There comes a time when you want a little adult-only time. It was that idea that drove Norwegian Cruise Line to introduce the Vibe Beach Club, a for-fee area aboard the Breakaway, Getaway, Bliss, Joy, Encore, Escape, and the upcoming Prima, which provides guests over the age of 18 an exclusive space in which to bask in the sun away from crowded public areas.
What is Vibe Beach Club? Is it worth the extra price? Read on if you want to know everything about Norwegian Cruise Line's Vibe Beach Club!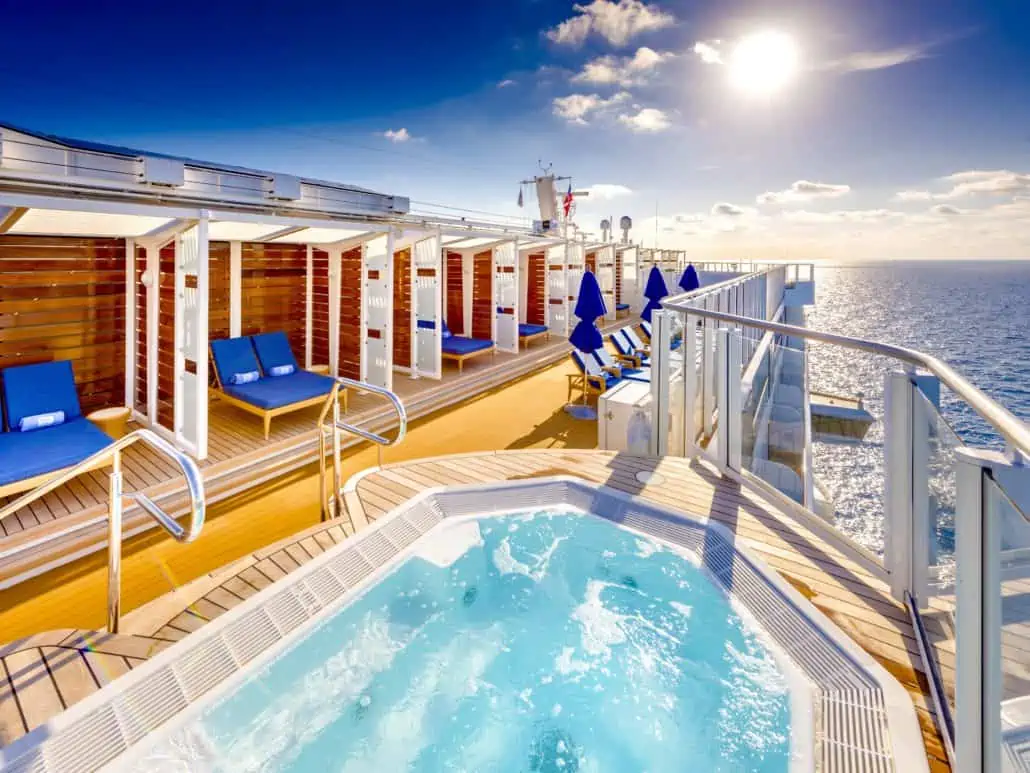 How much does a Vibe Beach Club pass cost?
Located atop the ship and behind doors, which is accessible to those with special keycards, the Vibe and Posh Beach Clubs feature everything you need to enjoy a day in the sun.
While day passes are sometimes available for purchase, most guests typically purchase a full-voyage pass. The cost varies depending on the individual itinerary, but as of July 2022, you can expect to pay around $200 on a seven-night Caribbean cruise.
There are also private cabanas (which we'll discuss later) available at varying prices. They include Vibe Beach Club access for two guests.
Upon purchasing a Vibe pass, you'll be given a wristband (which must be worn whenever accessing the area) and a separate key card for the entrance.
You'll also have an envelope explaining the hours and exactly where to find the space, which, while a tad silly, can make it feel even more "special."
Important things to know
Passes are sold per person, not per cabin. If you want two, you must purchase two.
Vibe access is non-transferable. Only the person who purchases the pass may use it.
The cost of beverages ordered at the Vibe Beach Club bar is not included, but your Ultimate Beverage Package is accepted.
No need to bring beach towels, as there are plenty available.
What's beyond the door?
The first thing you'll notice in the area is the absence of crowds. You'll see plenty of lounge chairs with thick, comfy padding that come in various styles.
You'll find daybeds that can be shared and different other seating options, including chairs arranged around a table perfect for gameplay.
There's also a private bar catering to the needs of Beach Club guests, as well as waiters who'll bring cocktails directly to your lounger.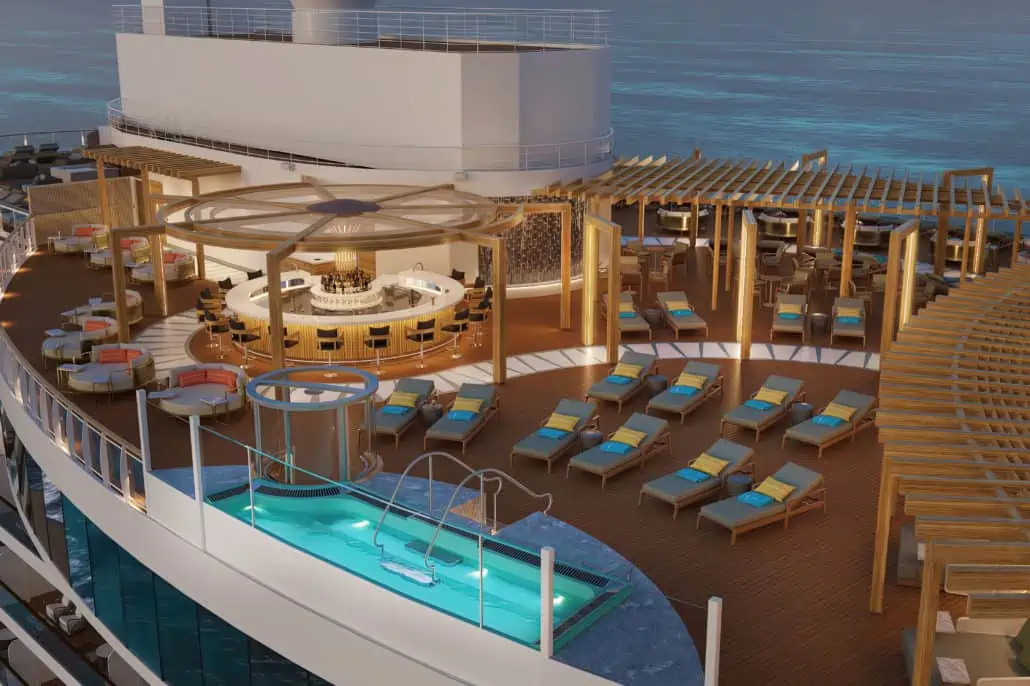 While the Posh Beach Club aboard Epic does not offer any water features, the Vibe Beach Club sections on the three other ships have hot tubs, which are, as one might expect, much less crowded than those found around the public pool.
On most ships with Vibe Beach Club, private cabanas are available for rent, which are designed to hold two passengers. While the cabanas offer privacy, they aren't designed to provide an escape from the sun.
It's also worth noting that the atmosphere within the Vibe Beach Club is much different than what you'll find around the main pool. While great tunes are piped into Vibe, the volume is much lower than the often beats blaring around the other one.
The Vibe is not your only option
The Vibe Beach Clubs are not the only areas aboard the ships designated as 18-and-over sections. Spice H20, for one, is also an adults-only venue featuring similar amenities, which is available for free. There are many guests who prefer the Spice H20 area for various reasons.
For example, Escape's Spice H20 area features a gorgeous rock grotto waterfall area that many passengers adore. Breakaway's version of Spice H20, meanwhile, features a similar grotto, minus the faux rock walls, which elevate her sister ship's water feature to another level.
On both ships, the Spice H20 area (where many of the nighttime parties are held) is located at the back of the ship, offering stunning views. Unfortunately, a massive screen takes up the back of the H20, which takes away from the panorama!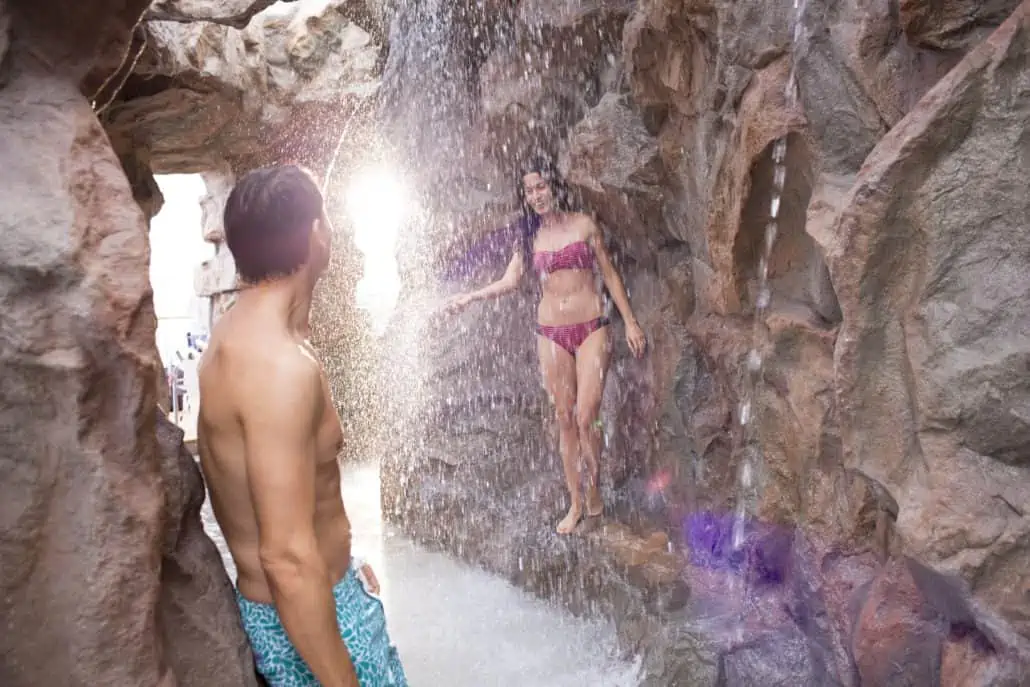 Why people love Vibe Beach Club
So what makes access to the Beach Club such a hot ticket? Exclusivity.
The only way to gain access to Vibe Beach Club was to ensure you were one of the first people to board and then race to guest services to purchase a pass.
A very limited number of passes – which varies by ship – are sold on each sailing. As a result, the Beach Club areas have the least crowded place on even a sold-out voyage.
Even on a beautiful sea day, you'll have no problem finding a spot at the bar or even plenty of loungers and a room in the hot tub.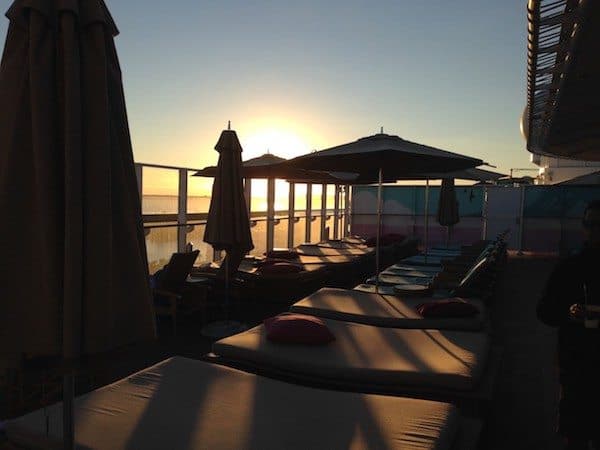 It's important to note one big difference between Vibe and Posh. Unlike those on ships featuring Vibe, passes to the adults-only area on the Epic are accessible to guests staying in The Haven, Norwegian's high-end ship-within-a-ship area. Therefore, fewer passes to Posh are often available for sale.
Final Thoughts
Vibe Beach Club is definitely not for everyone. Those who love all the big, splashy events around the main pools will probably find Vibe's mellow ambiance a little too low-key for their liking. However, those who are into a private retreat will find the Vibe (and Posh) Beach Club a perfect place to hang out.
This article was originally published in June 2017. It was updated and republished in July 2023.