Obtaining access to Norwegian Cruise Line's popular Vibe Beach Club just became significantly easier thanks to a change in how passes are distributed.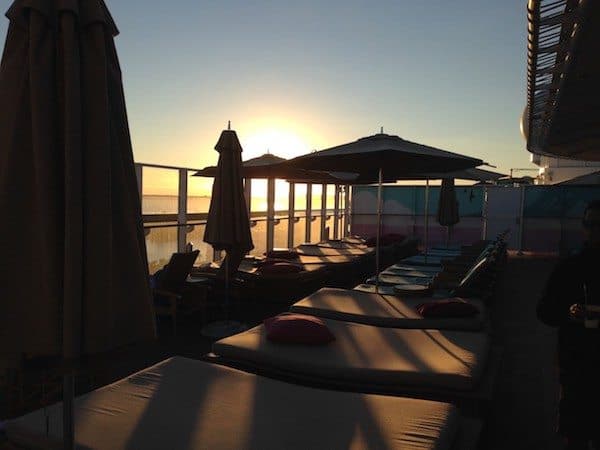 How to Score Vibe Beach Club Passes
Ever since Norwegian Cruise Line first introduced Vibe Beach Club, the adults-only, for-fee area featuring a bar, hot tub, and killer ocean views has been wildly popular with guests.
That popularity, however, has also made it difficult to obtain passes, a limited number of which are sold on any given sailing.
Often, passengers hoping to purchase a Vibe pass have found themselves literally racing to do so immediately after boarding. Beginning this month, however, they will be able to purchase access to the space long before their sailing.
For the first time since Vibe was introduced, Norwegian is making it possible for guests to buy their Vibe Beach Club passes in advance via either the line's website or their travel agent.
MORE: Overview: Norwegian Cruise Line's Vibe Beach Club
How Much Does It Cost?
It's important to note that Vibe Beach Club is not available on all of the ships in Norwegian's fleet. Currently, the hot spot is available on Bliss, Breakaway, Encore, Escape, Getaway, Joy, and the upcoming Prima.
Pricing-wise, the cost will vary depending on the length of cruise, ship, and time of year. For a seven-night voyage to the Caribbean, you can expect to pay $209 per person.
That price drops to $189 for sailings in Europe, Alaska, or to New England/Canada, where the space is obviously going to be less utilized due to weather.
Private cabanas within Vibe Beach Club are also available to rent in advance (or on board, if still available), with a seven-day Caribbean sailing rental costing $648. (The exception here is Encore, which has a Vibe area but does not offer cabana rentals.)
Purchasing a cabana allows two guests access to the Vibe area. While others may enjoy the cabana as well, they would have to purchase their own pass, whether for a day or the week.
READ NEXT: Is Vibe Worth the Price