How much are you willing to pay for unlimited drinks during your cruise? Norwegian Cruise Line believes that you'll be willing to pay over $100 a day not to worry about running up a tab that will come due at the end of the week. As of September 29th, the Norwegian drink package will now run passengers $89 per person to day… which, when combined with the 18 percent gratuity brings the total to $105.02 per day.
How The Norwegian Drink Package Compares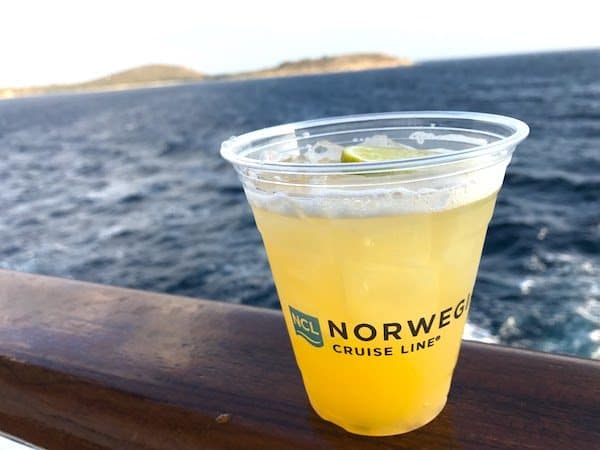 Guests who had booked their cruises and purchased packages before the price-hike went into effect will not be impacted by the change.
Even before the hike, Norwegian's drink package was among the highest price among the mainstream cruise lines. For example, Carnival Cruise Line's popular Cheers! package will cost you $49.95 per day plus a 15% gratuity if purchased in advance and $54.95 plus the gratuity if bought once on board. Pricing for Royal Caribbean's Deluxe Beverage Package tends to vary depending on the ship or itinerary, but generally runs between $45-$60 per person plus gratuity. Like with Carnival, Royal's package is more expensive if bought once one is on board, although they also run periodic sales which offer discounts, sometimes up to 30% off.
Why The Norwegian Drink Package Is Pricier
While there are numerous differences between Norwegian's drink package and those offered by other lines — including what is and is not covered — the biggest difference involves the line's basic sales pitch. For several years, NCL has offered passengers a variety of "free" perks based on what type of stateroom they book. These include internet minutes, meals in specialty restaurants, having the line pay your daily gratuities… and the drink package.
Part of NCL's marketing strategy has long been to promote the big money that these perks can save you. Their current homepage says that with the Free At Sea promotion, you can save "up to $3,600" on the price of your cruise. If the drink package on a 7-night cruise costs over $700 per person, and they're giving that to you as a "free" perk… well, that's $1,400 in savings from the get-go.
Simply put, the more money the line charges those who actually pay for the drink package, the more money NCL can legitimately say they are "saving" those who receive it as a perk.
Is A Drink Package Worth The Money?
Nearly every cruiser who has ever considered purchasing a drink package asks whether or not doing so is worthwhile. And there are people out there who have done whole spreadsheets explaining how many drinks you would need to consume, per person per day, in order to make the package worth while based on the price point on any given cruise line.
At the end of the day, it is a personal decision and people will come down on both sides of the topic. Personally, I have always opted to get the drink package as a perk when traveling on NCL. When traveling on other lines, I have purchased their package and, to be honest, not given a lot of thought to whether or not I will "get my money's worth." Because for me, it is about paying for anything and everything — from the gratuities to internet fees — before setting sail so that at the end of the week, I don't get hit with a bill. The one and only time I sailed without a package, I spent the entire voyage running a tab in my head each time I ordered a drink… which is just about the last thing I want to do while sitting by the pool.
Do you purchase a drink package? What's the most you would consider paying?