Norwegian Cruise Line has cut short a scheduled 10-night sailing of the Gem. While the cruise will  arrive back in New York City on the day it was slated to, the ship will skip the scheduled ports.
On Thursday, guests sailing on Norwegian Gem received a letter in their cabins from the captain. It indicated that "as a result of COVID-related circumstances, we must cancel the remainder" of the sailing.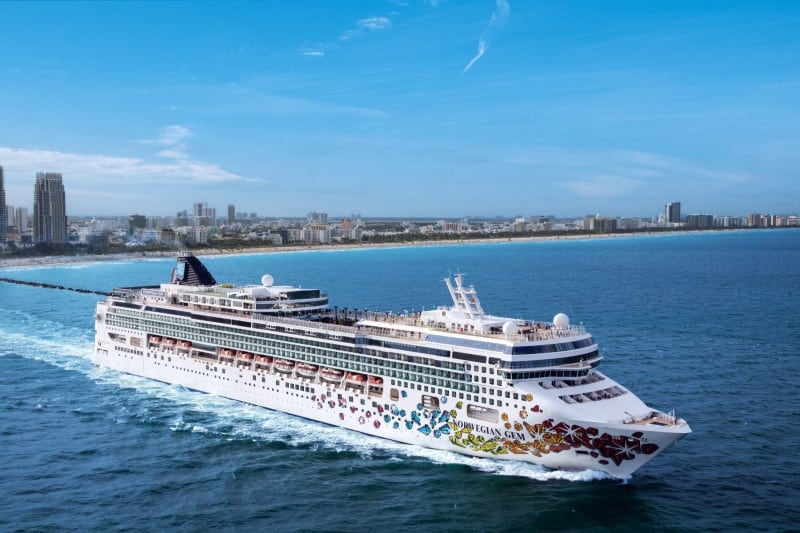 After spending Thursday night in St. Maarten, the vessel departed Friday morning and began the journey back to The Big Apple. Rather than making the expected calls at Tortola, Turks and Caicos, and St. Thomas, the ship will instead remain at sea as it heads back to Manhattan.
Passengers will be receiving a full refund of the cruise fare to their original form of payment. Those who paid with a future cruise credit will receive 100 percent of the credit back to their Latitudes account.
In addition to the refund, passengers received a $100 onboard credit per cabin, and will also be receiving a 50 percent future cruise credit valid for sailings through May 31, 2023.
At the time of publication, the next sailing for Gem has not been impacted and is still scheduled to sail on January 19.
Norwegian Breakaway Sailings Cancelled 
Meanwhile, Thursday also saw guests booked on Norwegian Breakaway receive an email saying that the ship's sailings from New Orleans have been canceled through January 23, 2022. In this case, "COVID-related circumstances" were also cited as the reason for the cancellations.
Currently, Breakaway is on a seven-night Western Caribbean voyage and has already called at Cozumel, Roatán, Costa Maya, and Harvest Caye. It is scheduled to return to New Orleans on Sunday.
In addition, the following Norwegian Cruise Line ships have recently announced.cancellations:
Norwegian Pearl cruises with embarkation dates through and including January 17, 2022
Norwegian Dawn through and including January 18, 2022
Norwegian Getaway through and including January 19, 2022
Norwegian Escape through and including January 22, 2022
Norwegian Joy through and including January 22, 2022
Norwegian Breakaway through and including January 23, 2022
Norwegian Sky through and including February 25, 2022
Pride of America through and including February 26, 2022
Norwegian Jade through and including March 3, 2022
Norwegian Star through and including March 19, 2022
Norwegian Sun through and including April 19, 2022
Norwegian Spirit through and including April 23, 2022
Those with an active reservation on one of the affected cruises above will receive a refund as well as a future cruise credit to be used through January 7, 2023 on any cruises sailing through May 31, 2023.
Guests who used a future cruise credit to book will receive the full value of the credit back in their account.
MORE: Norwegian Announces Next Prima-Class Cruise Ship