My last few trips have been on board the Norwegian Breakaway, and I have a completely different embarkation process for that ship than the Norwegian Gem, which I'm sailing on this week. On the Breakaway, it's important for me to be on the ship ASAP in order to get a pass for the Vibe Beach Club, which they only sell a limited number of. But the Gem doesn't have that for-fee, adult's-only area, so I wasn't in a big hurry to get on board… which was a good thing, given that as of midnight the night before, I hadn't finished packing! When finally I arrived at the pier in midtown Manhattan, it was around 11:30 a.m., and the place was a madhouse.
Welcome To The Good Life!
Fortunately, as a Casino At Seas cruiser, I was ushered to a dedicated line and was being check in about 15 minutes later. And that, my friends, is where the fun started. After checking my ID and tapping on her keyboard, the very friendly lady behind the counter said, "Mr. Simms, would you come with me please?"
Ruh-roh. "Am I in trouble?" I asked.
With a reassuring smile, she said, "I'm afraid I'm taking you to where all the naughty people go," before escorting me to… the VIP lounge! It turns out that because I'm hosting the Meet & Greet on this sailing, I was being given the VIP treatment. One of the very nice ladies in the VIP Lounge explained that while many of the ships no longer offer this perk for meet-and-greet planners, the Gem generally does. This meant that I got to hang in the priority lounge (where they have snacks and non-alcoholic beverages, and where friends of mine who were on this same sailing were already sitting, as they were staying in the Haven). I also was one of the first people on board. In the lounge, they had my keycard as well as my Casino At Seas info, so I was all set to go!
Ready, Set… Eat!
Before they'd even announced that embarkation was beginning, the VIP folks — including little ol' me — were being escorted on board. The second we were on the ship, we headed straight to Norwegian's signature steakhouse, Cagney's. This is another perk that comes with being a Haven guest (or, in my case, a very lucky person): Rather than fight the crowds at the buffet or even enjoying a sit-down meal in the main dining room upon boarding, we had lunch at the steakhouse. Joining my friends Dianne and Aldo, we had a delicious lunch (I went with the French Dip and, of course, the infamous Cagney fries), as well as my first cocktail of the trip.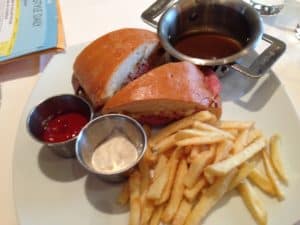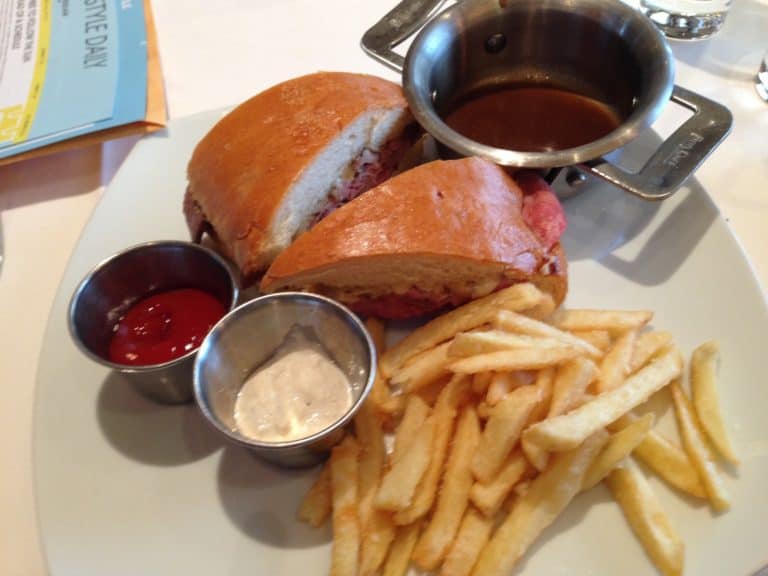 We were off to an excellent start. (And as it turned out, my VIP status would allow me to have breakfast each morning in Moderno and lunch in Cagney's, if I so desired. This turned out to be a pretty awesome perk which I took advantage of on a regular basis over the coming days!) 
After lunch, I wandered down to my room, which was on the 8th deck, forward and was what they call a "cove" balcony. For those who don't know, cove balconies are basically partially enclosed. Some dislike them because they cut off the view on the sides, but I loved it as it offers additional privacy and a lot of protection from the wind. Having my priorities straight, I decided to test the bed. A two-hour nap proved that it was pretty darn comfortable.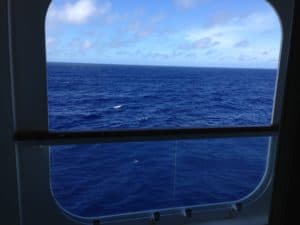 After the muster drill, which was pretty standard, I went back for another nap. Turns out, planning a cruise is tiring work! Around 5:30 p.m., I headed to Dianne and Aldo's aft-facing balcony for sailaway, chatting with friends they'd cruised with before as we had a few drinks and a lot of laughs. While my past trips out of New York City tended to depart around 4 p.m., this sailing on the Gem didn't depart until 6 p.m. And if sailing out of New York City in the afternoon is a great experience, doing so after dark is indescribable. Sure, it being February, it was cold as heck on the balcony, but that didn't stop me from going out there to grab a few pictures and enjoy the moment. 
Wandering the ship a bit, I wound up grabbing a drink at O'Sheehan's and listening to the live music drifting up from the atrium. Over the course of this first evening, I heard snippets of Ariel the piano player/singer and a jazz band, and I looked forward to hearing more from both. Deciding I needed to unpack, I went back to my room and encountered my room steward, Alvin. 
The Guy You Want Taking Care Of You!
Sometimes, you wind up barely interacting with your room steward, while on other trips, you feel like you've found a new best friend. I immediately bonded with Alvin, who explained that his wife was also working on board (as a server in one of the restaurants). Alvin is everything Norwegian could possibly want from an employee. Not only is he friendly and helpful, but he explained that no matter what ship he's working on, he makes a point of getting to know its layout very well from Day 1. Why? "The housekeeping staff," he explained, "are the people guests interact with the most. They see us every day. And not just their own cabin attendant, but they encounter us in the hallways and are constantly asking where things are. I think it's part of my job to be able to tell them, no matter what they are looking for."
I had an 8 p.m. reservation at Cagney's for dinner, but decided to blow it off. Instead, I wandered down to Magnums, one of the bars, where there was a great band playing. Because I swore to myself that I'd try the drink of the day every day, no matter what it is, I ordered it blindly. Turned out it was something called the Daydreamer's Daiquiri and, while not something I'd normally drink, it was pretty tasty.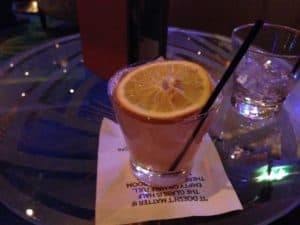 Diamonds Are A Guy's Best Friend
Since the casino was right next to Magnums, I wandered in and wound up playing for a while… especially once I saw that they had the Lock & Link Diamonds game I'd wanted to play on Breakaway, but could never get near because it was so popular. (If you've passed through a casino and seen the game where red, diamond-lines heart link together, that's the one!) 
When I gamble, I have a little rule: If I put in, say, $20 and get it up to $50, I cash out and put fresh money in. The ticket goes into the safe in my room and at the end of the week, I cash them out so I go home with at least something. I'm one of those people who says, "If I come on board with $500, and leave with $100… I won!" After playing for a while, I cashed out my winnings and stuck a $65 ticket into the safe. If nothing else, I'd be going home with that!
Deciding it was probably a good idea to grab something to eat, I headed to Orchid Garden, the complimentary restaurant that serves a limited but really delicious selection of Asian foods. I had the fried pot stickers, salt-and-pepper calamari, Kung Pao chicken and a fried rice with pork, chicken and shrimp. It sounds like more food than it is… or at least, that's what I'm telling myself. It was all good (although the chicken was maybe a little tough), and the service was top-notch.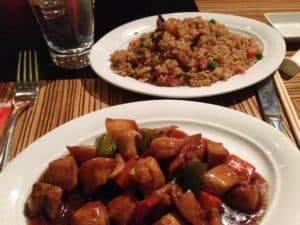 After doing a little more gambling (which did not see any tickets added to my collection, sadly), I decided to call it an early night. I'd be hosting the meet-and-greet the next day, and I wanted to be peppy. (Anyone who knows me will tell you "peppy" is definitely not my default setting, but I was gonna try!)
DRINK OF THE DAY: Daydreamer's Daquiri
HIGH POINT: Bumped-up to the VIP Lounge
LOW POINT: Baby, it's cold outside!