I've never in my life taken a vacation lasting more than a week, so it only hit me today, on day three of this 10-day sailing aboard the Norwegian Gem, just how much of a chance I was getting to relax. Including the day of our departure, we've now been at sea for three days and will not make our first port call — in Antigua — until the day after tomorrow. And even then, we have four days of visiting ports followed by two more sea days. I'm still trying to wrap my brain around that.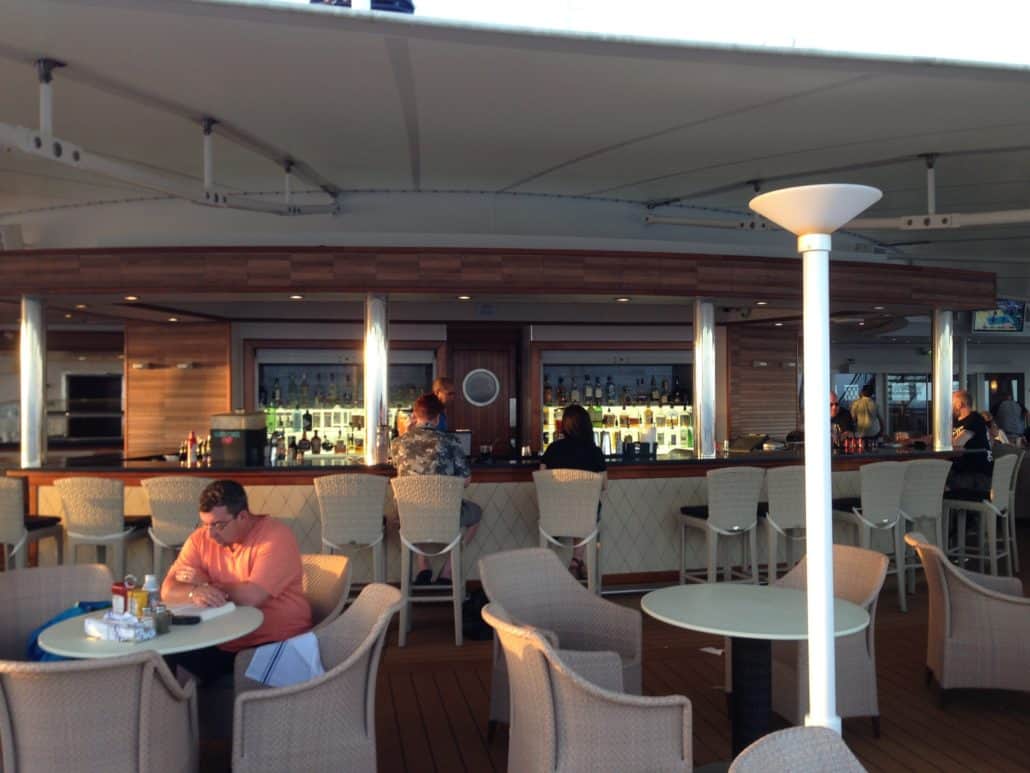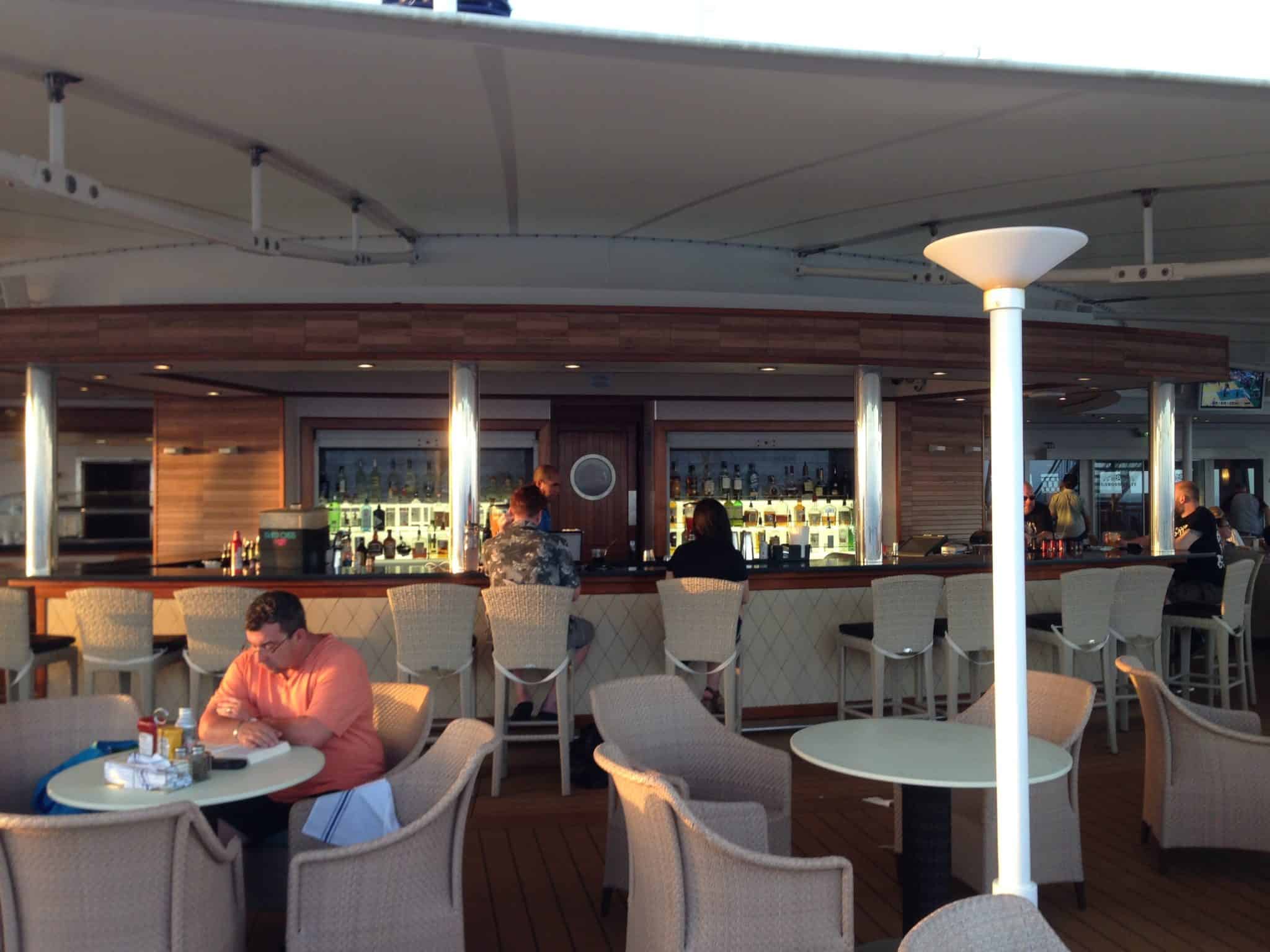 Today, the weather finally broke, and that meant I got to do my very favorite thing in the world: I made my way to the Great Outdoors bar, which sits on the very back of the ship on deck 12, and commenced day drinking while alternately chatting with strangers and watching the wake. I'm not sure what it is about the wake of a ship, but I know I'm not alone in finding it downright mesmerizing. (While I wasn't able to swing it on this trip, whenever I can afford to do so, I book myself into an aft-facing balcony for just that reason!)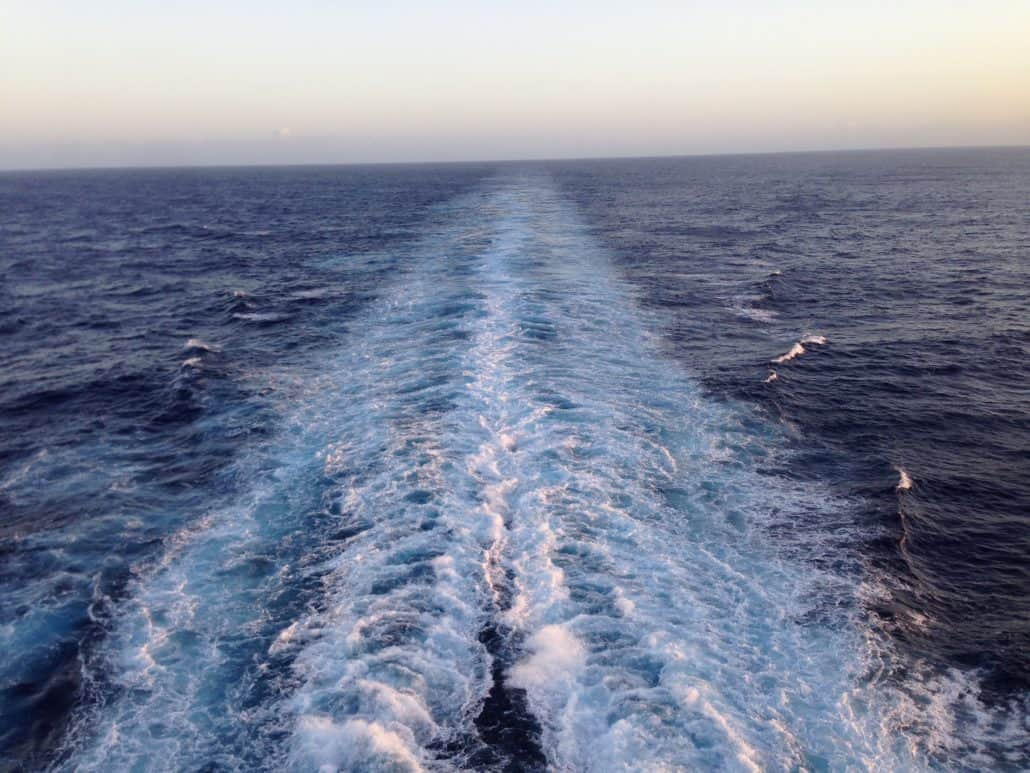 At one point, I had a two-hour conversation with a guy from England about our various adventures in cruising and life in general. It was only after several rounds of drinks and a lot of shared observations that we realized we'd spilled our metaphorical guts… and yet hadn't introduced ourselves. And that, kids, is cruising, for me, in a nutshell.
Before I knew it, it was 2 p.m. and time for our sea-day ritual of a Left/Right/Center game. (If you don't know how it's played, check out yesterday's post, where I gave a quick tutorial.) At 3 p.m., I headed up to the Sugarcane Mojito Bar on deck 13, which was serving as the staging area for a pretty amazing event.
Welcome To The Good Life
While planning this trip, one of my fellow passengers created a Facebook page devoted to our sailing. It turned out that she was staying in the Garden Villa (aka the kind of suite you and I will probably only ever dream of staying in). In order to let us take a peek at the villa, she arranged for about 100 of us to come up in groups to enjoy some snacks and a tour. It was an incredibly generous thing to do, and I couldn't thank her enough… especially after seeing this beyond stunning space!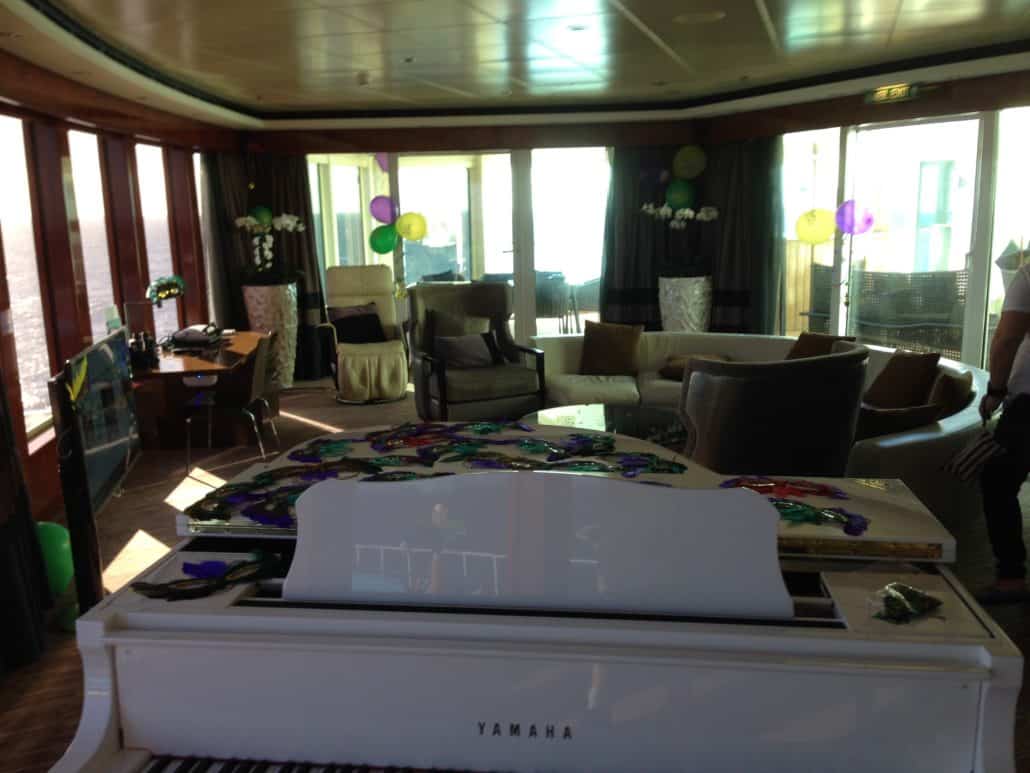 To say the Garden Villa is stunning is an understatement. The huge balcony has a dining table, a hot tub, couches and… on wait, did I mention there's a whole second level to the balcony for sunning? Or the baby grand piano in the living room? Or the private steam room? Or the walk-in closet off the master bedroom bigger than my first (and probably second) apartments?
For the first time in my life, I experienced suite-envy. Not to be all Scarlett O'Hara about it, but as God is my witness, before I die, I will experience the Garden Villa on the Gem (or its equivalent on another ship).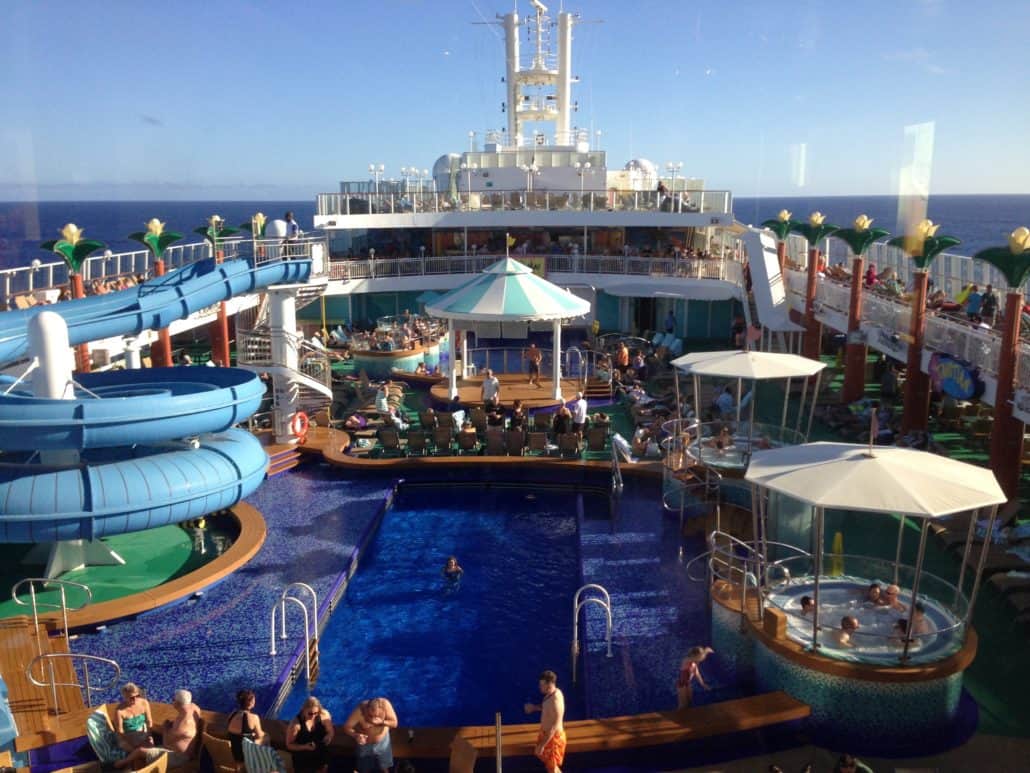 Margarita Time!
After being dragged kicking and screaming out of the Garden Villa ("No, really, you have a lot of space… I'll sleep under the piano!"), my friend Dianne and I headed back to the Sugarcane Mojito bar for a margarita tasting. For $20 per person, the very personable bartender explained the history of margarita's to about 15 of us while making a variety of them for us to sample.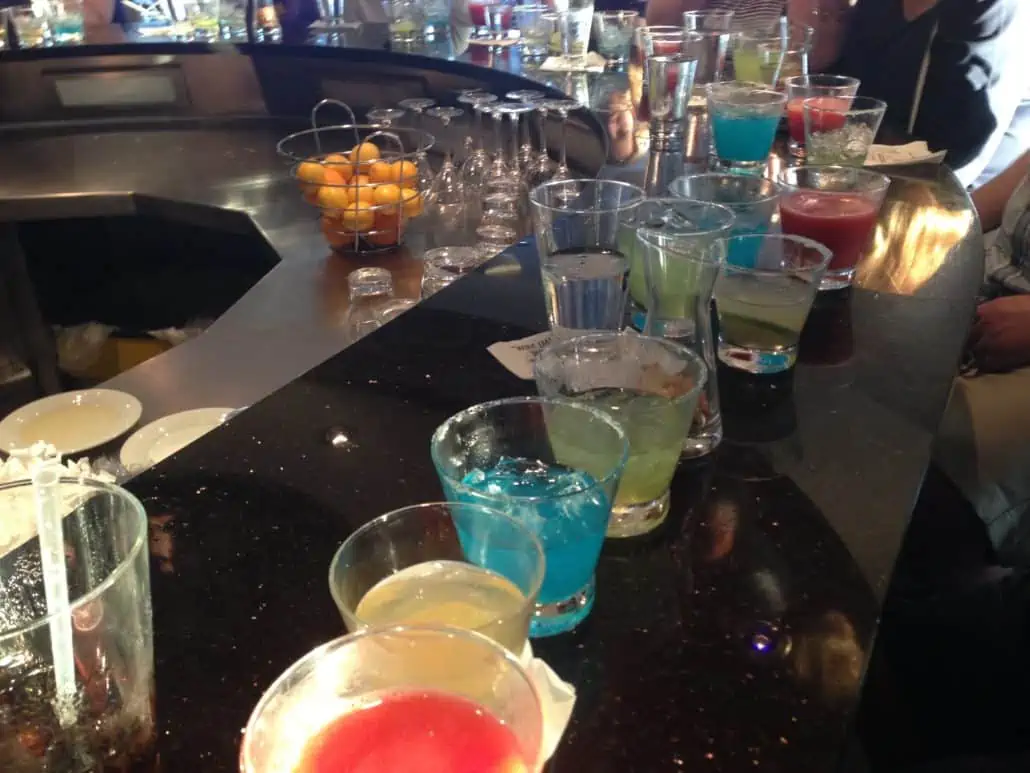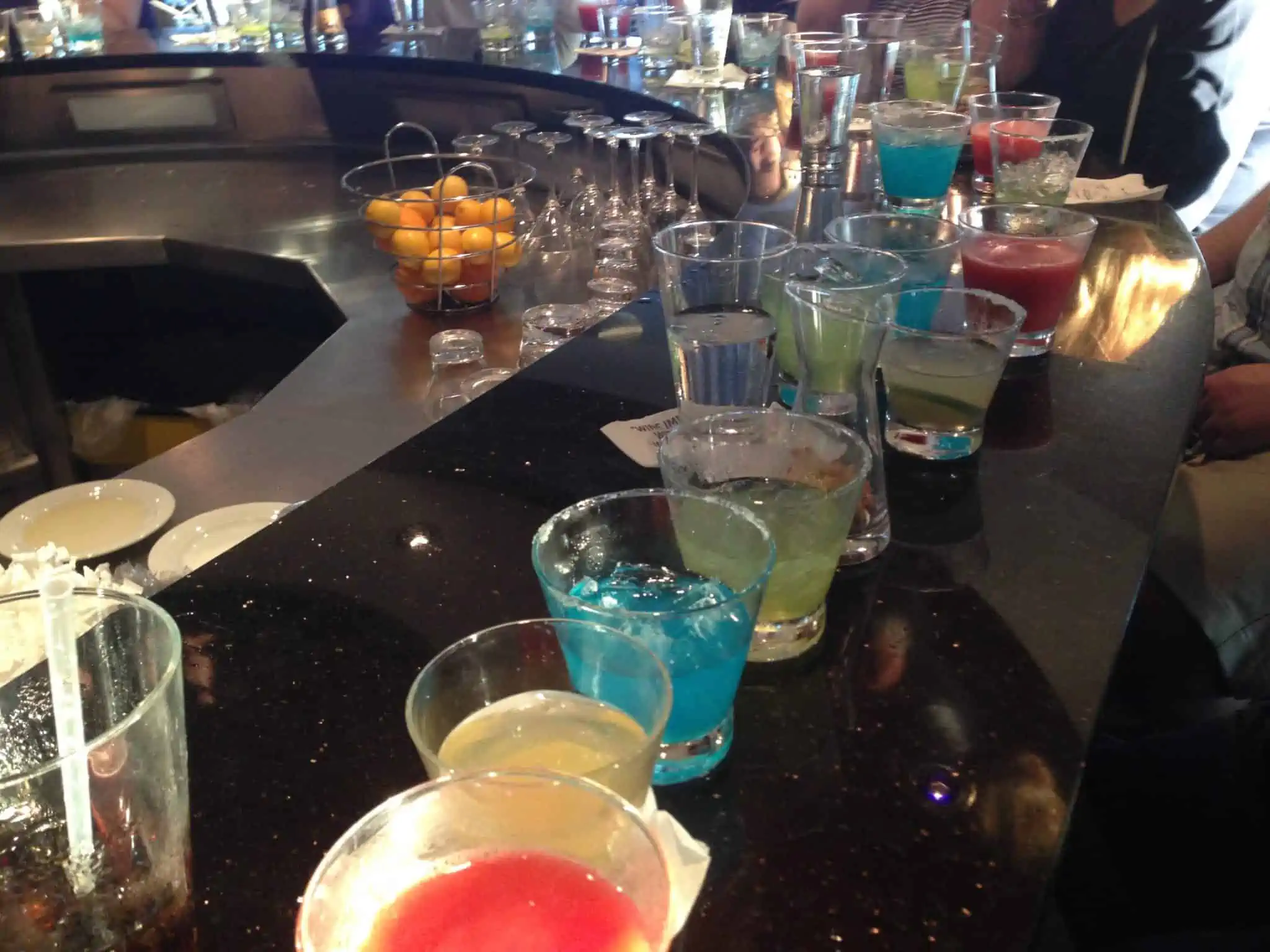 The next couple hours are a bit of a blur, but by 7 p.m. I had gotten gussied up for Norwegian's Night Out (which is NCL's version of a formal night, on which they say, essentially, "Dress up if you want to, don't if you don't."). I joined Dianne and her husband for dinner at Cagneys, giving me another taste of the amazing pork belly appetizer, baked potato soup and — just to shake things up a bit — the prime rib. Another incredible meal that left me completely incapable of even thinking about dessert.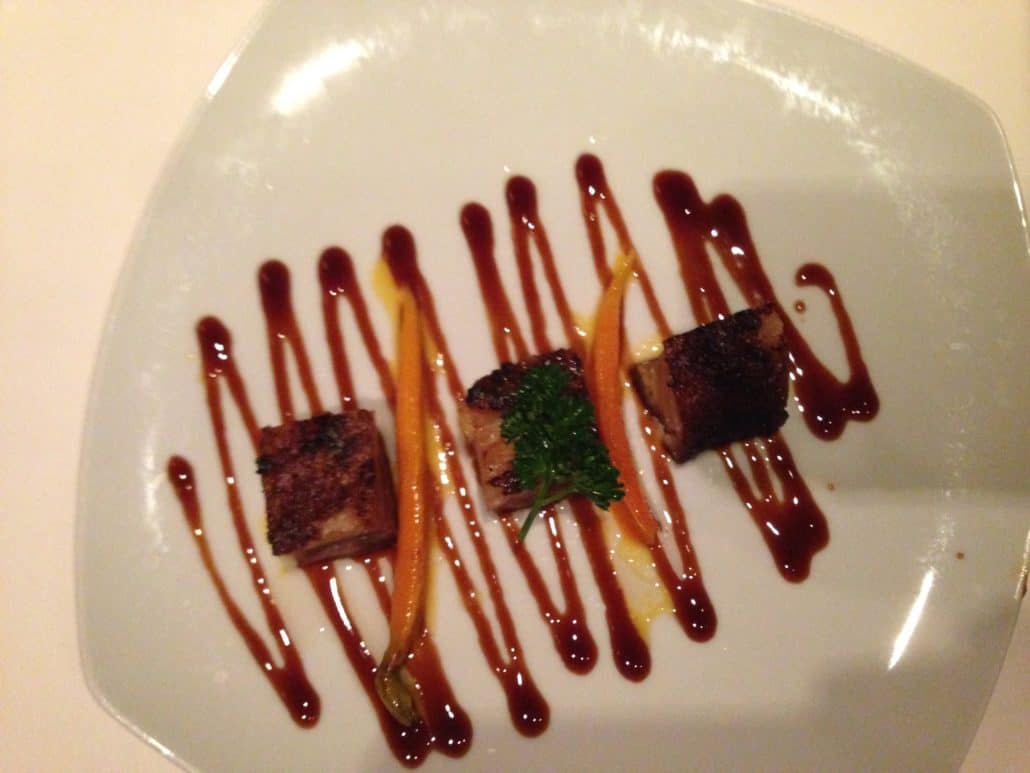 I'd read in the Freestyle Daily that there was a performer named Teacake Ferguson putting on a show in the theater tonight, and I remember that I'd seen her in a Broadway show once. As I recalled, she was a good performer, so I thought it would be fun to see. Turns out, my memory about her being a good performer was wrong… she is a phenomenal performer. Teacake's 45-minute tribute to Aretha Franklin and Whitney Houston — backed up by the 5-piece Norwegian house band — was incredible, and her dramatic version of the classic "I Will Always Love You" was shiver inducing. My only regret is having gone to the late show. If I'd caught the earlier show, I'd likely have tried to catch the second one, too.
Once the show was over, I headed for the casino. I intended to spend a few hours gambling, only to burn through my allotted money for the night in about 10 minutes. Ever have one of those casino evenings where it's not even fun? Like, I don't mind losing… I bring what I expect to lose. But I want to at least get a little play for my money. That was not the case tonight. Every machine I tried took my money and ran. And just to rub salt into the wound? A guy two machines down from me hit a jackpot for $14,000.
But I ain't bitter. Much.
I'm sure by tomorrow, I'll be ready to give the casino another donation. But for now, I'm just ready for bed.
DRINK OF THE DAY: The Rebellious Fish, which is Norwegian's signature drink. Not sure why their signature cocktail isn't offered on Day 1, but here it is. Made of Russian vodka, Passoa liquor, triple sec, orange and prosecco, it's a potent drink. Can't say I love it, but it wouldn't be a cruise on Norwegian without one!
HIGH POINT OF THE DAY: Tough call, but either visiting the Garden Villa or the incredible performance of Teacake Ferguson. Seriously, look this woman up. You'll thank me.
LOW POINT OF THE DAY: The casino. Hope baby doesn't need a new pair of shoes, cause I ain't gonna be able to buy 'em!