There's something about being on a cruise ship that brings out my inner sloth. Despite taking two naps yesterday and going to sleep around 10 p.m., I had absolutely no desire to wake up this morning. My intentions to join the cruise staff for a mile walk were done in by the wonderful knowledge that if I instead rolled over and went back to sleep, no one would be the wiser. (Reason No. 4,236 I love traveling solo… there's no pressure to do anything with anyone!)
The Gem was doing a bit of rocking, and the weather outside was windy and cold. Now, I've been on cruises out of New York in February and March where people got kinda testy if by day 2, the weather wasn't clearing up. I didn't see a lot of that today, perhaps because we're on a 10-day cruise so nobody's in any big hurry to get anywhere.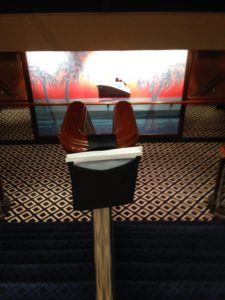 Which reminds me… I never bothered to tell you, my imaginary travelmates, where we are going! This 10-day itinerary will see us enjoying four sea days followed by stops in Antigua, St. Lucia, St. Kitts and St. Thomas… all capped off by two more sea days. This is my first 10-day cruise, and it's also the first time I've been to any of the ports other than St. Thomas, which I visited for a week many years ago. Since we set sail yesterday evening, this is technically our first full sea day, but itinerary-wise, it's day 2.
Nice To Both Meet And Greet Ya!
Anyway, I was eventually forced to get out of bed because I was hosting the Cruise Critic meet & greet at 11 a.m., and needed to get together with the ship's event coordinator to get things set up. This was my second time hosting a meet and greet (the first being on the Breakaway three months ago), and not to toot my own horn or anything, but it turns out I'm pretty good at it. We had over 100 people show up, and what's really cool is that when people found out I was going to raffle off a few things, several fellow passengers donated items from their hometowns.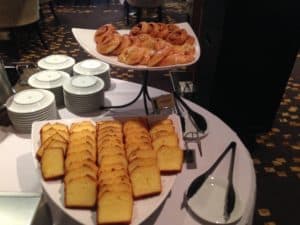 The event was originally slated to be held in La Cucina, but we had so many slated to attend that they moved us to Magenta, one of the two main dining rooms. NCL put out a nice spread of snacky-bits along with coffee and juices, and the officers came by to introduce themselves and, in essence, beg that if something went wrong, we contact them. These meet & greets are incredibly smart on the part of the cruise line, as it shows that they recognize the power of the internet. They'd much rather have people come to them during the cruise with any complaints — thus giving them a chance to make things right — as opposed to having people get off the ship and hit message boards with negative comments.
With the help of my assistant Meredith, I gave away quite a few things at the raffle — including several bottles of wine — and got a little exercise at the same time. Why? Because somehow, nearly every person who won a prize was seated in the back of the room, which means there might very well be video out there of my fat butt running back and forth between the table holding the prizes and the people who actually won them. Here's hoping that never actually surfaces!
Immediately after the meet and greet was the slot pull, which was organized by a guy named John and his wife. (True story: During the event, I kept asking people if the person organizing the slot pull was present. For some reason, I had it in my head it was a woman with an unusual name, not a dude named John. He kept raising his hand and I, thinking he was joking, kept saying, "Yeah, yeah… where's the real organizer!") The slot pull went almost exactly as slot pulls always do: We all paid our $15 bucks, we all took our spins and the machine basically ate our money. We each got $9 back which, given how long it took us to play, is probably the most time I've spent in a casino and walked away down only six bucks.
Passing The Buck… Literally
Afterwards, I joined my friends Dianne and Aldo for lunch at Cagneys (a perk of being either in the Haven or a VIP). If there's one thing I don't love about lunch in Cagneys, it's that the menu doesn't seem to change. Like, at all. Today's was exactly the same as yesterday's. I'm not sure if that's just a fluke or will be the case the whole cruise, but if it is, I'll probably go elsewhere for lunch at least a few days. I need a little variety! Today I went with an amazing flatbread (topped with arugula, mozzarella and some other tasty things) and a chicken Caesar salad. Pretty healthy, right? (Even if I did snitch a few of Aldo's fries.)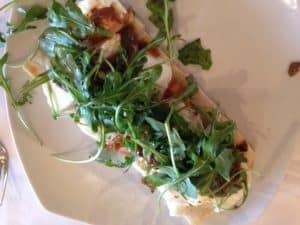 I thought this was going to be a relaxing sea day, but in case you haven't figured it out yet, it was pretty non-stop! Next up was a game of Left, Right, Center which Dianne had organized. About 18 people gathered at La Cuchina for the game, which was a blast. If you've never played, the game uses a special set of dice labeled with L (left), R (Right), C (Center) and a dot. The buy-in is $3, and you have to stay at the table until the entire game is over. It works like this:
You roll the three dice, and they tell you what to do with your money. If you have a L, you pass it to the left. If you have an R, you pass it to the right. C means your dollar goes into the center, and a dot means you get to keep it. So if you roll two L's and a C, you pass two dollars to your left and put one in the center (which is the jackpot). Even if you run out of money, you continue to play (without rolling), because the person to your left or right will likely wind up handing you money. Eventually, all the money makes its way into the center pot, and the last person with a dollar wins it all. We made plans to play a game or two every sea day at 2 p.m., with groups of varying sizes showing up each day.
By the time the game was over, it was 3 p.m. and I was ready for a nap… but instead found myself in the casino. It wasn't terribly crowded, so I was able to get onto one of the four Lock-And-Link Diamond games and play for a while. I didn't hit a jackpot or anything, but I did okay.
Finally, it was naptime. As I've probably mentioned before, I'm not one of those powernappers. I've never seen the appeal of closing your eyes for 15 minutes. If I'm down, it's for at least 90 minutes. I wound up sleeping until 6 p.m., at which point I had to make myself presentable for a Meet The Captain cocktail party being held in the Bliss Nightclub at 7 p.m.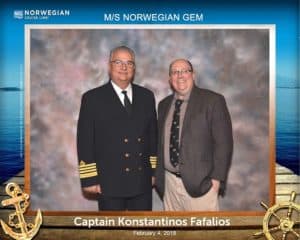 Getting dressed for this night wound up being a little emotional for me. Two of my favorite people on the planet were regular cruisers on the Gem and, when he passed away a few years ago, his wife gave several of us ties as a way of remembering him. I've never worn it, but keep it in my bedroom as a constant reminder of the wonderful, loving guy I miss very much. Tonight, knowing this was his favorite ship, I wore that tie, thinking it would be nice to sort of metaphorically take him out to dinner one last time on the ship he loved so much.
If there was one thing I found a little tacky about the cocktail party, it was that you could have your picture taken with the captain… but only by a ship's photographer. In other words, you couldn't have someone use your camera to take a picture. God forbid they pass up an opportunity to sell you a photograph.
The Big, Inescapable Game
I didn't have a dinner reservation, but was hoping to do Cagneys. While I'd lunched there the last two days, this would be my first dinner there… and, it being my favorite restaurant and all, I knew exactly what I wanted. But would I be able to get in, given how popular it is? Easily…. because (and this is where you'll realize that this isn't quite live, if you haven't picked up on it already) it was Super Bowl Sunday.
If you've ever wondered if they show the game on the ship, not only is it aired, but it's pretty much inescapable. The Super Bowl was being broadcast in the theater, in the Spinnaker lounge, in the Atrium and on every TV set on the ship. As a result, Cagney's was basically a ghost town, making it easy for me to get in for my favorite meal: Crispy pork belly, baked potato soup, a medium-rare ribeye and a side of the famous Cagneys truffle fries.
I'm not even kidding when I say that I've had dreams about the Cagneys pork belly. It is crispy on top, served in an amazing balsamic reduction that I really, really wanted to lick off the plate. (Instead, I used a piece of bread to sop up every last drop.)
After dinner I wandered down to the casino to play a little more and had absolutely zero luck. (I've found I tend to have better luck on the slots during the day than at night for whatever reason.) After saying farewell to some money, I headed to the Bliss Lounge again, this time for the 70's dance party.
Now, I love the Gem. She's a wonderful ship, and much smaller than the Breakaway, which I've done numerous times. But if there's one time when I miss Breakaway, it's during the dance parties. Whether they hold them in Bliss or Spinnaker, they simply can't compare to the parties held on the Breakaway at Spice H20, an outdoor venue on the very back of the ship. There's something very cool about dancing the night away under the stars in the middle of the ocean. That said, this 70s party was very fun and distinctive in that, rather than a DJ spinning tunes, they had a band playing all the hits from the era. You haven't lived until you've seen a reserved grandma shaking her groove thing and singing "We Are Family" at the top of her lungs.
After wandering around the ship a bit more — and noticing, while on one of the upper decks, that the weather was definitely warming up — I headed down to my stateroom to sit on the balcony and stare at the ocean for a while before going to sleep.
DRINK OF THE DAY: Long Island Iced Tea. Now, I know I said I was going to order a drink of the day no matter what it is, but… I'm not a college kid looking to get wasted, so I passed on this one.
HIGH POINT OF THE DAY: My assistant at the Meet & Greet was a lovely, charming young woman named Meredith whose face lit up when the room applauded her handiwork. I'd cross paths with Meredith and her family several times in the coming days, and she put a huge smile on my face every single time.
LOW POINT OF THE DAY: A woman got incredibly drunk sitting at the casino bar, to the point where security had to be called to put her in a wheelchair and take her back to her room. I'm not sure what bothered me more: The bartender who'd clearly over-served her laughing as she was taken away, or the people who took out their phones to film her humiliation.