Another island, another paradise.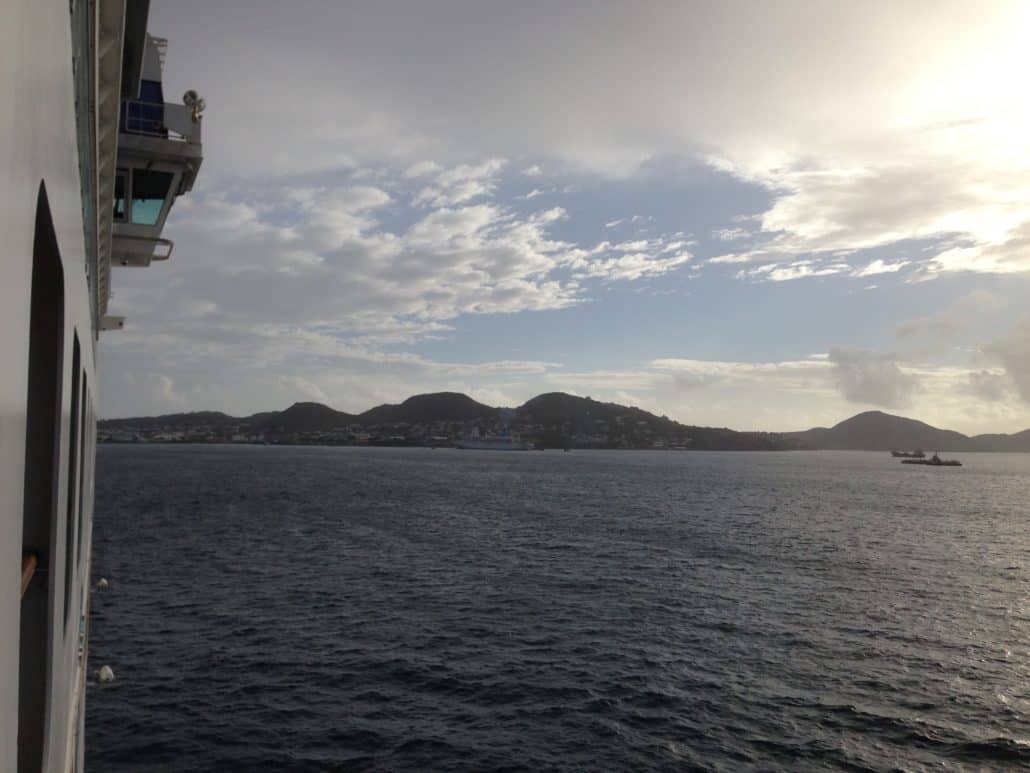 Today, the Norwegian Gem arrived in St. Kitts. To be honest, I considered staying on board as we were tendering and I'm just not a big fan of the whole process. But instead, I got up early, had breakfast at Modernos. It's nice having a sit-down breakfast in a relaxed atmosphere, and the menu of offerings is decent enough that I struggled before finally deciding on Crabcakes benedict. While waiting for our meal, I perused the breakfast buffet area, where they have a nice selection of breads, fruits, yogurts, cereal and more.
In researching St. Kitts, I'd discovered a resort called Palm Court Garden which seemed like it might be an awesome place to spend the day. Upon E-mailing, I was given simple-to-follow instructions and told the cost to rent a lounger/umbrella by the pool was $12 for the day. At that price, what did I have to lose? If it turned out to be a bummer, I could just leave and find something else to do. But bummer it most definitely was not!
The beautiful little resort was an easy 10-minute walk from the pier, and even the tendering process was pretty simple. I had priority status, so I got to skip to the front of the line when I was ready to go, and the ship-to-shore trip took maybe 10 minutes, tops. (The only thing I didn't particularly care for was that unlike the Breakaway, which has open-air, two-level tender boats, the Gem uses its enclosed lifeboats, which can be a little claustrophobic.)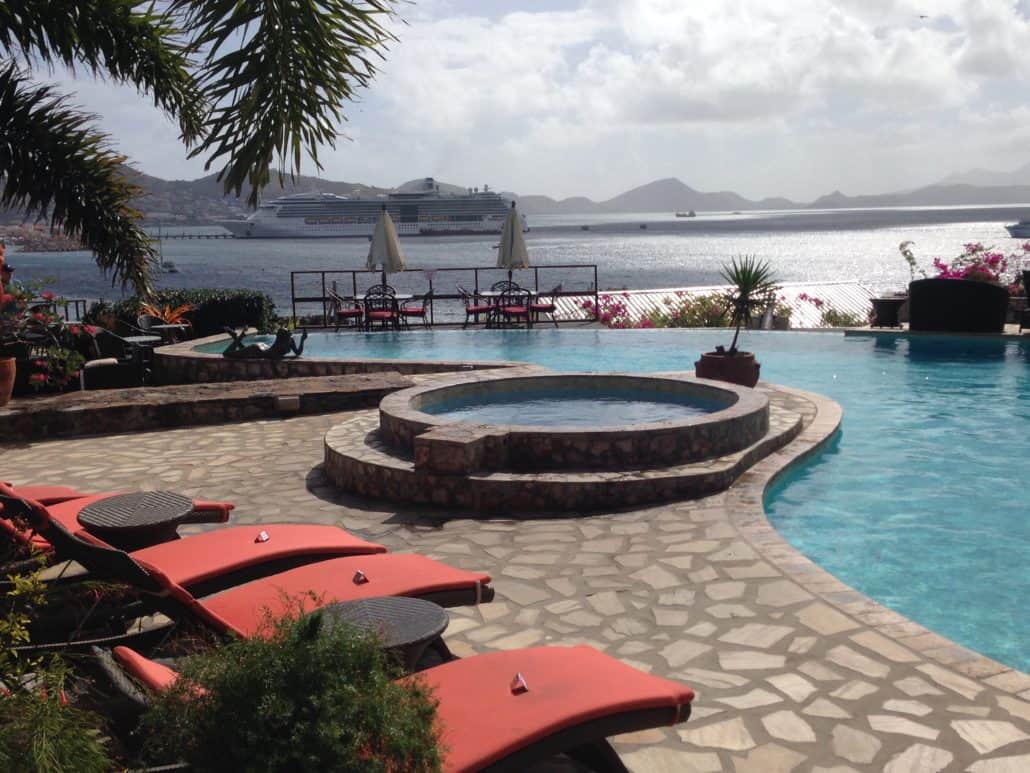 I'll have a full review of Palm Court Garden coming up, but suffice it to say that this is an amazing little resort to spend a day at. The gardens are lovely (if not particularly large), but the real selling point here is the pool area, complete with a hot tub, comfy loungers with umbrellas, tables and chairs and more. There's a small bar and a restaurant serving up a pretty nice selection of food. Did I mention that the pool is of the infinity variety, and the whole thing is on a hill overlooking the ocean? It really is a gorgeous spot, and I can't think of a better $12 investment I've ever made.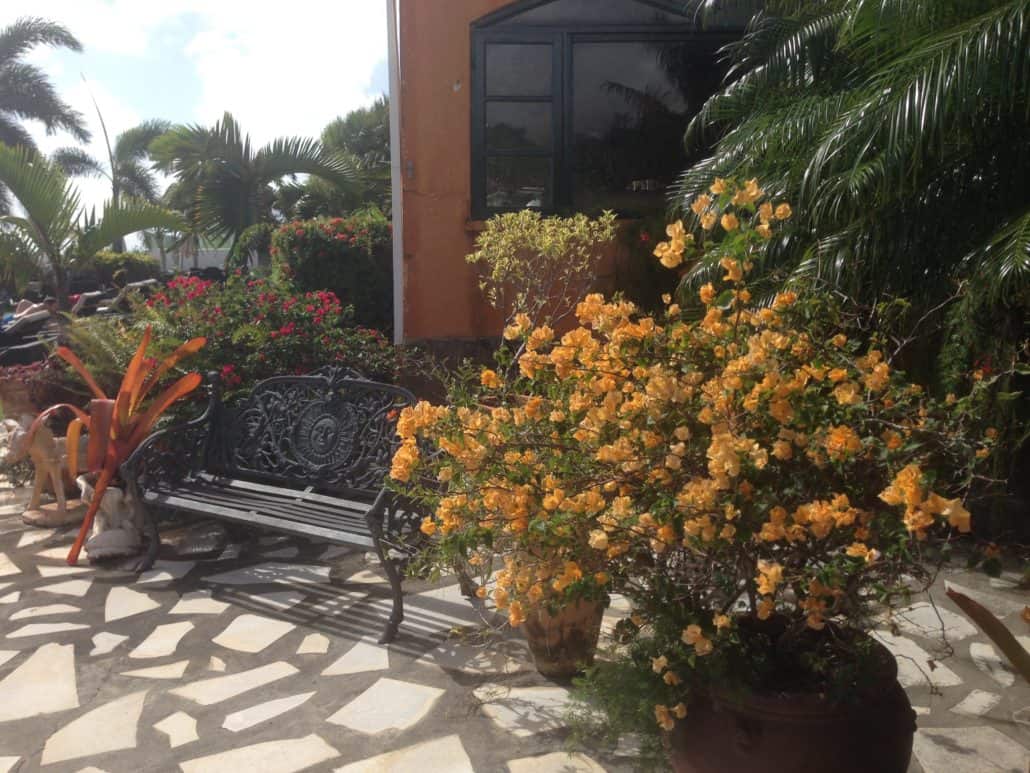 If there's one caveat, it is this: Palm Court Garden grants free access to cruise ship employees with valid ID. I arrived around 10 a.m. and for the first few hours, there were about 20 or so guests lounging by the pool. By mid-afternoon, cruise ship employees began to arrive and the vibe definitely changed. Not necessarily in a bad way, but the place quickly got more crowded, a bit less laid-back, a bit less relaxed… and not for nothin', but a whole lot prettier. Several members of the entertainment staff arrived and… yeah, that'll make you feel every year of your age and pound of your weight!
Around 2:30 or so, I wandered back into town and explored a little bit before catching a tender back to the ship. I hadn't eaten since breakfast, so I swung by O'Sheehan's to grab some nachos and a Caesar salad with blackened chicken… just enough to hold me over until dinner. When I got back to my room, I was thrilled to find my laundry had been delivered, all freshly folded and presented in a nice little basket. Lemme tell you… getting clean clothes halfway through the trip is definitely one of my favorite perks of being a Platinum cruiser with Norwegian!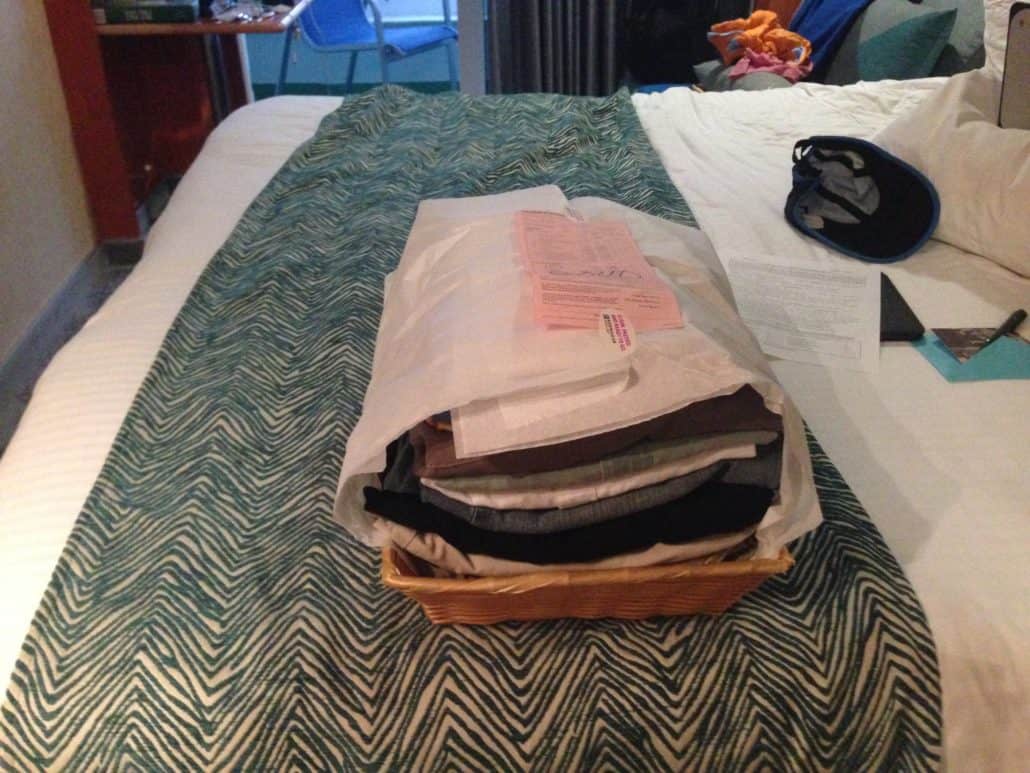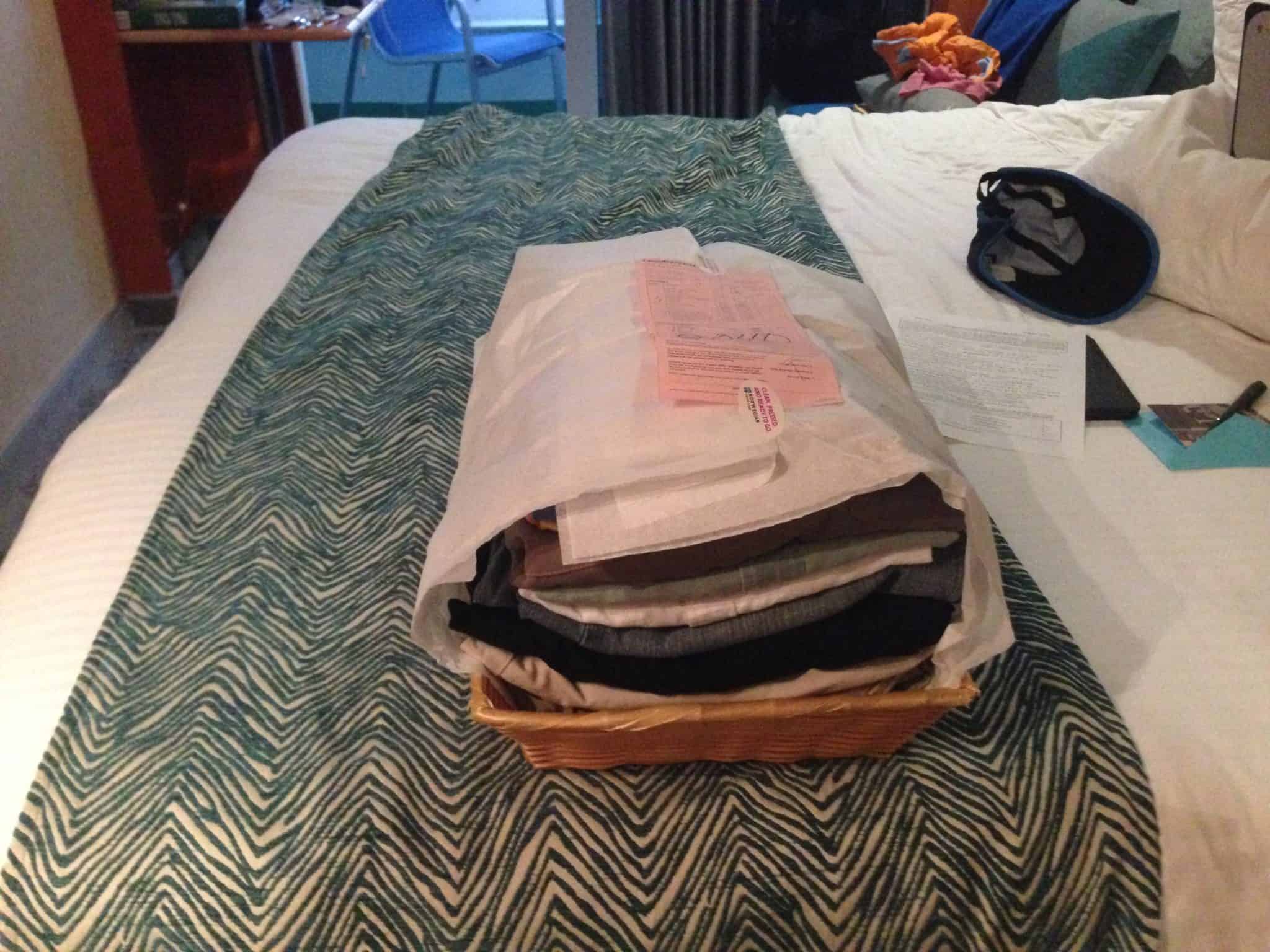 After a nap, I met up with Aldo and Dianne for another dinner at La Cuchina. This time around, I had the carpaccio appetizer and an order of calamari, followed by perfectly prepared lamb chops. I must have had a few drinks at some point along the way, because I even allowed Dianne to convince me to let the ship's photographer snap a pic! (Confession: I actually love this pic… we all look fantastic!)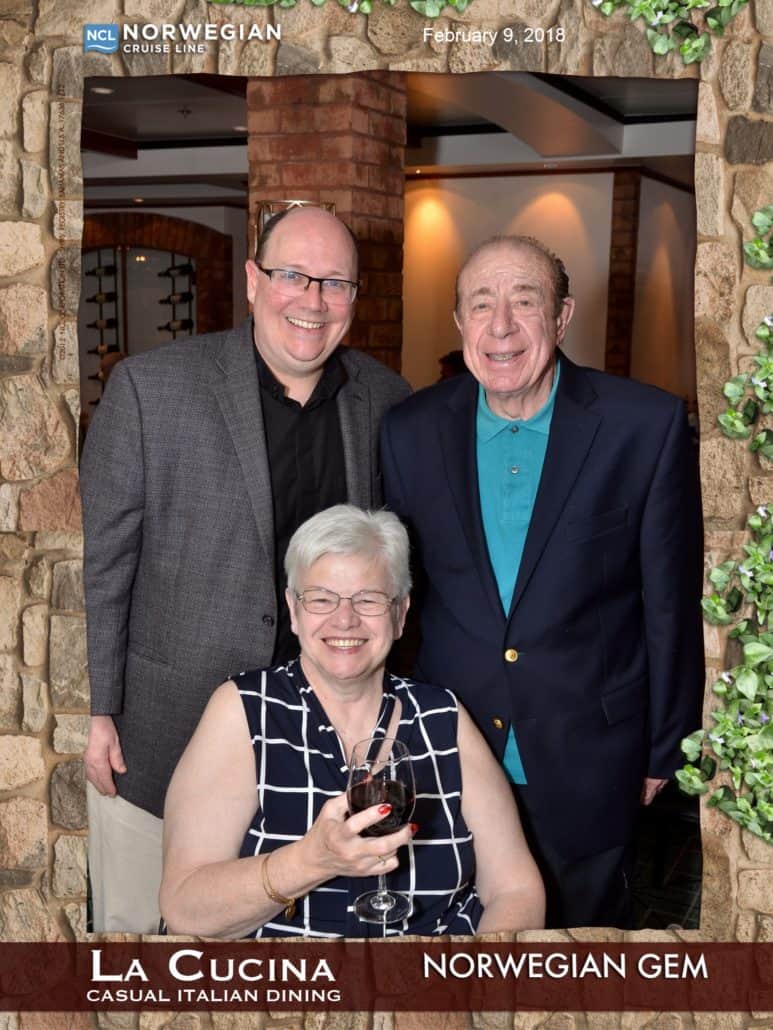 Afterwards, I hit the casino again for a little while. Before setting sail on this cruise, I'd told members of a Facebook group I'm in that I was bound and determined to get my first-ever handpay on this trip. It hadn't happened yet, and it didn't tonight, but I did get quite a bit of play on some fun machines. Sometimes, that's all I ask… give me a few hours worth of bang for my buck, and I'm a happy camper. I also spent some time sitting at the casino bar chatting with random folks, which as you know by now is another of my favorite pastimes.
I didn't stay out too late because I knew tomorrow was our final port, St. Thomas. We were only slated to be in port from 7 a.m. to 1 p.m., and I had plans to take a catamaran out for some snorkeling. Obviously this would mean getting up and off the ship early (or so I thought), so I called it an early night, figuring that after St. Thomas, I'd have two full sea days (and nights) during which to stay up late. That was the plan, anyway… but things definitely did not go exactly as I thought they would!
Drink Of The Day: Mai Tai. Somehow, I'vd never actually had one of these before. Not really my thing, but it was tasty enough.
High Point Of The Day: The resort was amazing, but the best part of the day was dinner. Ever have one of those meals where you're hanging out with friends, maybe a little bit buzzed, and you just sort of silently take a moment to acknowledge how great life can be? Yeah, that's pretty hard to beat.
Low Point Of The Day:  A fellow tourist offered to take my picture with the mermaid statue next to the pool at the resort. In fact, he took 10 of them to make sure at least one would come out. Awesome, right? Except… as shown below, his finger obscured my head in every single shot! Well, guess I'll just have to go back some day and try again!