Norwegian Cruise Line has announced new details on its recently-announced ship, Norwegian Prima.
The vessel will be the first of six ships in the new Prima Class, the first new class of ships for the line in nearly 10 years. Norwegian Prima will be 142,500 gross tons, and able to accommodate 3,215 passengers at double occupancy — coming in smaller than recent vessels from the line that hold close to 4,000 passengers.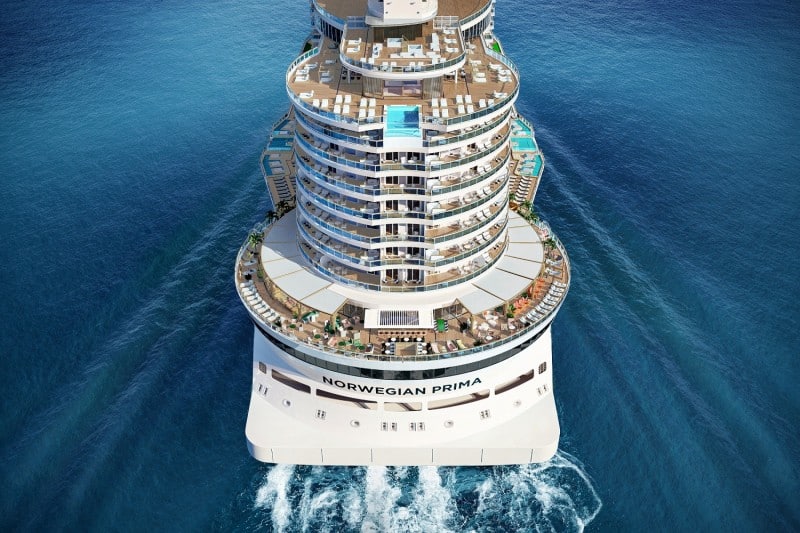 "Despite not having sailed in more than a year, we never stopped working and innovating, we never once pressed pause," said Harry Sommer, president and CEO of Norwegian Cruise Line. "Not only will we begin cruising this July, we're so proud and so incredibly happy to announce the start of an exciting new chapter as we introduce the Prima Class and the first ship in a line of unrivaled vessels with Norwegian Prima."
Norwegian Prima will be built by Fincantieri at its Marghera shipyard in Italy, and feature hull artwork designed by Italian graffiti artist Manuel Di Rita, known commonly as "Peeta."
"The name 'Prima,' which means "first" in Italian, is a natural fit that ties into our legacy of firsts in the industry and a fitting tribute to our new Italian shipbuilding partners at Fincantieri," added Sommer.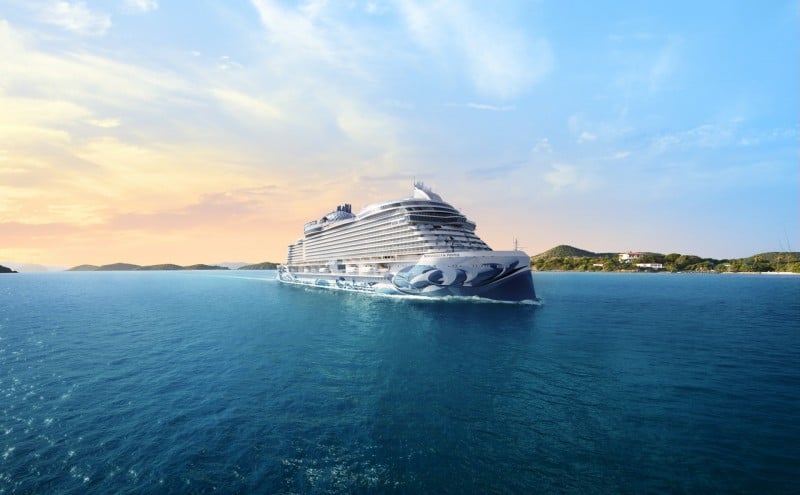 Norwegian Prima will offer the highest staffing levels and space ratio of any new ship in the contemporary and premium cruise categories. She will feature the largest variety of suite categories at sea — 13 to be exact — as well as the line's largest-ever bathrooms and showers for standard cabin categories.
The ship will also offer the most outdoor deck space of any new cruise ship, including more total pool deck space than any other ship in Norwegian's fleet, as well as multiple infinity pools and vast outdoor walkways.
The Elevated Haven
The Haven on Norwegian Prima has been elevated to offer the brand's most exclusive and centralized suite complex. Spanning eight decks of suites and public areas, the premium keycard access ship-within-a-ship concept provides passengers with the most luxurious accommodations onboard.
For the first time, Norwegian relocated all 107 Haven suites to the aft, within close proximity of private elevators. These elevators rise directly into The Haven public areas on decks 16 and 17. Also for the first time, every public area in The Haven offers sea views — The Haven Courtyard has been transformed into a Haven Sundeck, featuring a new infinity pool and outdoor spa with glass-walled sauna and cold room.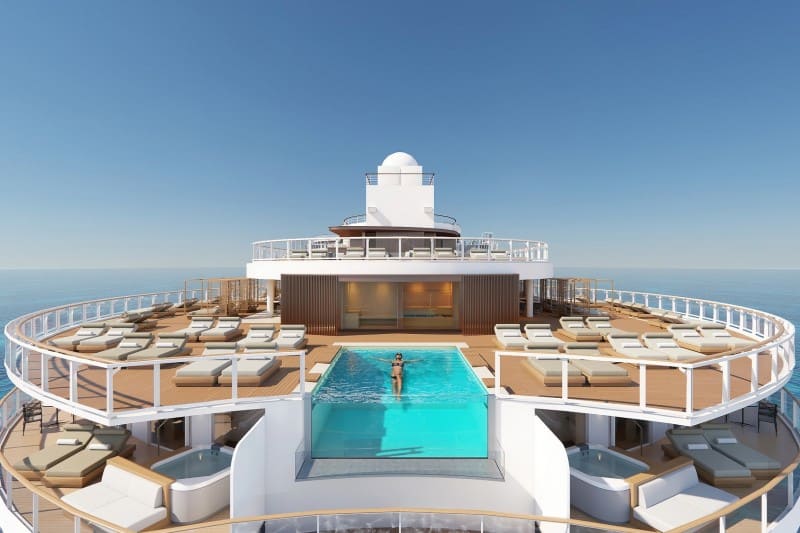 Ocean Boulevard
Norwegian Cruise Line has reimagined The Waterfront for this ship, doubling the space and adding more experiences and dining options by introducing Ocean Boulevard.
Located on deck 8, Ocean Boulevard is 44,000 square feet, wrapping around the entire deck and allowing guests to walk around the entire ship without having to go up or down a floor.
Indulge Food Hall
As part of the experiences on Ocean Boulevard, Norwegian is introducing its first-ever upscale open-air marketplace with Indulge Food Hall. Indulge Food Hall offers diverse menu items from a variety of culinary venues, as well as a mix of indoor and outdoor seating.
Norwegian's first food hall showcases delicious cuisine with 11 venues. Returning are the following:
Coco's, serving artisan sweet treats
Q Texas Smokehouse, featuring American Southern comfort food and barbecue
Starbucks, for a quick coffee fix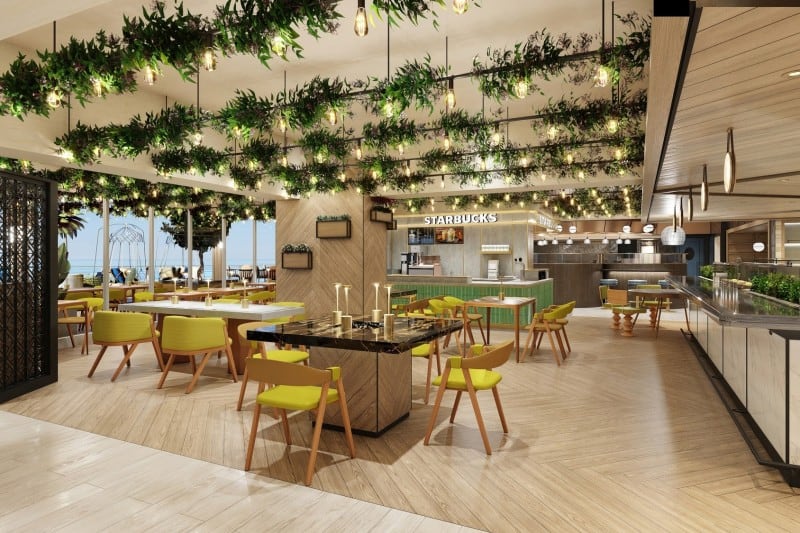 New venues will include:
Seaside Rotisserie, offering an array of rotisserie-cooked dishes
Nudls, an emporium serving noodle dishes from around the world, from Italian to Thai cuisines
Tamara, preparing classic Indian dishes and multiple vegetarian options
The Latin Quarter, serving classic Latin food with a twist
Tapas Food Truck, cooking elevated Spanish-inspired street food
Garden Kitchen, where passengers can order custom salads with over two dozen ingredients to choose from
Just Desserts, featuring classic dessert items such as pie and cakes
Just Ice Cream, serving guest-favorite ice cream flavors and over-the-top creations
Hybrid Dining
Ocean Boulevard will host three additional dining venues, offering both indoor and outdoor seating.
Onda By Scarpetta debuted on Norwegian Encore in 2019, and is also available on Norwegian Spirit. This venue showcases the rich and bold flavors that the modern Italian land-based Scarpetta restaurants are known for.
Los Lobos, Norwegian's premium Mexican restaurant, returns on Norwegian Prima to serve traditional Mexican flavors with a modern flair, set in a contemporary atmosphere.
The revamped Local Bar & Grill is set in an upscale beach club atmosphere, and will showcase live music where passengers can relax and enjoy cocktails and classic Americana cuisine.
READ MORE: Norwegian Cruise Line Announces Teacher Appreciation Contest
The Concourse, Infinity Beach, Oceanwalk, and La Terraza
Created to be a destination in and of itself, more "firsts" for the line include The Concourse, an outdoor sculpture garden featuring an art wall by famed artist David Harber, as well as six installations designed by Alexander Krivosheiw. The seven pieces, valued at over $2 million, will offer stunning effects that change as the sun sets.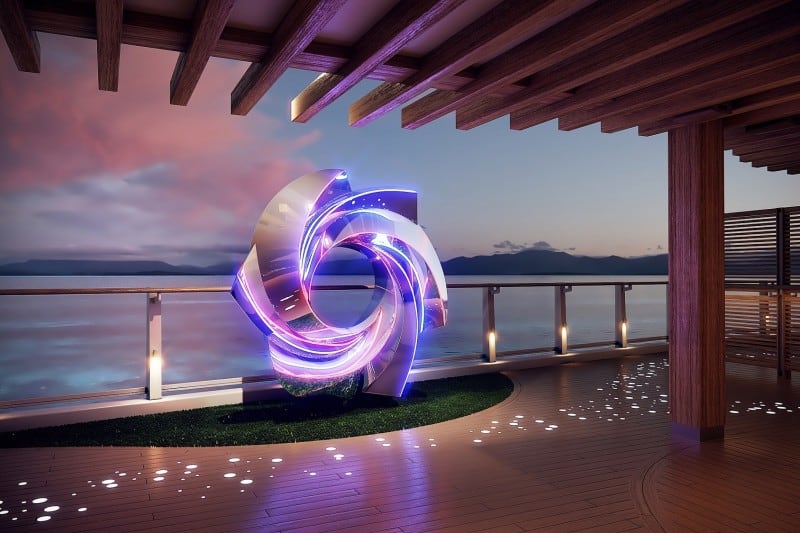 Norwegian Prima will also include the Infinity Beach, a deck space featuring two infinity pools on either side of the ship that are close to the ocean surface. The two Oceanwalk glass bridges, also new to the line, will provide beautiful photo-worthy views. La Terraza, an open-air lounge, will feature a quaint retreat for visitors to catch beautiful forward-facing sea views.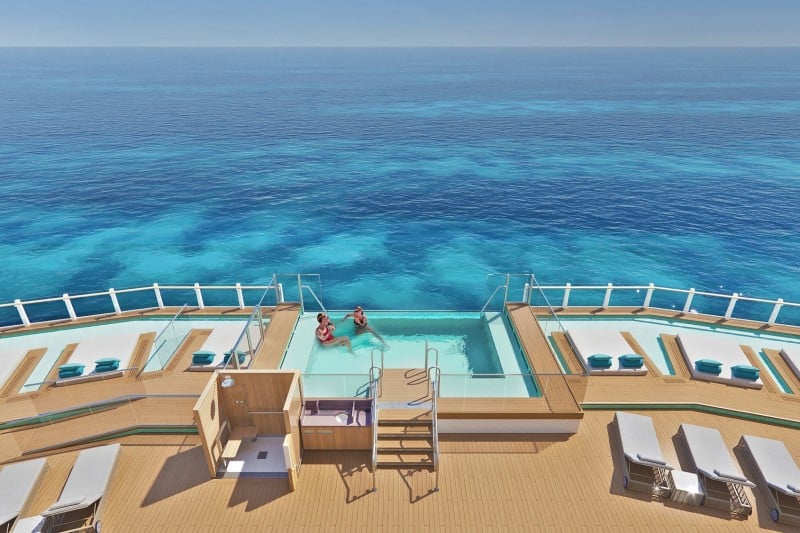 Itineraries
Summer 2022: Northern Europe and the United Kingdom
Following a string of inaugural cruises and beginning August 2022, Norwegian Prima will be the newest ship embarking in northern Europe.
From August 17 to September 13, 2022, the ship will sail a series of eight-night voyages from Amsterdam, the Netherlands, and Copenhagen, Denmark, offering passengers the opportunity to explore northern Europe, the Norwegian Fjords, and the Baltic region.
Fall/Winter 2022: Bermuda and the Caribbean
On September 23, Prima will depart Southampton, England on a 12-night transatlantic voyage visiting Lerwick, Scotland with an overnight in Reykjavik, Iceland before arriving in Halifax, Nova Scotia and then New York City. She will then sail from New York on a five-night cruise to Bermuda.
On October 15, Norwegian Prima will depart New York City on a 12-night open-jaw Caribbean cruise, and for the first time ever for Norwegian Cruise Line, visit Galveston, Texas. Calls will include Curaçao, Bonaire, and Aruba.
On October 31, the ship will kickstart her Caribbean season, departing from Galveston to Miami on an 11-night itinerary with visits to Curaçao, Bonaire, and the line's private Bahamian island Great Stirrup Cay.
From November 19 to December 3, Prima will sail from Miami, offering three seven-night western Caribbean cruises visiting the line's private destination in Belize — Harvest Caye, as well as Cozumel and Roatán.
Fall/Winter 2022-2023: Western Caribbean From Port Canaveral
From December 11, 2022 to March 19, 2023, Norwegian Prima will homeport in Port Canaveral to sail 15 five, seven, and nine-night itineraries. Port calls will include Cozumel, Ocho Rios, Grand Cayman, and Great Stirrup Cay.
Spring 2023: Bermuda
From March 28 to May 7, Norwegian Prima will sail a mini-season of five and mostly seven-night roundtrip Bermuda voyages from New York City. Calls will include Norfolk, Virginia, as well as one or two-night stays at the Royal Naval Dockyard in Bermuda.
Spring/Summer 2023: Northern Europe
On May 14, the ship will head back to Iceland and northern Europe, departing on an 11-night transatlantic journey from New York City to Reykjavik, Iceland, visiting Halifax and Sydney, Nova Scotia before making several calls in Iceland. Once the ship arrives in Reykjavik, passengers will enjoy an overnight stay there.
From May 25 to September 7, Norwegian Prima's summer 2023 season will offer a mix of 10 and 11-night Norway and Iceland sailings from Reykjavik, Iceland and Southampton, England. The sailings will feature extended port time — between nine and 14 in-port hours.
On September 17, Norwegian Prima will conclude her summer 2023 season with a 14-night roundtrip voyage from Southampton, visiting Dublin, Ireland; Isafjordur, Akureyri, and Reykjavik, Iceland; and Geiranger, Olden, and Stavanger, Norway.
As of today, booking are open for these sailings on Norwegian Prima.
READ NEXT: Upcoming MSC Cruise Ship To Feature New Bars & Redesigned Restaurants