That sound you're hearing this morning? A whole lot of cruisers reacting to Norwegian Cruise Line's out-of-the-blue announcement that passengers will no longer be allowed to bring on board their own bottled water or soda.
What They're Saying
The news, which set the internet ablaze this morning, originally came in the form of a simple statement with no actual explanation offered. "Effective July 1, 2016, for sailings July 15, 2016 and beyond," it read, "guests are prohibited from bringing any beverages – including liquor, beer and non-alcoholic drinks such as water, soda and juices – on board either as carry-on or checked luggage."
There are a few, limited exceptions to the rule, which are "purified or distilled water in factory-sealed containers for use in conjunction with medical devices or for the reconstitution of infant formula" and "fully sealed and/or corked wine bottles for consumption onboard that is subject to screening and a corkage fee."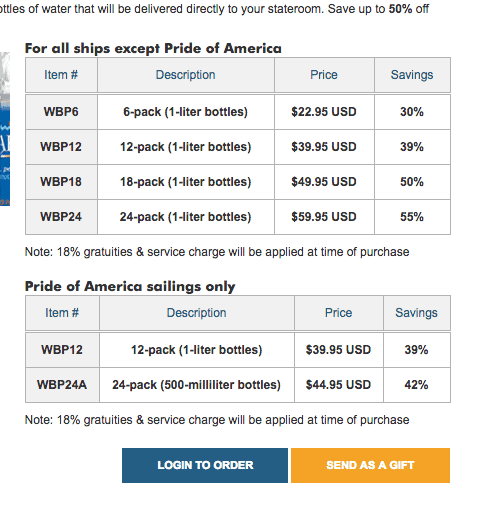 But Wait, There's More!
Furthermore, if you arrive at the port with a soda, you'll need to drink it or throw it away before arriving at the security check-point – whether on embarkation day or at any port of call. Just like at the airport, you will not be permitted to bring beverages past the security checkpoint.
A letter sent out to travel agents with regard to the situation offered more insight into the reason behind the change. "At Norwegian Cruise Line," it read in part, "the safety and security of our guests and crew is our top priority. To ensure a safe and enjoyable onboard environment for all, guests are prohibited from bringing any beverages… on board ."
The letter goes on to say, "This revised policy brings the company in line with other best practice travel security protocols and reduces the need for individual time-consuming screening and package inspection of large volumes of beverages."
In an update to the line's FAQ with regards to the topic, they go on to elaborate. "As one example, guests who attempt to smuggle alcoholic beverages onboard often try to do so in beverage containers. This means all beverages must be personally screened, taking both time and dedicated personnel."
Why You Shouldn't Bring Water To The Ship!
The FAQ section also answers another burning question: "What happens if I bring a case of water to the ship?" It warns that guests who do so "will be directed to return the items to their vehicle. If the guest does not have a vehicle onsite, the items will be disposed of."
As for why folks still are allowed to bring wine — but not other sealed, bottled beverages, the FAQ says that, "As very few guests bring wind onboard, the team is able to easily and quickly screen these items."
What's your take on this change? Do you think other cruise lines will make the same policy change?
Pin this!