Whether you were a fan of the classic series The Love Boat (and really, who wasn't?) or you're looking for an amazing gift for the cruise lover in your life, we've got someone you really need to meet. For one thing, he's got a great story to tell. But more importantly, he's got pieces of the ships on which The Love Boat took place… and they're for sale!
The Love Boat Was Really Three Ships!
As a boy, Peter Knego became entranced by the Pacific Princess and the Island Princess even before they were introduced to most of us via ABC's series began its decade-long run in 1977. The cruise ship historian and journalist — who also founded MidshipCentury.com as a natural extension of his lifelong love of seafaring vessels — regularly explored the ships, camera in hand, as a boy. As he explained to the folks at MeTV (the cable outlet which airs Love Boat reruns as part of its nostalgic lineup), "I would just go aboard and I would take pictures like any sort of curious kid."
The expert explains that the original pilot for the star-studded show was filmed aboard the Sun Princess, although by the time the show was picked up by ABC, that would change. "Princess [Cruise Lines] said, 'Hey, we just bought these two other ships, they're much better than the Sun Princess, and there's two of them," Knego told MeTV. "So The Love Boat producers were like, 'Oh, that's cool, so we can shoot on these two ships.'" While they ultimately chose to have Captain Stubing and Cruise Director Julie McCoy serve aboard the Pacific Princess, many of the location scenes were also shot aboard her sister ship, the Island Princess. (Of course, the vast majority of the show was actually shot on landlocked soundstages!)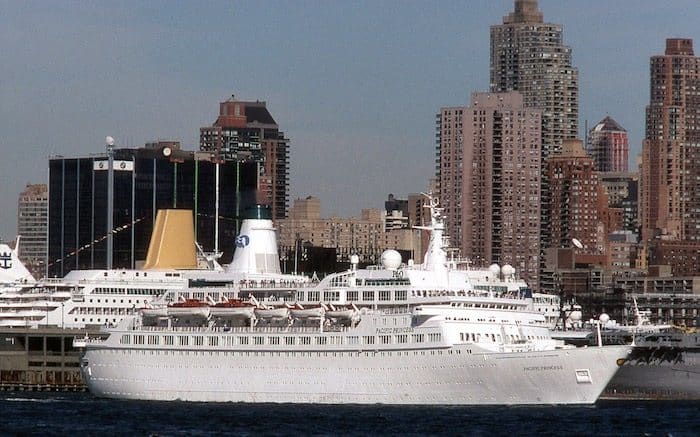 What You Can Buy!
Over the years, Knego and Midship Century has managed to salvage remnants of many of the famous ships which eventually made their way to Alang, India for scrapping. And although he arrived at the site too late to salvage anything from the Pacific Princess when it was finally laid to rest in 2013, he had better luck with the Island Princess. Among the items you'll find in his on-line store — a must-visit for fans of not only The Love Boat but classic ships of yore — are pieces of art which once decorated the atrium, wall clocks, furniture and even pieces of the railings which countless passengers no doubt gripped while walking the hallways after an evening of dining and dancing in the main dining room.