When it was announced the cruise ships would start calling to Bimini Island in the Bahamas, it garnered a lot of interest.
After all, up until this point, cruisers in the area have been limited to Nassau, Freeport or the various private destinations run by the lines.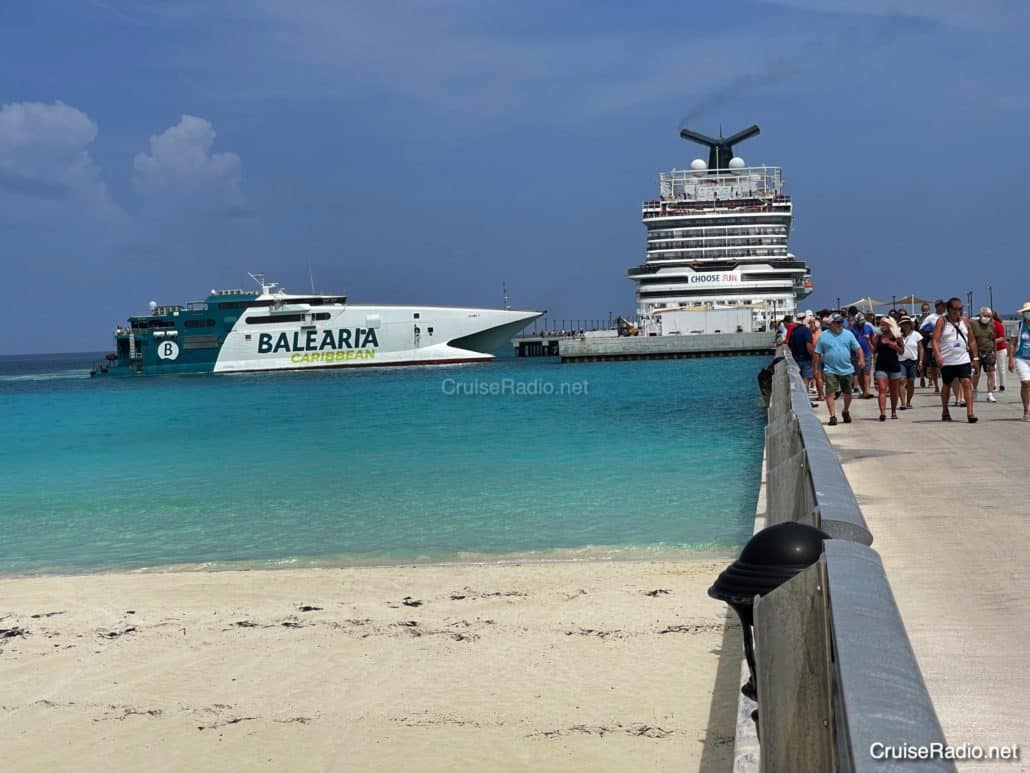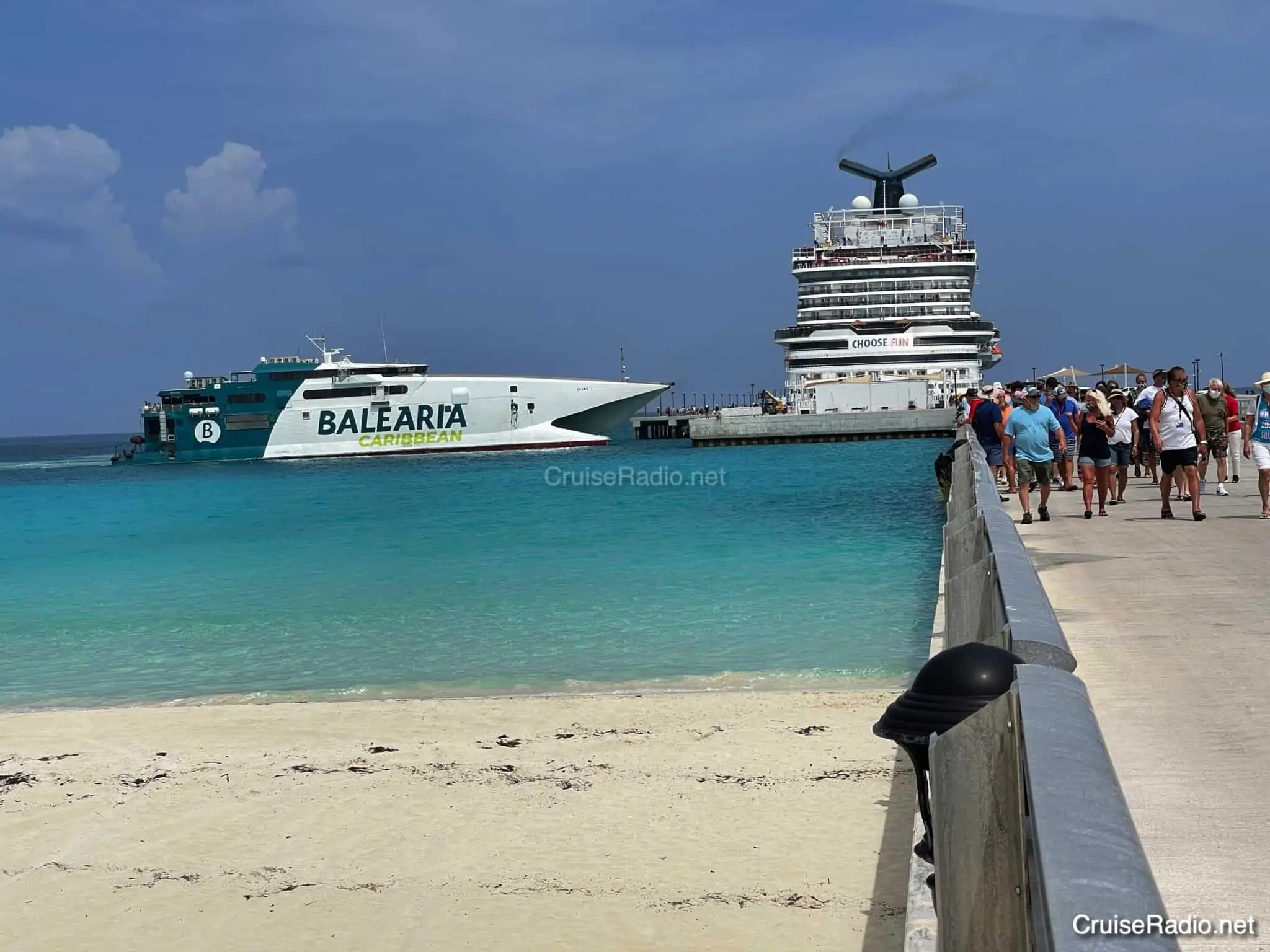 There's been a bit of confusion among some cruisers given that Virgin Voyages has made a lot of noise about their private, exclusive Bimini Beach Club… which some pointed out seemed to be part of the Resorts World complex.
As it turns out, they are essentially at the same complex. But Virgin Voyages' guests have access to a private beach and amenities that are only available to them on days when the company has ships in port.
Thus, it's not at all uncommon for ships from various cruise lines — including Carnival, Holland America, Disney and others — to offer shore excursions to the Bimini Beach Club that are separate from what's offered by Virgin Voyages.
So what can cruisers expect to find at the commonly used areas of the Bimini Beach Club?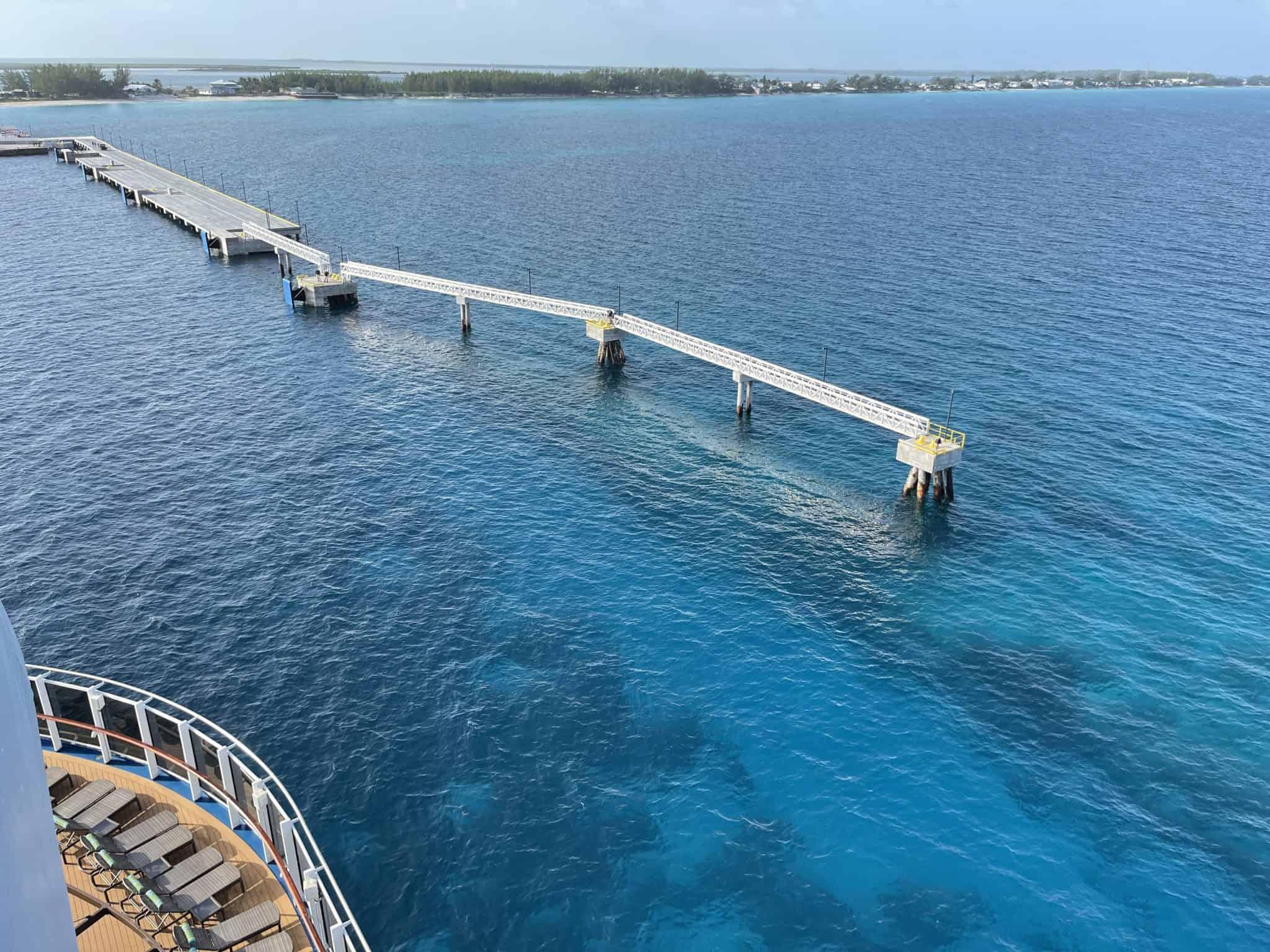 On a clear day, you're able to see all kinds of sea life upon your ship's arrival at Bimini Island, including dolphins that often greet the ship and curious giant sea turtles in the distance.
The water is that Caribbean blue that, until you see it in person, you'd swear can only be achieved with Instagram filters.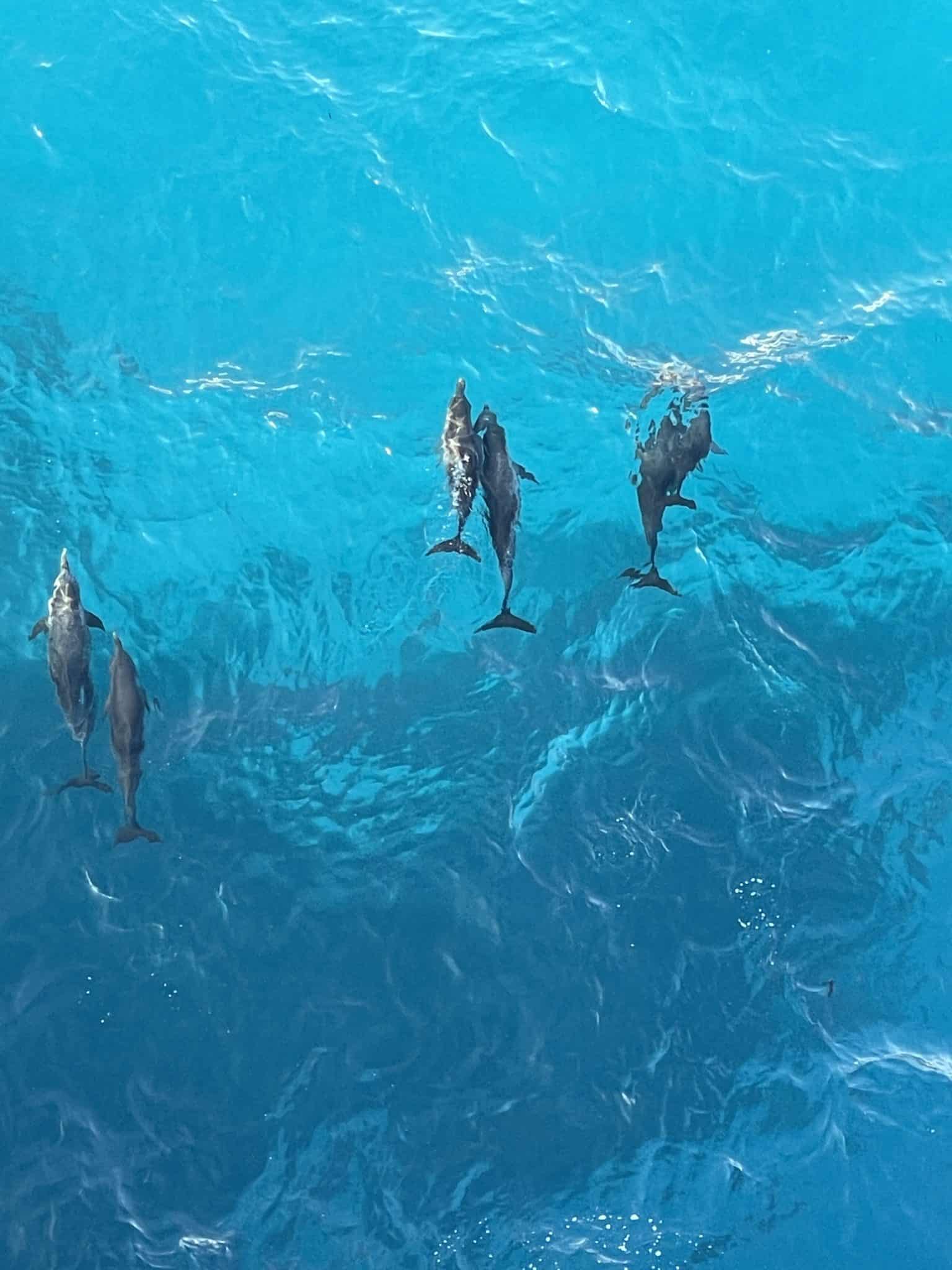 When you walk off the ship, you are greeted by a Resorts World tram that will take you down to the Resorts World properties and beach club.
If you don't want to check out Resorts World, you can walk off the pier and take a right. That will take you into the more authentic area of Bimini where you'll find local restaurants, dive shops, and a variety of unique shops.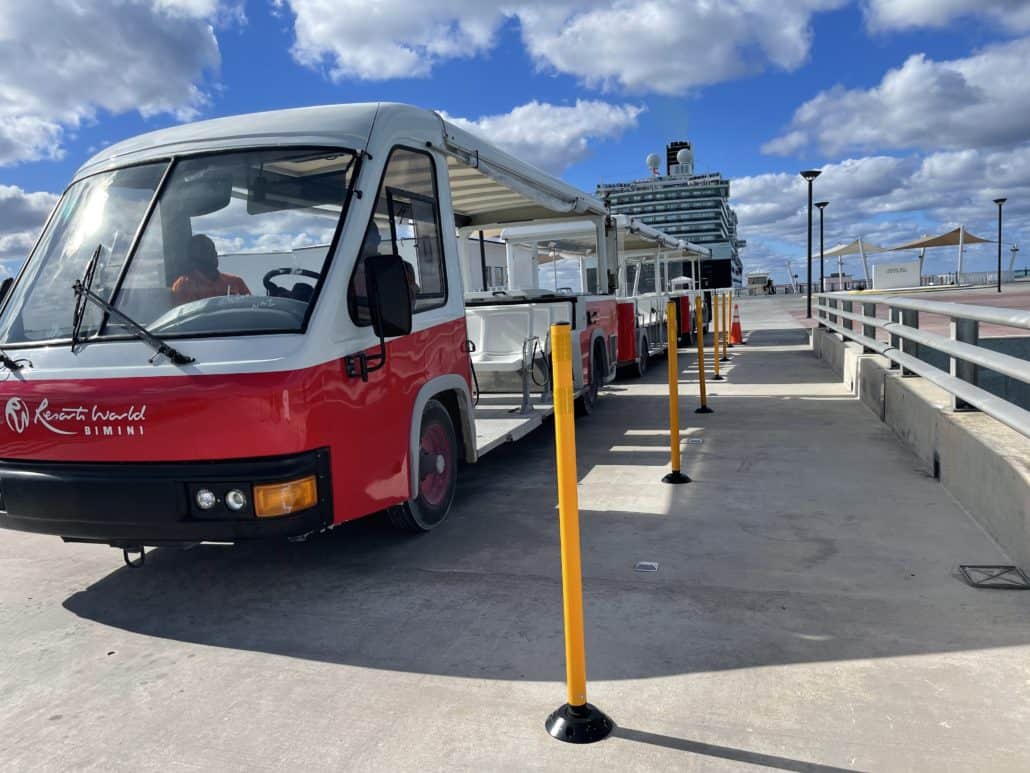 The Beach Club is a little less than a mile away from the pier. It is walkable but it would be fairly easy to lose your way… plus, why walk when transportation is available? Save your energy for the taxing day of lounging and sipping cocktails you have ahead of you!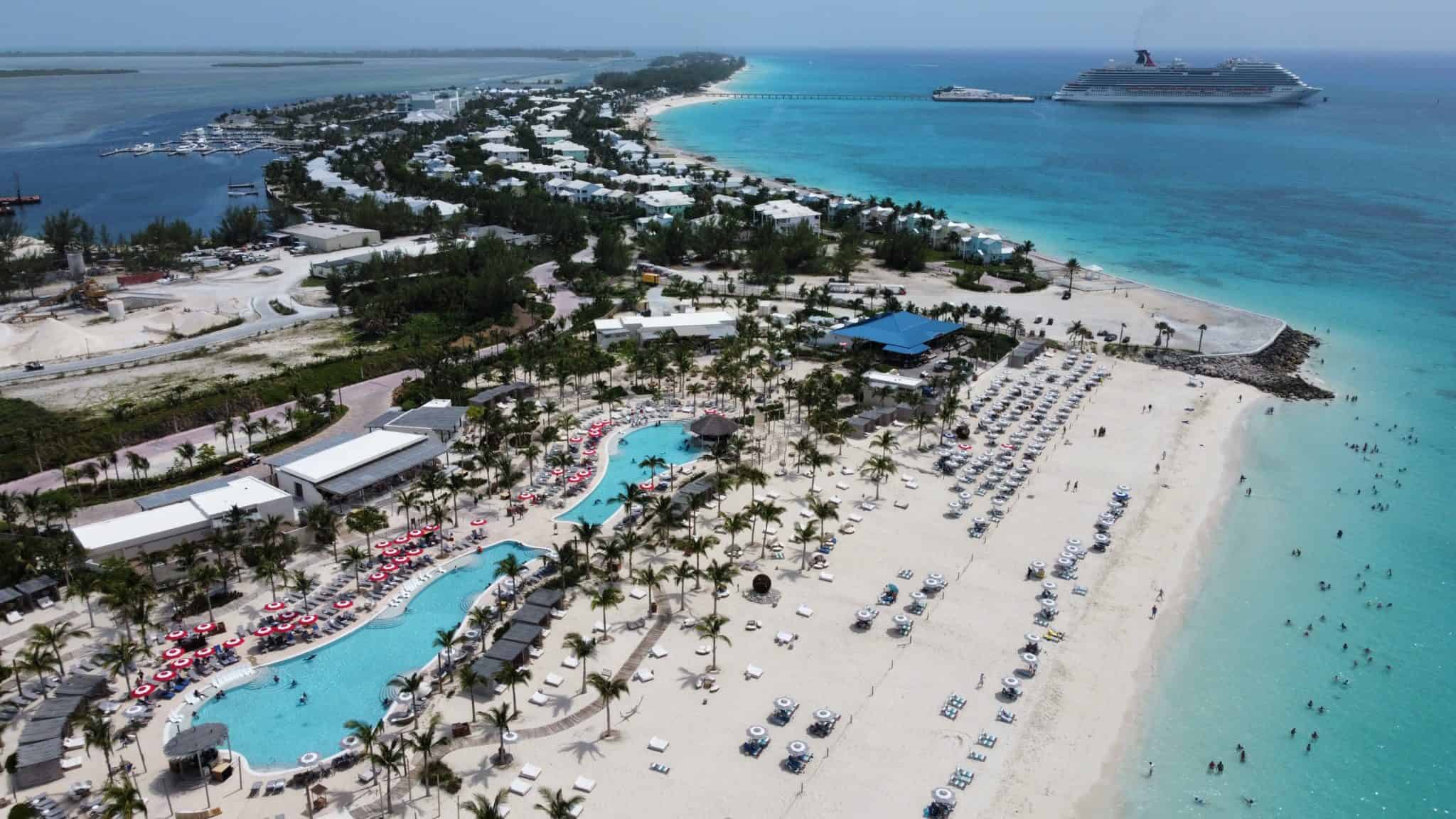 Even though cruise lines other than Virgin use the facilities, it is still branded for Virgin Voyages, including the Rock Star retreat, which is a play on the Rock Star suites you'll find on board Scarlet Lady and her sisters.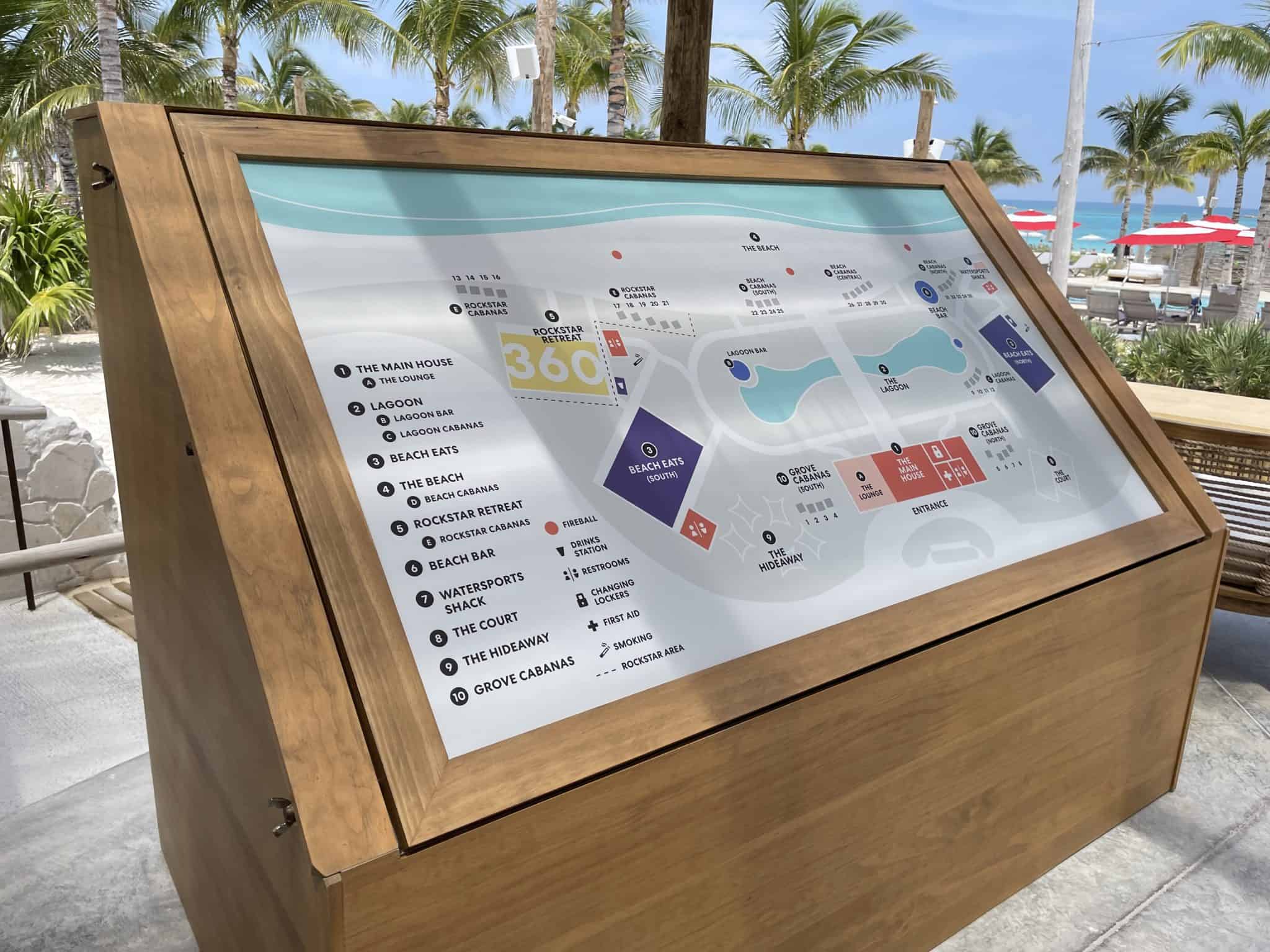 The club does request that guests wear face masks when not swimming or eating/drinking, but it wasn't strictly enforced in the outdoor areas where there is plenty of space for natural social distancing.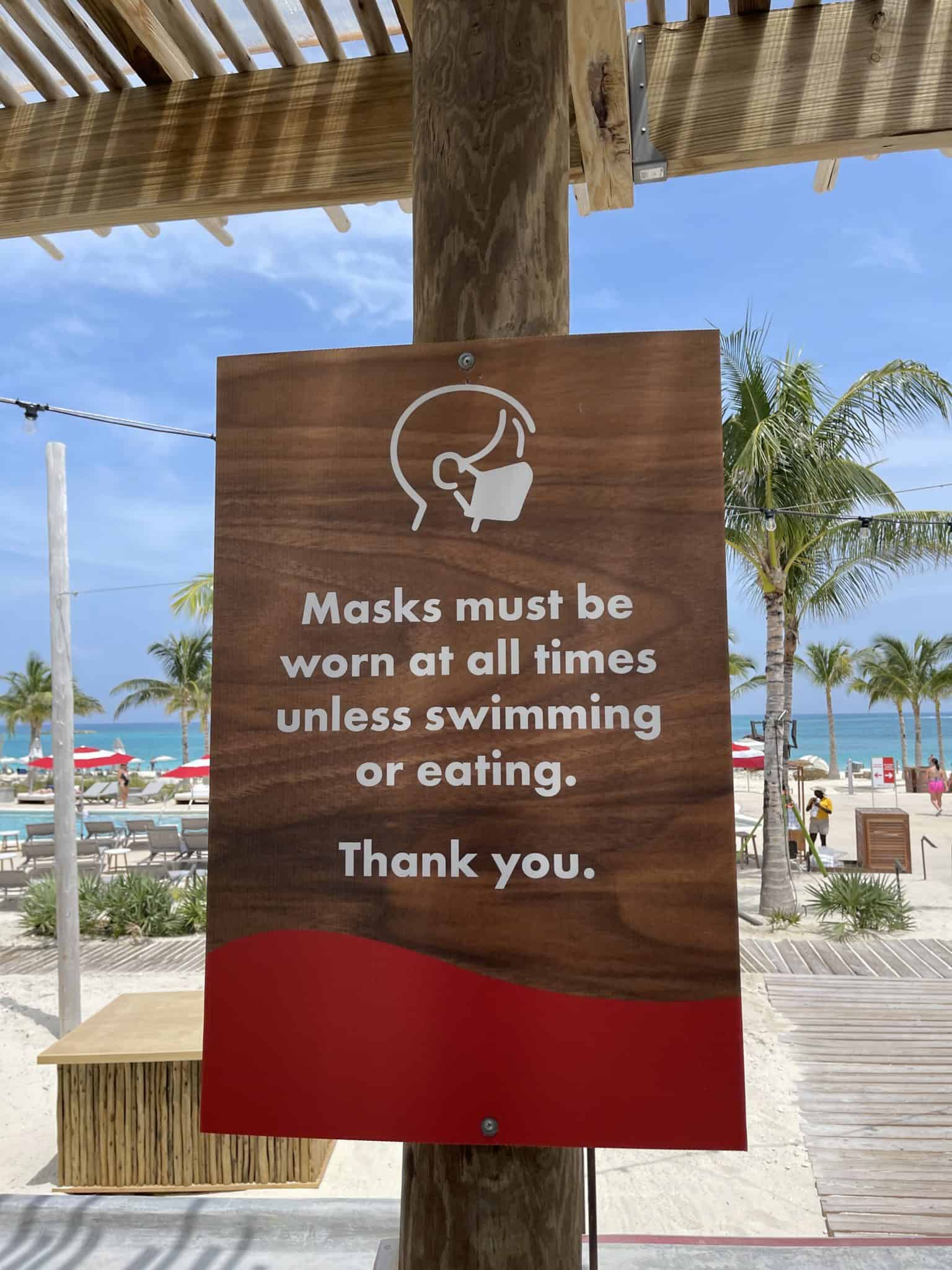 There are two pools at the Bimini Beach Club. The one on the south side is the family pool, while the other is reserved for guests 18 and over. (Obviously, this isn't an issue when Virgin ships are in port, as their ships only carry those who are over the age of 18.)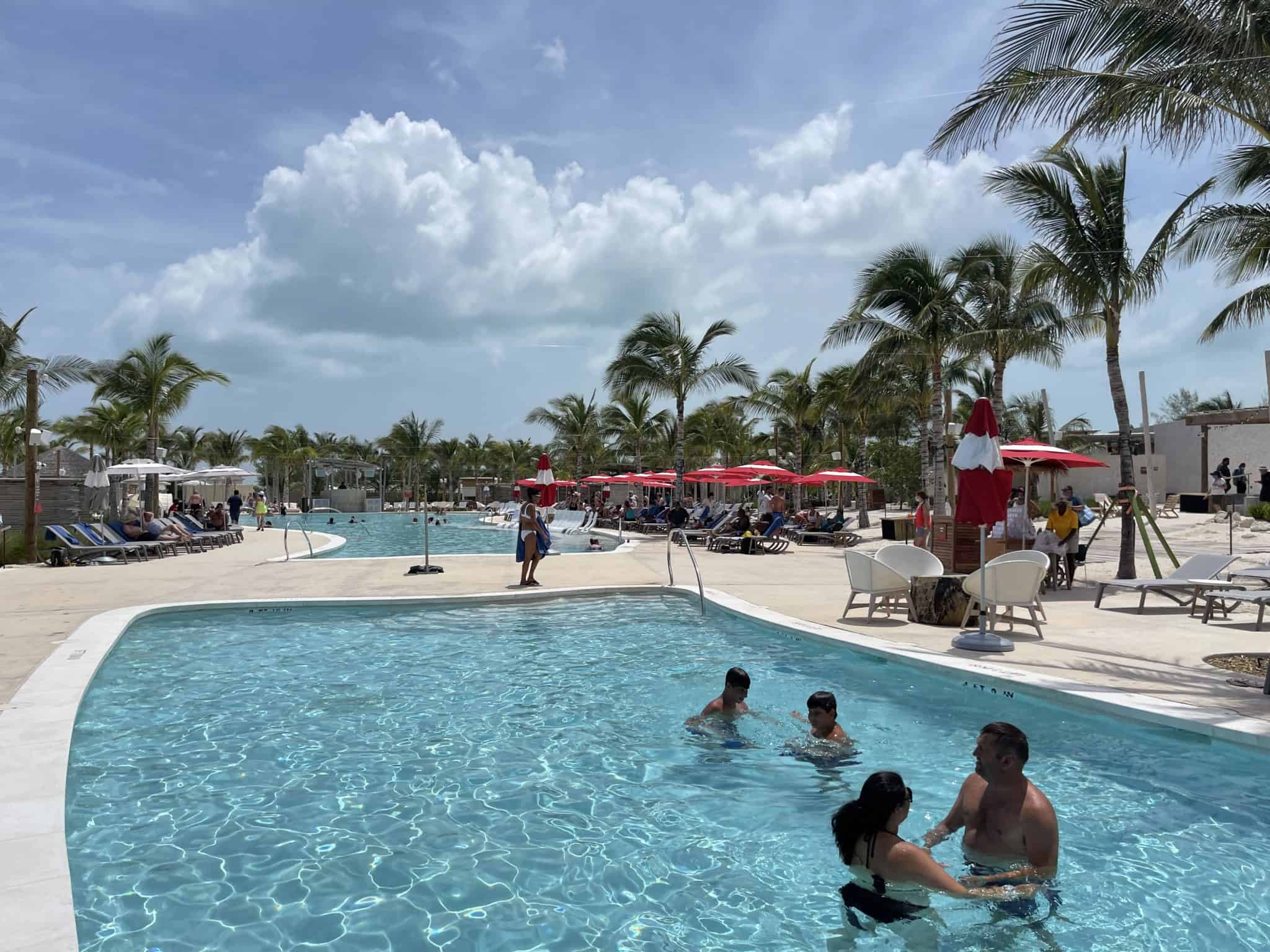 There are plenty of loungers, clamshells and umbrellas around the pool. One thing there's not a lot of, unless you happen to be under one of those umbrellas, is shade.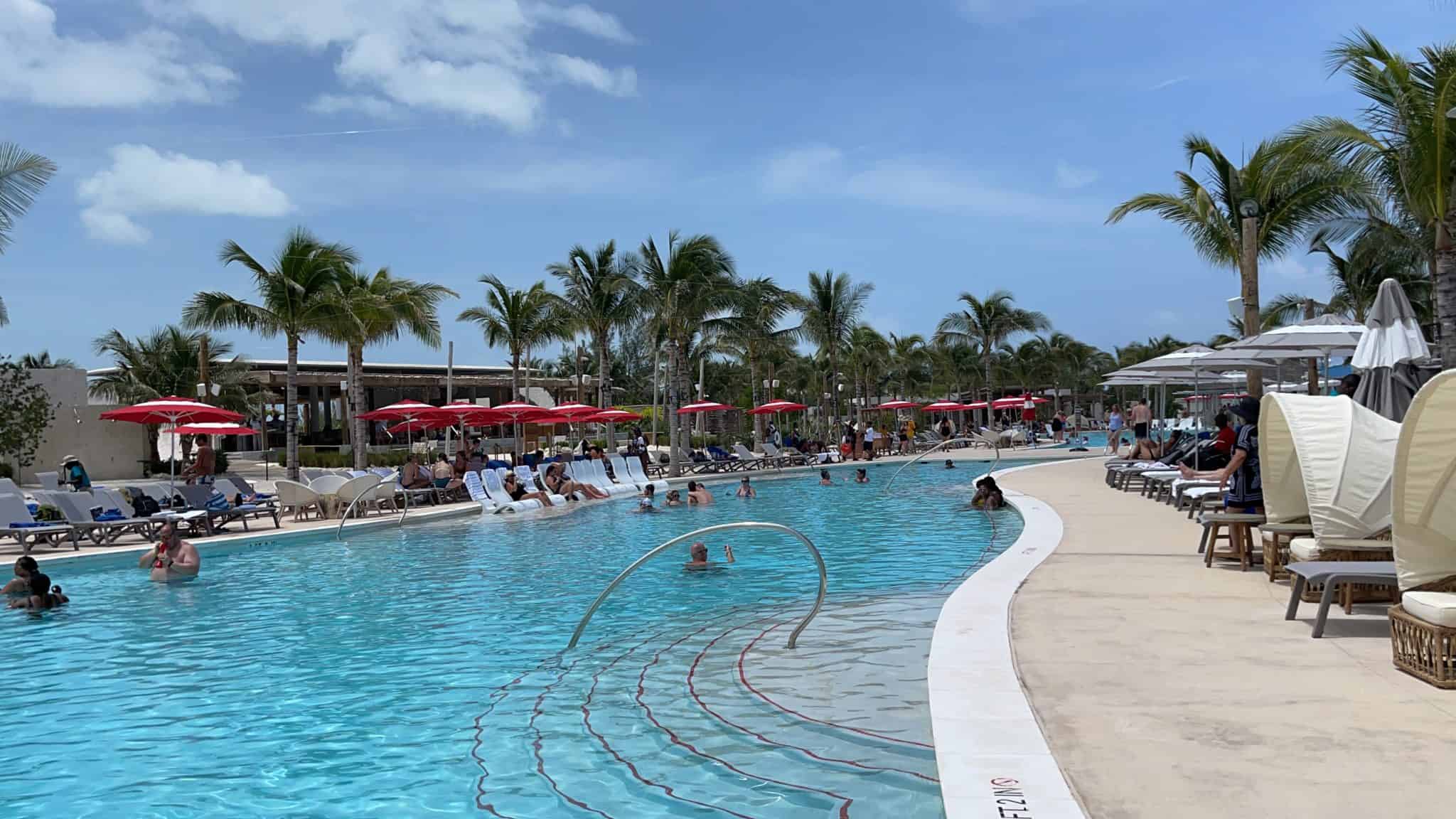 The arial shot below shows just how expansive the Beach Club really is, with the two pools forming its heart and plenty of white sand beach nearby.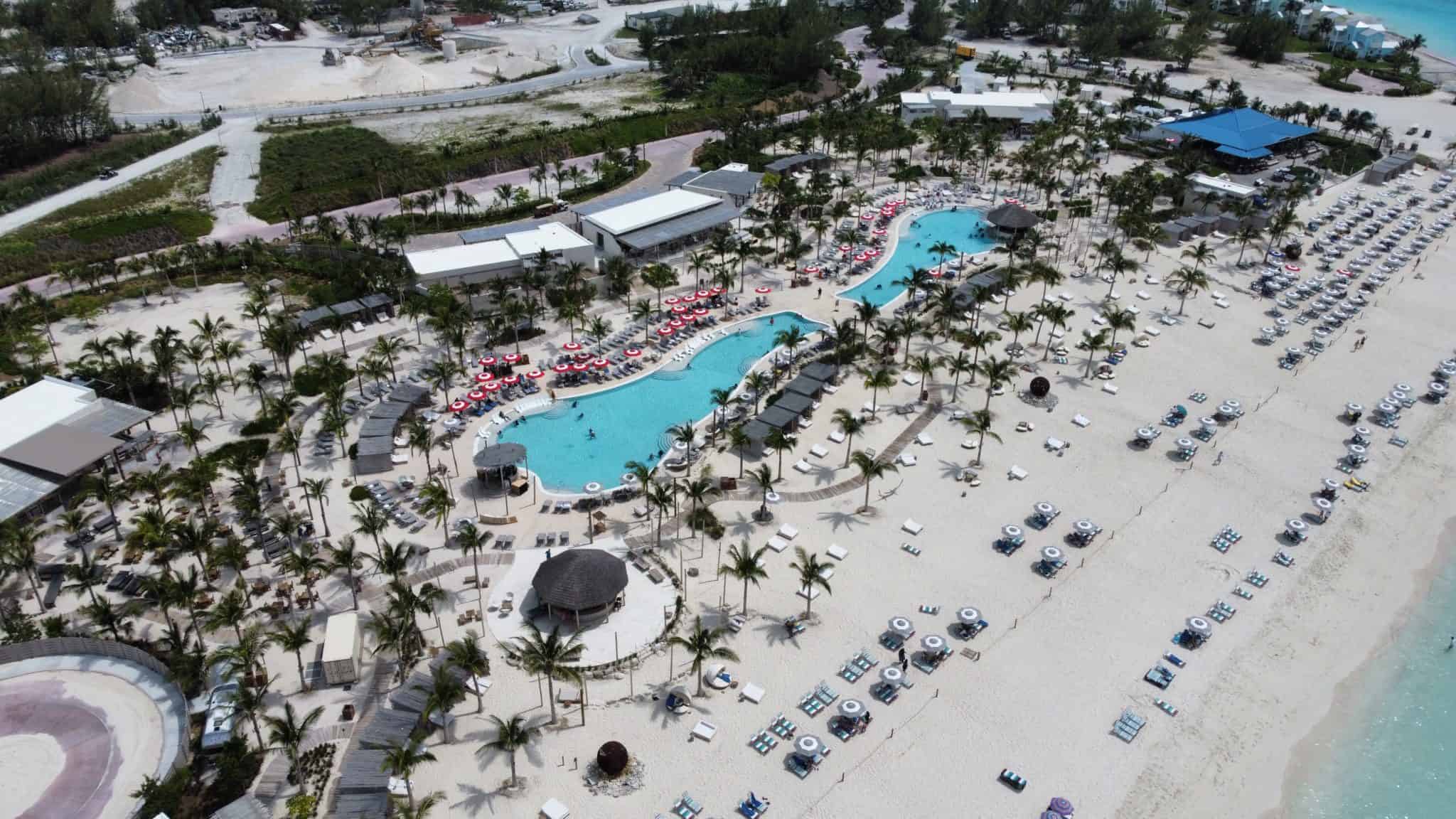 The adults-only pool usually features a DJ spinning tunes for the entertainment of guests.
RELATED: Carnival's Half Moon Cay Like You've Never Seen It Before [PHOTOS]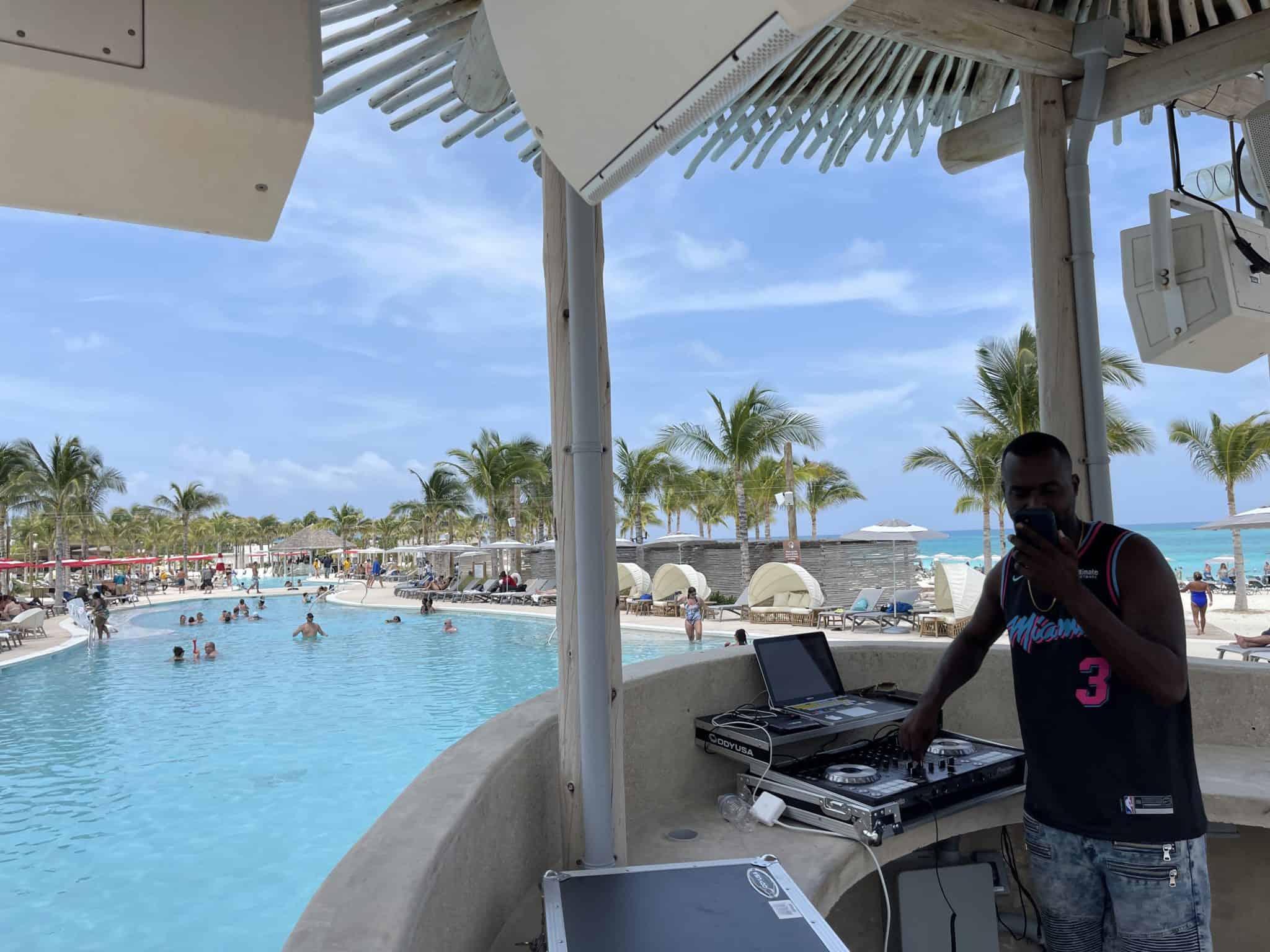 Obviously, a wide variety of drinks put the "club" in "Beach Club."
Here, they run the gamut from the Piña Colada and Mudslide to the Mr. Zombie (which — given that it includes gin, vodka, tequila, and white rum — might leave you feeling like one of the undead the next morning!).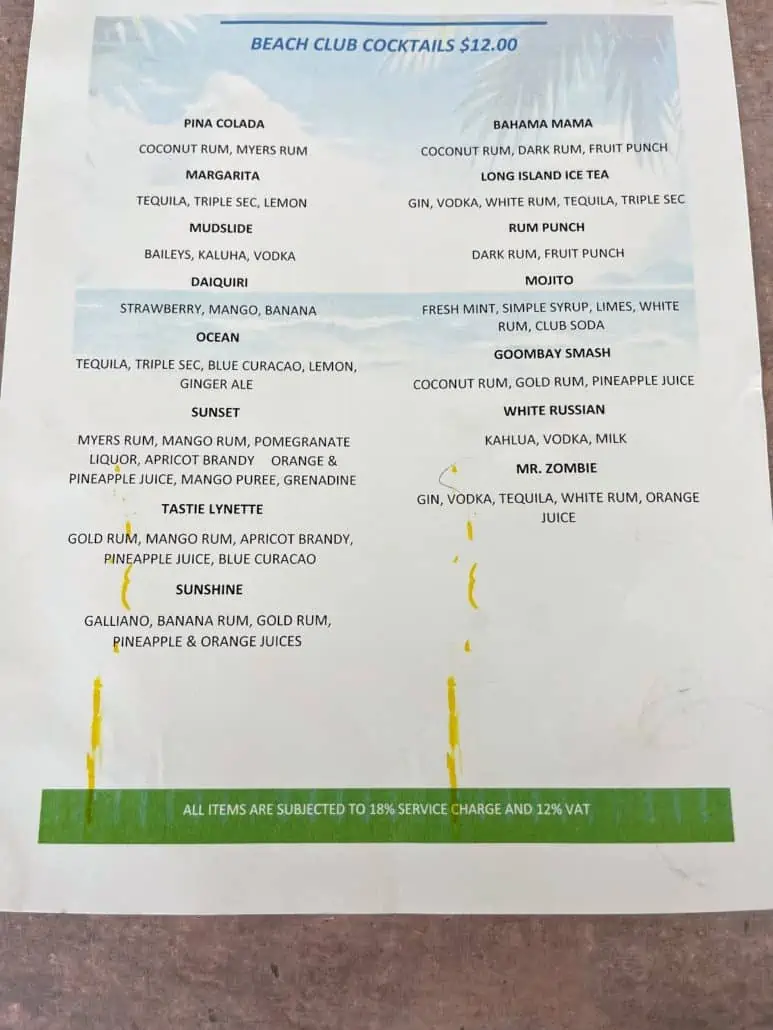 The drinks at the club were $12 each and there was a slew of servers constantly roaming the pool and beach areas to take orders — no need to get up from your lounger.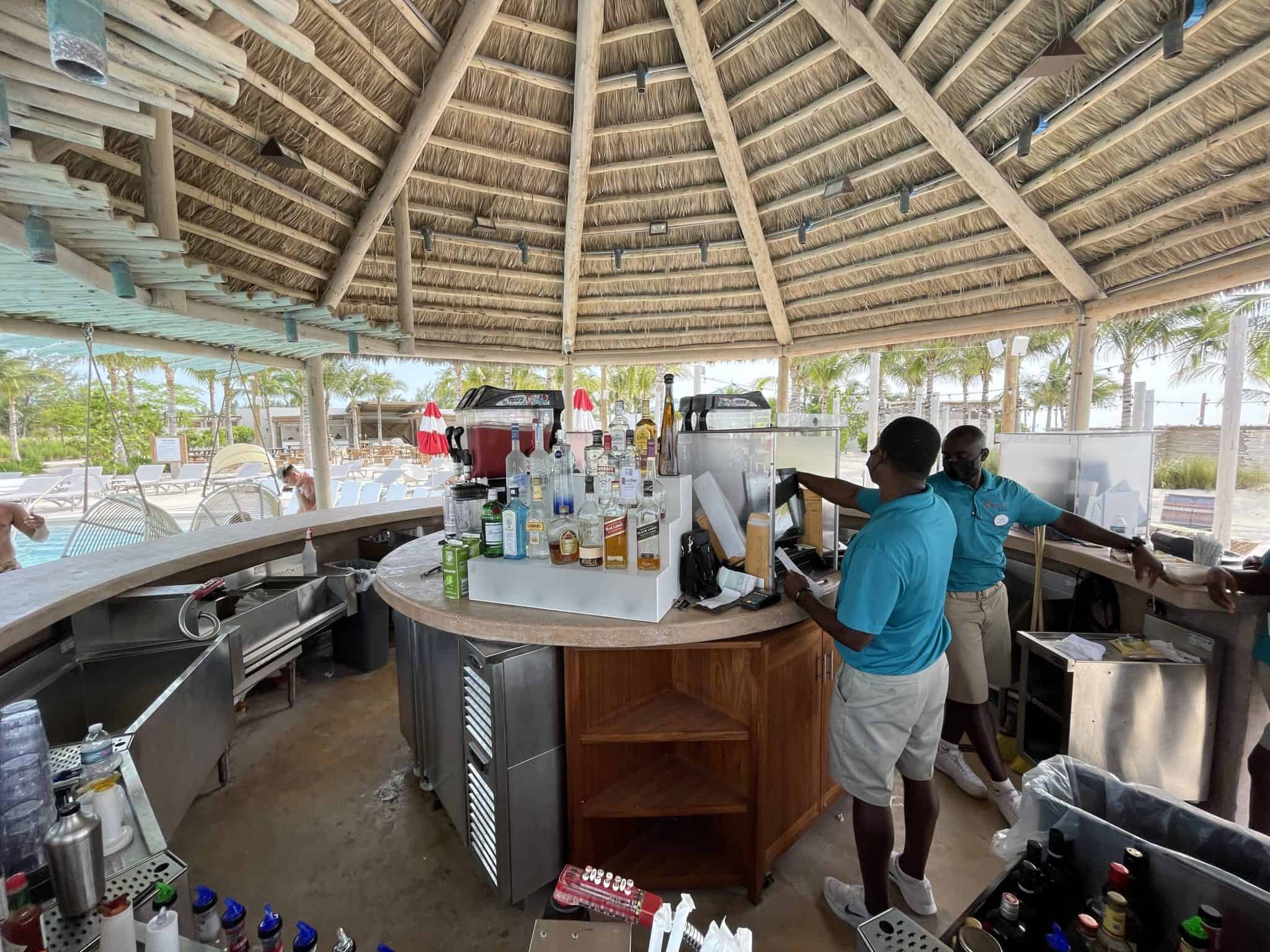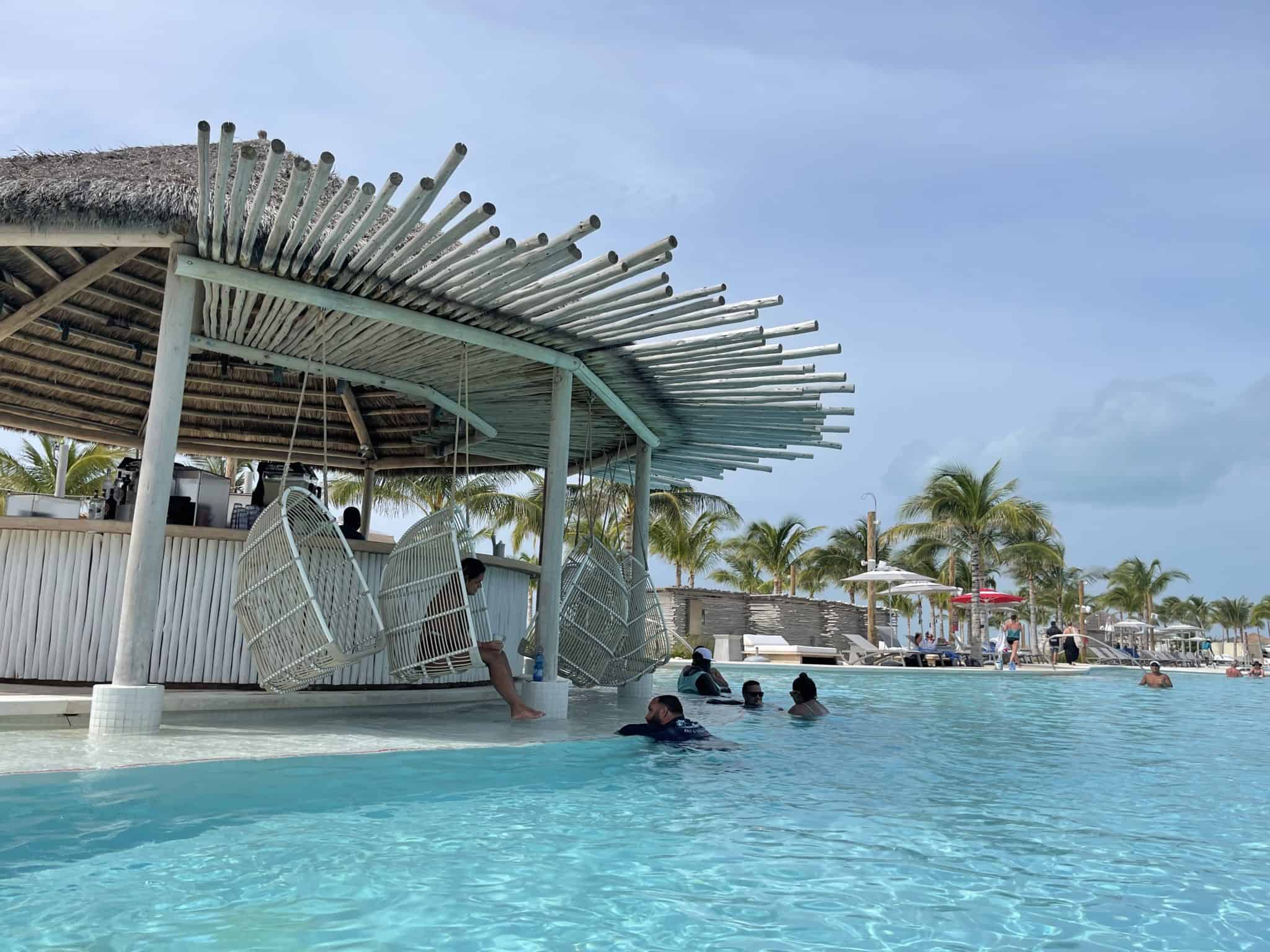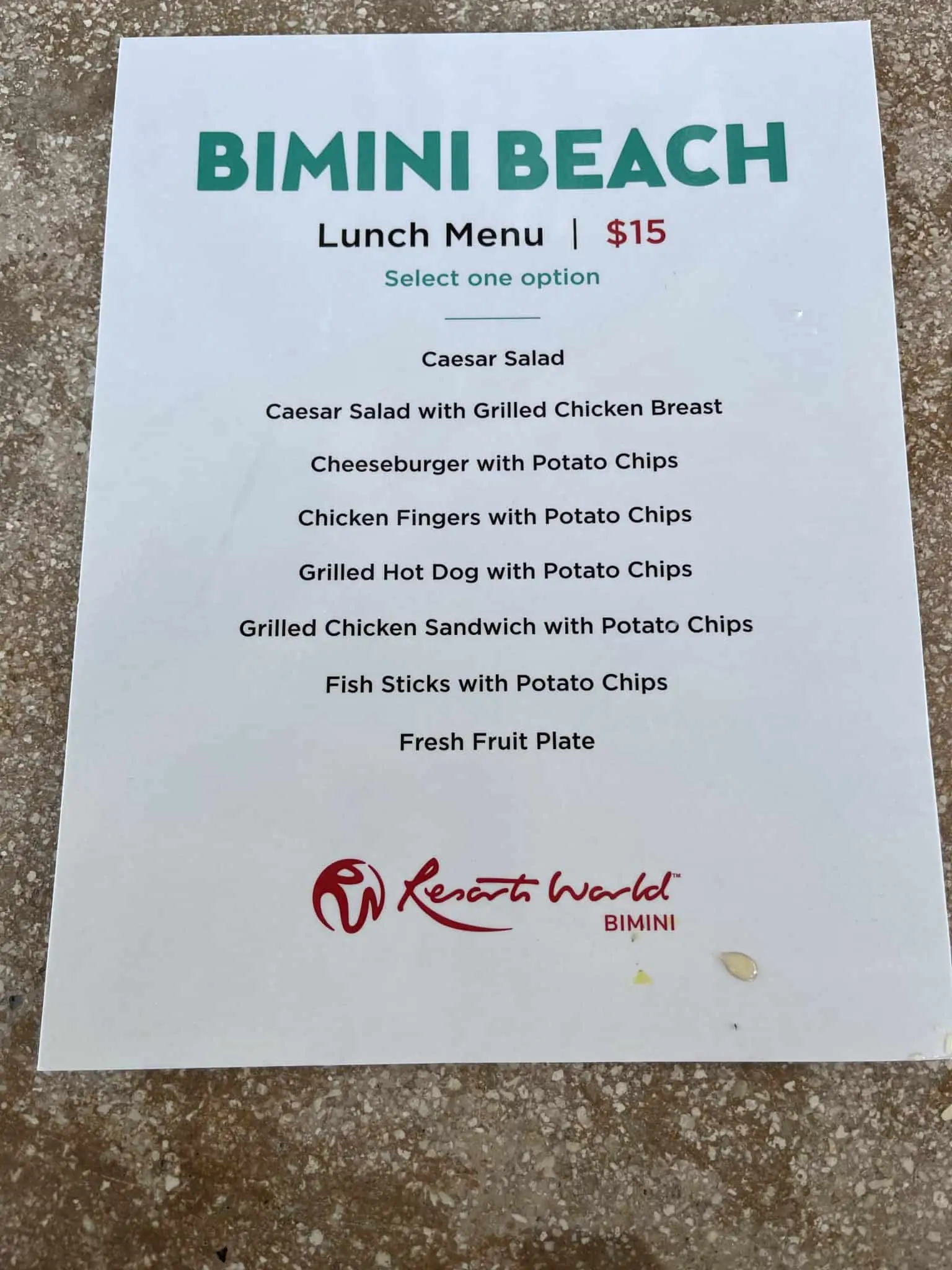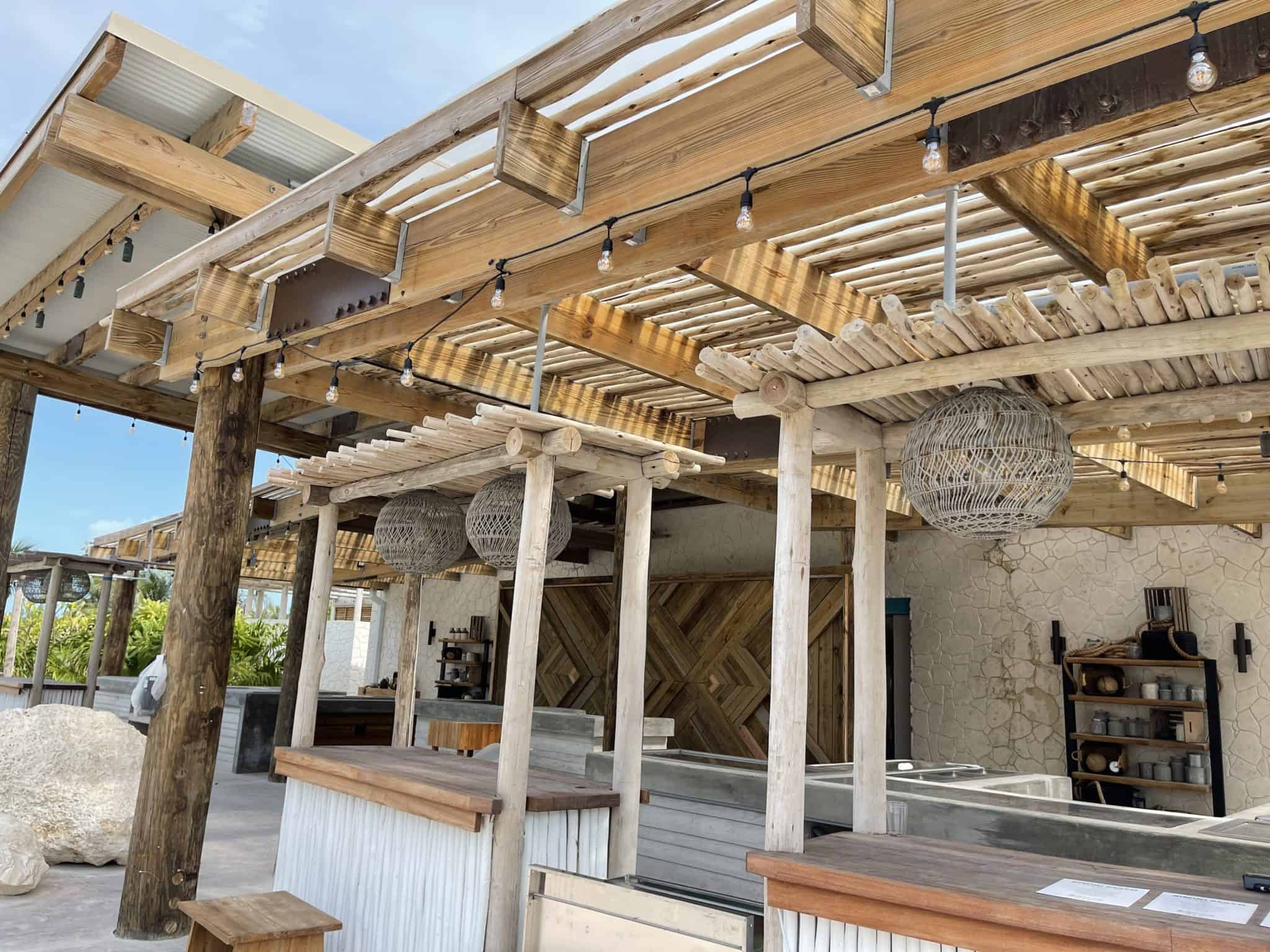 There's both a restaurant and a walk-up snack bar with things like burgers and chicken strips. You'll find plenty of tables to eat your lunch so you don't have to bring it back to the beach or the pool, but you're welcome to do that as well.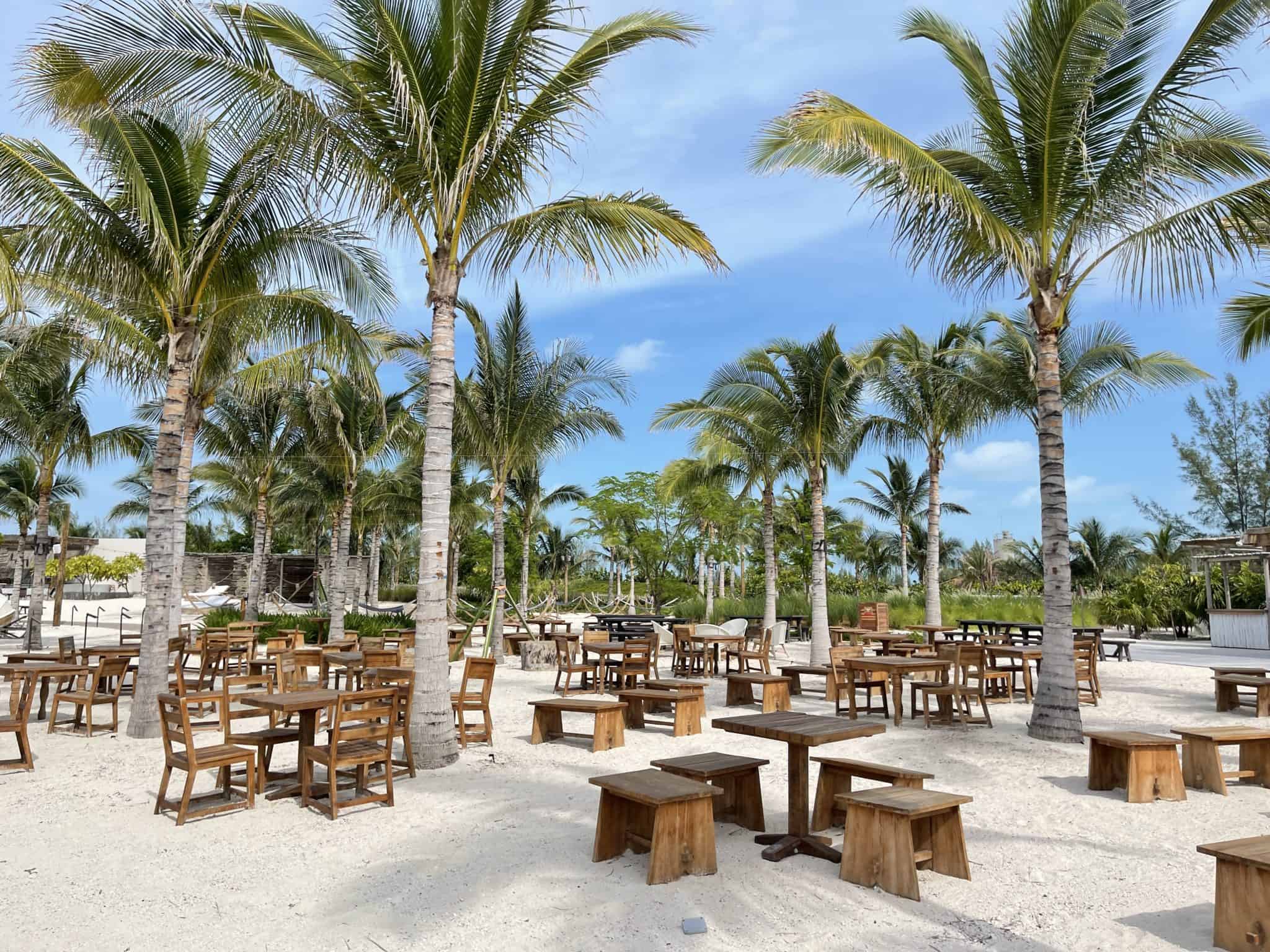 If you're in the pool and suddenly have a craving for a cocktail, never fear… each of the pools has a swim-up bar, making it easy to quench that thirst.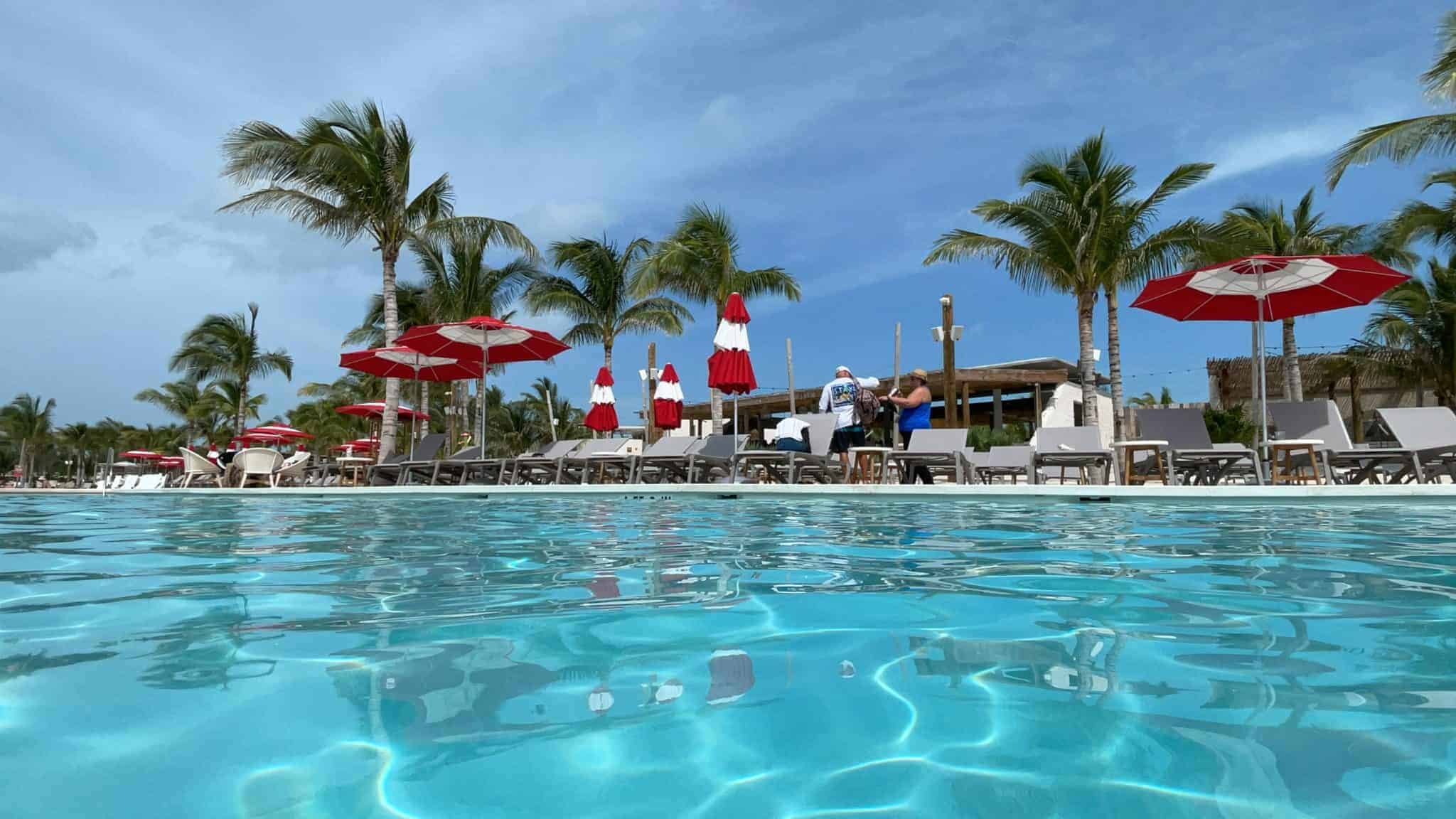 The beachfront property features a large strip of white sand and blue water. The shore itself is not at all rocky, so you won't feel the need to slip into a pair of water shoes before wading in.
You will, however, want to make sure you have plenty of sunscreen because, as you can see, the beach — like the pool — isn't a place where you'll find a whole lot of shade!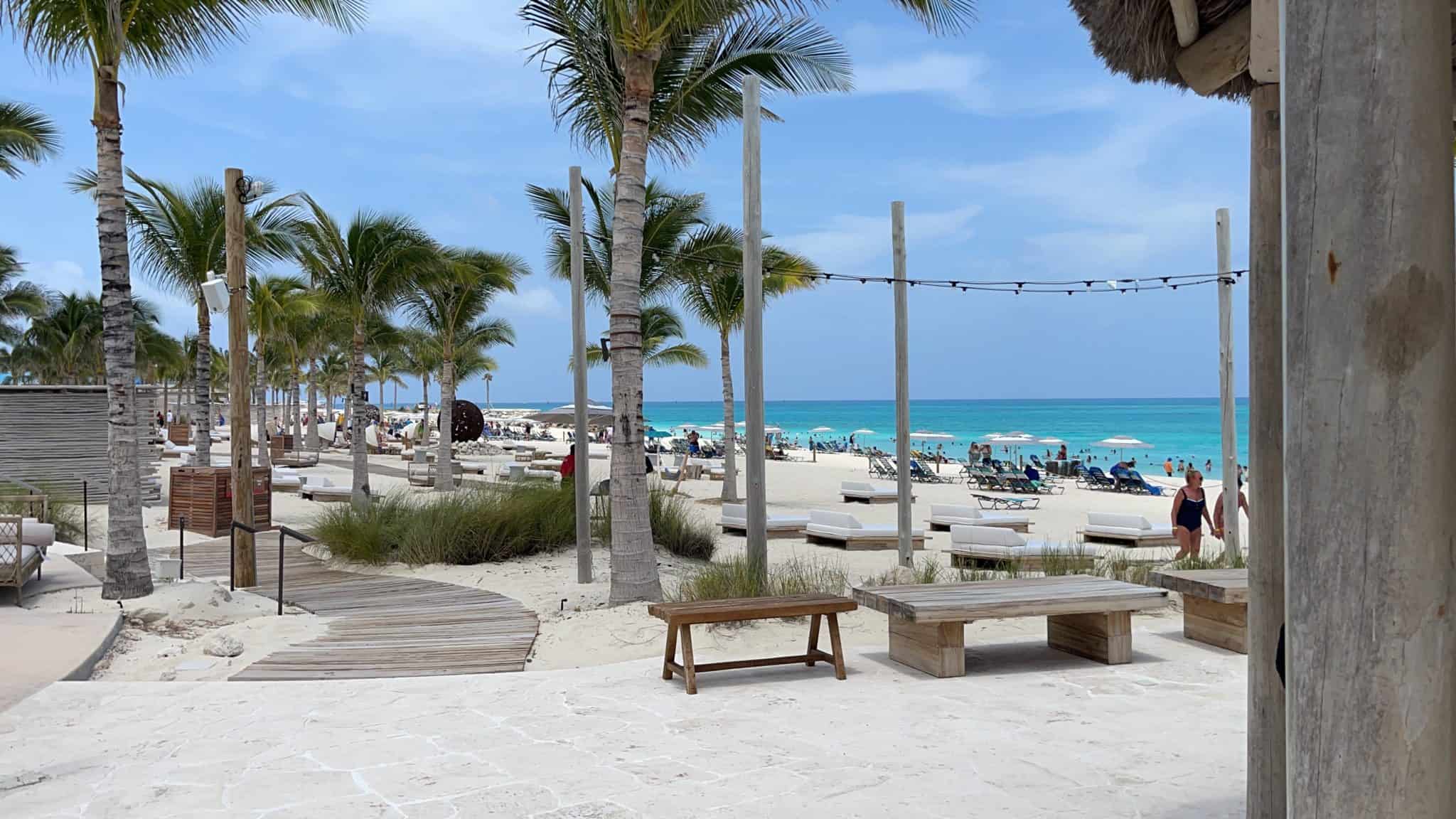 There are open day beds for guests to enjoy beachside and even a fire pit that's used at night.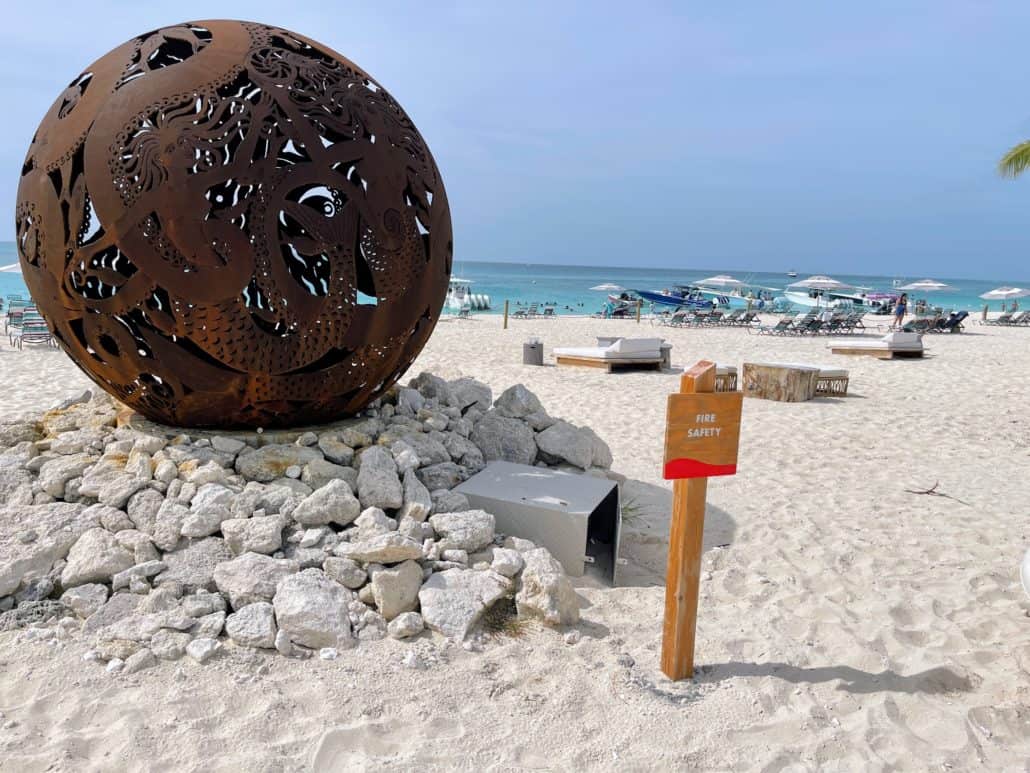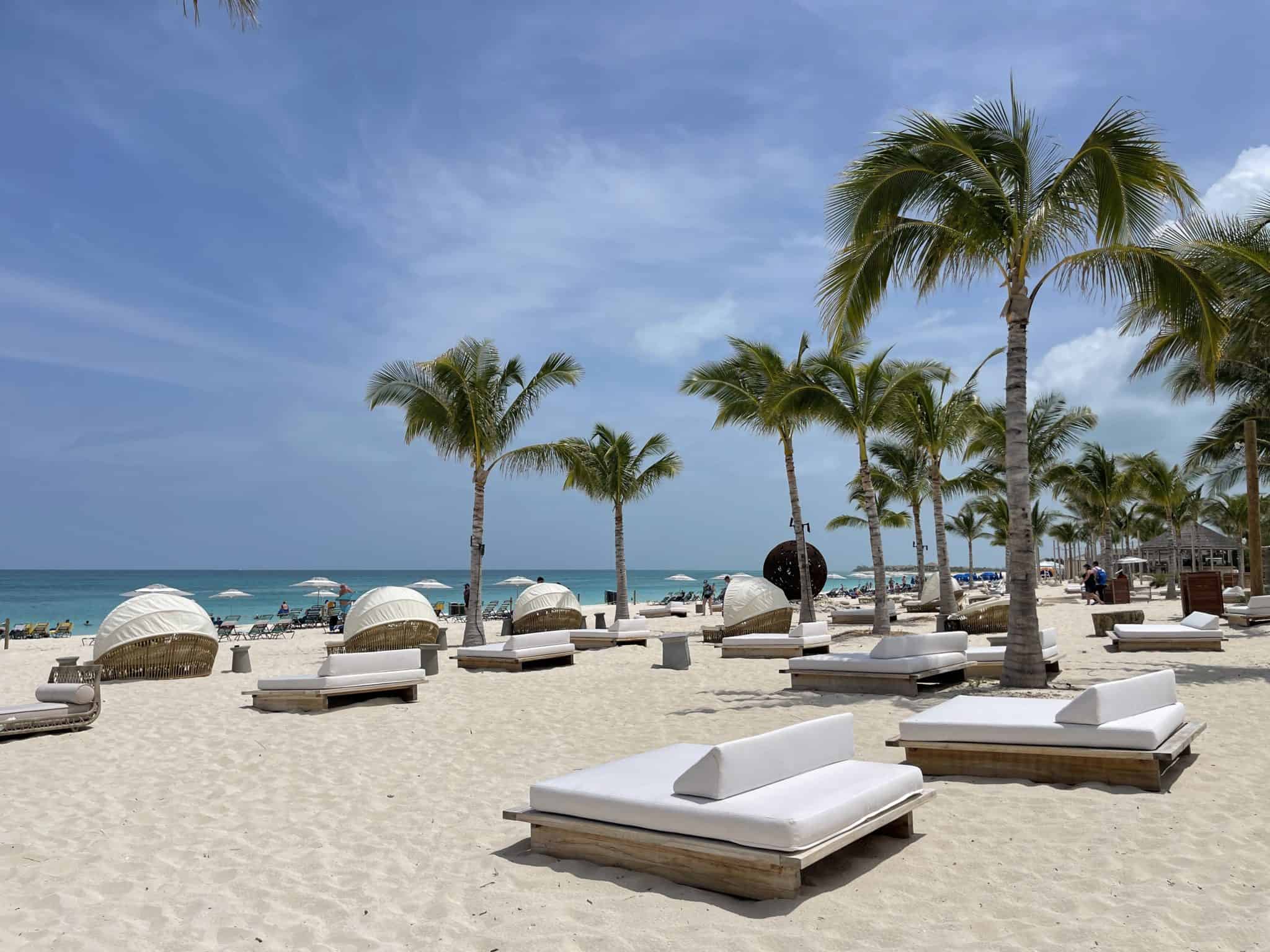 Final Thoughts of Bimini Beach Club
It's easy to see why more and more cruise ships are making calls on Bimini and the beach club. While it has quite a bit in common with some of the private destinations already visited by ships, it's different enough to give cruisers another beach worth exploring.
READ MORE: Bimini Cruise Port, Everything You Need to Know
Pin it!