A new port joins Nassau and Freeport in the Bahamas, giving cruisers more of a selection when choosing a Bahamian itinerary.
In July 2021, Resorts World Bimini Cruise Port welcomed its first cruise ship when Crystal Serenity docked with cruise passengers. Four days later, Carnival Cruise Line made its first call there with Carnival Horizon.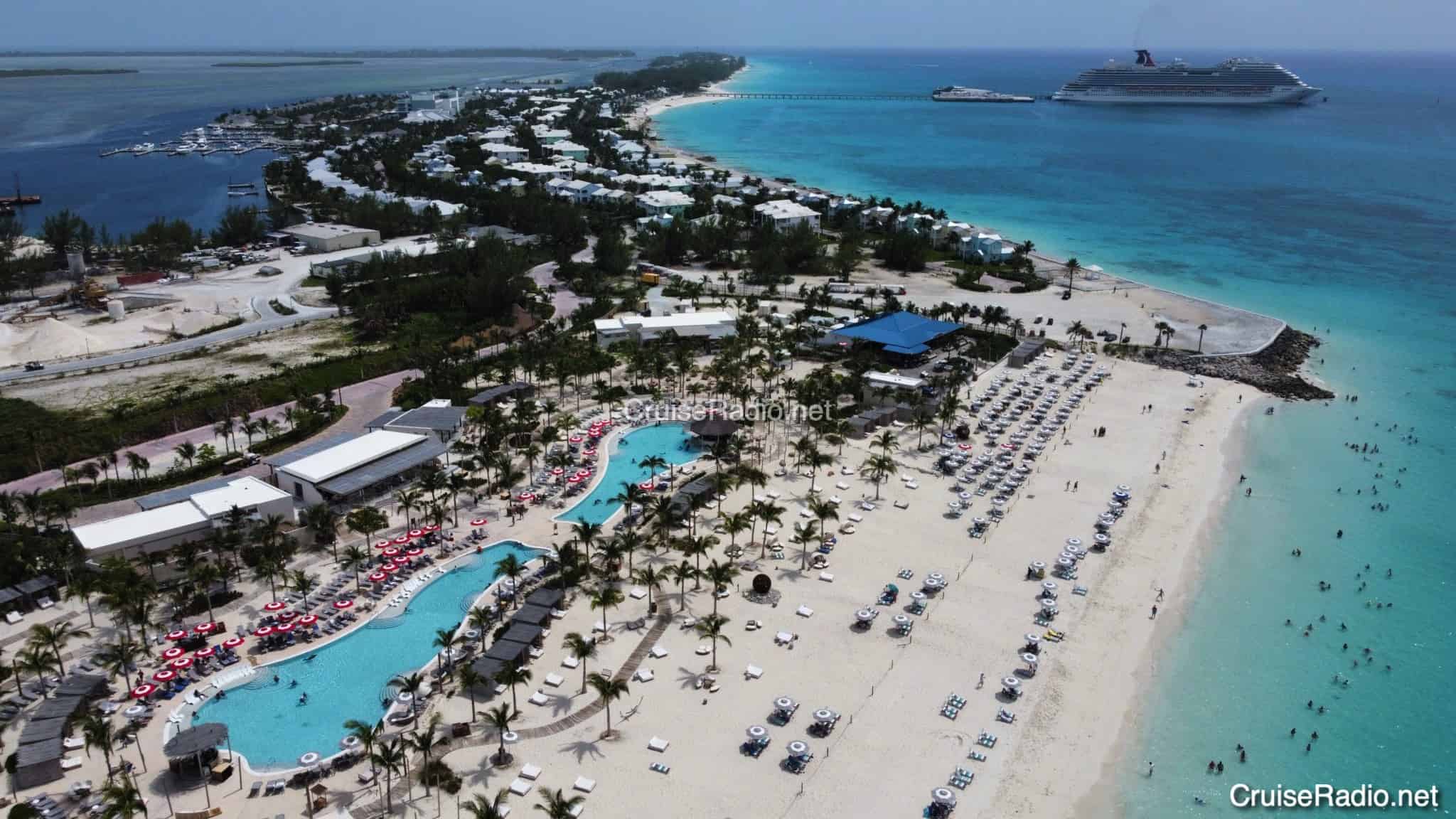 Location
Located 55 nautical miles off the coast of Miami, the Bimini Islands is primarily a beach destination with some added history tours sprinkled in. With a total population of under 2,000 people living there, it's practically untouched, with the exception of a few resorts.
Bimini is actually made up of two islands, North and South Bimini. The cruise port is on North Bimini, and the airport is on South Bimini. You can take a quick ride between the two islands with the local ferry service at $8 per person each way.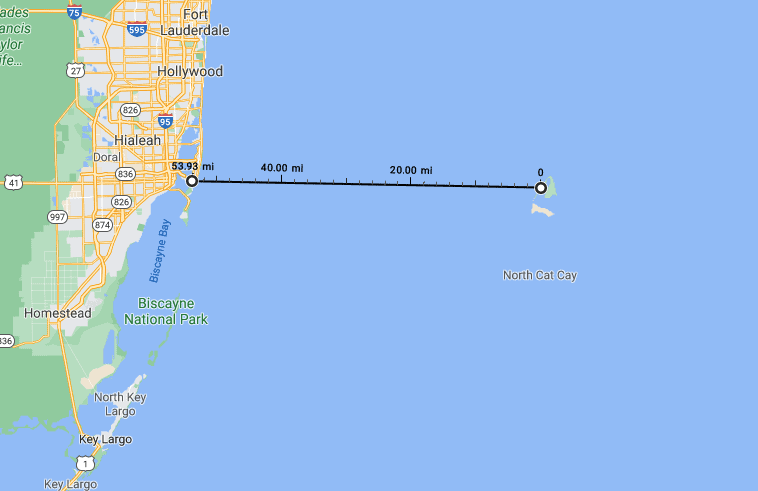 The island is 62 miles south of Grand Bahama Island, 127 miles northwest of Nassau, 77 miles from West Palm Beach, and 58 miles from Port Everglades.
This island was called Virgin Voyages' private resort destination. However, Virgin is only utilizing a beach and beach club on Bimini, which is open to other cruise passengers when a Virgin ship is not there.
Pier Location
The Resorts World Bimini Cruise Port is a new cruise port that can now hold the largest cruise ships, such as Royal Caribbean's Oasis-class vessels (225,000 gross tons).
The ship docks in East Bimini. The pier was originally built for the now-defunct Bimini Superfast but was recently expanded to accommodate the world's largest cruise vessels.
There's a charm to the pier because it's so new to major cruise lines, and it hasn't been developed or overrun by Caribbean staple shops like Diamonds International.
Aside from cruise ships, high-speed ferry service from Balearia Caribbean also makes stops there, running routes from Fort Lauderdale to North Bimini Island.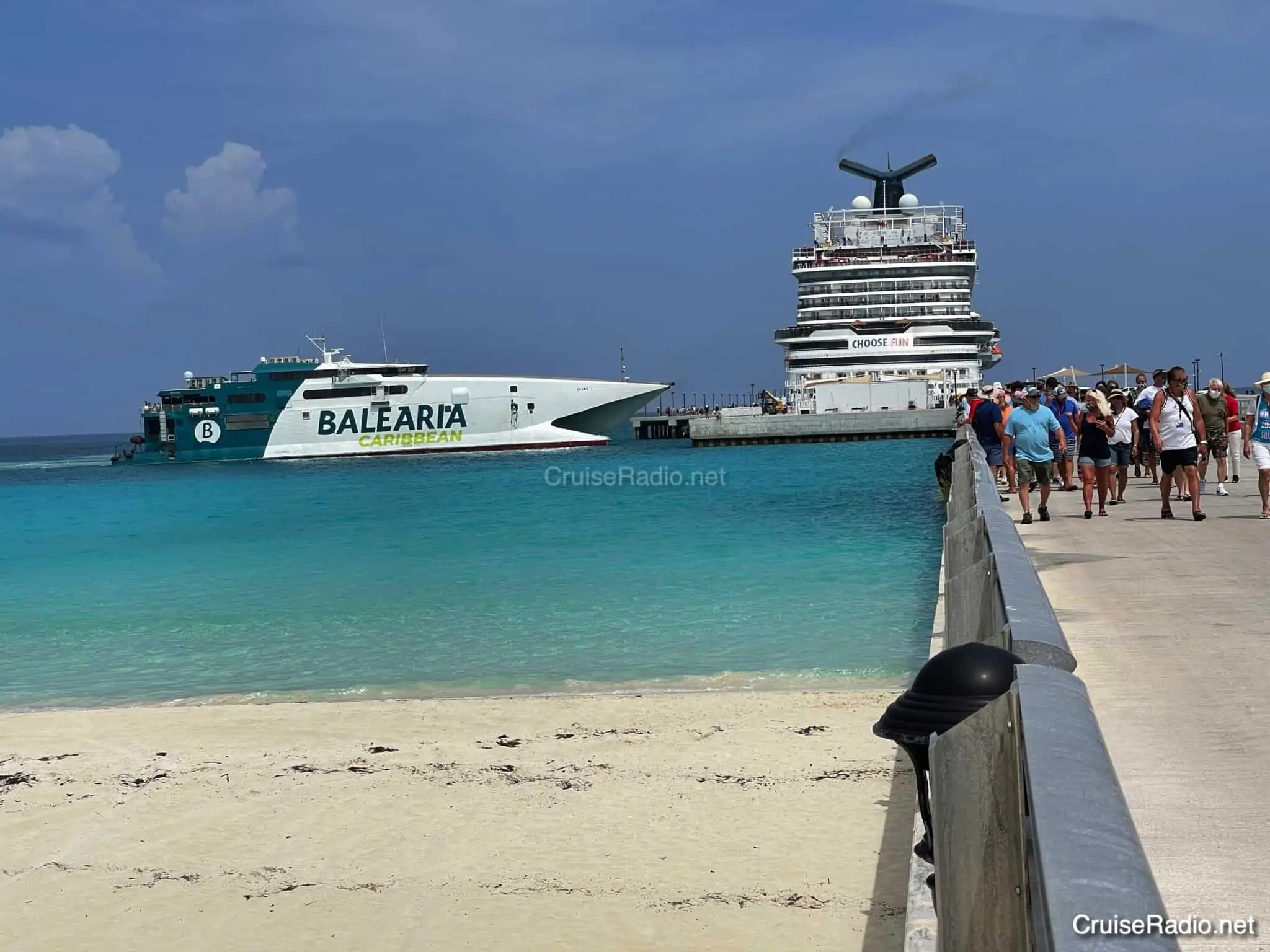 Weather
Being right off the coast of South Florida, there isn't much difference in the weather. You can expect the same weather as you would in Miami, Florida (so pack shorts!).
The temperatures range from around 60 degrees in the winter to 90 degrees in the dead of summer. Even with the humidity, the breeze off the ocean tends to make it feel a bit cooler.
The water temperatures average between 77 degrees in the winter and 87 degrees in the summer.
Currency
Legal tender is the Bahamian dollar ($BSD), but US currency is accepted and usually given as change in the Bahamas. If paying in cash, make sure to confirm you're getting a change in US currency.
There are ATM machines around the resorts, but expect to pay a steep service fee to access them. Credit cards and digital payments are also accepted at most locations on the island, especially at the large resorts.
READ MORE: 16 Photos of Half Moon Cay, Bahamas [2021]
Getting Around
Even though the island is only seven miles long, you may want to find a way to get around.
By Tram
A Resorts Worlds tram service makes select stops around the island and operates every 30 minutes. These trams have marked pick-up locations and will take you to different Resorts World properties from the cruise ship. (Note: they only operate between Resorts World properties.)
Anyone can use the Resorts World tram. Just keep in mind it will take you to one of their properties where you can go to a casino, beach, or eat.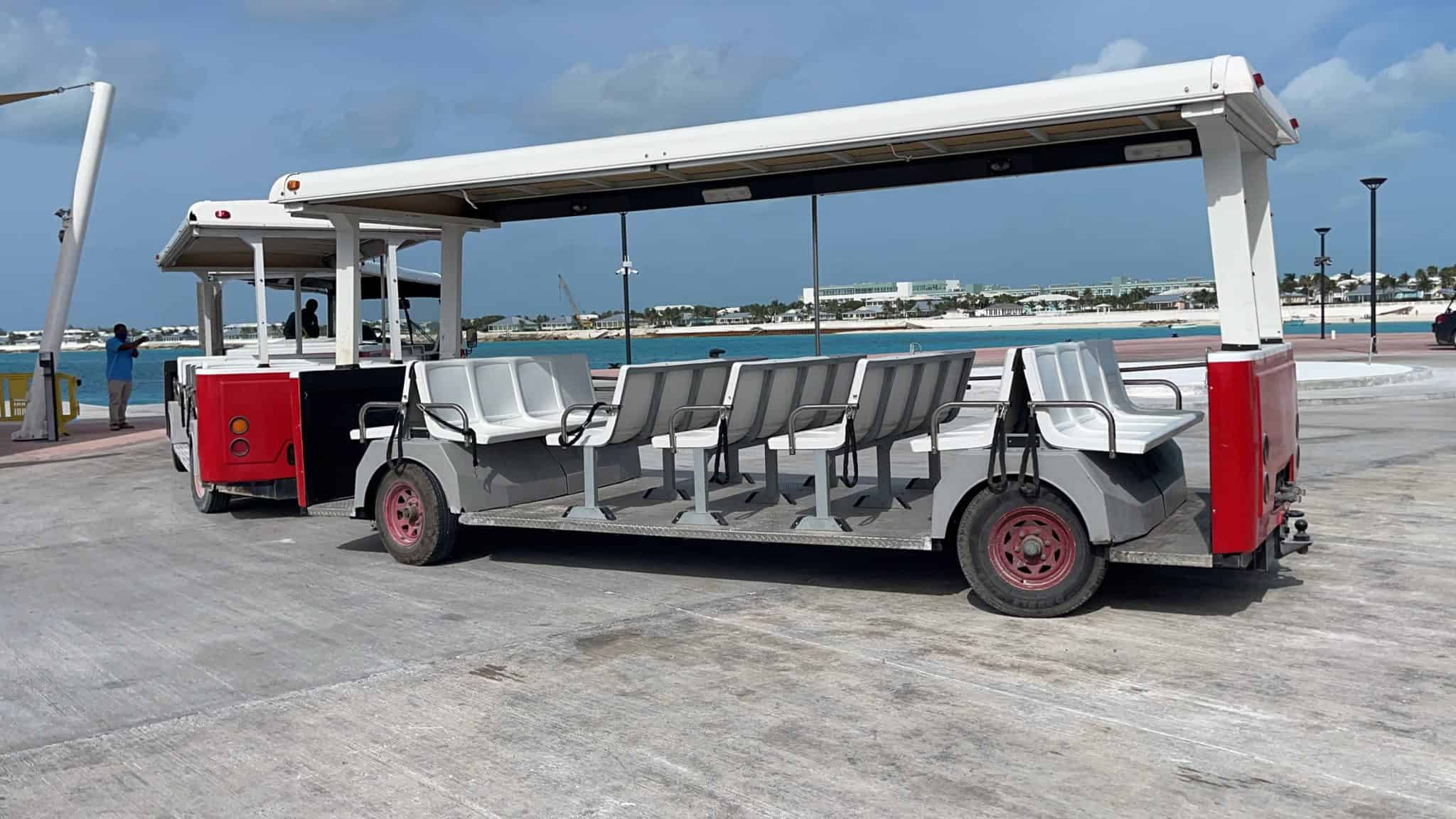 By Taxi
Taxi rates will vary by where you want to go, but the common fare was $5 per person to most locations. The cruise pier is at the midway point of the island, so it's equal distance to both the northern and southern areas.
By Golf Cart
A couple of golf cart rental companies on the island charge around $90 per day for a four-seater and $120 per day for a six-seater. With little traffic on the island, it's an easy and stress-free way to explore on your own timetable.
If you're sticking close to the pier, you can obviously walk to your destination. The Resorts World Hilton is about a 10-minute walk from the ship.
To explore beyond that, however, you'll want to find a form of transportation — if only because of the heat!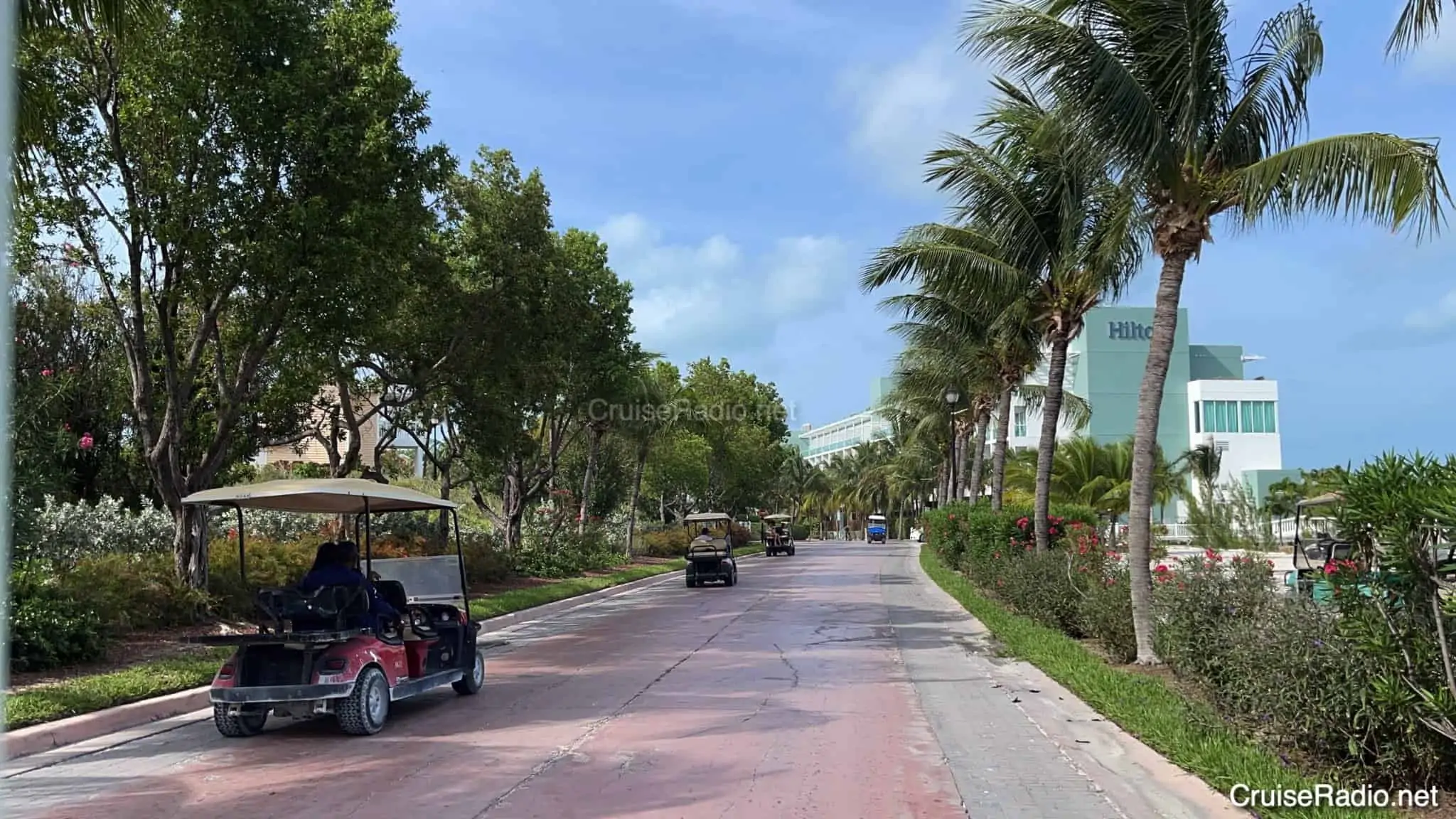 Shopping
As I mentioned earlier, one charm of Bimini is that it hasn't been overdeveloped, especially when it comes to the area around the pier. As it becomes more popular in the coming years, that's likely to change, but for now, it's one of the things that makes this port so appealing.
A small market with a few shops is just south of the cruise pier. Otherwise, you're limited to shopping at one of the Resorts World properties if you're looking to pick up a souvenir.
While shopping for basic necessities, keep in mind that you are on an island with limited resources, so items in the resort gift shops tend to be on the pricey side as they all have to be imported from the mainland.
What To Do in Bimini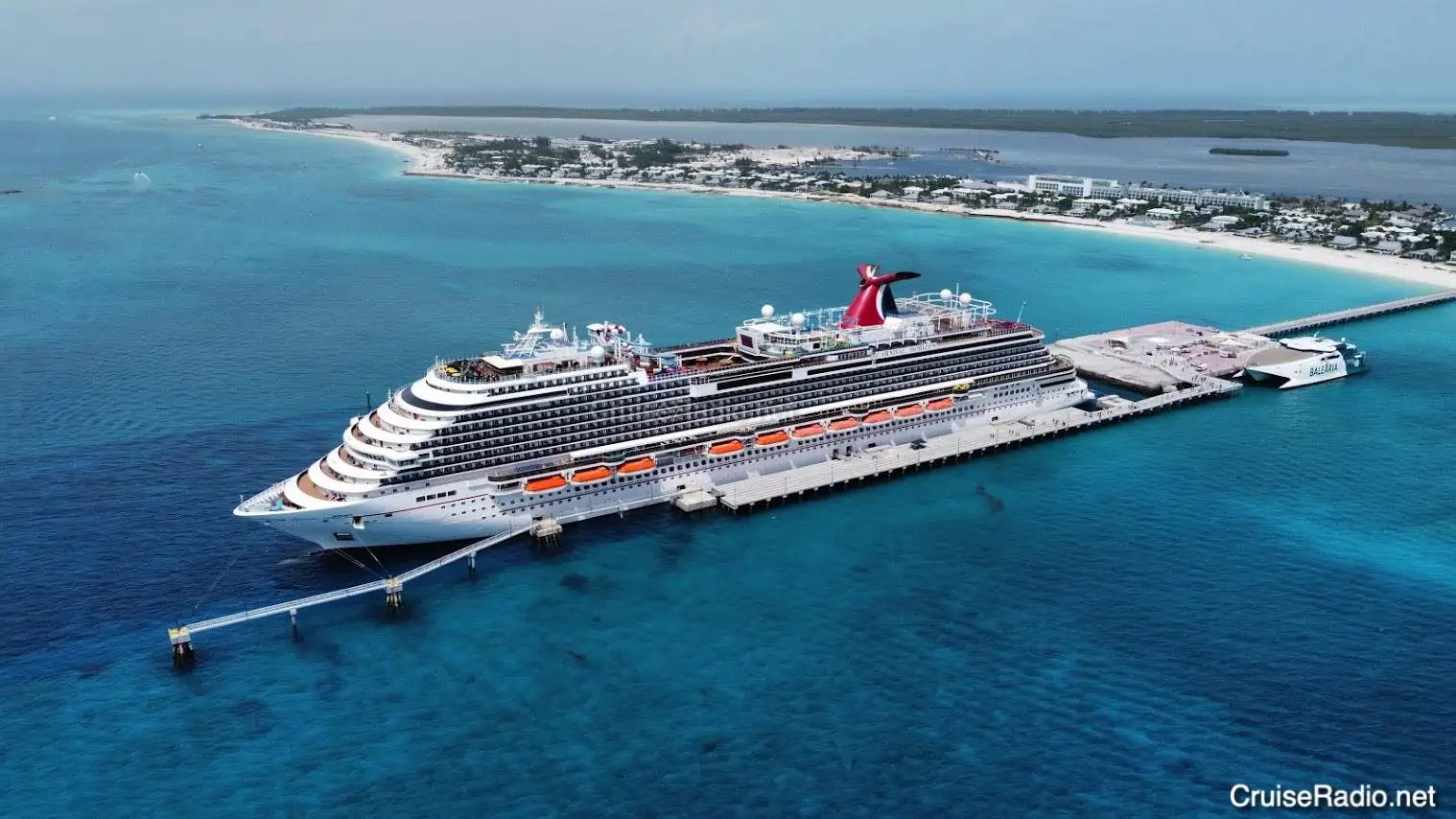 Bimini is primarily a beach destination that focuses on water activities like snorkeling, scuba diving, swimming with sharks, and jet skiing.
If you want to explore on your own, you can rent a golf cart or set out with food (and plenty of water to stay hydrated) and explore the island.
Cruise lines offer around a dozen shore excursions in Bimini, but if you're looking for something a little different, we've listed some things to do in the area. If this is your first time visiting Bimini, here are some suggestions.
Local Beaches
Some of the quietest and best beaches in Bimini run together on the southwestern side of the island in Alice Town: Radio Beach, Blister Beach, and Spook Hill.
There is also a string of beaches north of the resort area's cruise port. Keep in mind that you'll be required to pay a fee if you'd like to use a sun chair, resort facilities, pool, or a lounger.
Beach Club 360
Typically sold by the cruise line, this new private beach package is good if you're looking to spend a day at the beach. Located right next to Resorts World Bimini Beach, the stretch of beach has some of the clearest turquoise waters in the Bahamas.
The club has options to rent cabanas, umbrellas, and beach chairs. The price of varies depending on your cruise line and which add-ons you'd like. This premium beachfront complex has two lagoon pools, swim-up bars, DJs playing music, and plenty of beachfront property.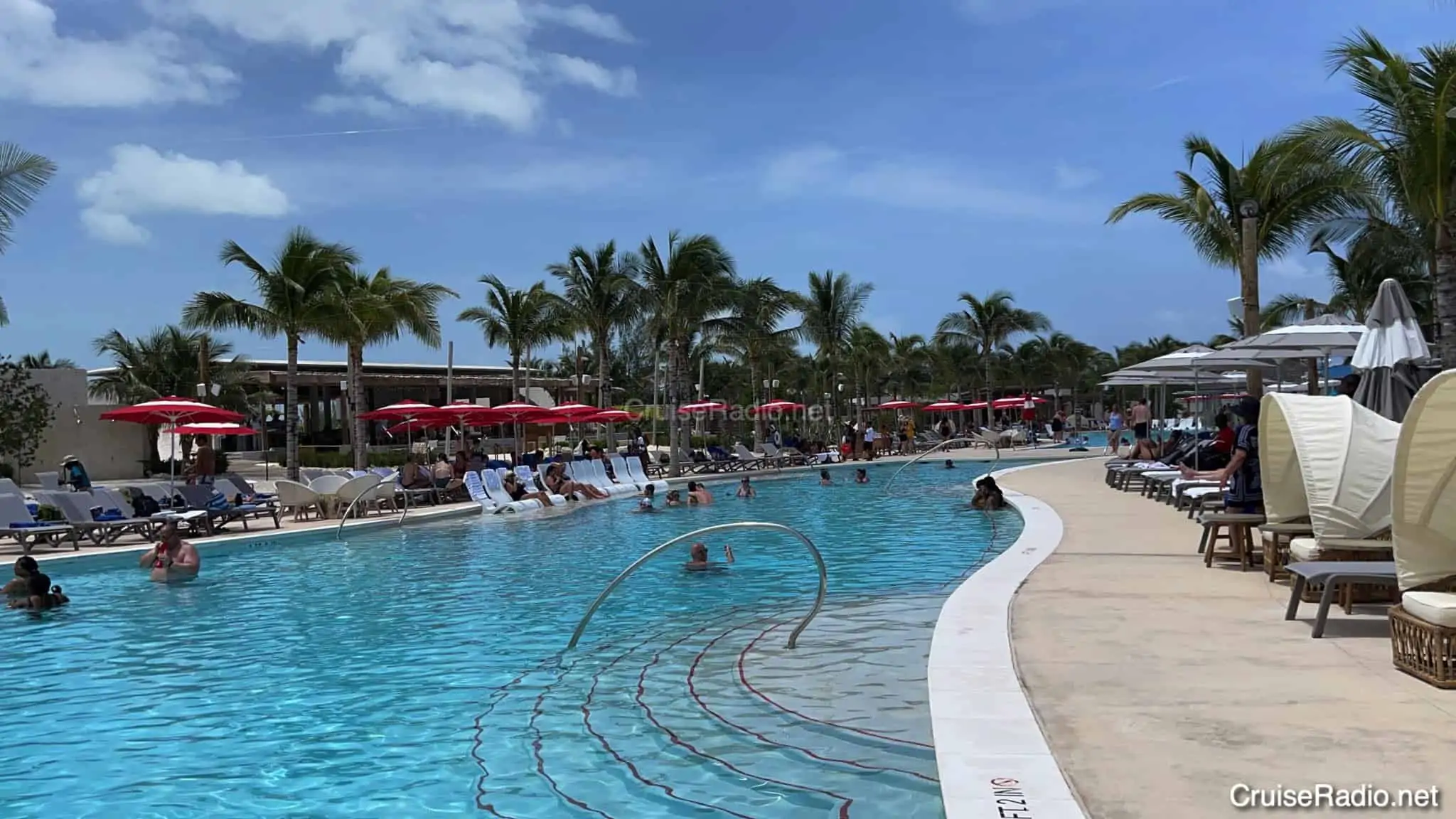 Explore a Shipwreck
You can set up a trip out to the SS Sapona wreck through one of the resorts. The World War I ship ran aground during a hurricane in 1926 and has remained ever since. The artificial reef is filled with sea life. This can be booked at Resorts World or in advance.
Historic Attractions
Bimini's rich history is seen throughout the island, like the SS Sapona wreck we mentioned. You can explore some of the local histories at Bimini Museum, where you'll learn about some of the famous folks who've made the island their home over the years (including former resident Ernest Hemingway).
There is no charge to enter the museum, but they do take donations.
Also relatively close to the pier is Dolphin House Museum, a three-story home made entirely out of recycled materials, including many items that washed up on the shore.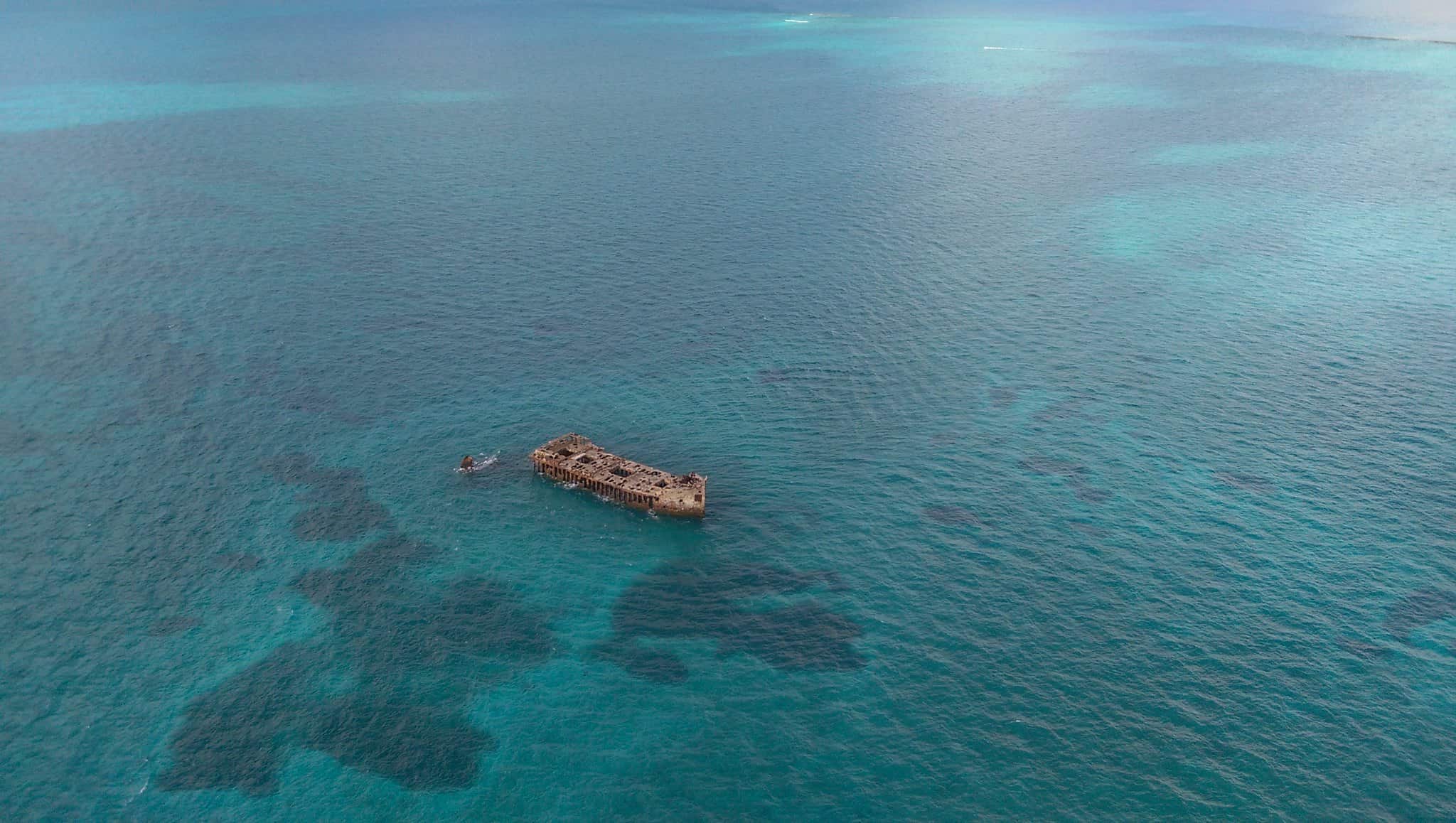 Shark Lab
If you're a shark or marine life lover, you'll love Bimini. Since the waters of the Bahamas are so warm, the Bimini Biological Field Station has a shark lab set up.
Visitors can sign up for a tour of the station and even participate in research or adopt a shark. And in case you're concerned, the area is filled with lemon sharks, which aren't aggressive and have zero recorded fatalities against humans.
(Note: The Shark Lab is currently closed because of the pandemic, but you can sign up for expeditions.)
You will be required to take a one-mile ferry ride to South Bimini to explore the Shark Lab.
Local Food and Drink Favorites
The local food favorite is the conch. You can order it prepared in a variety of ways, the most popular being fried conch fritters or ceviche. Conch can be ordered from almost any restaurant that serves seafood, and even a couple of roadside stands serve up this marine mollusk.
In speaking with the locals, there are two popular drinks that Bimini serves, Goombay Smash (four different types of rum, pineapple juice, and orange juice) and Rum Runners (assorted fruit juices, banana liquor, rum, and grenadine), which were made famous by the illegal smuggling of rum between Miami and Bimini.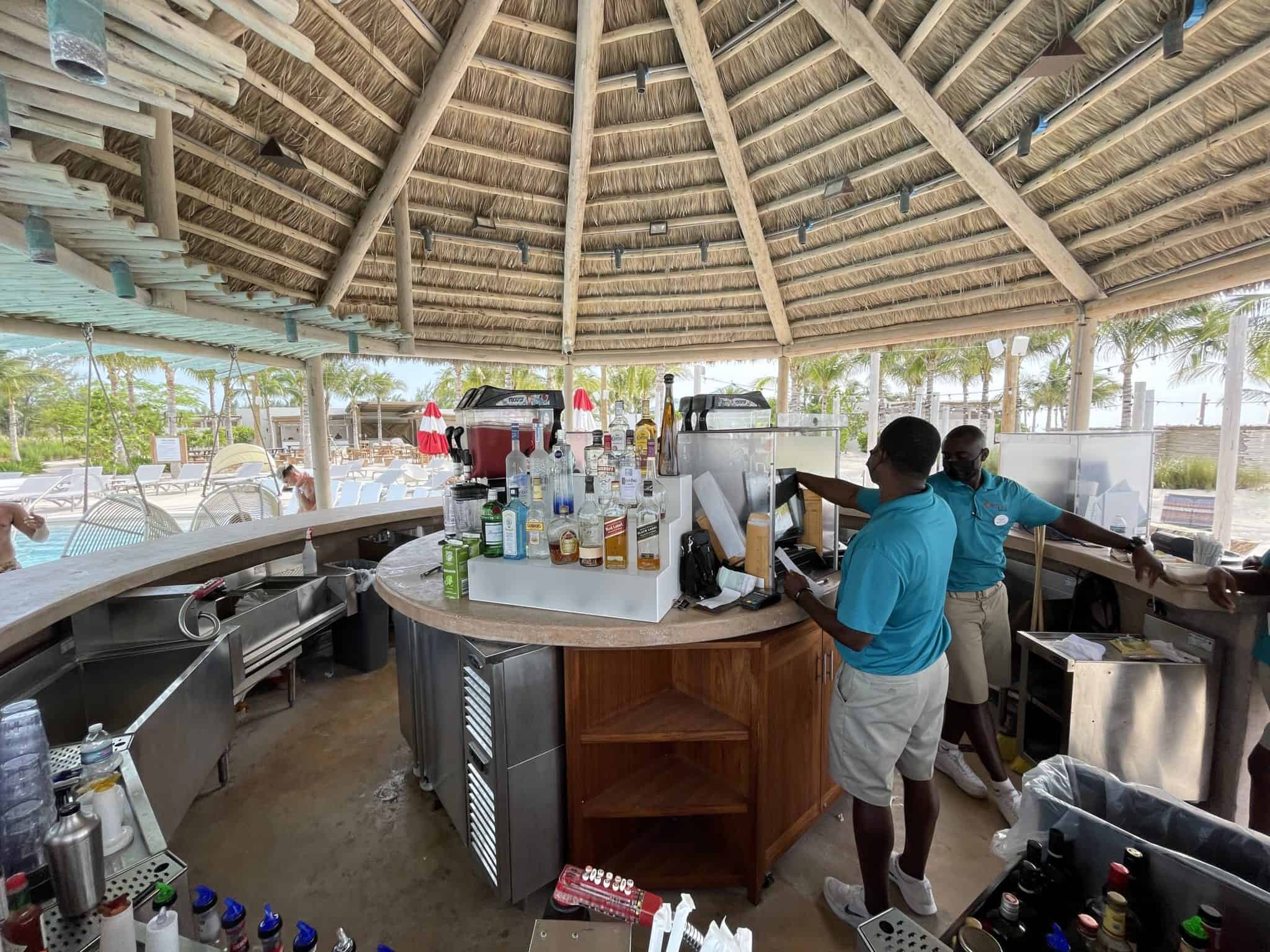 Final Thoughts
Except for Carnival Corporation's Half Moon Cay in the Bahamas, Bimini has the clearest and cleanest waters of any place where cruise ships stop in the region.
We did the Beach Club package ($64.99 per person through the cruise line) during our recent visit, spending the day going back and forth between the lagoon swimming pools and the beach.
The tram service was complimentary and took us directly from the beach to the cruise ship. The roads are bumpy, so hold tight when on the tram.
Overall, it was a memorable experience that I'd book again on another cruise to Bimini.
READ NEXT: 11 Tips For Navigating Nassau, Bahamas
Pin it!