The week is finally here, and I couldn't be more excited.
There's just two more days until my mom and I are onboard Viking Cruises' ocean ship Viking Sky in London, and one day until we head to the airport to fly over there. Viking invited Cruise Radio onboard their 14-night Into The Midnight Sun itinerary, and Doug was kind enough to let me take this one. I've wanted to go to Norway for years, so this is a bucket-list kind of cruise for me.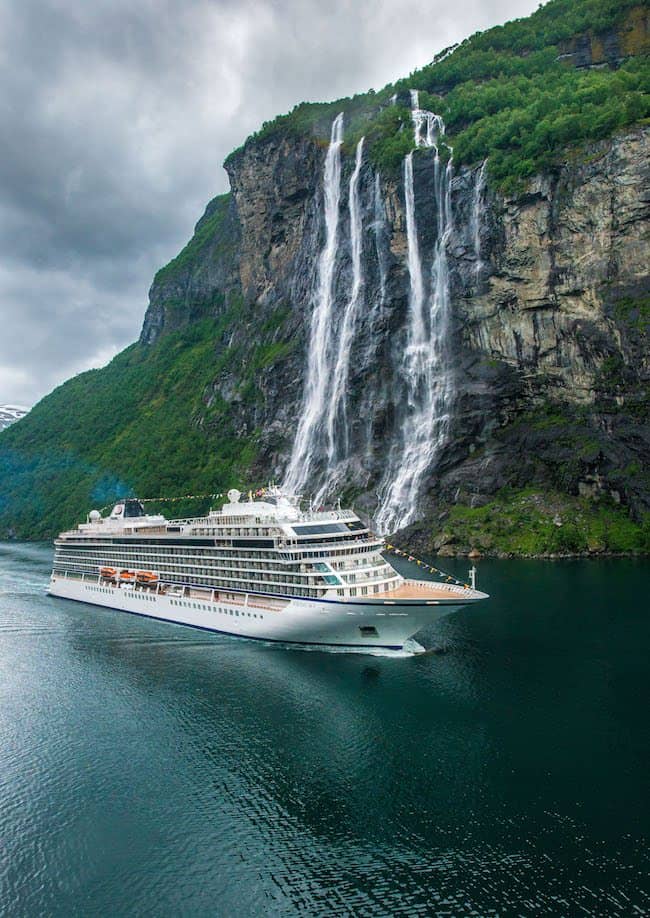 I'll be doing daily blogs right here, so be sure not miss out on those.
The Itinerary:
Day 1: London, England
Day 2: London, England
Day 3: Sea day
Day 4: Edinburgh, Scotland
Day 5: Kirkwall, Scotland
Day 6: Lerwick, Scotland
Day 7: Sea day
Day 8: Lofoten, Norway
Day 9: Honningsvåg, Norway
Day 10: Tromsø, Norway
Day 11: Sea day
Day 12: Molde, Norway
Day 13: Geiranger, Norway
Day 14: Bergen, Norway
Day 15: Bergen, Norway
What I'm Looking Forward to Most:
1. All about the ports. In general, the destinations are almost always the highlight for me on any cruise, and this one is no exception, particularly Norway. Not only do I get to visit this beautiful country, but I get to see more ports than I'd even heard of before. My most anticipated stop is Geiranger, which I've drooled over ever since I came across photos of Geirangerfjord and the tiny town of Geiranger at the end – only 250 people live there! Exploring some places in Scotland and seeing London will be amazing, as well.
2. A new Viking ship. All of Viking's ocean ships are new, as it was very recently that the company entered the ocean cruising business. Among their young fleet, Viking Sky is one of the newest – it debuted early last year. I've seen a lot of photos, read a lot of reviews, and think I have a pretty good idea of what the ship looks and feels like (and I love it). It's smaller than any other cruise ship I've ever been on, and I'm excited for a more relaxed, intimate atmosphere onboard than I'm used to.
3. Longer journey. So far, all of my cruises have just increased in duration each time I sail. That wasn't planned, it just happened that way! This one will be two full weeks, and it will be really nice to have the same home base for that length of time. I'll actually get to enjoy the ship for a while once I get familiarized with the layout without having to leave as soon as I figured out where the bars, dining venues, and best outdoor decks for viewing were!
For lots of photos and a real-time look at what I'm doing throughout the cruise, be sure to follow along on the Cruise Radio Instagram.