Princess Cruises' private island destination Princess Cays has been renovated and is now ready for guests to return. The piece of paradise features program enhancements, renovated areas, and new MedallionNet wifi, the only cruise line private island to offer connectivity ashore.
Cruise Critic ranked Princess Cays among the top cruise line private islands last year, and guests love to soak up the sun in the Bahamas paradise. Located on the southern tip of the island of Eleuthera, Princess Cays has offered a beachside hideaway to guests since 1992. The beach is situated on about 40 acres, including more than a mile and a half of white-sand shoreline. Both eastern and western Caribbean itineraries usually stop there.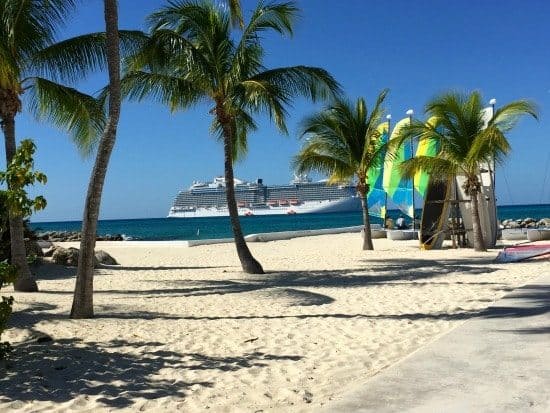 Additional enhancements include:
Shore Excursions

On February 17, Princess will introduce their new Lagoon Clear-Bottom Kayaking Adventure, a guided paddle through the island's lagoon that allows guests to see the flora and fauna of the unique habitat.
Island Bicycling Adventure offers guests both scenery and history with a leisurely bike ride to some of the town's popular sites.
Construction of a new "Davy Jones" water sports rental equipment provides snorkeling and water gear.
The new Stingray Beach Encounter allows guests to feed, touch, and hold live stingrays. Animal trainers teach visitors interesting facts about the behavior of the animals as they reach out to touch their soft wings.

Shopping – Guests can pick up meaningful souvenirs by visiting the new nautical-themed and "pick-a-pearl" jewelry section within the Bahama Treasure store.
New Marina – Completion of the marina expansion, including new channel and turning basin depth accommodate larger tenders and smoother disembarkation and embarkation of guests, including a shaded security pre-clearance area.
Guest Experience Improvements – Visitors will be able to take advantage of a new information booth with shaded waiting area and a new public announcement and music system; newly painted structures both inside and out with pastel tropical colors; guest services station for water and towels; extensive landscaping of all guest areas; and refitted beach bungalows.
For more information about Princess Cays, click here.