For the second time, Cunard's flagship Queen Mary 2 will be featured on Vacation Creation with Tommy Davidson and Andrea Feczko. The program airs on Saturday, February 17 on ABC stations in select markets around the country.
Tommy Davidson, known for his role in "In Living Color," hosts with travel expert and YouTube star Andrea Feczko. Vacation Creation is one of Carnival Corporation's original TV programs. With cruise vacations growing 20 percent faster than land-based vacations, the show's inaugural season's strong ratings are a testament to America's interest in cruising. The show follows the voyages of families who have been chosen to take a custom-tailored cruise vacation of a lifetime.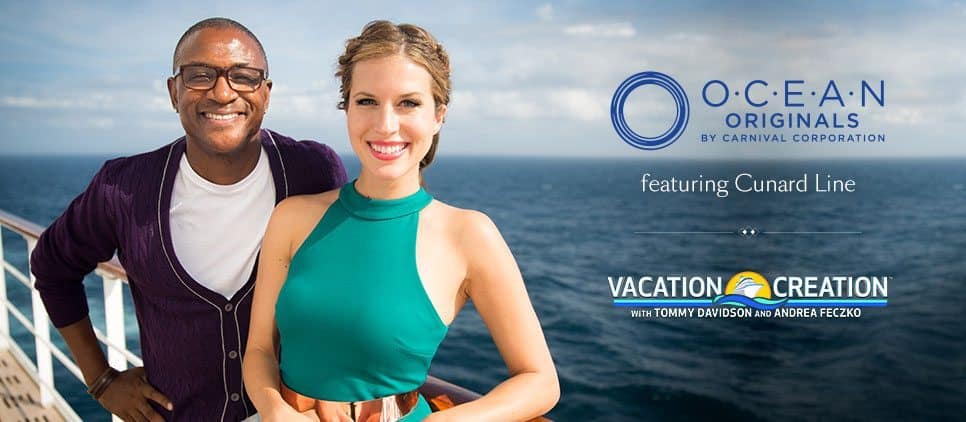 This particular episode is called "Atlantic Crossing in Style," and follows recent design graduate Helena Bajaj-Larsen and her family on the Transatlantic journey. Born and raised by an Indian painter and Norwegian linguistics professor, her designs are inspired by per heritage. She uses fabrics sourced from Khadi shops around India and they are hand-painted using acid and pigment dyes. In celebration of her graduation from Parsons School of Design, and to thank her parents for their support, Helena and her family embark on the annual Transatlantic Fashion Week Crossing on Queen Mary 2. Onboard, Helena is inspired by the ship's architecture and has the opportunity to present her fashion line in a runway show at sea.
To find scheduled air times, visit littonweekendadventure.com/schedule. To view a preview of the episode, click here.