Ever find a place you loved so much you want to tell anyone… and at the same time, you want to keep it to yourself so as to avoid it becoming too popular? That's exactly the experience I recently had visiting Beachlimerz in Antigua.
How We Wound Up At Beachlimerz
Having never been to Antigua before, I didn't really have any idea what to expect, and I certainly had no plans. Friends and I decided we wanted to go to the beach and — given that the island boasts 365 of them — started trying to figure out which one we'd hit. One member of the group didn't want to travel far from where we were docking (in St. John), so we narrowed our search and found several positive reviews about a place called Beachlimerz.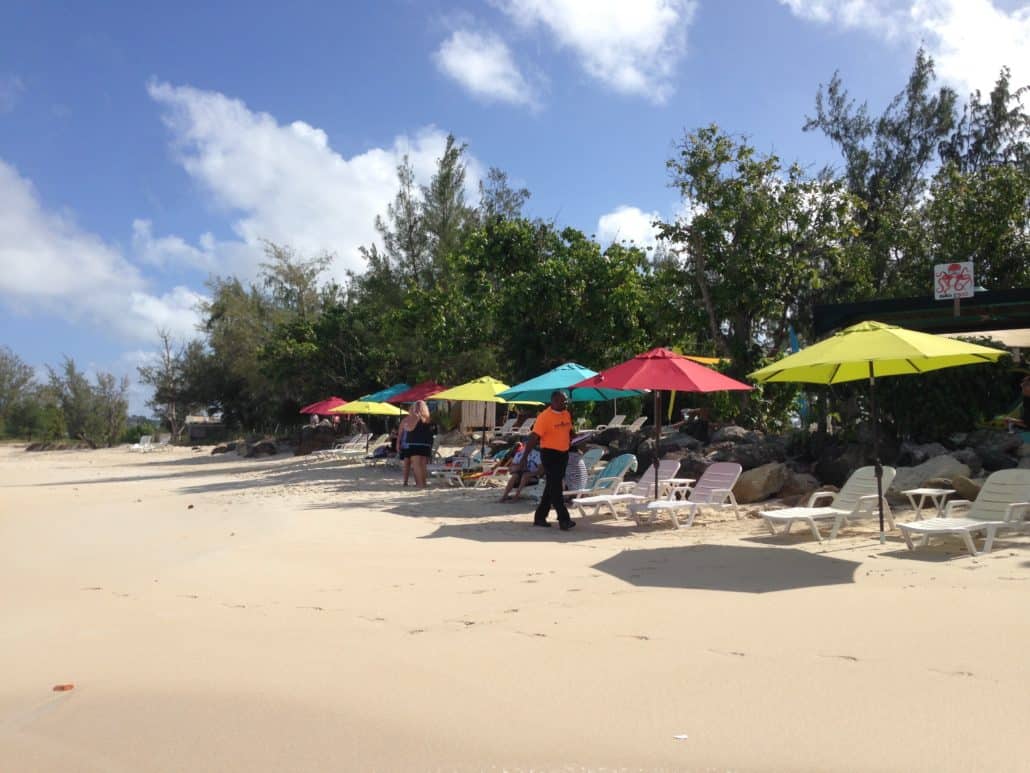 From the start, this place felt right. I emailed the manager, Gail, to get info and she was as helpful as she was friendly. She explained that they had a pay-as-you-go plan as well as a day-pass which offered a couple drinks, lunch, beach chairs and umbrellas. We wound up going with that option, which was $65 per person, and paid half as a deposit to reserve our spot.
Fast-forward a few months and we arrive in Antigua on a lovely day. Gail had pre-arranged a taxi using a service she knew and trusted, Sammy's Taxi Tours & Rental Service. We met our driver, Hilarie, at a designated location on the Heritage Quay at 9:30, and within about 15 minutes, we'd arrived at Beachlimerz.
You know how sometimes, you take people to your favorite restaurant and the place happens to have an off night? You feel crappy because you recommended the place. Well, by the time we got to Beachlimerz, our group had swelled from 3 to 11 people thanks to Facebook postings, and I was terrified… what if I'd booked us into some dive? But when the cab pulled up in front of Beachlimerz, and you could see the beautiful beach in the distance, the sighs of contentment I heard assured me this was gonna be okay.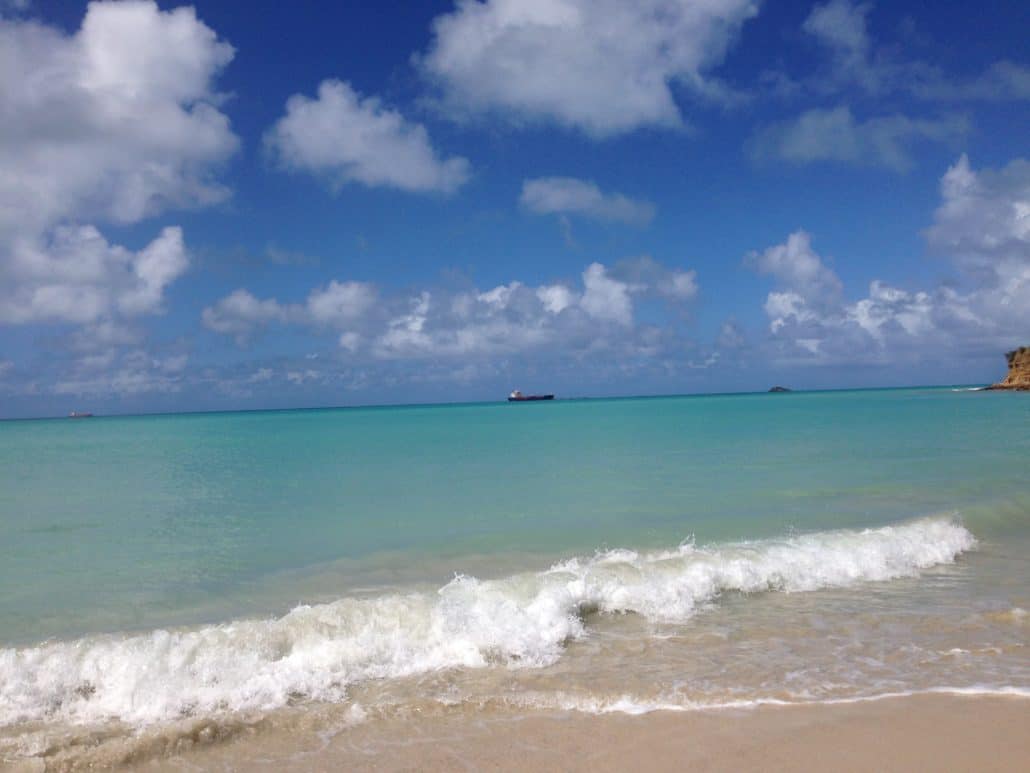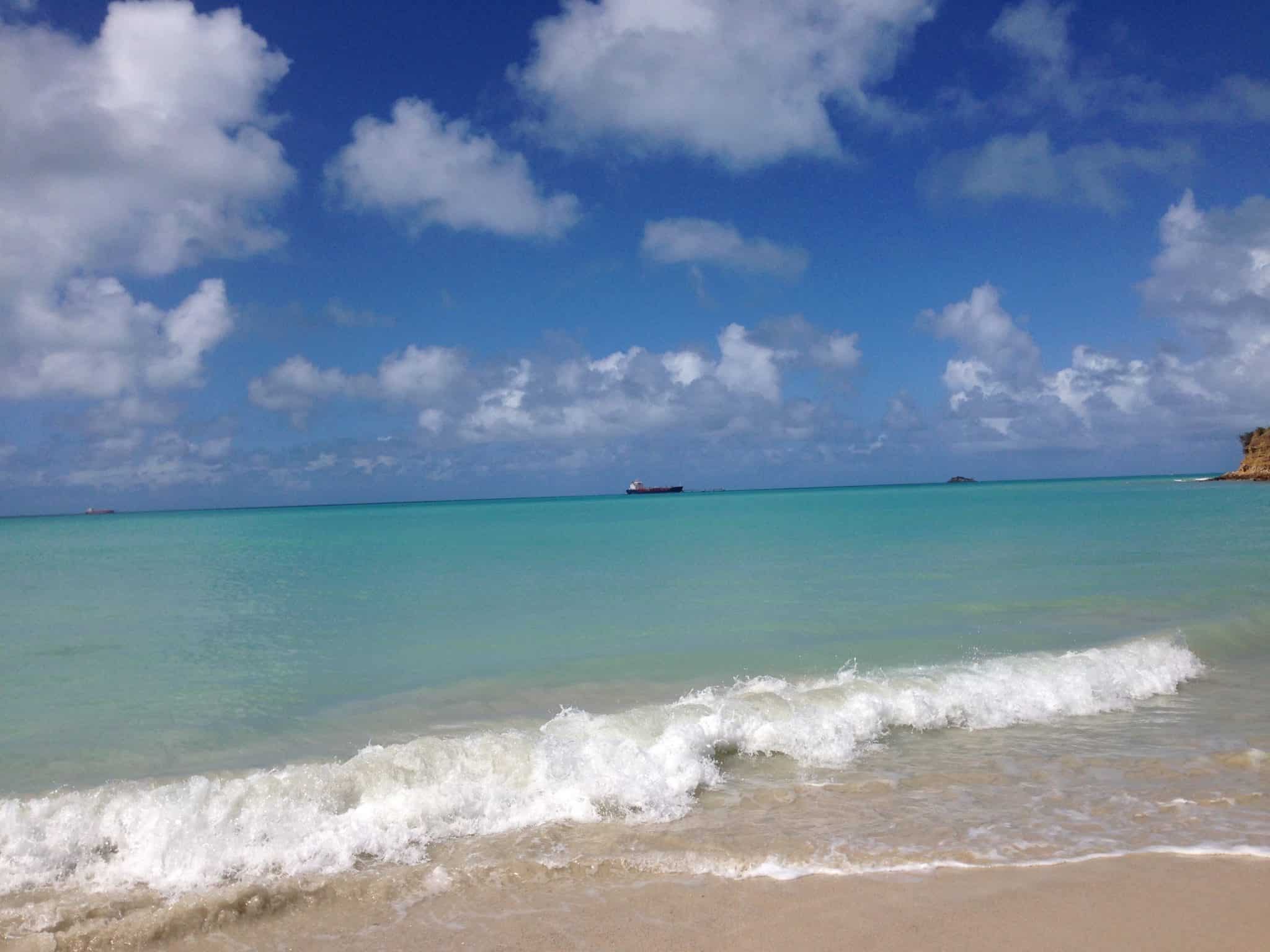 Gail and Marvelous, the bartender who definitely earns the nickname, approached with rum punches and big smiles. I swear, with the palm trees blowing in the gentle wind and the sound of the waves crashing on shore, I half expected one of them to pull a Mr. Roarke and declare, "Welcome to Fantasy Island!"
READ MORE: 7 Great Things To Do In Antigua
It turns out that Beachlimerz is a really laid-back bar/restaurant located on the far end of Fort James Beach. There are about 16 lounge chairs and umbrellas available for rental, and the location couldn't be better. Because Beachlimerz is at the end of the beach, you not only have privacy but also something of a cove area. I walked the length of the beach — and it goes on for quite a ways — to another spot where people could rent chairs and umbrellas and, as these pictures show, the difference was striking. As in… crowds there, no crowds where we were!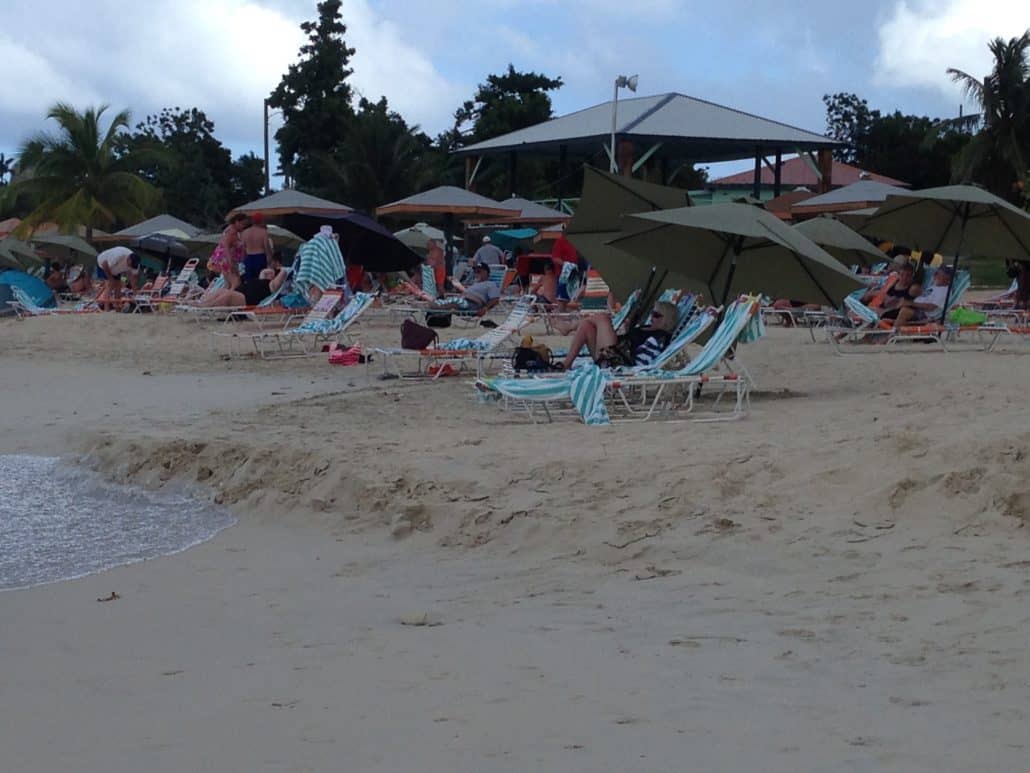 A short walk away is the abandoned Fort James for which the beach is named, and if you happen to be a cannon buff (as one of the girls in our group was), this is definitely worth checking out, as there are several dotting the property. And while we hung mostly at the treehouse-like bar or on the beach, Beachlimerz also has a front area would be the perfect spot for a party. (One of the employees told me that only a few weeks before our February visit, they'd hosted a wedding, and I can't think of a more beautiful spot in which to exchange vows.)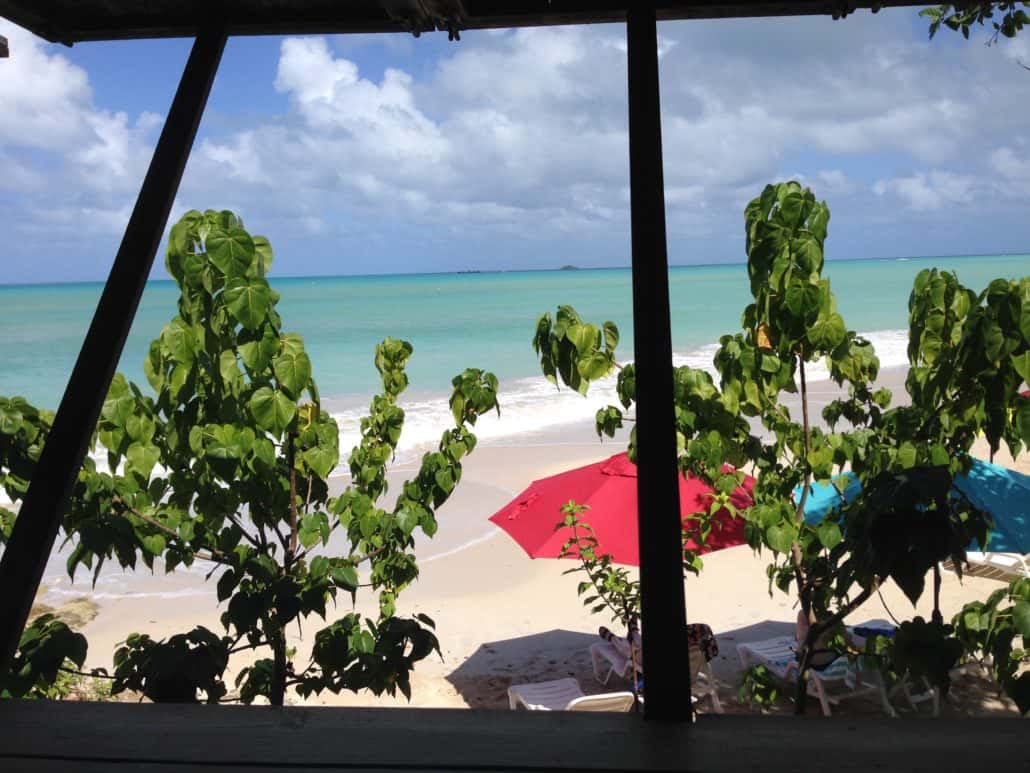 Now, this being the Caribbean, I'm not going to say that the service was necessarily the fastest. (To "lime", by the way, means "to hang out and chill in an informal setting.") But between Marvelous, fellow bartender Nathan and Mel, the charming-as-hell waitress, our group was definitely taken care of.
Lunch Is Served!
Our package included lunch, which was a platter featuring chicken, ribs, fish, potatoes, rice and veggies, followed by an amazing coconut bread pudding dessert with a rum sauce. I paid extra for an order of conch fritters and was really glad I did… they were awesome, and I consider it a crime to go to a restaurant in the Caribbean and not have at least one conch dish!
The waves were pretty big that day, but that didn't keep most of us from taking a swim. And those who didn't swim strolled down the beach, a few taking advantage of just how perfect an occasion this was for a little romantic hand holding.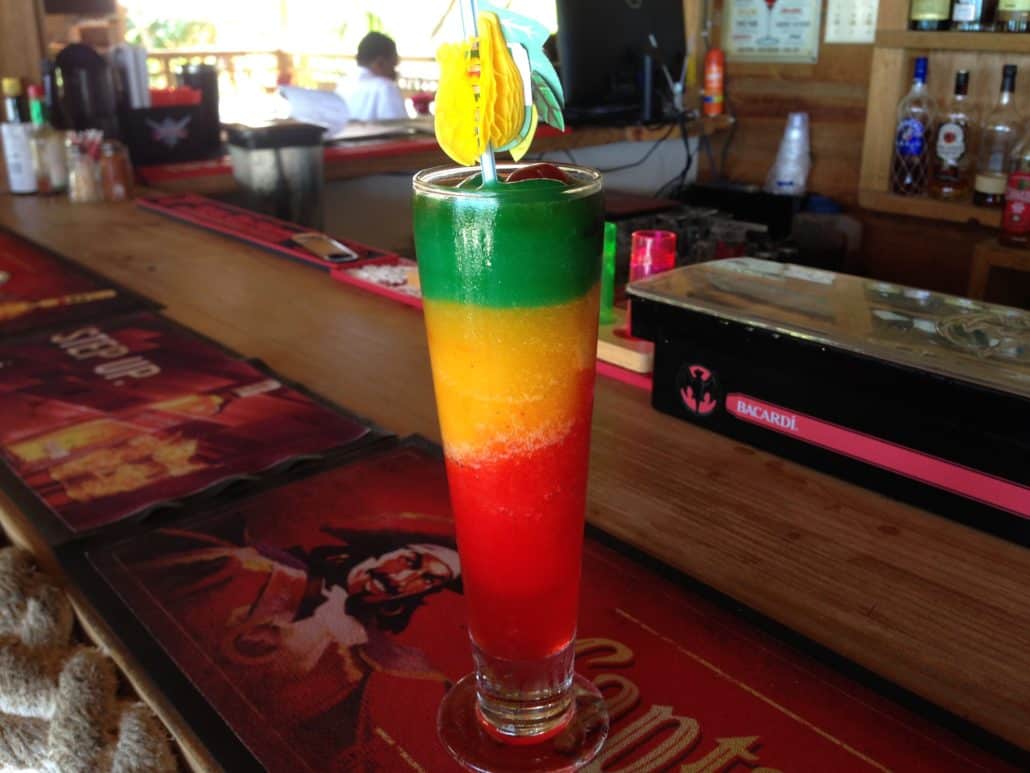 At 3 p.m., Hilarie's son picked us up and delivered us back to the dock early enough that anyone who wanted to do a little quick shopping could, while the rest of us headed back to the ship.
Like I said at the beginning, Beachlimerz is a place I'm sort of reluctantly sharing, because I know I'll be coming back… and I don't want to have trouble getting a good spot! But I'm pretty sure if I email Gail, she'll take care of me… just like she'll take good care of you.
For more on Beachlimerz, visit their website by clicking here.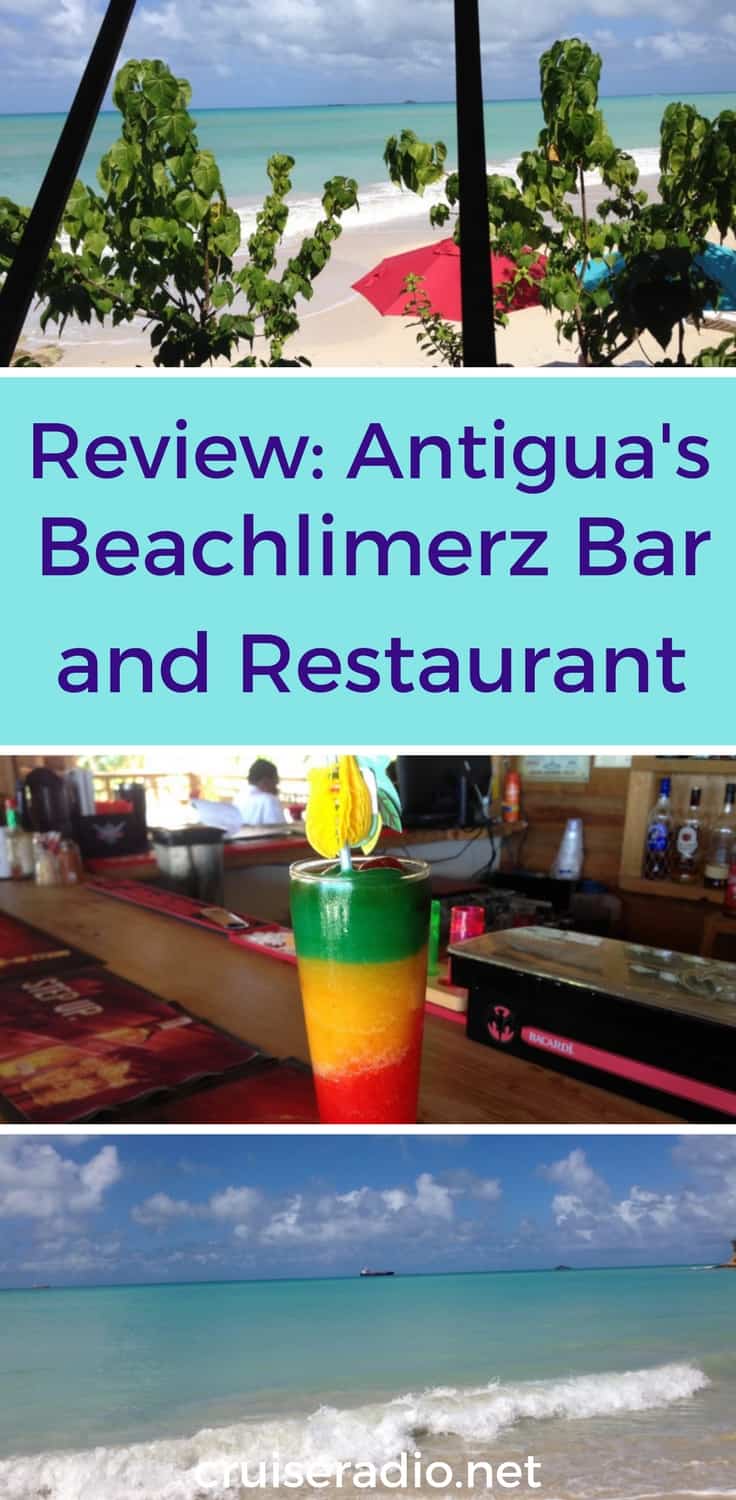 SaveSave
SaveSave