Another one of Carnival's popular venues onboard is the BlueIguana Cantina, found on most Carnival ships. This fun, casual dining experience is located outdoors on the Lido deck. The BlueIguana Cantina serves up freshly made tacos and burritos stuffed just the way you like them. With fresh homemade tortillas and a self-serve salsa bar, this hot spot makes for a perfect little Mexican paradise aboard your Carnival cruise ship. This is a review of the BlueIguana Cantina.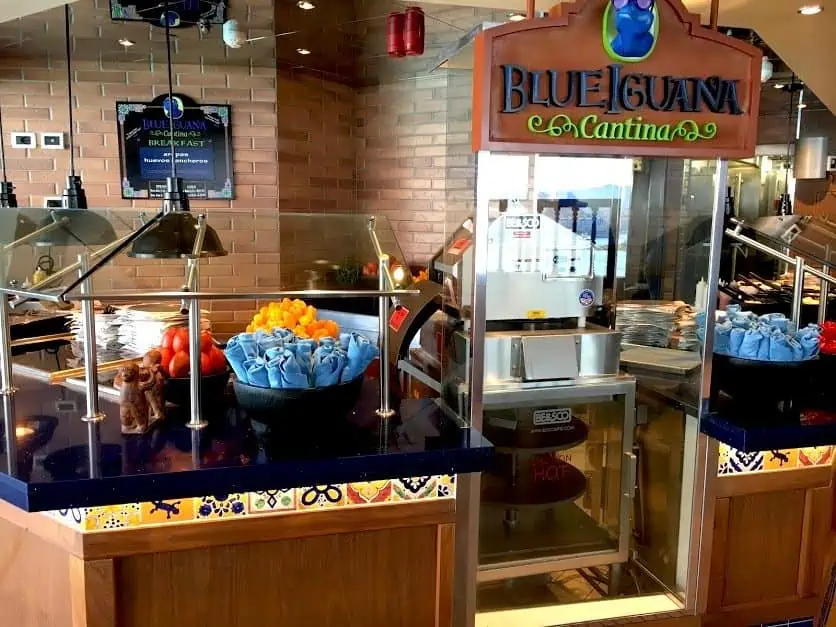 Fast Facts
Cost: Complimentary
Location: The Lido deck, usually opposite Guy's Burger Joint
Meals served: Mostly lunch, although breakfast burritos are available on select days
Atmosphere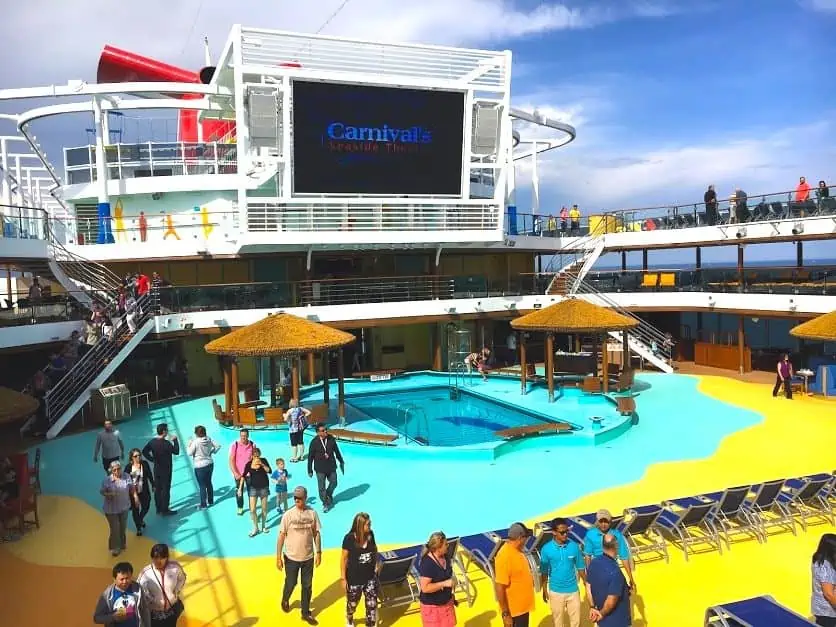 The Cantina is a counter-service venue, meaning you place your order and then take it over to a nearby salsa bar to finish it off with the nice variety of toppings you'll find there. Seating in the immediate vicinity is limited, but includes colorful tables and a few benches that are out of the direct sun. Most people, however, take their food back to their poolside loungers or – if looking to supplement their Mexican food with something else – into the Lido buffet, which is only steps away and, of course, offers plenty of seating. As with Guy's Burger Joint, this is a popular place and the lines can get a little long. But also like Guy's, they tend to move quickly. I've never waited more than 10 minutes, which ain't bad considering the guys behind the counter are making everything to order. Go early and you'll avoid the lunch crowds, meaning a wait of 5 minutes or less.
What's for Breakfast?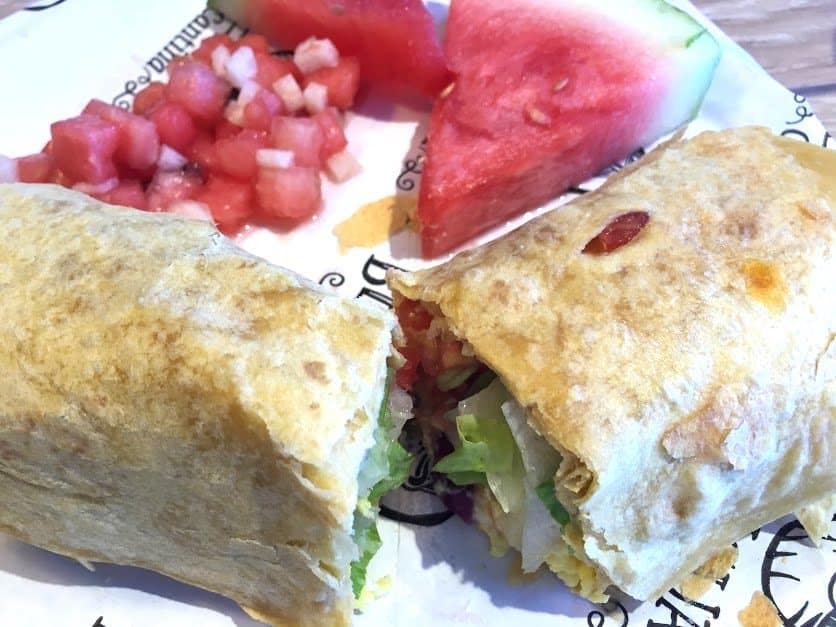 Because it's only open early on select days, you'll want to check the Fun Times before making this your breakfast stop. But if you're a fan of breakfast burritos, make sure you hit the Cantina, where they'll fill a tortilla – wheat or jalapeño – with scrambled eggs (regular or Mexican style), chicken sausage, hash browns, cheese, salsa, pico de gallo and more. You tell them what you want in it, they'll make it happen. Or, if you want something a little simpler, just order the huevos rancheros.
What's For Lunch?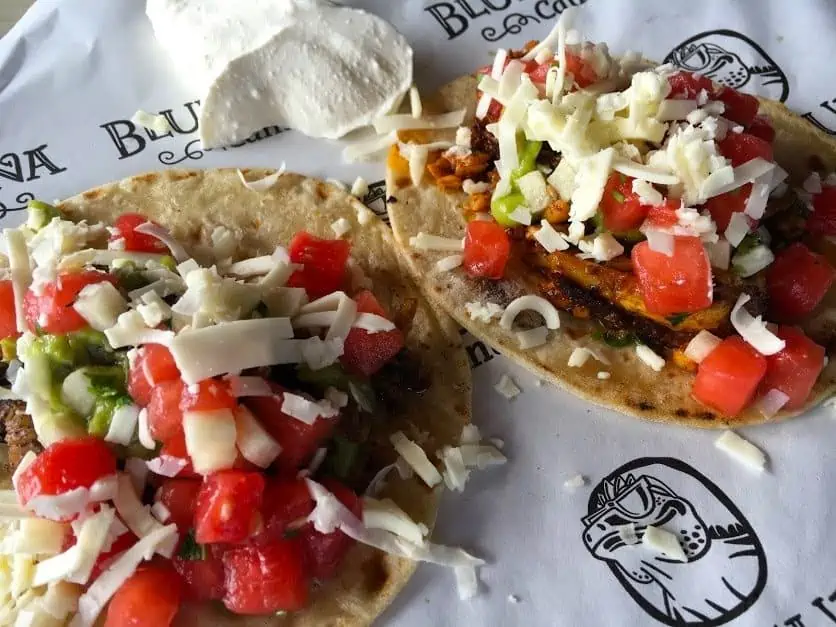 There are two options for lunch: tacos or burritos. Tacos are made with fresh homemade tortillas topped with your choice of chicken, pork or fish. Burritos are stuffed to your liking with either chicken, pork, fried fish, or shrimp. Both options come with unlimited toppings, which include everything from refried beans and the amazingly flavorful cilantro lime rice to roasted corn and charred green peppers. You won't lack for flavor combinations here, and this is even before you head over to the salsa bar and decide whether you're feeling mild (blackbean and corn) or wild (habanero). My personal favorite? The watermelon salsa, offering up fresh, crisp flavors that add a unique twist to your meal.
Worth a Visit?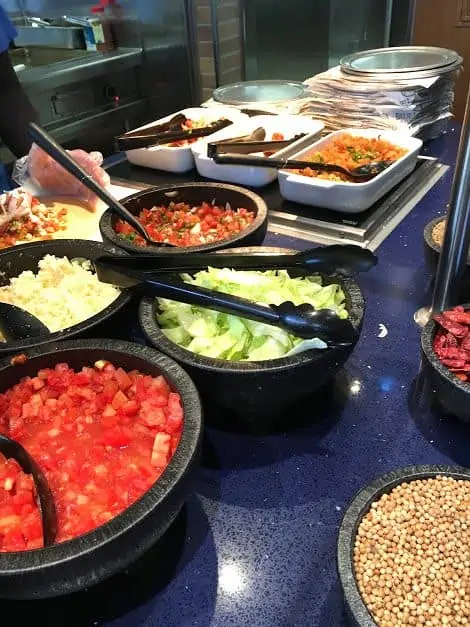 I won't lie, I'm kind of obsessed with this place. And while it's great for a quick lunch (assuming you've beaten the lines), I highly recommend swinging by for a breakfast option that's different and, frankly, usually better than what you're going to find elsewhere. My favorite item is a breakfast burrito, and no matter what I order or the time of day, my food is piled high with the watermelon salsa from the toppings bar. And don't forget that the BlueIguana is often open on disembarkation day, meaning you can get one last breakfast burrito to go!
By Jenn Martin