Pre-Meal Thoughts
When I first tried the Cucina del Capitano venue 4 years ago on Carnival Magic, I wasn't particularly overwhelmed. I had no complaints, but I also didn't leave feeling overly eager to go back. That's why on my recent sailing on Carnival Breeze, Cucina del Capitano wasn't at the top of my food list.
But it was still on my list. Although I wasn't planning to pay the $15 per person charge for dinner service, I knew that the restaurant is free during lunch hours and planned to take advantage of that. However, the days of my 7-day cruise flew by, and I kept eating elsewhere, in part also because of other online reviews that reflected my past experience: Cucina del Capitano is good, but not worth the charge at dinnertime. But Carnival Breeze just has too many good places to eat, and I kept passing Cucina del Capitano up.
On the fifth night of my cruise as I was indulging in The Chef's Table, the sous chef asked the 10 of us there if we had tried Cucina del Capitano. When only 2 people raised their hands, he made it a point to mention Cucina del Capitano several more times throughout the night. He seemed very proud of it.
With that recommendation, I finally went the day we docked in Cozumel. (Tip: Go on a port day; the restaurant was nearly empty!)
The Restaurant
The hostess sat us down at a table with a lovely view of Oasis of the Seas docked next to us and handed us our ordering cards. We checked whether we wanted bread, what type of salad, and then selected our pasta, sauce, vegetables, and meats on the card and placed them on a counter by the kitchen. A waitress brought us water straight away and then came shortly afterward with our salads and bread.
The caesar salad (the first salad I had ordered the entire cruise, believe it or not) was refreshing and perfectly dressed, and the bread was warm, buttery, and super soft with only a touch of garlic.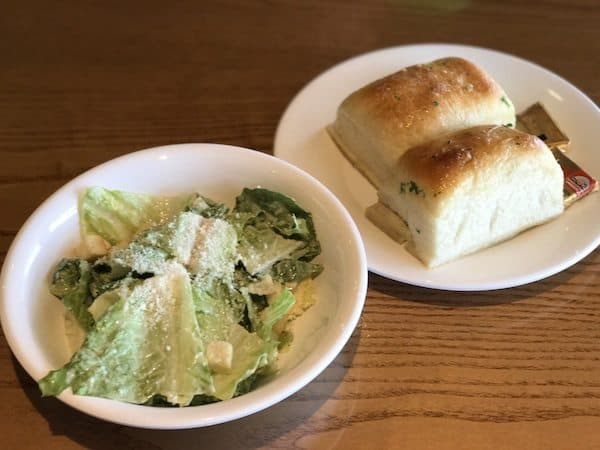 I ordered linguini with alfredo sauce and shrimp and mushrooms. The pasta was cooked perfectly, and I could tell that it was fresh – not something that had been sitting in the kitchen for an hour or two. The sauce tasted great too and was the perfect consistency – not too runny but not thick and clumpy either. The shrimp were cooked well but not really seasoned, which I personally would've preferred; however, I realize not everyone wants that, which is why they probably only lightly salt them. Finally, the mushrooms were also cooked perfectly.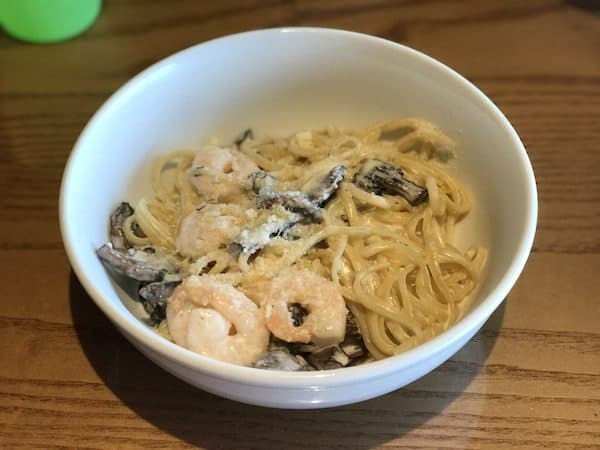 Final Thoughts
All in all, it was a delicious bowl of pasta and meal as a whole. I found myself surprised, impressed, and regretting that I hadn't come earlier. In fact, I would even be willing to try it for dinner, as the dinner is served family-style rather than through checking cards and the menu is much larger than just pasta bowls.
Long story short: My opinion was completely changed, and now I'm a big fan of Cucina del Capitano. Don't believe all the "meh" reviews you read online. I believe it has improved since its first debut. Just try it out for yourself!
Cucina del Capitano can be found on Carnival Vista, Breeze, Magic, and Sunshine. It will also be on the upcoming Carnival Horizon.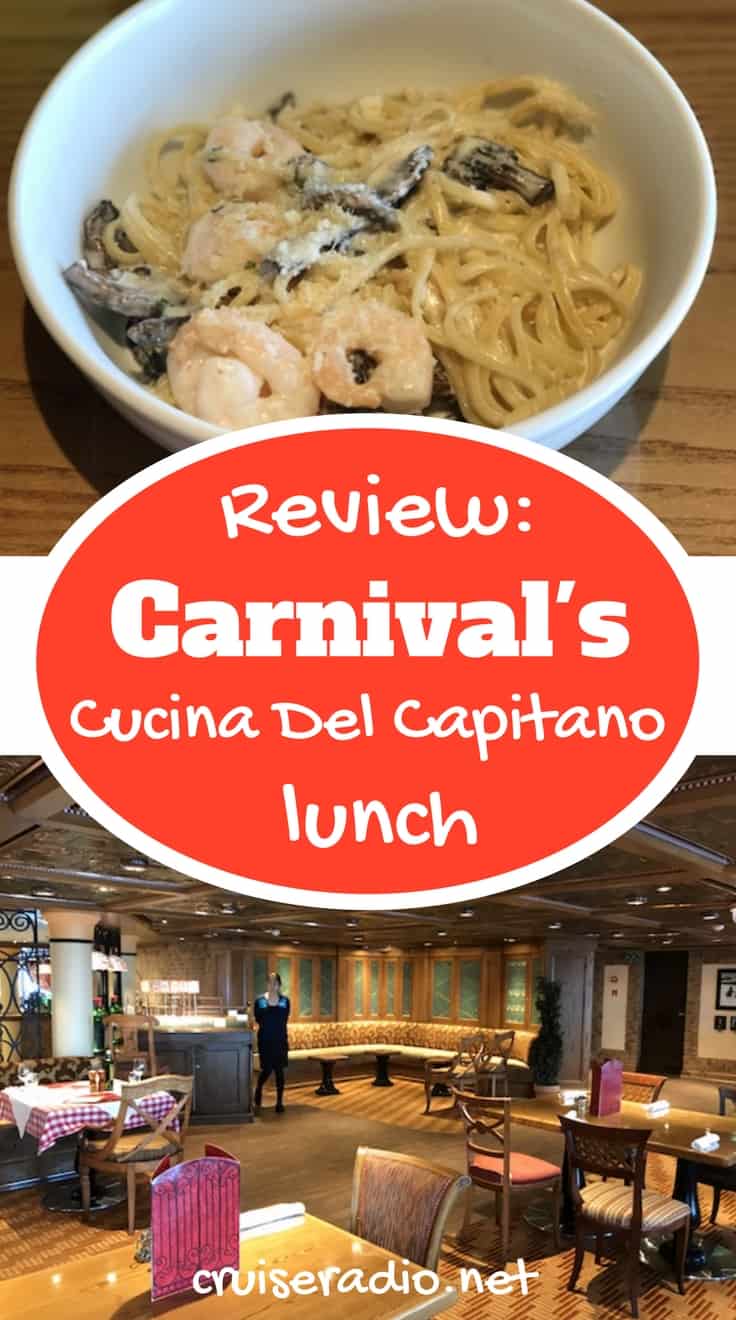 SaveSave