Cagney's Steakhouse is not only Wine Spectator's 2020 Restaurant Awards Winner, but it also received the Wine Spectator Award of Excellence from 2018-2021. That should be a hint that this popular steakhouse must not be missed.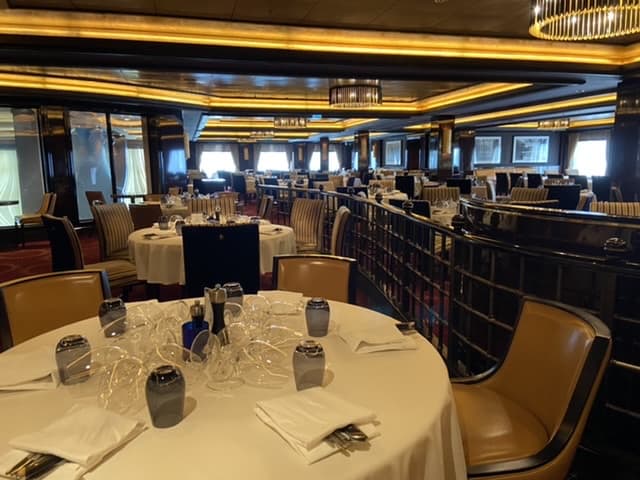 The Cagney's Dining Experience
Due to its popularity, guests might consider making reservations for Cagney's online before boarding. If that isn't possible, head immediately to the restaurant reservations desk upon embarkation.We dined there twice and found Cagney's bustling on both occasions. As might be expected, the menu items mostly tend toward beef offerings, but for those diners who aren't fans of beef, there are also seafood, lamb, and pork options.
Cagney's is included in Norwegian's dining package, which many passengers book as part of their cruise fare or as a separate package. When asked about the number of passengers who dine in Cagney's without a package, our server answered that the majority of people use their package and few pay out of pocket. Cagney's is also one of the restaurants that those in Norwegian's Latitudes loyalty program can choose if they are at the Platinum level or above. We used our included nights of dining to experience this popular steakhouse.
The Cagney's dining room on Norwegian Epic shares a U-shaped area with Moderno Churrascaria on the opposite side of a bar that separates the two dining areas. Cagney's has an open kitchen visible at the front of the restaurant. Although this is a specialty restaurant, there are no strict dress codes mandated. Resort casual with shirts and shoes are acceptable in Cagney's.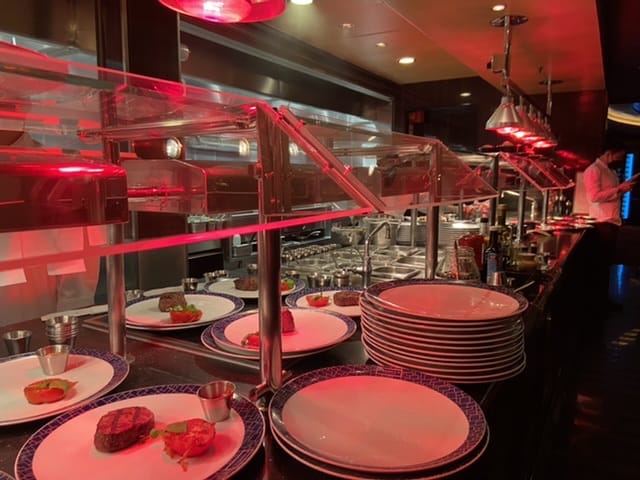 What's on the Menu?
Cagney's' menu is organized in a logical manner with starters, soup and salads, entrées, and sides.
As a meat lover and not so much a fan of seafood, it was a bit disconcerting to see that every single starter consisted of some type of seafood. Crab cakes, Black Tiger Shrimp , Tuna Tartare, and Oysters Rockefeller are the four options to start off the meal. Fortunately, for those who came for the beef, bread is served at the beginning of the meal.
The Soups & Salads portion of the menu once again starts off with a seafood choice. If you came for the beef, don't despair; menu items start getting to land based options as one might expect from a steakhouse.
Lobster Bisque and Baked Onion are the two soup choices, while The Iceberg Wedge, Caesar and Beefsteak Tomato are the salad offerings. The Caesar Salad comes complete with an anchovy on the top. The Iceberg Wedge is fresh and crunchy with a nice complement of toppings. The Baked Onion Soup features a large Gruyère Cheese Crouton. The portions are adequate, so if you are planning on a larger steak for your main course, keep that in mind.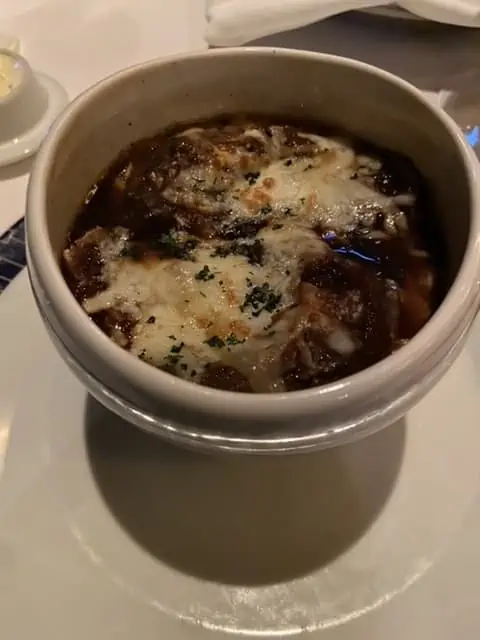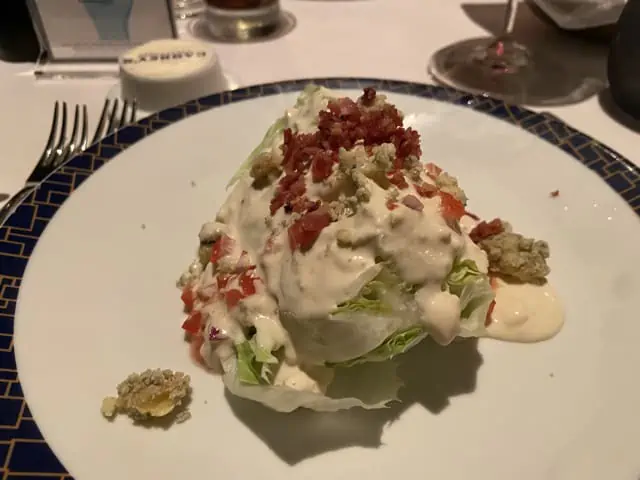 Cagney's serves certified Angus Beef. Amongst the beef items are Ribeye and Petite Filet Mignon, which at 5 oz. is the smallest offering. There is also a larger Filet Mignon, Porterhouse, New York Strip, and Prime Rib. The largest piece of beef coming in at an impressive and maybe shocking 32 ounces is the Bone-In Tomahawk Steak.
Our server offered that some people do eat this humongous cut of meat and actually finish it. She related a story about somebody who couldn't finish it on the first night because he had starters and soup and salad. The next time he dined at Cagney's Steakhouse, he skipped the preludes to the entrée and successfully managed to finish his steak. Diners have a choice of sauces to add to their beef, including Béarnaise, Green Peppercorn, Chimichurri, Port Wine Jus, House Made Steak Sauce, Maître d'Butter, and Yuzu Togarashi Butter.
MORE: Review: Rudi's Seagrill Restaurant on Carnival's Mardi Gras
Other meat selections include Surf & Turf, Double-Cut Australian Lamb Chops, and Double-Cut Berkshire Pork Chop. Seafood-lovers may choose from Cedar Plank Steelhead Trout, Grilled Jumbo Shrimp Skewer, or a Grilled Fisherman's Platter.
We dined twice in Cagney's. My fish-loving dining partner raved about the trout and the shrimp, and was thrilled that the Caesar Salad included the requisite anchovy.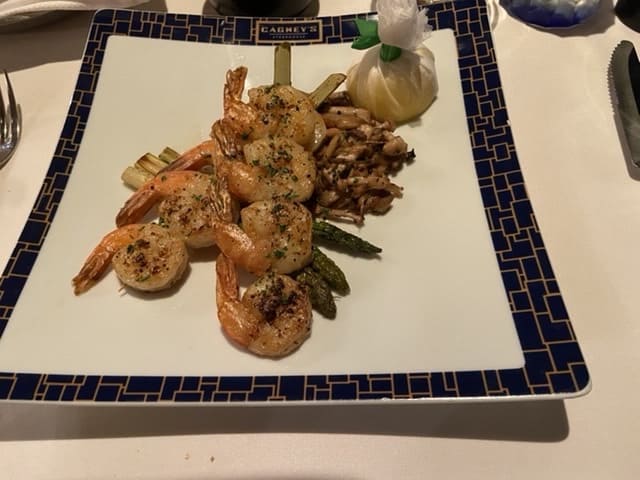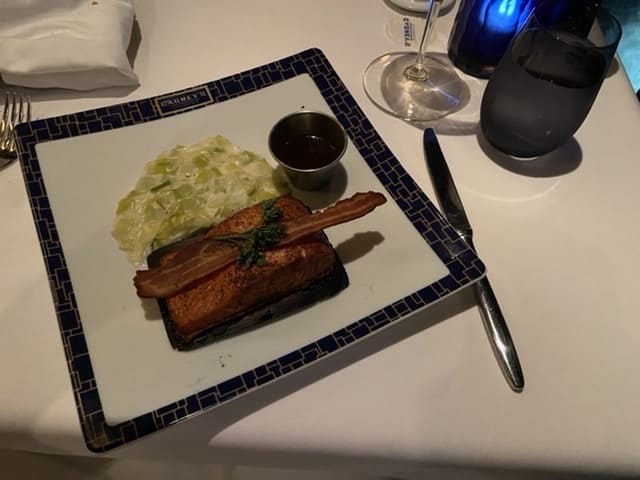 As for me, I first tried the prime rib and found it tasty, but not tender enough for my taste. On our second evening at Cagney's, I requested a half portion of the ribeye. Sometimes, there is a bit of a language disconnect with servers if their first language isn't English. I chuckled when my ribeye arrived at its full size, but was cut in half. That steak came perfectly medium rare and so very tender, but it was just too much to eat at 16 ounces. Since I had several days of specialty dining included in my fare, I did not hesitate to ask for a smaller portion of meat.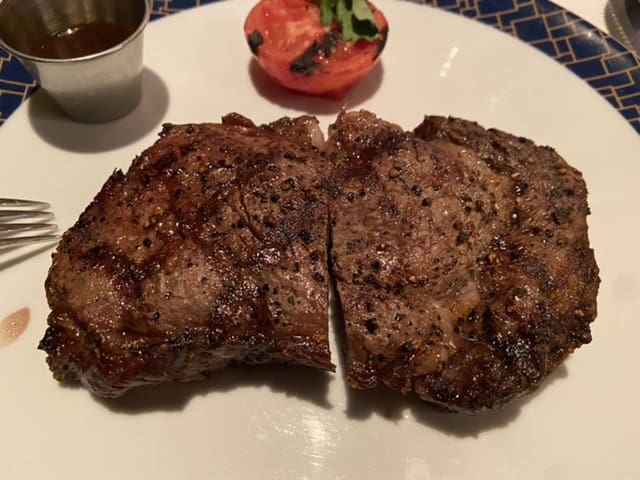 The entrée includes a choice of two sides. Cagney's steakhouse is known for its Parmesan Dusted Truffle Fries, so those are highly recommended. The other options are Baked Russet Potato, Potatoes Au Gratin, Truffle Mashed Potatoes, Onion Rings, Grilled Zucchini, Creamed Spinach, Steamed Broccoli, Sautéed Garlic Mushrooms, and Barley Risotto. We tried the famous truffle fries, baked potato, risotto, onion rings, and broccoli and found all perfect accompaniments to our entrées.
If you should have any room left for dessert, there are several tempting choices including Raspberry Creme Brulée, Seven Layer Chocolate Cake, Classic Apple Pie, "OMG" Caramel-Butterscotch Cheesecake, and Warm Apple Cardamom Crisp.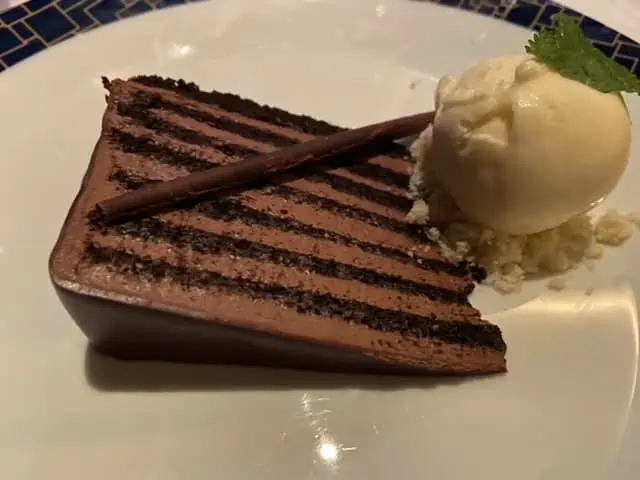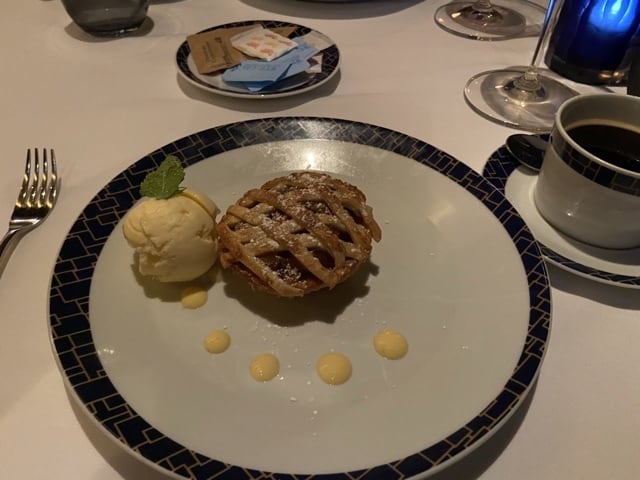 Is Cagney's Steakhouse Worth It?
Cagney's certainly competes well with our local steakhouses and the price is actually more than competitive. The service is good and the quality of the meals makes Cagney's a popular choice for finer dining. Especially with the dining package that Norwegian Cruise Line offers, it's hard to not consider it as a dining choice. With the dining package, guests may choose a starter, soup or salad, main entrée, two sides, and dessert. The Tomahawk Steak does come with an extra surcharge for those on the dining package. For the few who don't have a dining package, the menu is à la carte.
By Theresa Russell
READ NEXT: Bimini Cruise Port: Everything You Need To Know
Pin it!