During a recent cruise aboard Norwegian Star, we had the opportunity to spend the day in Olympia, Greece. Not really knowing much at all about the region (unless you count having seen the movie Clash of the Titans… and I'm betting that doesn't count), we booked the Olympia Treasures and History excursion through Cruising Excursions.
The port of entry for Olympia is Katakolon, where Norwegian Star docked early in the morning. After disembarking, we were met by a representative from Cruising Excursions who directed us to our motorcoach. Once they'd rounded us up, we were on our way to our first stop, the Archaeological Museum of Olympia. This is an old-school museum, filled with ancient discoveries and tons of history. This isn't like so many modern museums where they use modern technology in an attempt to make learning fun, this is an incredibly curated collection which gives you a true glimpse into life as it once was lived. Our guide walked us through the various exhibits, making sure we didn't miss any of the highlights and taking the time to answer any questions that came up along the way.
From there, we made our way to the historic Olympic Grounds. And again, it was almost impossible not to feel the history that surrounded you. This was the location of the first Olympic games, held in honor of Zeus, the father of the Greek gods and goddesses. Olympus was named after Mount Olympus, the highest of the Greek mountains and the home of Zeus and those gods and goddesses whom he deemed worthy at any given time. It is believed that the first games were held here in 776 B.C., although some literature seems to suggest it may have been centuries earlier.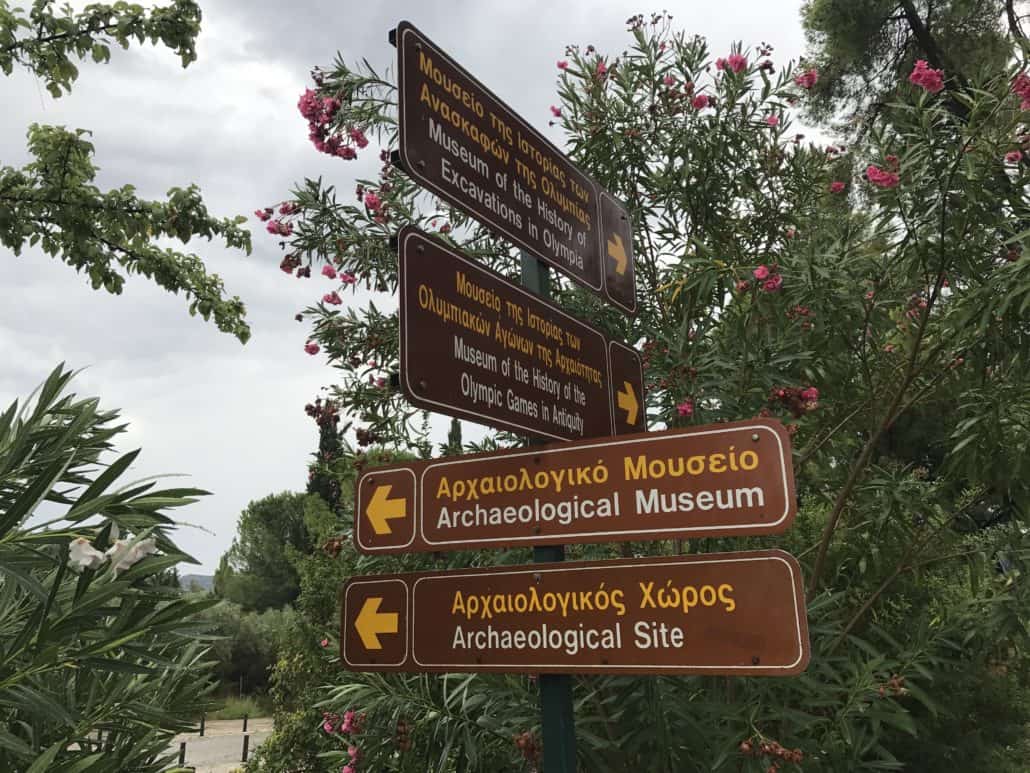 The excursion would normally include a tour here with our guide as well, but it was pouring rain so not everyone was in the mood to explore the ancient site, which – due to its historic nature – is almost perpetually being excavated. (There were no excavation teams working on the day of our visit because, as I said, it was pouring rain.) While many opted to skip exploring the grounds, I was well aware this might be a once in a lifetime opportunity. So once the rains let up a little, we ventured out to see the historic site for ourselves. I'm sure it's an entirely different experience on a sunny day with a tour guide taking you around and helping explain the historical significance, but we saw some pretty cool sites and there was something special about being able to explore with far fewer tourists than might be visiting the site on a day with better weather.
Some of the sites on the Olympic Grounds include: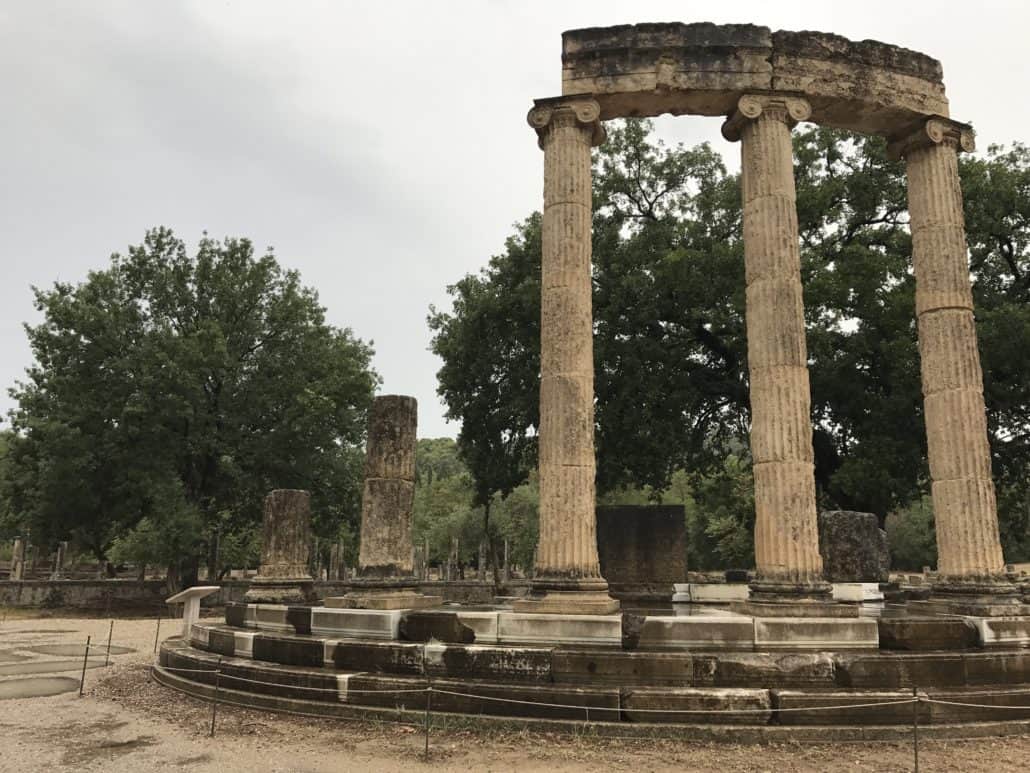 The Altis – the sacred enclosure and sanctuary of Zeus
The Classical Temple of Zeus
The Temple of Hera (wife of Zeus, who also happened to be her brother!)
The Nymphaion (a monument devoted to nymphs)
The Greek and Roman Baths (FYI, the Romans are credited with creating what eventually morphed into the modern spa experience!)
The Priest's Residence
The Leonidaion (which was the equivalent of a guest house for VIPs attending the games)
Touring Tips:
Be sure to bring an umbrella in case you get a brief rain shower. There's aren't a lot of trees on the Olympic grounds, and you need to walk along a short road to get back to where the buses are parked. It would be a shame to pass on the opportunity to explore the area because of a little rain!
Carry a bottle of water, especially if you're visiting in the summertime. The museum has a cafe, but you'll save some money (and have something to drink if you get worn out exploring) by bringing your own.
Wear comfortable shoes. This is pretty much true on any excursions, but especially when you're going to have an opportunity to explore terrain that might not necessarily be entirely flat.
Book ahead. There are a whole lotta people who want to visit these sites, and it would be a shame to be shut out if you happen to come during a time of year when there are more tourists than there are available tours!
For more information on this excursion, click here.
SaveSave
SaveSave
SaveSave