If you're the type of cruiser who knows where they want to go and books in advance, Royal Caribbean is about to roll out a new program that's pretty much designed with you in mind. That said, their Non-Refundable Deposit Fares — which are expected to be introduced across the fleet on July 1st — definitely aren't for everyone. To help you figure out if this program is a good fit for you, here's a quick look at the basics.
What It Is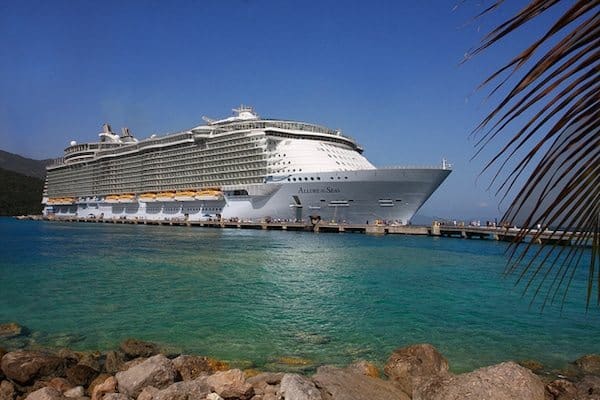 Designed to reward those who book early while at the same time guaranteeing the cruise line advance bookings, the Non-Refundable Deposit Fares will show a lower price than the regular fare. If booked at least six months in advance, they'll also offer cruisers an onboard credit incentive. For those booking a 1-5 night cruise, the credit will be $25 for an interior or ocean view stateroom, and $50 for a balcony or suite. On cruises lasting 7 nights or longer, the credit jumps to $50 for interior and ocean view rooms, and $100 for balconies or suites.
They will, however, come with several stipulations. While you can make changes to the reservation — including the date you wish to sail and on which ship — it will cost you $100 per guest to do so. (On the plus side, you can do this as often as you like… as long as you pony up the fee each time you make a change!) Perhaps more importantly, the offer is combinable with any other promos which happen to be running when you make your initial reservation.
One Major Change
As of July 1, certain stateroom categories will only be available to book via the Non-Refundable Deposit. Interestingly, this will apply mostly to the highest end suites and the most affordable type of booking, a "guarantee," at any level. In material distrubuted to travel agents, Royal Caribbean explained that this policy was being put in place "in an effort to preserve our valued suite inventory and to ensure availability for our committed guests."
Although the program will not become effective fleet-wide until July, there are some cruises offering the Non-Refundable Deposit rate. These include select Alaska sailings aboard the Explorer of the Seas and Radiance of the Seas, select Caribbean cruises aboard the or the Allure of the Seas and more.
What If I Cancel?
If you decide to cancel a cruise booked under the Non-Refundable Deposit offers before the date on which final payment is due, you will receive a Future Cruise Certificate in the amount of the deposit, minus the $100 per guest change fee. Those certificates must be applied toward a new cruise within one year of the date they were issued, or else they will become invalid.
Is the Royal Caribbean Non-Refundable Deposit program an offer that would work for your style of cruising?
Photo: Royal Caribbean