An unvaccinated passenger who live-streamed her removal from Royal Caribbean's Freedom of the Seas says that she and her traveling partner were the victims of a mix-up on the part of the cruise line.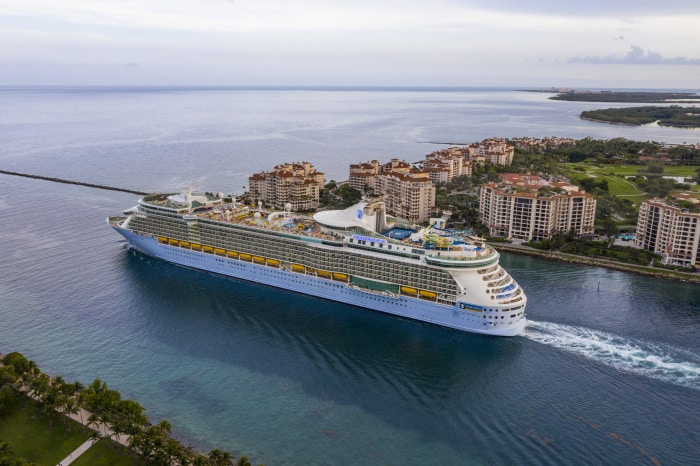 Why Her Video Went Viral
Laura Angelo claims that she and her friend Valerie Murphy were given the wrong colored wrist bands upon boarding the ship in PortMiami for a July 5th cruise to the Bahamas.
Angel0 told the Miami Herald that despite making it clear upon embarkation that both she and Murphy were unvaccinated, they were given purple bracelets indicating that they were, in fact, vaccinated.
When the mistake was later discovered, the two women were tested, as is the cruise line's protocol. Angelo's test reportedly came back positive, while Murphy's was inconclusive.
A second test for Murphy came back negative. Angelo says her request for a second test — and that she be allowed to watch the results be processed — was denied.
While being escorted off the ship, Angelo captured her experience in a profanity-laden Facebook Live video which has since gone viral. During the livestream (which can be viewed in its entirety below), Angelo recounts her version of events, at one point removing her mask to scream into the camera. Later, she threatens to "jump right off this wheelchair and if I get hurt, you'll be doubly responsible."
Once posted to the Public Freakout forum of the website Reddit, the video garnered over 600 comments, few of them shining a favorable light on Angelo and her behavior.
In a statement to the newspaper, Royal Caribbean spokesperson Jonathon Fishman did not respond to questions regarding Angelo's claim that she and her friend were misidentified as being vaccinated.
He did, however, say that 90 percent of passengers and crew on board were vaccinated and that "all those who came in close contact with the guest had been vaccinated and were quickly identified before testing negative as well."
Royal Caribbean's current policy is to strongly recommend — but not require — that all guests be vaccinated before boarding. Those who are not vaccinated are subjected to restrictions onboard and additional COVID-19 testing.
The Miami Herald also reported that in a recent court filing, Centers For Disease Control and Prevention maritime unit director Aimee Treffiletti had indicated that during Freedom of the Seas' test cruises, agency inspectors had made mistakes similar to those Angelo alleges, including a failure to keep passengers who had tested positive separated from passengers cleared for embarkation during the boarding process.
READ NEXT: Norwegian Cruise Line Sues Florida Over Vaccine Passport Ban