With a new 'Do Not Travel' advisory issued by the State Department, it appears that Royal Caribbean is temporarily suspending visits to its private destination Labadee in Haiti.
Guests on the October 10 sailing of Allure of the Seas have been informed that Labadee has been removed from the itinerary, "due to the unrest in Haiti." Cruise Radio has reached out to Royal Caribbean for more information and will update this story when a response is received.
The State Department warning is Level 4, the highest category. It states: "Do not travel to Haiti due to kidnapping, crime and civil unrest."
The warning continues: "Kidnapping is widespread and victims regularly include U.S. citizens. Kidnapping cases often involve ransom negotiations and U.S. citizen victims have been physically harmed during kidnappings."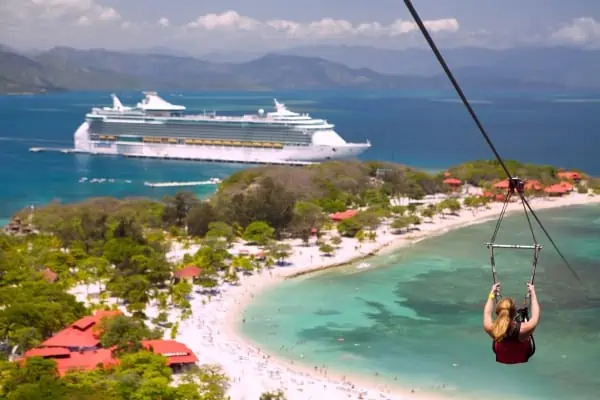 Sharing the island of Hispaniola with the Dominican Republic, Haiti is the western hemisphere's poorest nation. From natural disasters to near-constant political turmoil and frequent violent crime, the country is often in the headlines. The July 7 assassination of President Jovenel Moïse in the capital city of Port-au-Prince made an already bad situation worse.
READ MORE: Norwegian Cruise Line Can Require Vaccination Proof After Judge Blocks Florida Law
Located on a peninsula on the north coast of the country, Labadee is a private resort leased by Royal Caribbean International through 2050. The site is fenced off from the surrounding area, and passengers are not allowed to leave the property. Security is provided by a private company.
Several Royal Caribbean International ships are due to visit Labadee in the coming months, including Mariner of the Seas, Grandeur of the Seas, Oasis of the Seas, Explorer of the Seas, and Jewel of the Seas. Celebrity Cruises, another Royal Caribbean Group brand, also regularly makes stops at the private destination.
Royal Caribbean describes the Labadee experience as follows: 
"There's nowhere quite like Labadee — where you can chase an adrenaline rush on an alpine coaster one minute, and do some sun soaking the next. All right in the middle of rolling jungles and sparkling beaches."
Guests booked on the October 10 Allure of the Seas sailing received the following message:
"To maintain your safety and wellbeing, we've replaced our visit to Labadee due to the unrest in Haiti. Instead, we'll visit Cozumel and Costa Maya, Mexico and unfortunately, we won't make our visit to Falmouth, Jamaica. As a result of these changes, we've moved up our sea day and we'll visit Nassau, Bahamas towards the end of our itinerary."
The current unrest, coupled with high levels of COVID-19 infections, has brought Haiti's very limited tourism industry to a grinding halt, even as neighboring Dominican Republic ramps up again after a long pandemic slowdown.
In a July 14 article, Stéphane Doyon, Haiti program manager for Medecins Sans Frontieres (Doctors Without Borders), described the nightmarish conditions currently facing Haitian citizens.
"To describe everyday life, you have to borrow from the vocabulary of war. The capital, Port-au-Prince, is divided by several front lines. Entire neighbourhoods are under the control of armed groups with shifting territories," Doyon wrote.
"In dense and impoverished areas, the streets are barricaded, and in some areas, there are snipers shooting on sight. Clashes between gangs have forced thousands of residents to leave some neighbourhoods."
Despite Haiti's manifold issues, Labadee has been a popular Royal Caribbean destination since 1986. A per-passenger fee is welcomed by the impoverished nation's government, and several hundred Haitians are employed at the resort or earn money selling crafts and souvenirs at an onsite market.
READ NEXT: New MSC Cruises Ship Sets Sail on Maiden Voyage