I've been blessed to be at this for almost eight years. In that time, I've met some really cool people. We've met in airports, had dinners, spent late nights at the Alchemy Bar, and developed lifetime friendships.
In 2014, I got an E-mail from a listener named Jeff Samuelson in Tampa. He worked for an airline and was addicted to cruising. When I say addicted, I mean addicted. Every E-mail included talk of itineraries he wanted to do in the future. We'd spend hours E-mailing each other back and forth about where certain ships were being repositioned and what we thought of new policies being rolled out across the cruise lines.
More than that, Jeff was a friend.
I was at the Tampa airport two years ago and had a chance to meet Jeff in person. We stood on top of the parking garage and watched planes take off and land until way after sunset.
Since Jeff worked with an airline, he could jump on a plane and go anywhere he wanted, even if it was only for a day. One fall day I was in New York City and Jeff said he wanted to come up. I met him at Penn Station, we grabbed pizza and I took him on a tour of the city. We visited Times Square, the Statue of Liberty, the World Trade memorial, Central Park, and later went to watch the Norwegian Breakaway leave from Pier 88.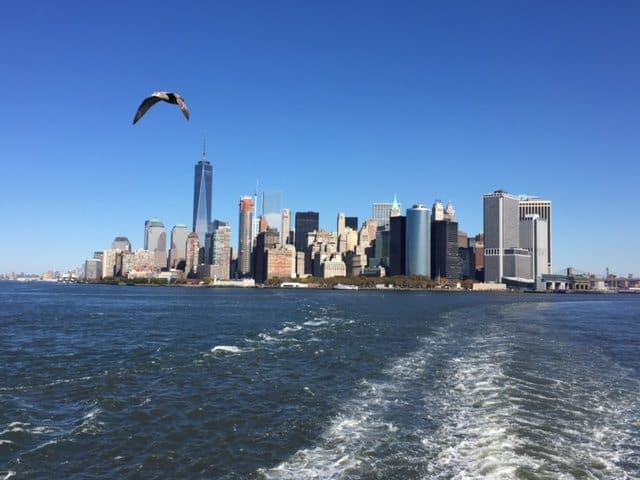 Later that year I did a Carnival Journey's sailing from San Juan, Puerto Rico to Port Canaveral. I found out Jeff was going to be in San Juan the same day on the Carnival Breeze, so we took the opportunity to catch up. We had an awesome day running around the Carnival Breeze, checking out Ocean Plaza, Guy's Burger Joint, taking photos of other ships from the Serenity deck and hanging out at the RedFrog Pub.
Little did I know that would be the last time I'd see Jeff.
I got an E-mail this morning that Jeff — who was on a birthday cruise — had been found unresponsive in his stateroom and the medical team was unable to revive him.
I'm very lucky to have met Jeff, and find myself thinking that if it's your time to go, why not go out doing what you love?
Jeff may be gone, but the memories will never die.
Sail on, buddy.
Doug