This is our review of Stingray City, a popular cruise excursion in Grand Cayman. Ask most people if they want to swim with stingrays, and they're likely to think you're issuing a threat right out of an old gangster movie where a dude chomping on a cigar warns that his rival is about to be swimmin' with da fishes. Personally, I've been skittish about the idea ever since the unfortunate incident in which naturalist Steve Irwin died following a stingray barb. But during a recent cruise to Grand Cayman, I decided it was time to face my fears via an excursion to what's known as "Stingray City."

Booking Your Excursion to Stingray City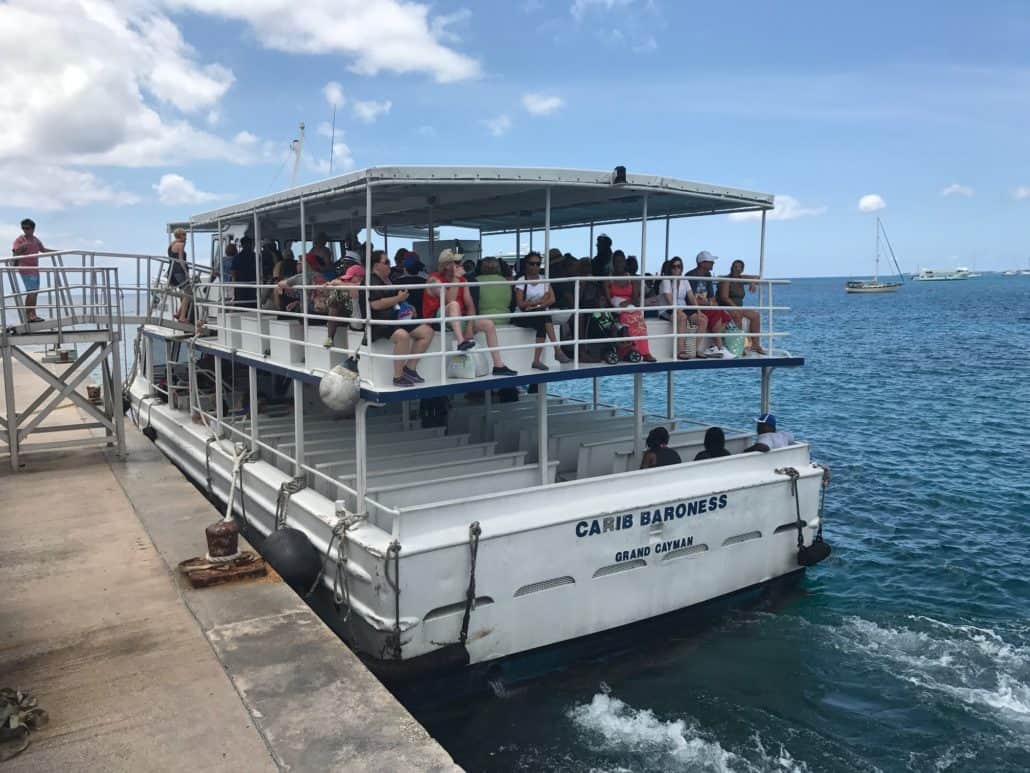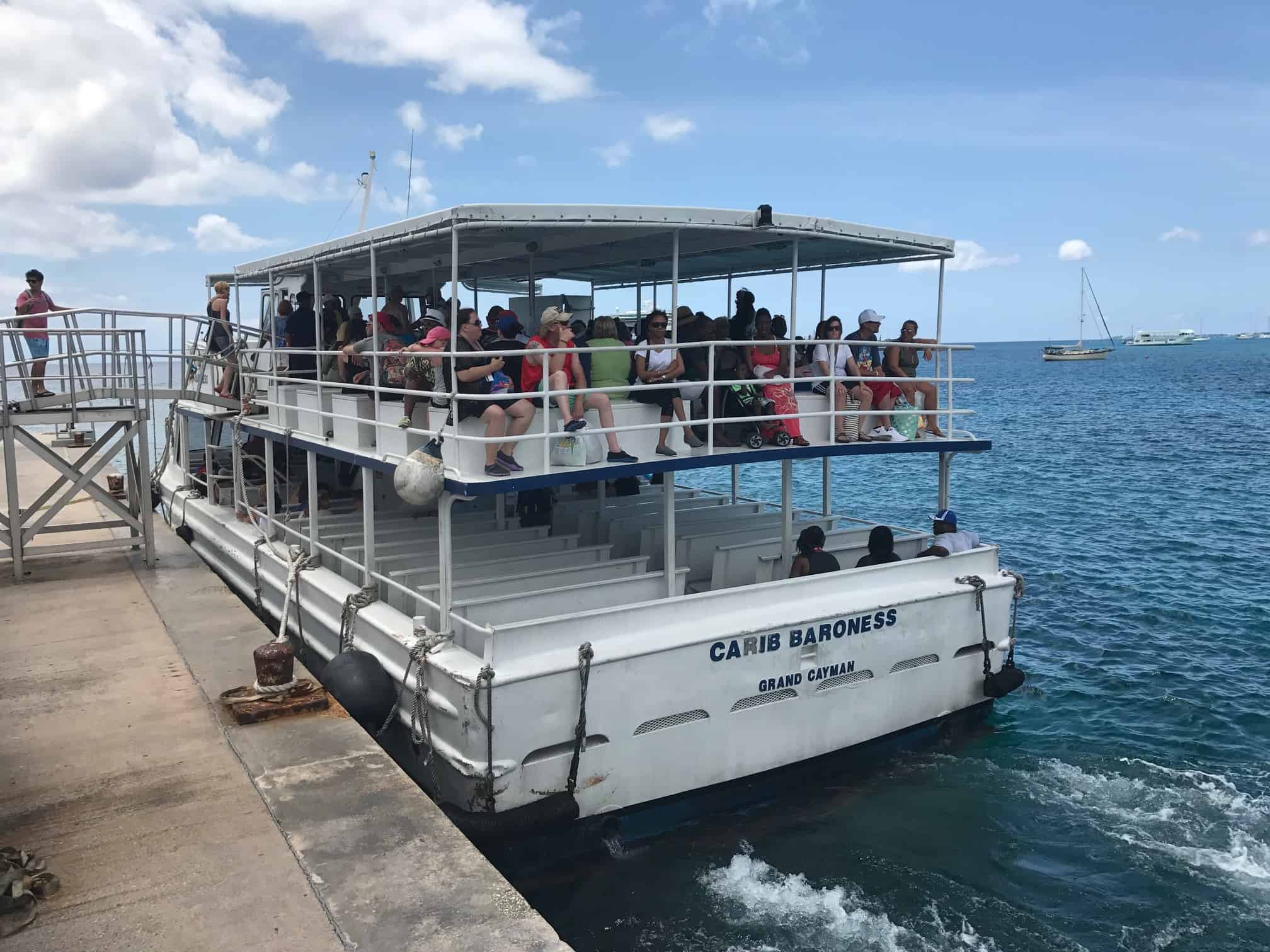 As with just about any excursion, you have the option of booking directly with the ship or doing so on your own. And while many guests feel more comfortable booking through the cruise line because they know doing so assures the ship won't leave without them, this is one case where that might not be as much of a concern as it is under other circumstances. Why? Well, Stingray City is a single location visited by numerous vendors. This means that when you get there, you're most likely going to be out there with other people who are also on your ship. That said, if you do decide to book independently, it's always important to make sure that you leave plenty of time to get back to the ship. After all, accidental delays happen, and you don't want to be left behind!
Getting to Grand Cayman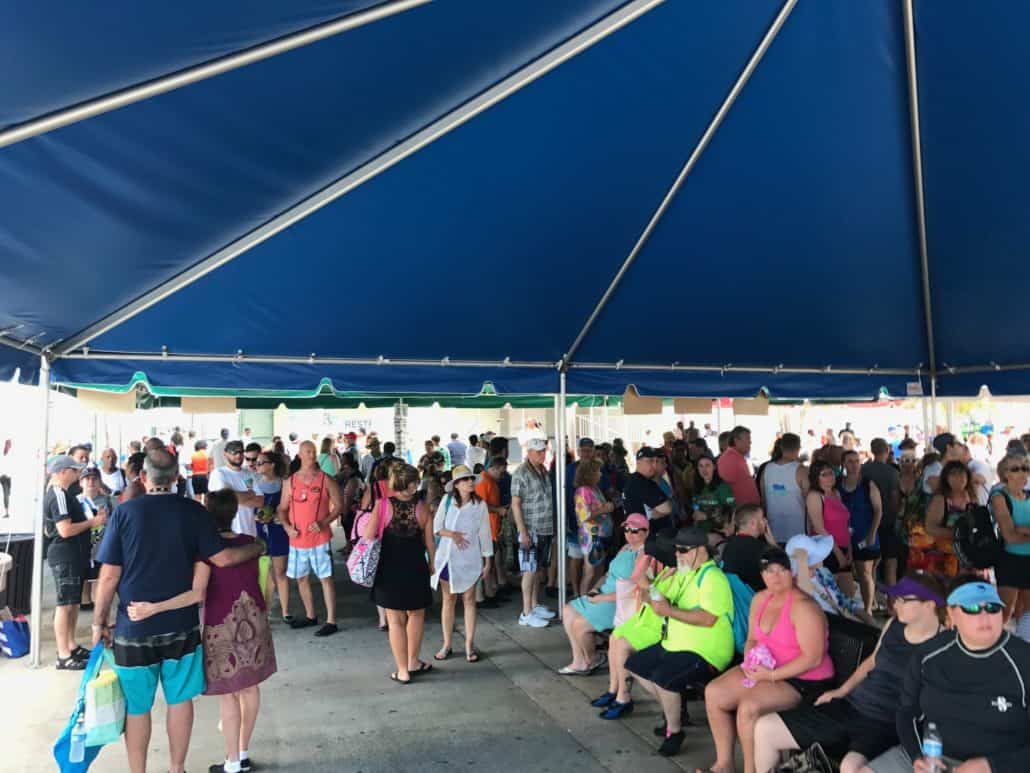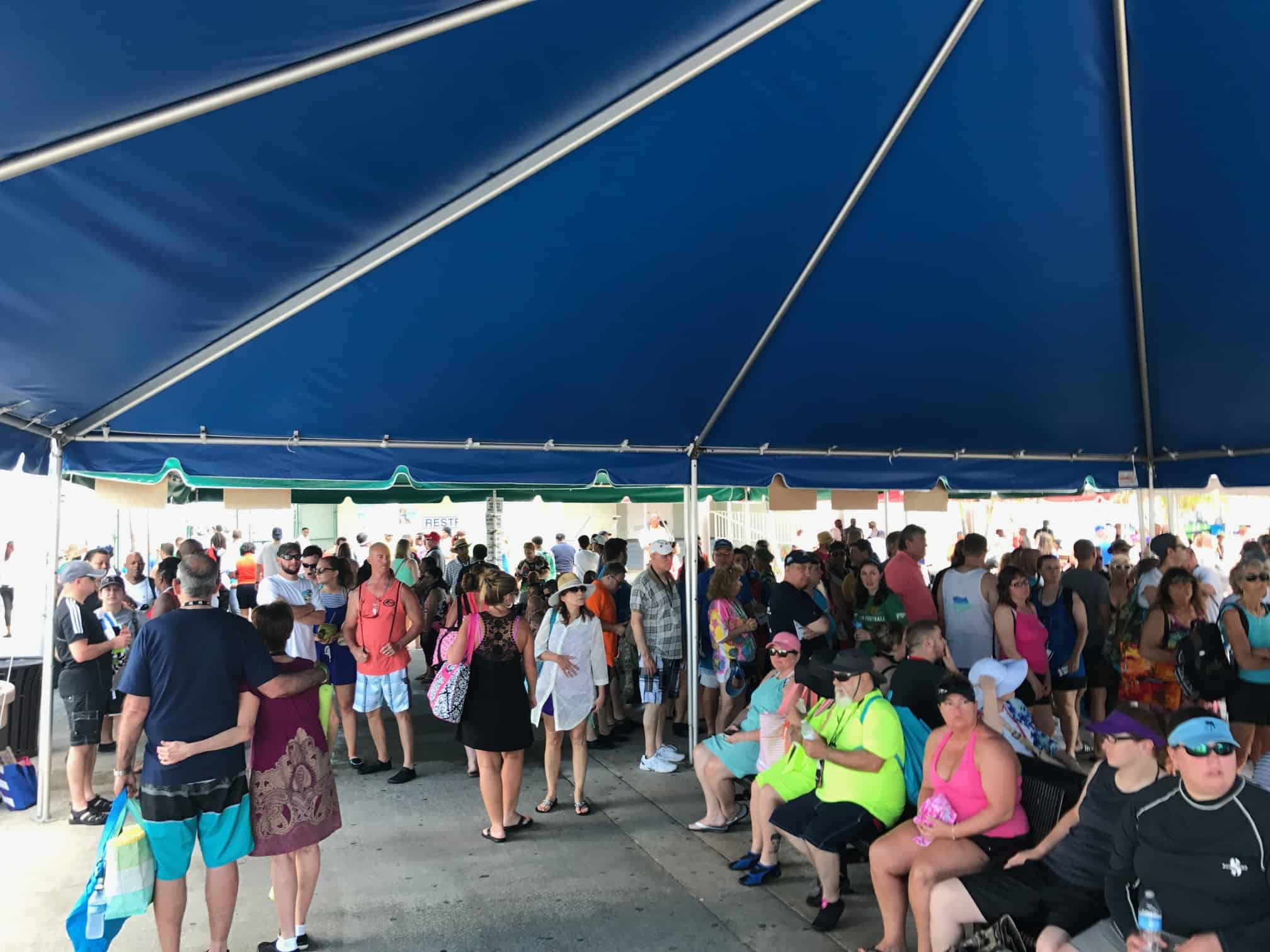 Grand Cayman is a tender port, meaning the cruise ship doesn't dock at a pier. You have to take a small boat to get from the ship to the pier. The tender service runs every 15 to 20 minutes, so you'll want to factor that into your time if you're booking the excursion on your own. If you book it directly with the cruise ship, you will be assigned a time to meet – usually in a public space such as the main dining room or theater – and leave the ship together as a group.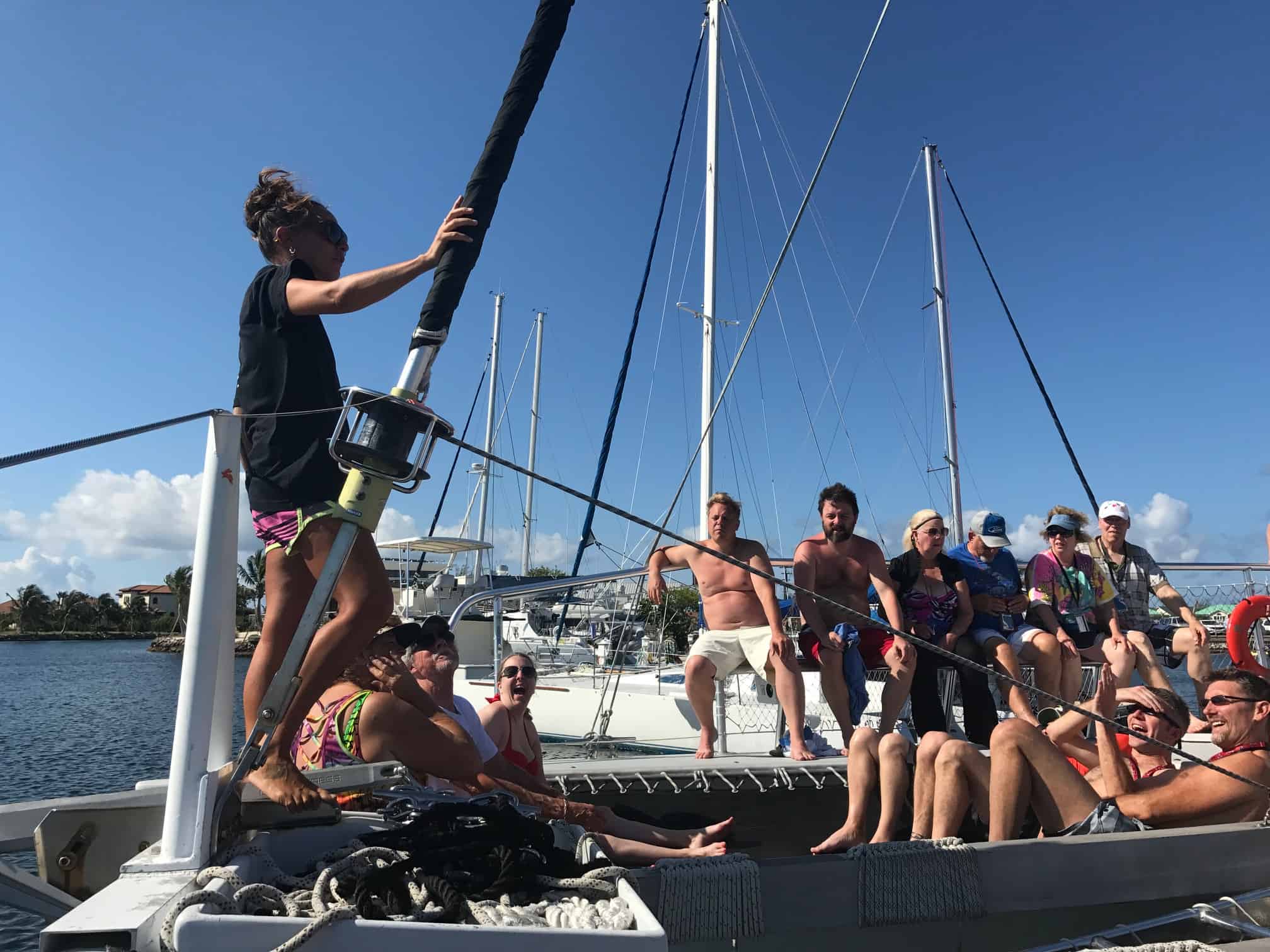 Once your tender boat arrives at the pier, you'll meet up with the bus driver who will take you to the marina where you'll board a boat for Stingray City. You will want to pay attention at the pier because there are going to be a whole lot of people there, all trying to figure out exactly where they're supposed to go. This is especially true if there are several ships ferrying passengers to the pier at the same time! If you're booking the excursion on your own, make sure that you're clear on exactly where your meeting point is.
Heading to Stingray City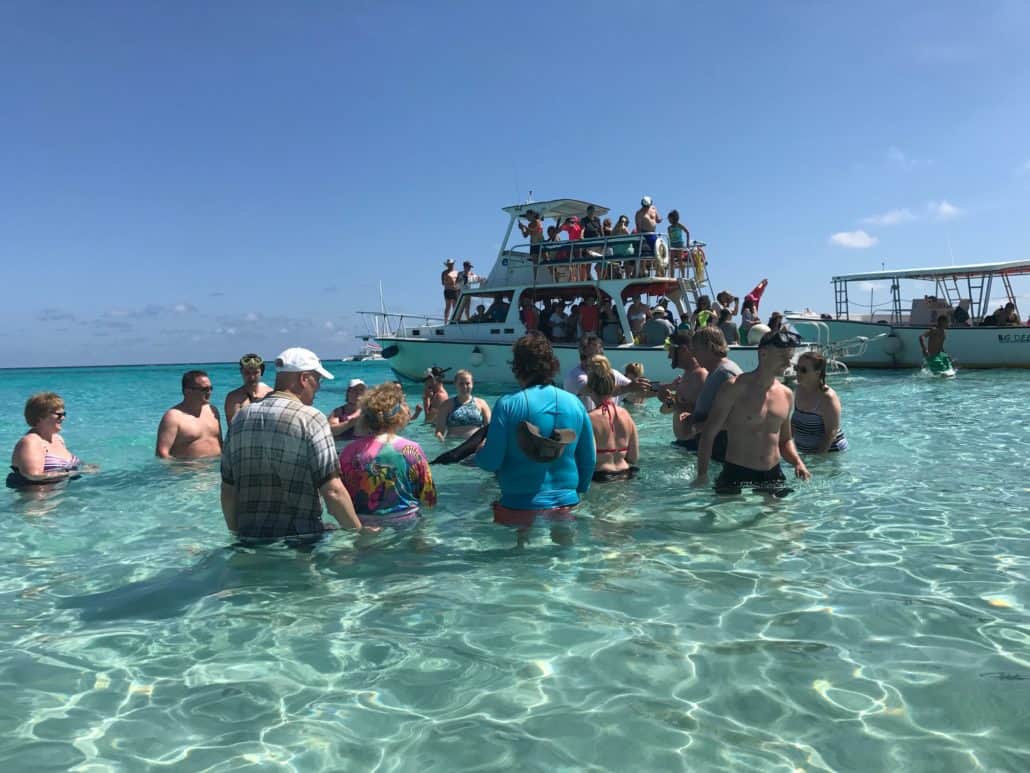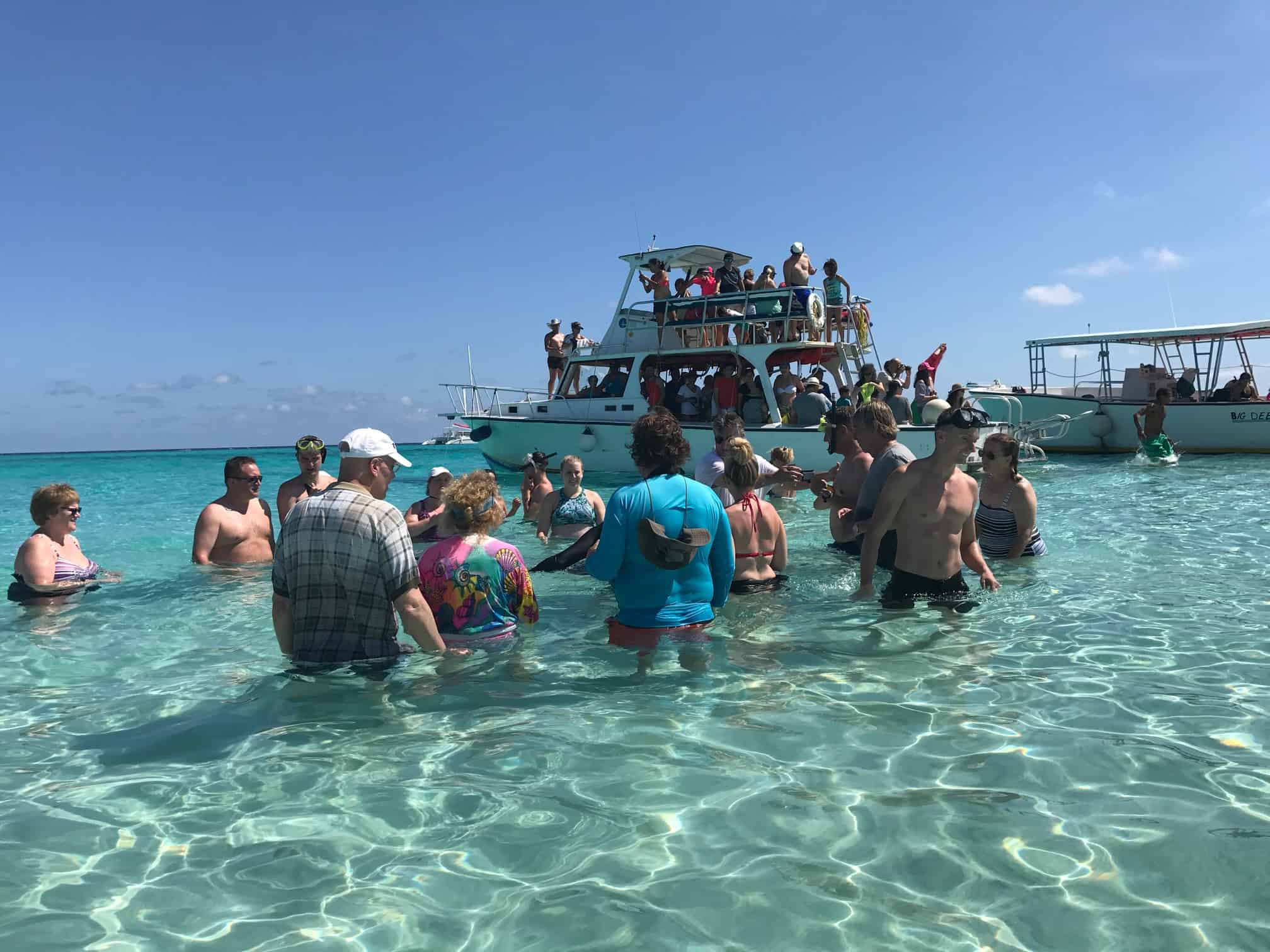 The ride from the pier to the marina takes about 20 minutes. Once there, you will board your boat and head out to Stingray Bay. Before setting sail, a member of the crew will give you a safety demonstration and familiarize you with the layout of the vessel. It's worth noting that most of these ships have "marine toilets" …meaning you have to pump to flush the waste.
The ride out to the rays takes about 45 minutes, and some people would say this trip alone is worth the price of admission. After all, is there anything like being out on the open water on what is hopefully a gorgeous day? Once the crew drops the anchor, you'll be briefed about the stingrays and how to handle them… as well as, just as importantly, how not to handle them! And then, it's time to get into the water, one at a time. And don't worry if you're not a good swimmer, because the water here's about three feet deep. But if you're feeling the need to play it safe, they do have life jackets available on board. In fact, some tour companies will actually require you to wear a life jacket for liability reasons.
The Stingray Experience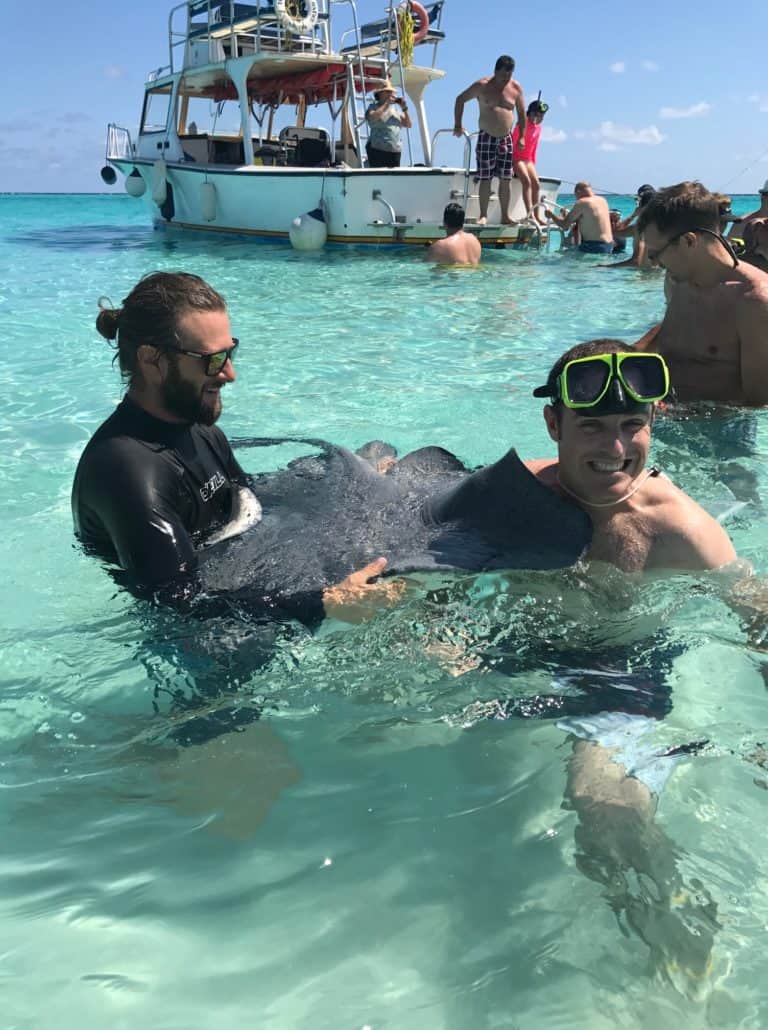 Once you're in the water…well, this is why we're here, right? To pet and feed the stingrays. Yes, the stingrays have their barbs, but it's important to know that by nature, they are incredibly docile creatures. This is especially true at Stingray City, where the beautiful, sleek creatures have been interacting with humans more than they would in the wild and are essentially showing up for feeding time the way cruise ship passengers do at the main dining room.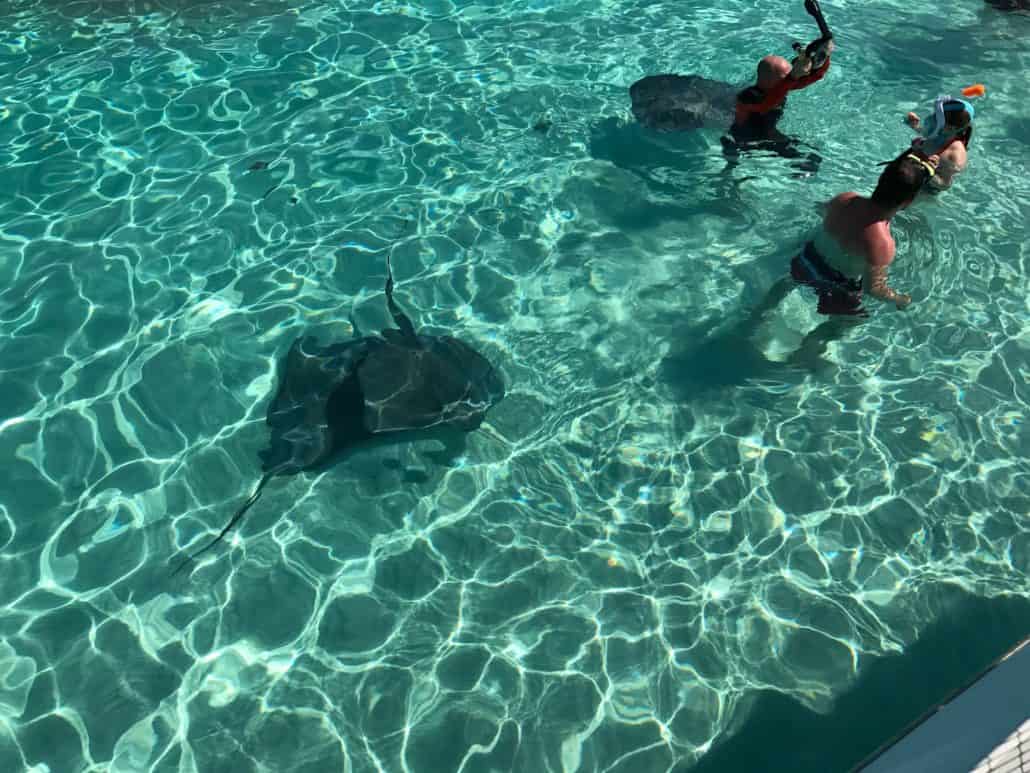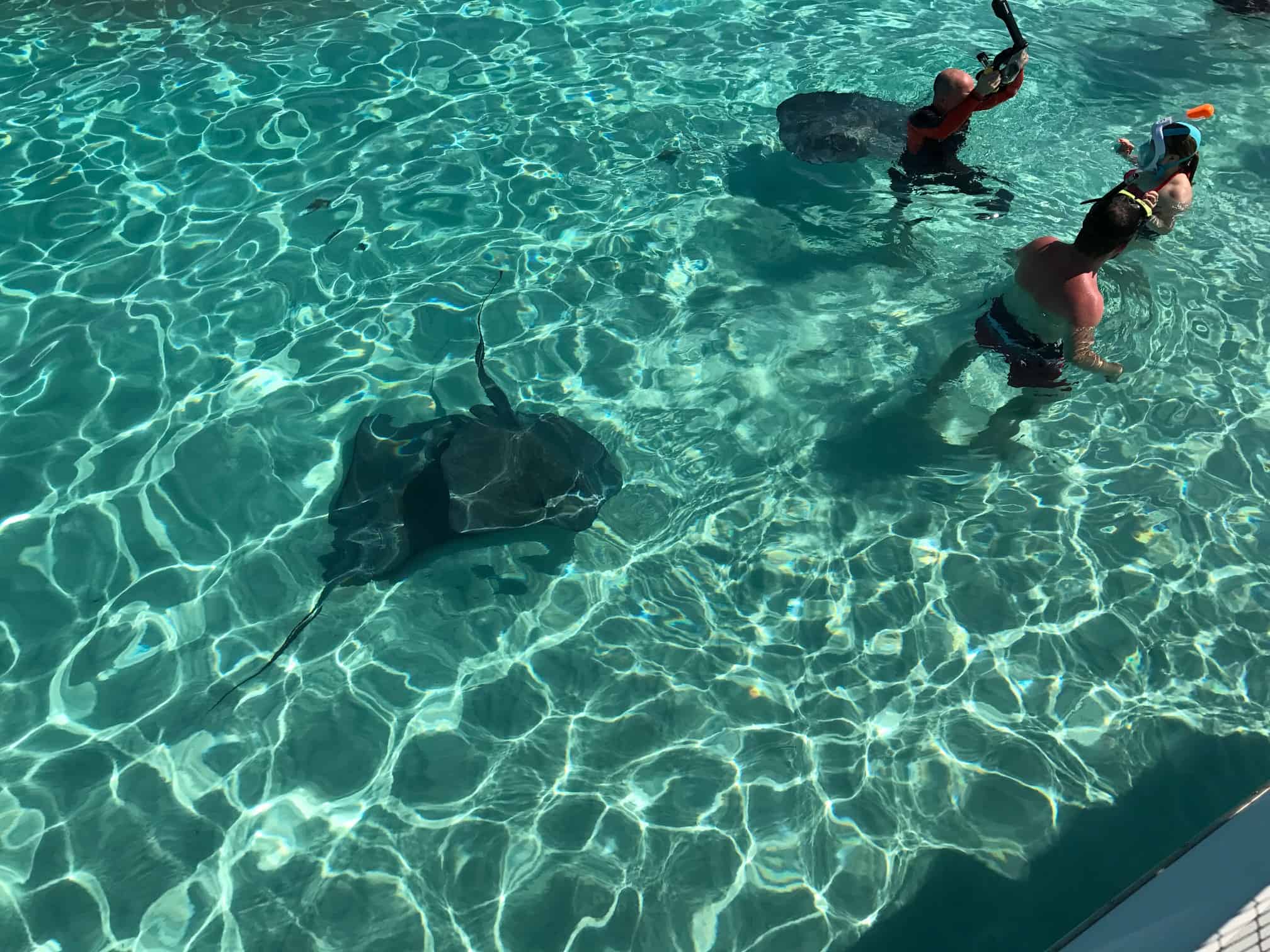 As a general rule, rays will only raise their barbs in situations where they feel threatened, in much the same way a skunk sprays those he perceives as encroaching on his territory. Because the barbs are attached to the tail of the ray, it is important to be conscious of the creatures as they move through the water. It's far more likely that an injury will occur as a result of someone stepping on a barb than because a ray purposely attacked. That said, it's important to always remember that these are wild creatures in their natural habitat and give them the respect that they deserve.  
Forget your waterproof camera? No problem. A crew member will have a very nice, very waterproof camera with which to capture your experience so that you can purchase the pics on the way back to the pier.
Heading Back to Land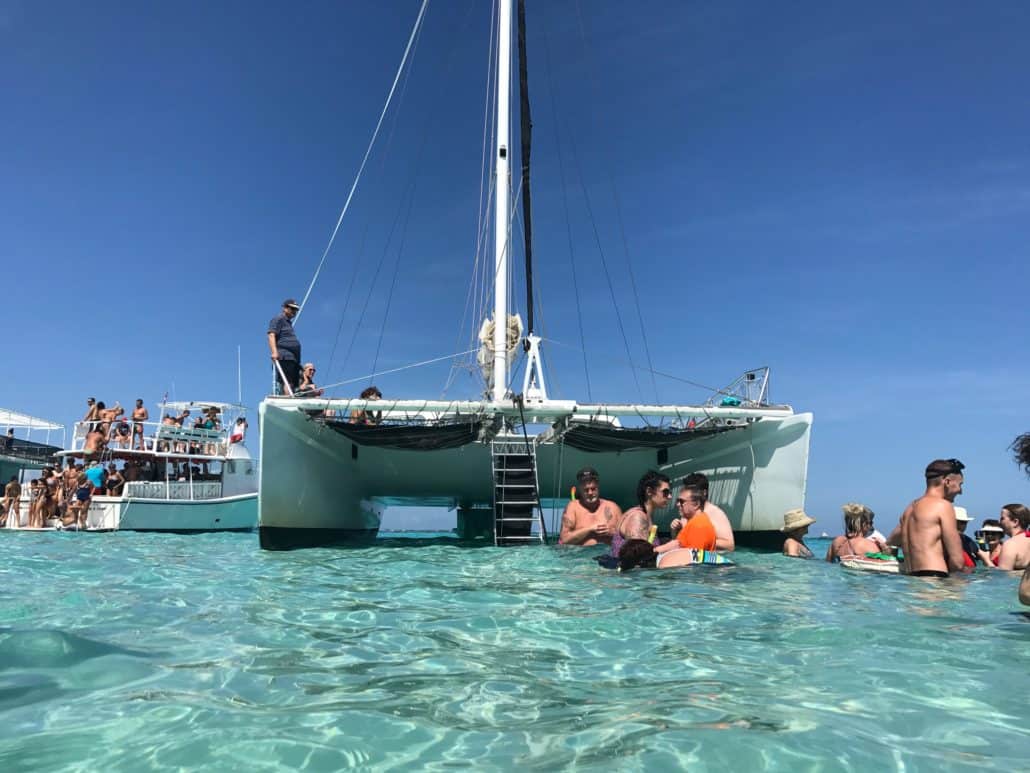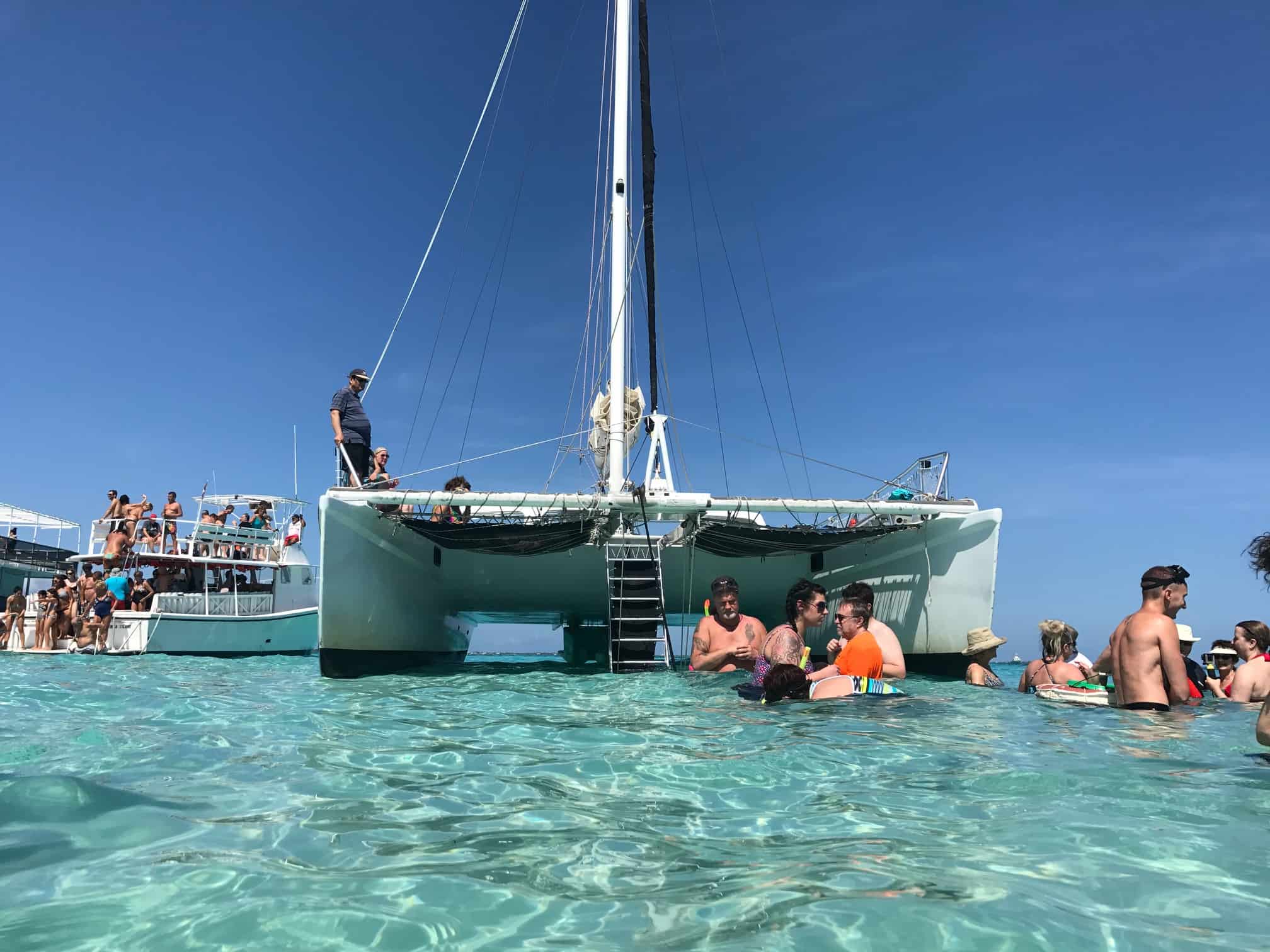 You'll have an hour to hang out with the residents of Stingray City before you'll have to board the boat and head back to Grand Cayman. Like the ride out, this one will take around 45 minutes. For those keeping track, you're spending about three hours out in the sun, so make sure you have plenty of sunscreen with you. Most of the boats have some shaded areas where you can avoid the sun, but let's face it: You're out on the open water, having a great time… you're probably not going to want to huddle in the shade. But you also might not be conscious of just how baked your skin is getting so, again, slather on that sunscreen.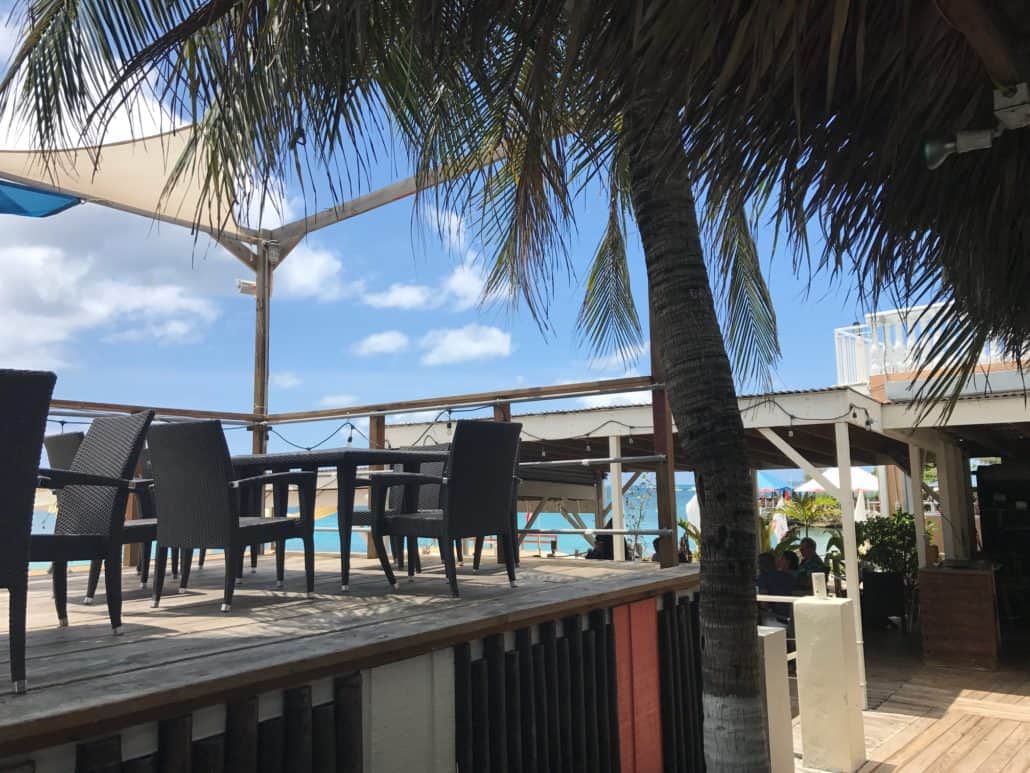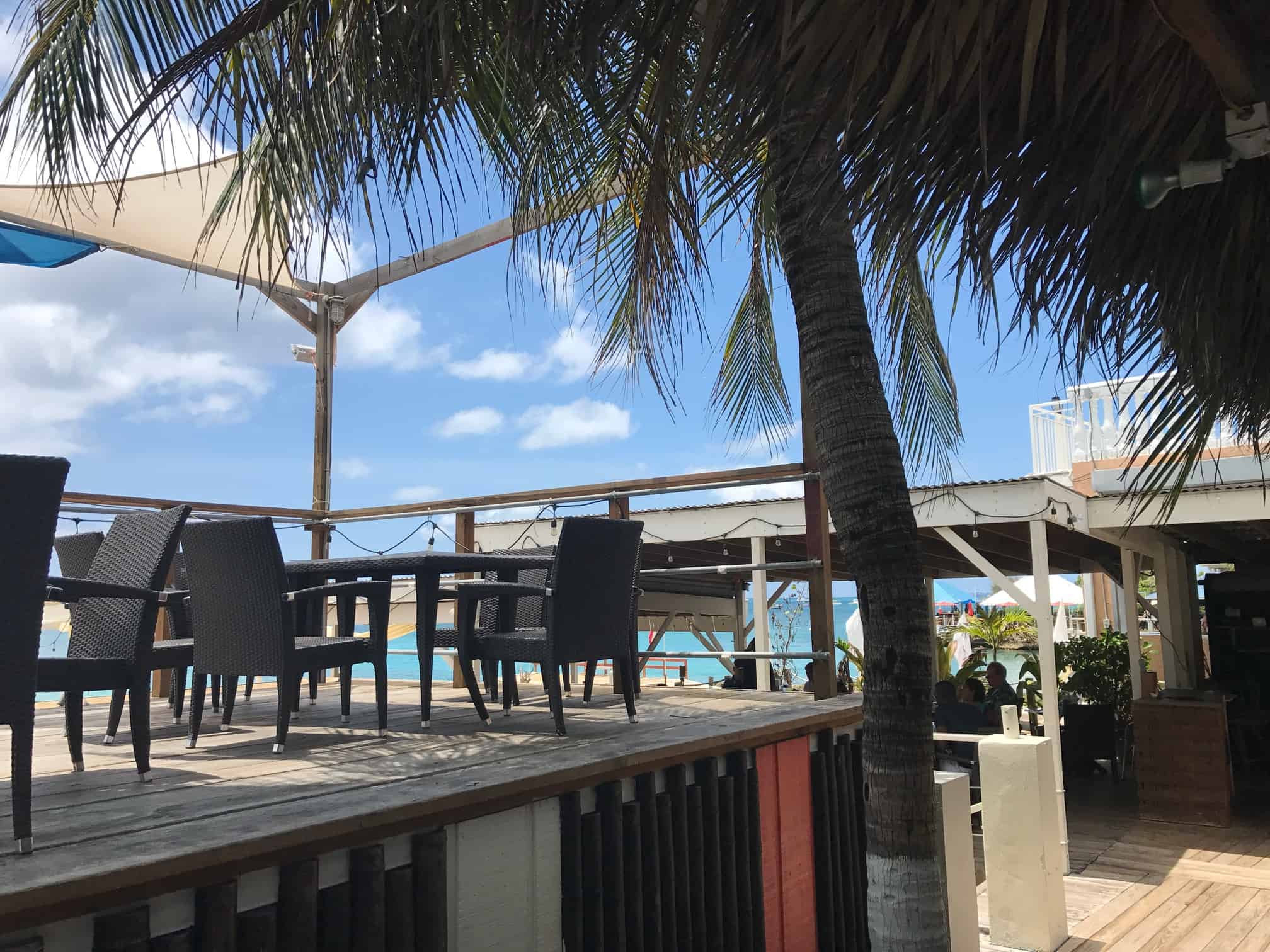 Once you've disembarked from the boat, you'll board a bus back to the pier. It's likely you'll have some time to explore before heading back to the ship if you want to do so. Many folks head straight back to the ship, but I find that if you chill out and wait a bit, the lines for the tender won't be quite so long. But remember: always make sure that no matter where you are, no matter what you're doing, you're aware of what time it is on the ship. Not what time your phone says it is, not what time the clock in a local bar says it is, but what time it is on the ship… and, more importantly, what time the ship will be setting sail.
View Video: