If you ever wished that Battleship was played with cruise ships, have we got the game for you. Bruise Cruise is… well, borderline impossible to describe. Which is why we sat down for a chat with The Admiral, who helped create the game and write its wonderfully off-kilter rule book.
Finally, a Cruise Ship-Based Board Game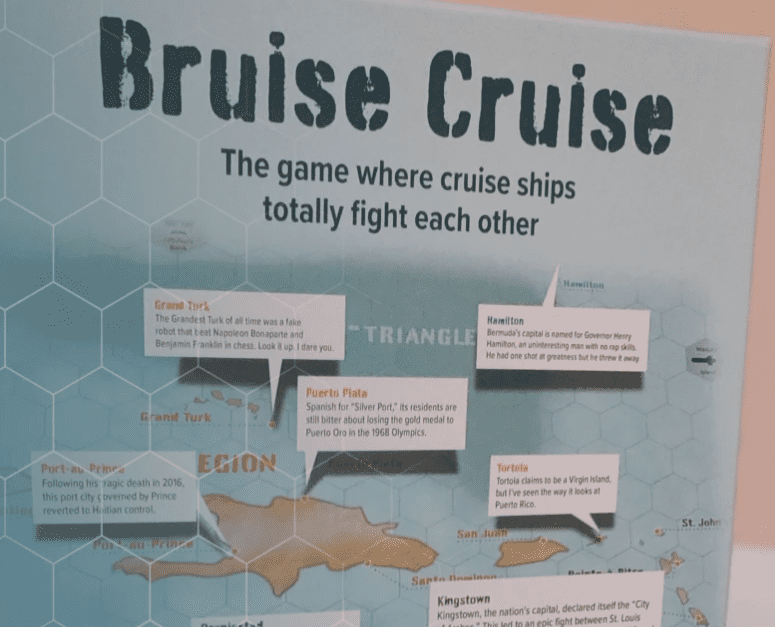 First, an important note about The Admiral. That's probably not his real name and he's more than a little bit unhinged. But having created Bruise Cruise, he now believes himself to be an actual Admiral in charge of a fleet of weaponized cruise ships.
Oh, did we not mention that the cruise ships in this game have declared war on one another? As The Admiral explains, "Bruise Cruise is a map-and-card based game in which you sail a fleet of cruise ships around the Caribbean, dock at various ports to 'claim' them and return to your home port."
Sounds simple enough, right? But wait, there's more. "The 'bruise' part of Bruise Cruise comes from the fact that the game is set in a future in which the world has gone mad and your cruise line must compete for market share using missiles, torpedoes, and midnight raids on nearby ships."
"Think We Can Take 'em?"
The Admiral explains that while on the annual JoCo Cruise (a story in and of itself), the ship on which he was traveling wound up docked next to a similarly sized ship in Tortola. "They began blasting children's music," he explains, which naturally led to "a conversation breaking out based on this hypothetical: 'Do you think we could take them? Like, in a ship-to-ship brawl?'" Thus was planted the seed which would eventually morph into the Bruise Cruise.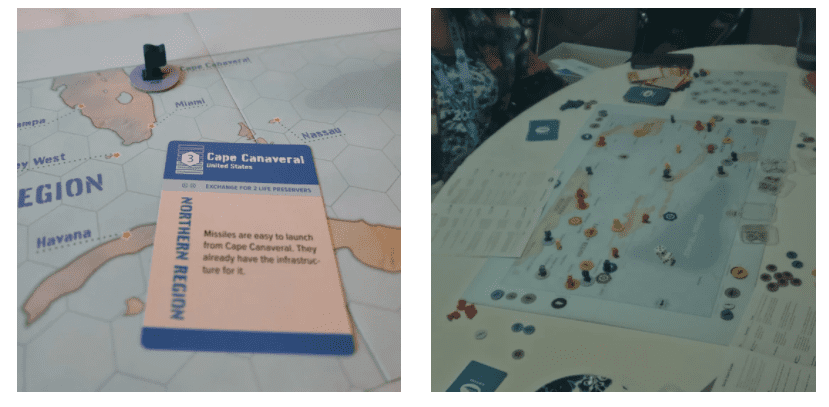 If you want to know more about the game's evolution, you can read what they proudly trumpet as "The Dumbest Origin Story." And while the game takes place following "the unfathomable events of 2037," The Admiral can't help hoping that the currently unfolding cruise crisis is not the first sign of those events actually unfolding. "There are so many passengers who want to get back out on the seas," he says. "And so many torpedoes to launch!"
The rule book itself is as complicated as it is amusing to read, and was apparently at least as fun to create. "I'd give it a 98 out of 100 on the fun meter," muses The Admiral, "which I improvised using a shuffleboard court and towel animals."
Asked what makes this the perfect game for cruise lovers, The Admiral does not hesitate to answer. "First, because there are no other games based on cruising," he says. "There are some with nautical and piratical themes, but none with cruise ships as the stars of the show. Second, board games are perfect to take on a cruise — particularly one with a board that is a map of the Caribbean."
But wait, there's more! "Third," he continues, "there are 4,000 angry/loyal/deranged passengers aboard my ships who are closely monitoring your holiday shopping. Fourth, it's already on sale and Cruise Radio readers get an additional 10 percent off." (To take advantage of The Admiral's offer, click here.)
Asked how he'd respond to those unhappy that the game turns their favorite pastime into a virtual war zone, The Admiral suggests they not worry. "After all," he says, "the game is set in 2042, which is forever away. Also, it is fictional. Probably."
Himself a self-declared lifelong cruise enthusiast, The Admiral says he has "played the game with many fellow cruisers who gave it rave reviews. If you'd like to pretend that the missiles and torpedoes are lifeboats filled with tropical cocktails and spare shuffleboard pucks being sent between ships, go for it!"
READ MORE: You Can Now Play a Cruise-Themed Monopoly Game