The main dining rooms on Carnival Cruise Line's ships are a staple for guests and, in a way, define the cruise experience. Cruisers put a high value on food and service, and nowhere else on the ship are those two elements as important as the main dining room.
After all, while many of us enjoy specialty restaurants, we also expect the main dining rooms to be just as enjoyable of an experience.
The Main Dining Room Overview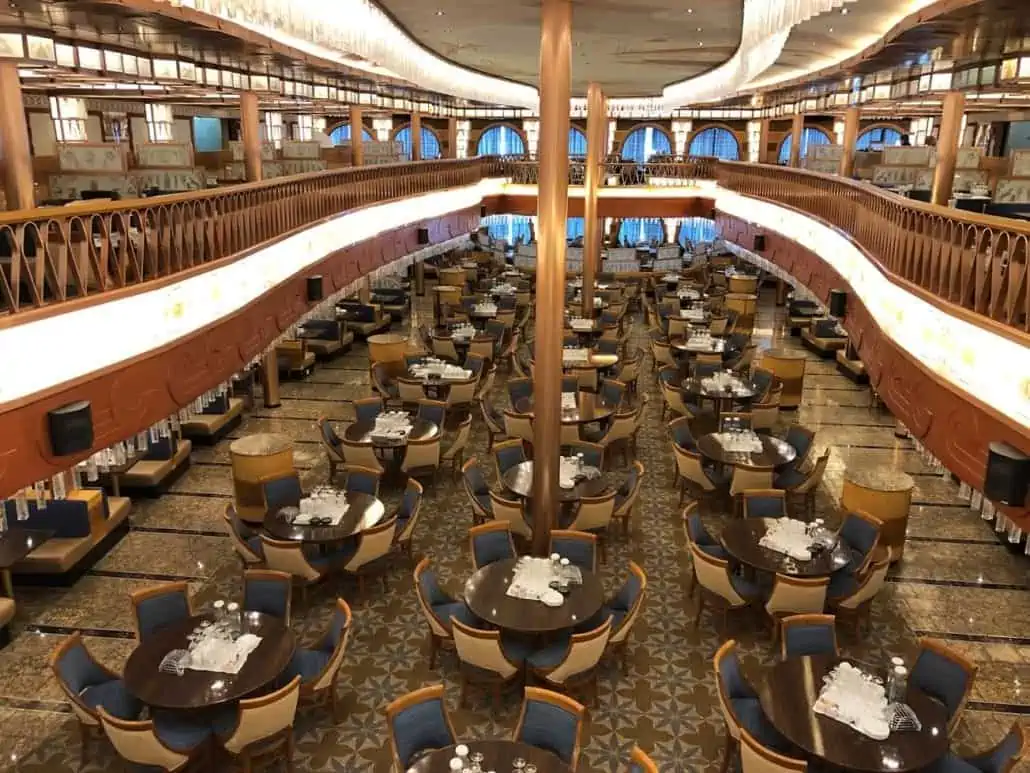 The last thing anyone wants is to feel like they have to spend extra money to have a great meal. Fortunately, Carnival's dining rooms and dinner service rise to the occasion thanks to their varied menus and the attentive service provided by their staff.
Dinner in the main dining room (known as MDR to the seasoned cruiser) is a three-course affair, and not something to be rushed. It's important to leave yourself plenty of time, especially if you're planning to see a show after dinner.
Should you choose not to eat in the main dining room (or miss the time you were slotted to be seated), there are plenty of other options, free or for-fee, around the ship. You're never a stone's throw away from a dining venue on a cruise ship.
In other words, you definitely will not be going hungry at dinner time.
Where It's Located

Carnival offers both set-time dining and Your Time dining, the latter of which gives guests more flexibility, making it a great option for those who don't necessarily want to be on a set schedule.
READ MORE: 31 Carnival Main Dining Room Tips
Although most Carnival ships have two dining rooms, one of which is dedicated to each of the dining options, you'll find the same menu served in both. The Spirit-class ships (Carnival Pride, Carnival Spirit, Carnival Legend, and Carnival Miracle) have only one dining room, but still offer traditional set-time and Your Time dining.
Carnival's signature Sea Day Brunch is also served in one of the main dining rooms. Because of its popularity, it's typically served in the larger dining room, which often tends to be the in the aft (back).
What to Expect in the Main Dining Room
Every now and then, Carnival tinkers with the menus. Sometimes, it's a complete overhaul. But occasionally, it simply involves the addition or subtraction of certain items.
Either way, one thing's for sure: any change, no matter how small, is noticed by guests — and they make their opinions on the changes known! Given that Carnival is in the business of making sure people have a great experience, they take the feedback they receive on changes very seriously.
Currently, the Carnival fleet offers two separate menus: The American Table menu and the American Feast menu.
American Table: This is your typical main dining room menu with a selection of appetizers, soups, salads, entrees, and desserts. This is the rotating menu you'll find each cruise casual night, except on formal nights.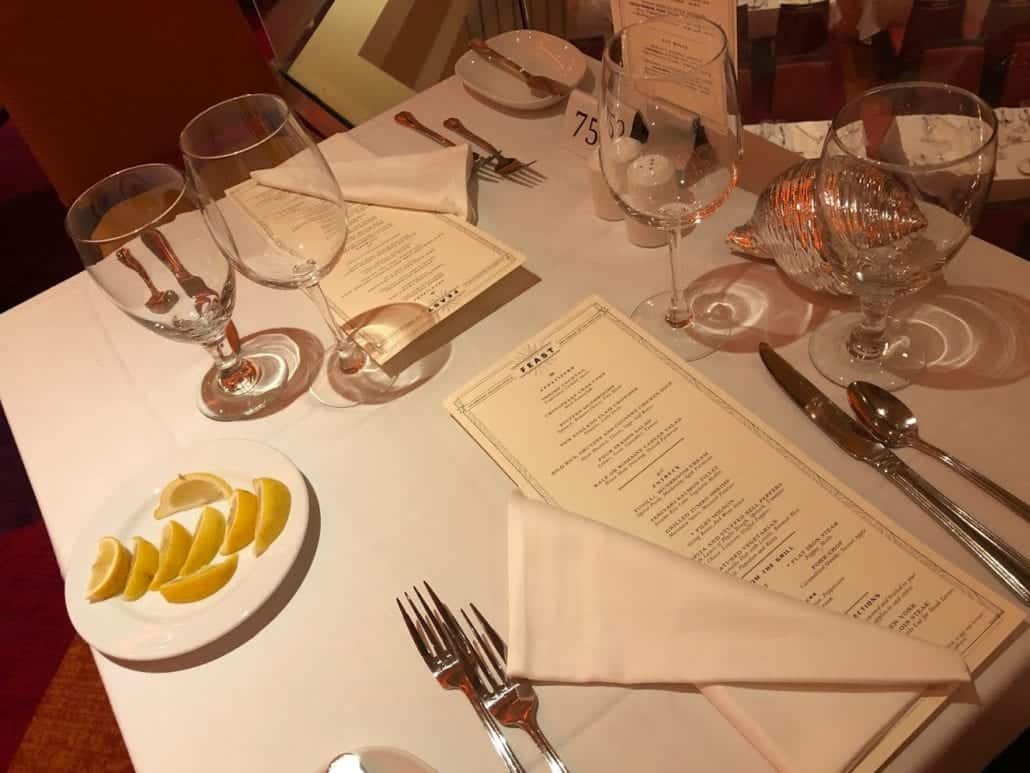 American Feast: This is the menu offered in the main dining room on formal nights and, truth be told, it's not all that different from the American Table menu. This menu will be offered once or twice per cruise, depending on the length of your sailing. Formal nights are also the only evening you'll find tablecloths used in the main dining rooms.
Menu Download
The experience usually takes 90 minutes or so, depending on how fast your dining team is. If you are really crunched for time, you should consider eating dinner at the Lido deck buffet or one of the other venues that offer a more casual experience.
Dining Times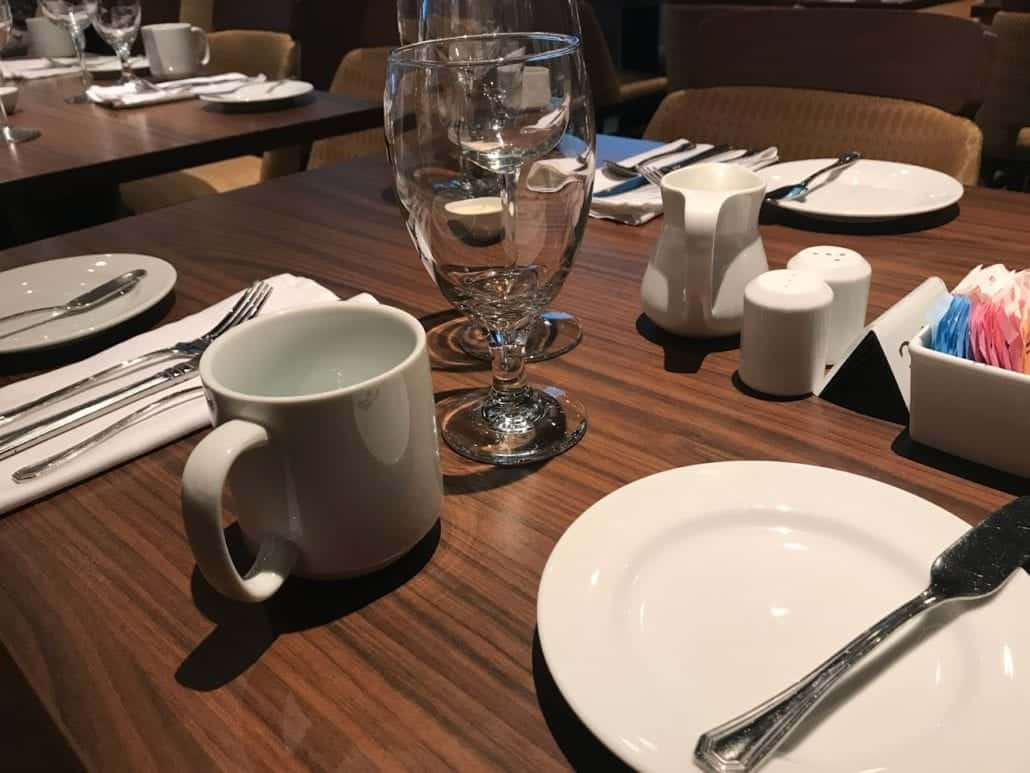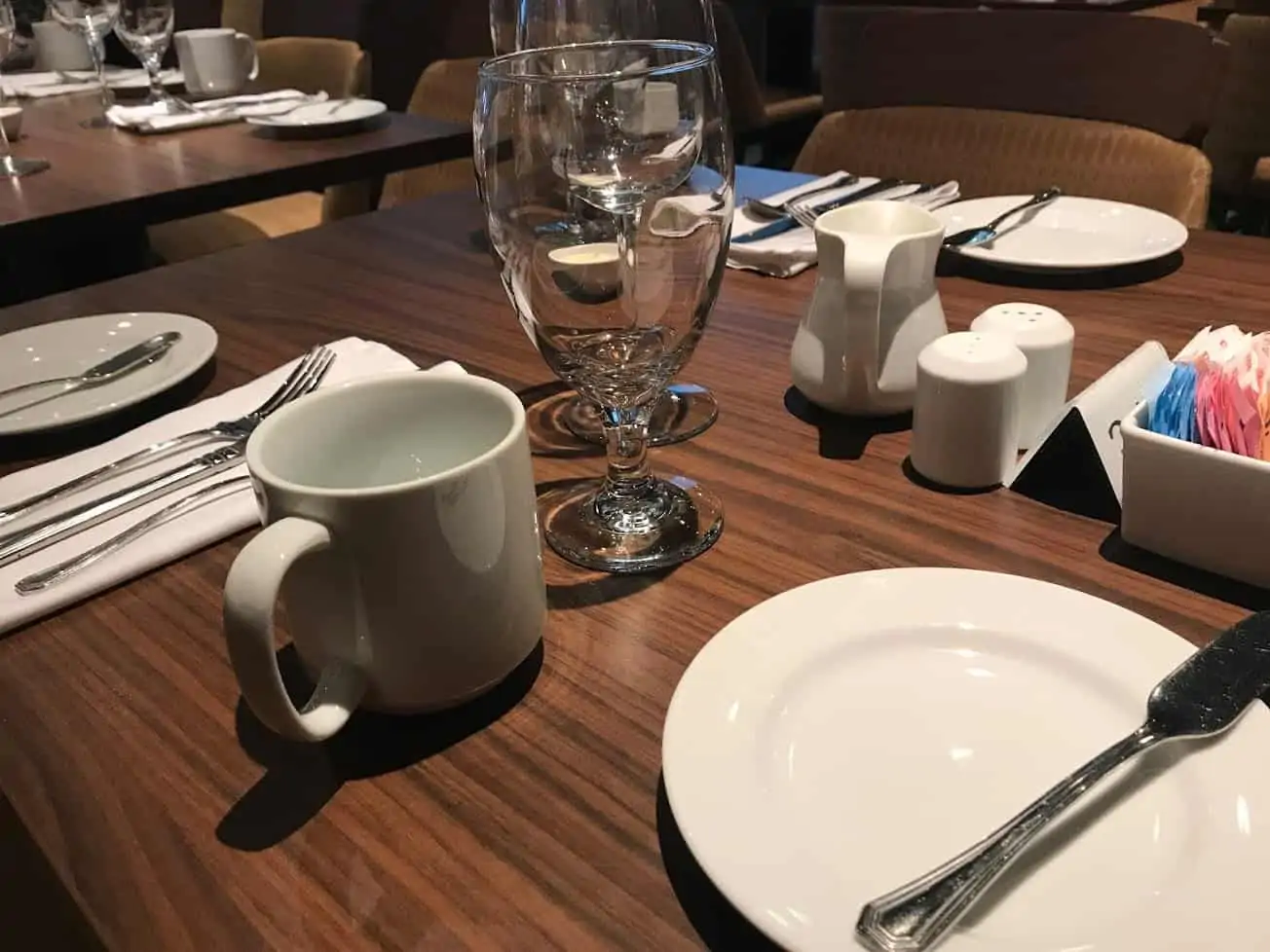 Carnival offers two different dining programs, and you'll generally select one when you book your cruise. Traditional Dining, which allows you to eat at the same table with the same people at the same time each night, is generally served at 6 p.m. and 8:15 p.m.
Your Time dining allows you to decide what time you'd like to eat. But be aware that, because Your Time dining is increasingly popular, you need to request this option as soon as possible. If you find that it's not available on your sailing, check again once you're on board to see if perhaps there are openings.
In 2020, Carnival made a move on its HUB app to allow guests to check in for Your Time dining and receive an alert when the table is ready. This avoids the long lines at the entrance of the dining room.
What Do I Wear?
Carnival breaks dinner up into two evenings: cruise casual and cruise elegant.
Carnival's website says that cut-off jeans, men's sleeveless shirts, tee-shirts, gym or basketball shorts, baseball hats, flip-flops, and bathing suit attire are not permitted in the main dining room.
For men, khakis, collared shirts, and dress slacks are all suitable attire in the main dining room for cruise casual nights. Tuxedos, a sports coat, and a tie are not required, however, cruise elegant is a great photo opportunity and you can dress as fancy as you'd like.
Carnival also lists jeans as forbidden for elegant evenings, but in our experience, they tend to look the other way as long as the jeans are nice. You can read their dining room dress code policy here.
Ladies, don't feel like you have to pack a cocktail dress or evening gown on cruise elegant nights. You'll see women wearing everything from nice skirts to full-blown gowns and tiaras (and yes, we've seen actual tiaras!).
Summer dresses, blouses, casual dresses, pantsuits, and capris are all acceptable for cruise casual nights.
Carnival Main Dining Room Menu Explained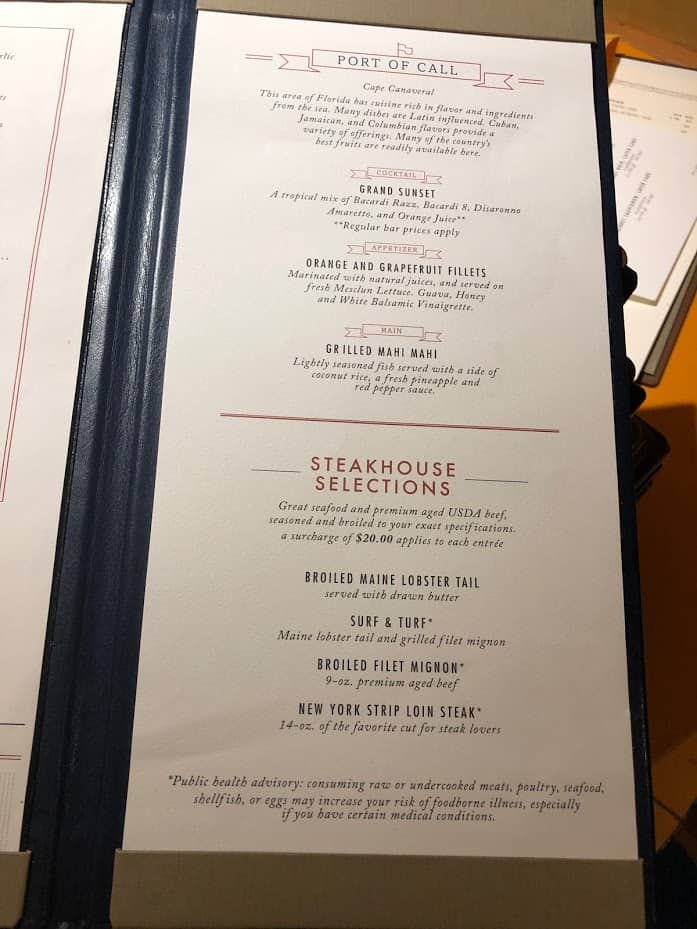 The menu in the main dining room is fairly straightforward, but it can be overwhelming given all the options available. Since we know a lot of people want to know at least the basics of what will be available — and more picky passengers fear there won't be something they like on the menu — we thought it might be useful to take a look at both the American Table and American Feast offerings and break down the menus.
Keep in mind that selections change periodically, so what you'll find below is more an example of what you'll find than a written-in-stone guide.
Appetizers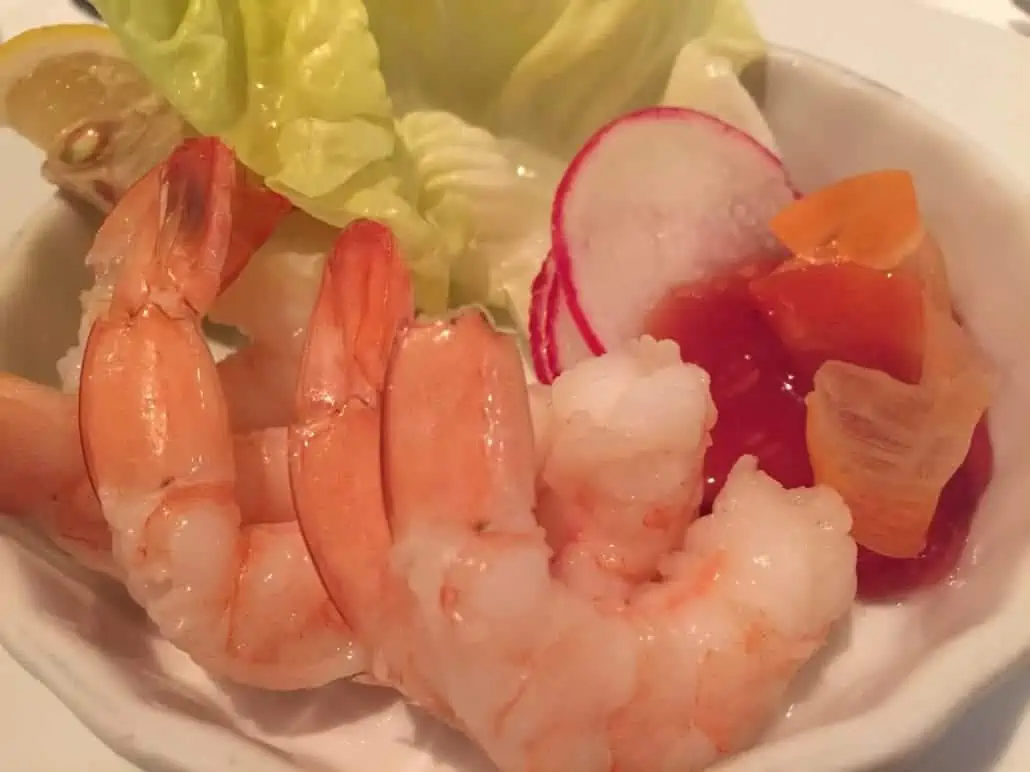 If you're the type of person who loves kicking things off with an appetizer (or three), Carnival's menus have you covered. Generally speaking, you'll find about 10 different options on any given night, with the always-popular shrimp cocktail available every night.
Some of the other tasty treats they offer to start your meal include:
Fried Calamari
Chilled Vietnamese Roll
Strawberry Bisque
Smoked Chicken Quesadillas with salsa
Smoked Poblano and Corn Soup
A variety of salads
Foods You Have Always Wanted To Try, But Haven't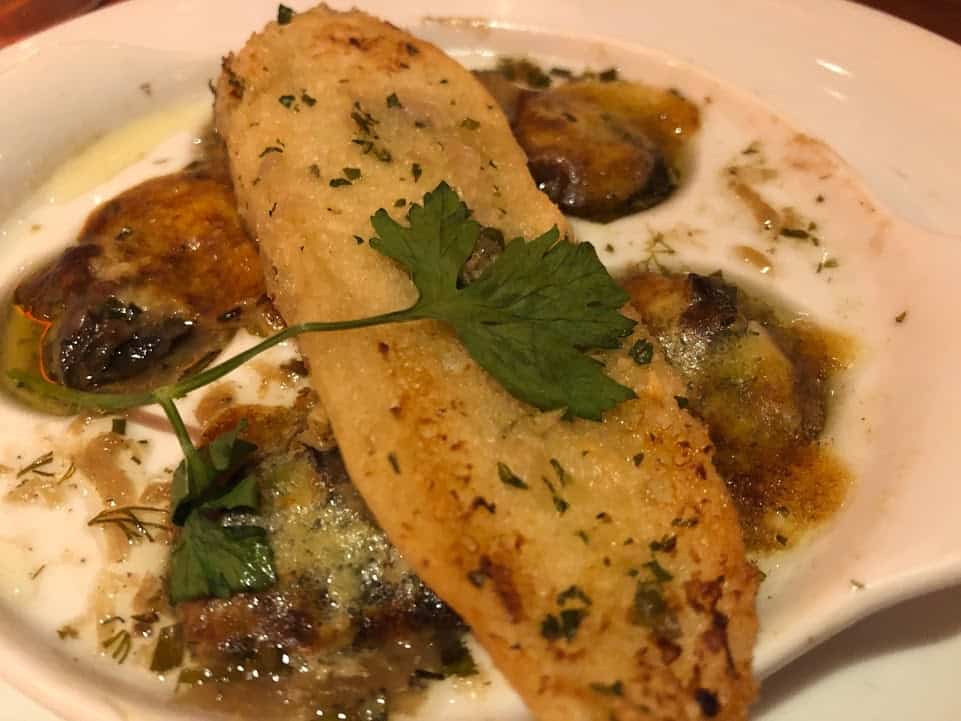 While this is one of our favorite sections of the menu, it's not for everyone.
Finicky eaters, beware! What you'll find listed here are items that, as the name suggests, aren't exactly everyday fare. Found just beneath the appetizers, you never know exactly what you'll discover. But, for folks who are open to trying something new, this is a fun and tasty option.
Some items you will find on this menu are:
Blood Sausage
Escargot (snails)
Alligator Tail
BBQ Pulled Wild Boar
Philadephia Pepper Pot (with Honeycomb Tripe)
Braised Frog Legs
READ MORE: Carnival Cruise Food Reviews
Nightly Entree Menu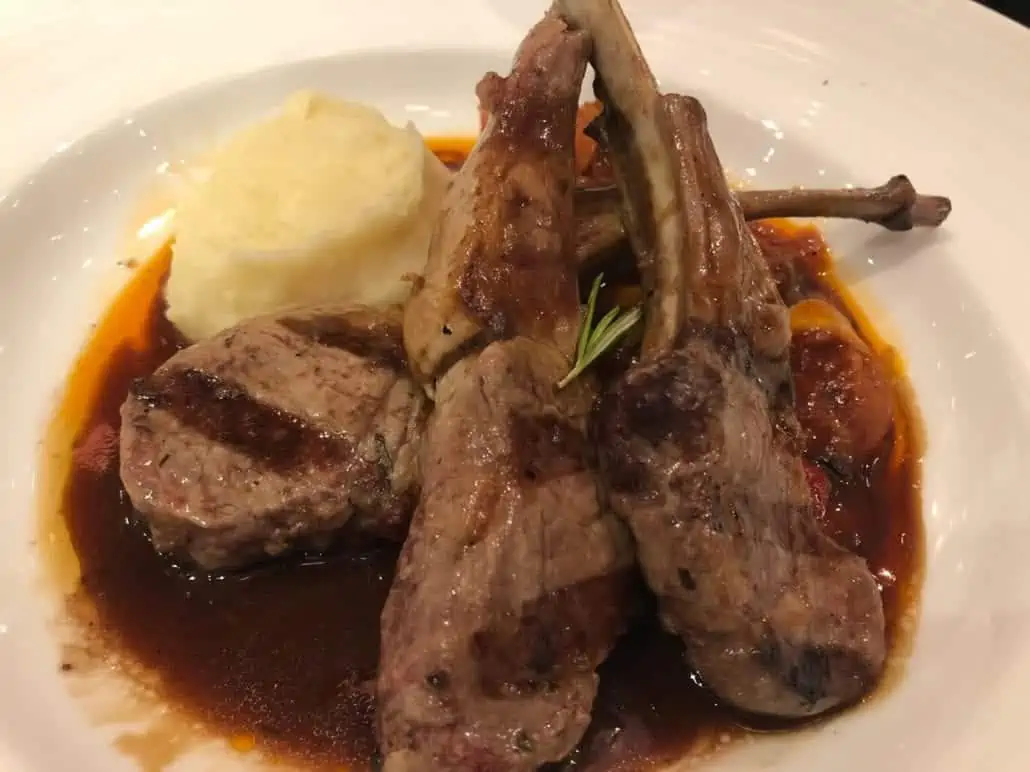 When it comes to entrees, you'll find plenty of options from both land and sea. The portion sizes are generous, but don't be shy if you'd like to order two entrees. As with every menu section, you can feel free to order as much as you like. If there's one department in which the menus might be lacking it's the vegetarian options, which could definitely stand to be beefed up (pun intended).
Some of the entrees you'll find on the menu include:
Veal Parmesan
Pan-Seared Tilapia
Rosemary Lamb Shank
Southern Fried Chicken
Salmon Cakes
Baked Ziti
Crisp Portobello Mushrooms
A Featured Indian Vegetarian dish (lentils, basmati rice, papadam, and raita)
If you're looking to find prime rib and lobster, those are featured on the American Feast menu. So yes, you'll have to dress up a bit if you want your lobster!
From The Grill Menu
If none of the regularly-listed entrees appeal to you on any given night, give this section a look. It offers some great selections, and a bit of variety with the two main items — the beef and fish selections — usually changing daily. Like the other menu sections we've discussed so far, these are also complimentary. People sometimes confuse these for the upcharge items, which we'll discuss a little bit later on.
Here are some menu items you'll find on the From The Grill menu: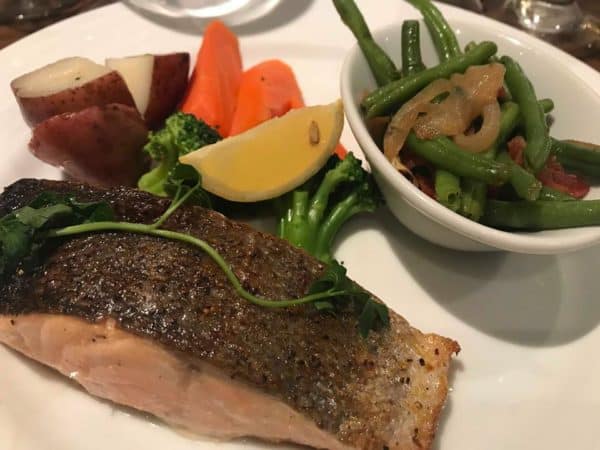 Salmon Filet: Citrus and pepper rubbed salmon served with broccoli, carrots, and red potatoes
Flat Iron Steak: Cooked with herbs and peppers, served with broccoli and baked potato
Chicken Breast: Roasted with garlic and herbs, served with peas and carrots with red potatoes
Pork Chop: Cooked with caramelized onions and served with stewed apples and mashed potatoes
The beef dish comes with a selection of BBQ Sauce, Béarnaise, Peppercorn, or Wild Mushroom sauce.
Side Dishes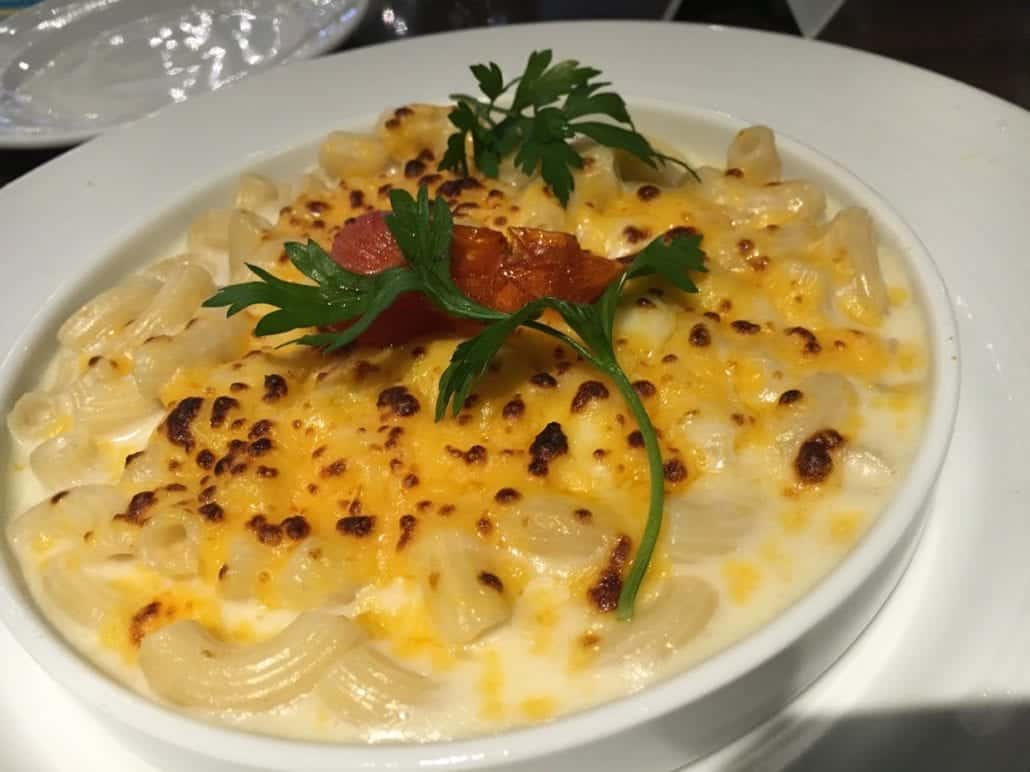 Every night, you'll find six sides offered on the bottom of the main dining room menu. These are served in addition to whatever sides might already come with your meal. They're individual-sized, not family style. So, if you're the kind of person who likes a whole lotta creamed spinach with your beef, make it a double order.
The selections can vary nightly but they typically include items such as these:
Baked Potato
Broccoli, Carrots, and Onions
Mac n' Cheese with Bacon
French Fries
Ratatouille
Creamed Spinach
Port of Call Menu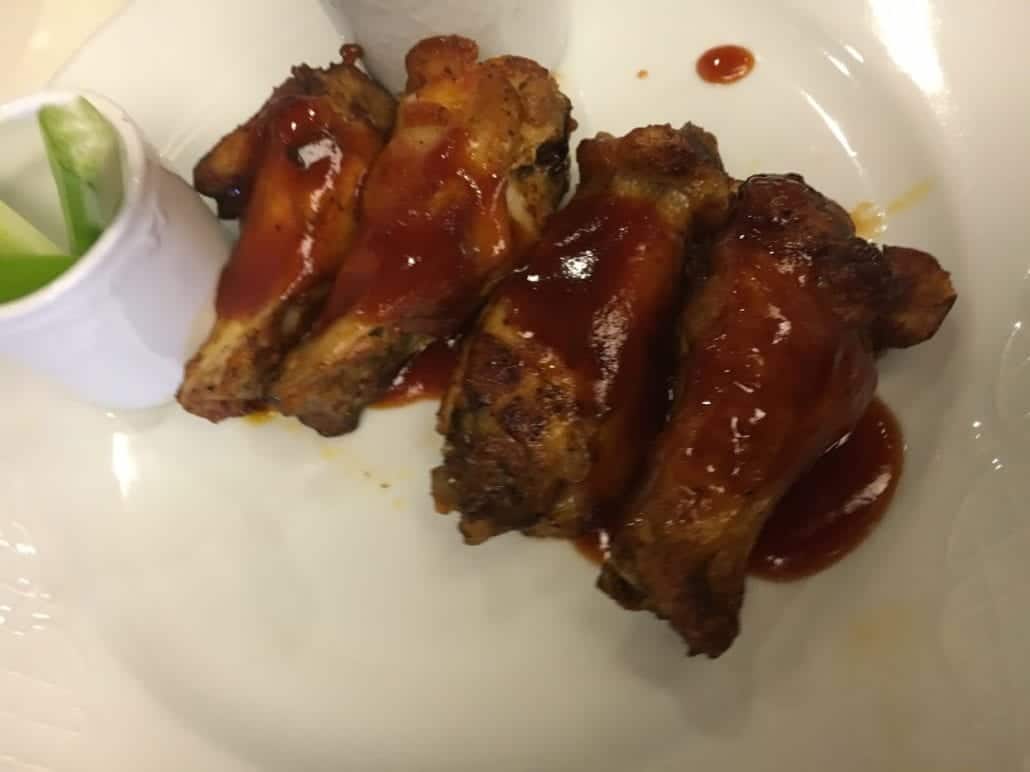 The port menus are unique to every destination. This insert into the regular menu gives you a little bit of information about the port of call, then suggests a local drink, appetizer, and entree that reflects the destination's cuisine. Some days, this section will feature a specific port, and others will be generic (depending on your itinerary and sea days).
Sample Port of Call Menus 
Here's an example of what you might find on the port of call menu.
Port: St. Maarten
The whole island is known for excellent cuisine, partly due to its French influences. Creole, French, and West Indian cooking are particularly renowned. Many other nationalities have influenced the fare on St. Maarten because of its heavily diverse roots.
Featured Drink: Island Martini. A refreshing mix of Bacardi Limon, Pineapple and Orange Juices and a touch of Grenadine. $9.50
Featured Appetizer: Caribbean Bouillabaisse. Local Fish and Seafood in a Saffron Broth with Tomato, Fennel and Sauce Rouille.
Featured Entree: Coq au vin. Chicken Marinated and Cooked in Red Burgundy Wine with Mushrooms, Silver Onions and Bacon, Finished with some aged Brandy.
Steakhouse Selection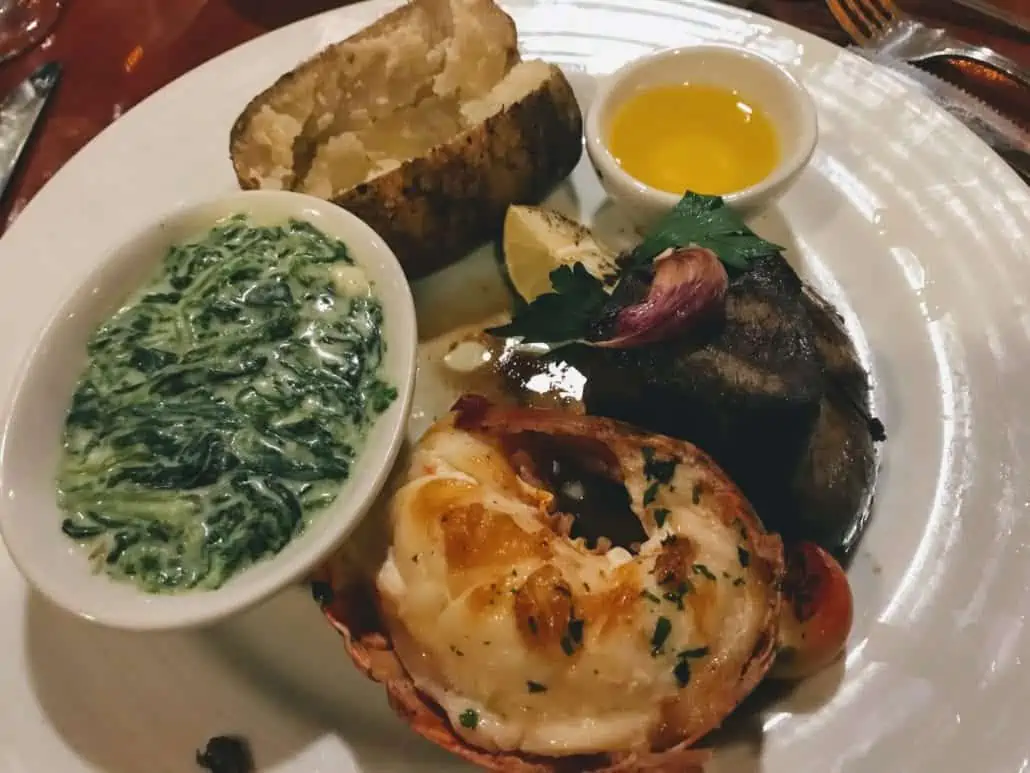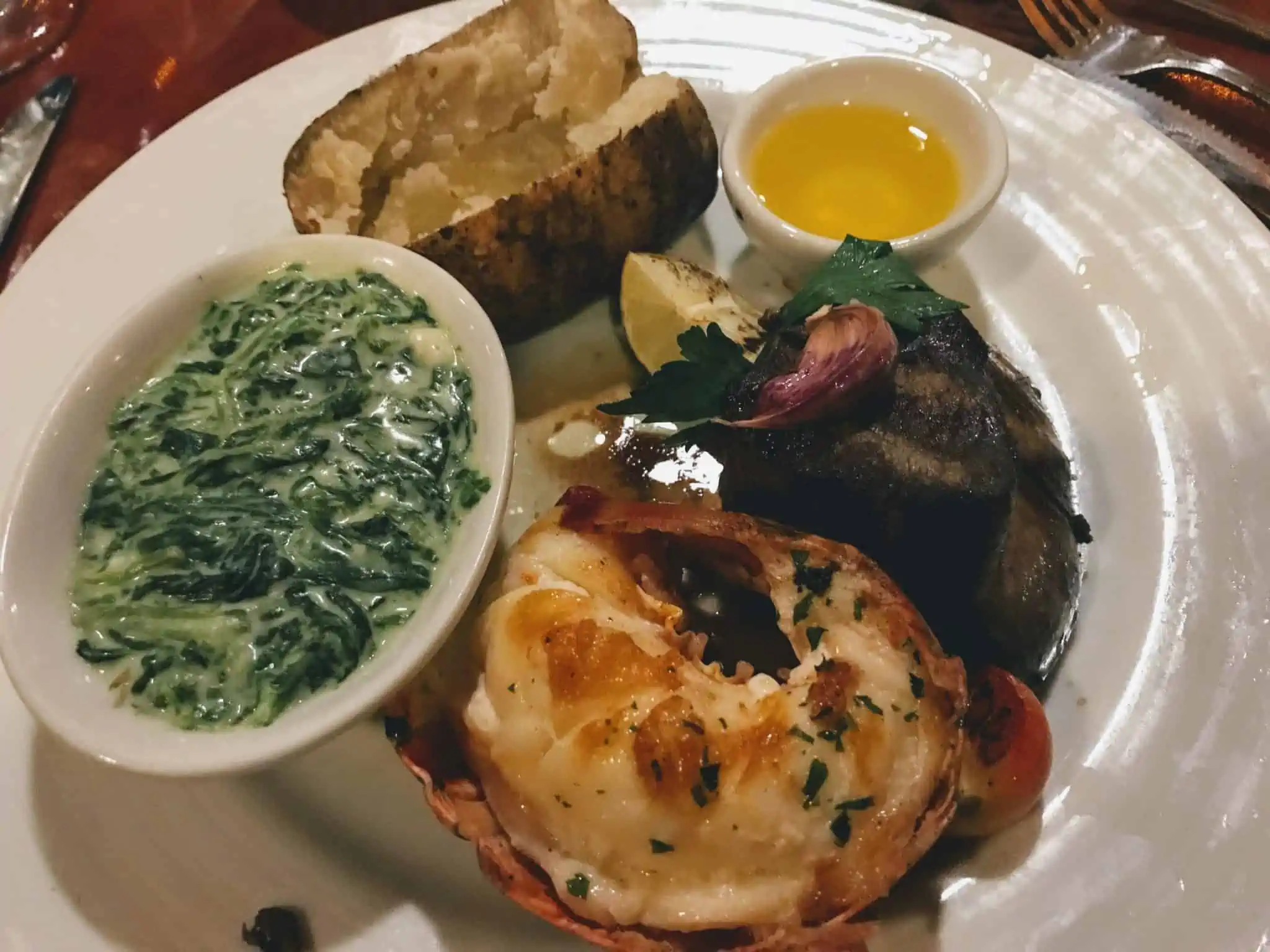 Remember earlier we talked about the for-fee section of the menu? Well, this is it. The Steakhouse Selection is available for a $20 upcharge and offers guests a chance to get a cut of beef served in the steakhouse while eating in the main dining room. This is a great option for people who want a great steak, but might be dining with someone who doesn't want to pay the extra fee. The steakhouse selections are available across all of their cruise ships.
Featured items here generally include:
Broiled Maine Lobster Tail served with drawn butter
Surf & Turf, Maine Lobster Tail with Grilled Filet Mignon
Filet Mignon, 9 oz premium aged beef
New York Strip Loin Steak, 14-oz
Dessert Menu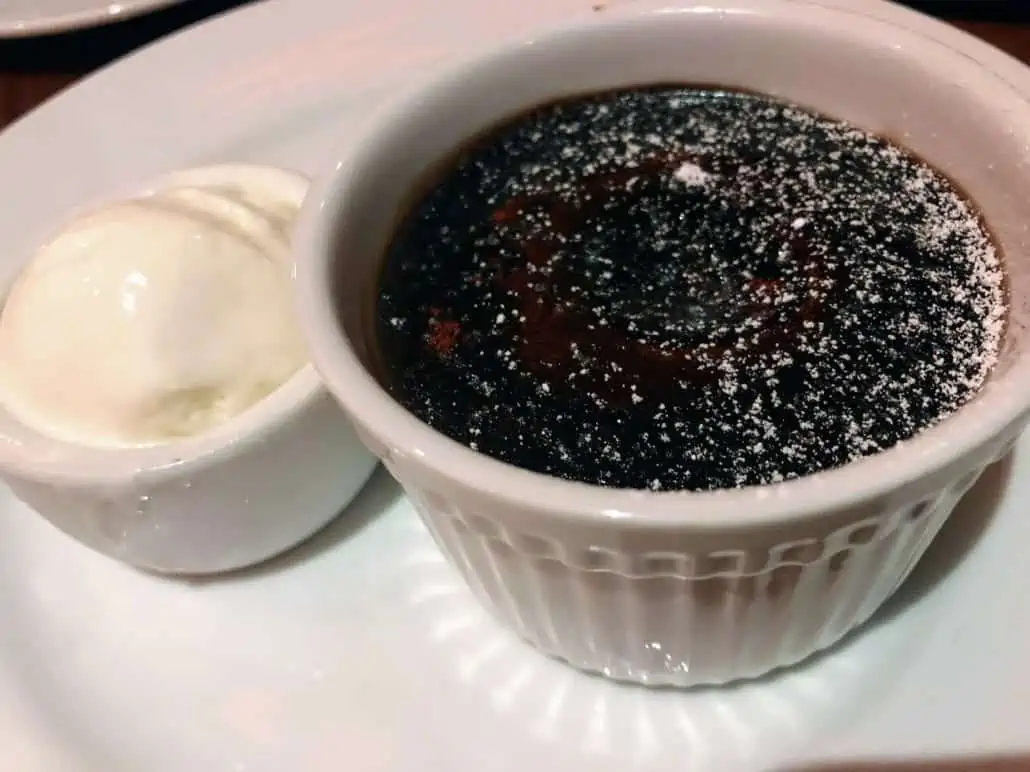 If you're the type of person who can't help but immediately look at the desserts before even considering your appetizers or entrees, don't freak when you notice there aren't desserts listed. They'll come on a separate menu delivered by your server at the end of the meal.
In the main dining room, the dessert menu consists of three selections that rotate every night, and three additional items that are always featured. And yes, the famous Carnival Melting Chocolate Cake is available every night! One of the selections offered each night is usually a low-cal, no-sugar treat. There are also coffees and teas available to complement your dessert.
Sample dessert menu
Some examples of desserts you might find on the menu are:
Boston Cream Cake
Orange and Almond Baked Cake
Chocolate and Cheese Brownie
Carnival Melting Chocolate Cake
Fresh Tropical Fruit Plate
Cheese Plate
Selection of Ice Creams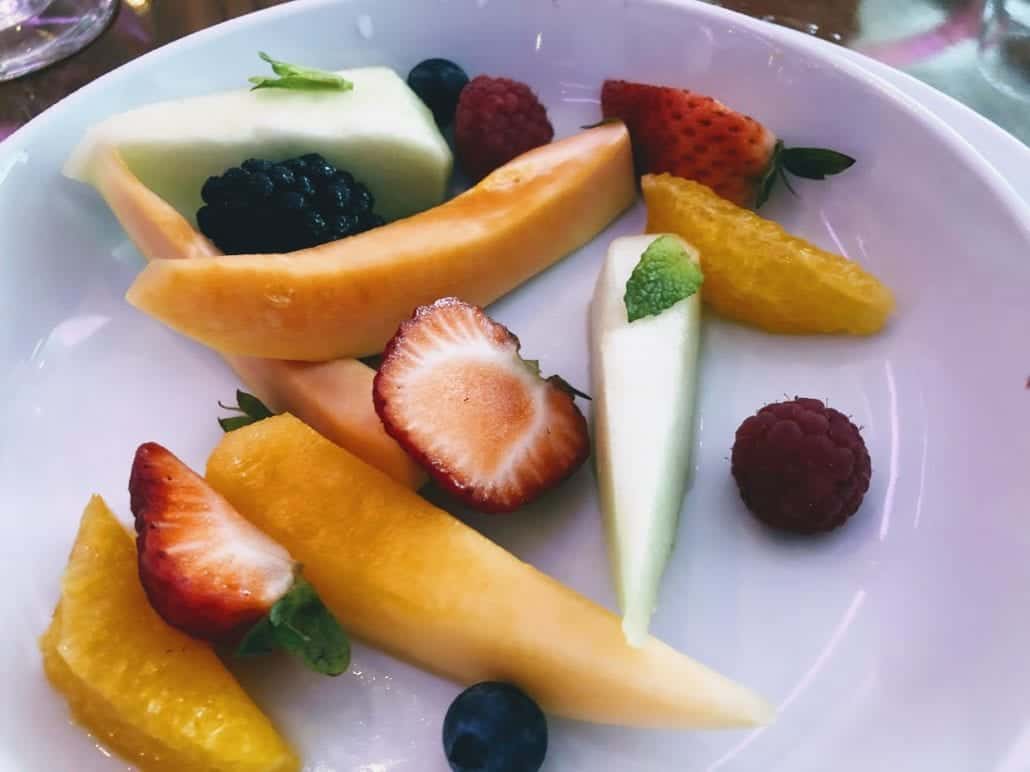 Not too long ago, Carnival brought Baked Alaska back to their ships. It's normally served on the final night of the cruise. And if a banana split is more your speed, ask to see a kid's menu. Trust us, the waiter won't judge you. He may tease you a bit, as might your family, but he won't judge you.
For an added cost, you'll find a selection of dessert drinks listed on the bottom of the menu, along with cappuccinos, lattes, espressos, and the "Art of Tea" selection.