If you've been reading my daily Carnival Magic trip reports, you'll remember that last night before hitting the sack, I ordered room service. I placed my order at 11:00 p.m. and it arrived at 11:50 p.m. and while it wasn't the quickest of deliveries, it sure hit the spot. I also didn't mind waiting for the food because this was the final night and that meant that once I ate and went to sleep, it would be time to wake up and get off the ship. On the other hand, I really probably shouldn't have had a food orgy right before going to bed.
Last Night's Room Service
So how was everything? The chicken wings ($5) were good and not too spicy, although they would've been better served hot. They were lukewarm at best.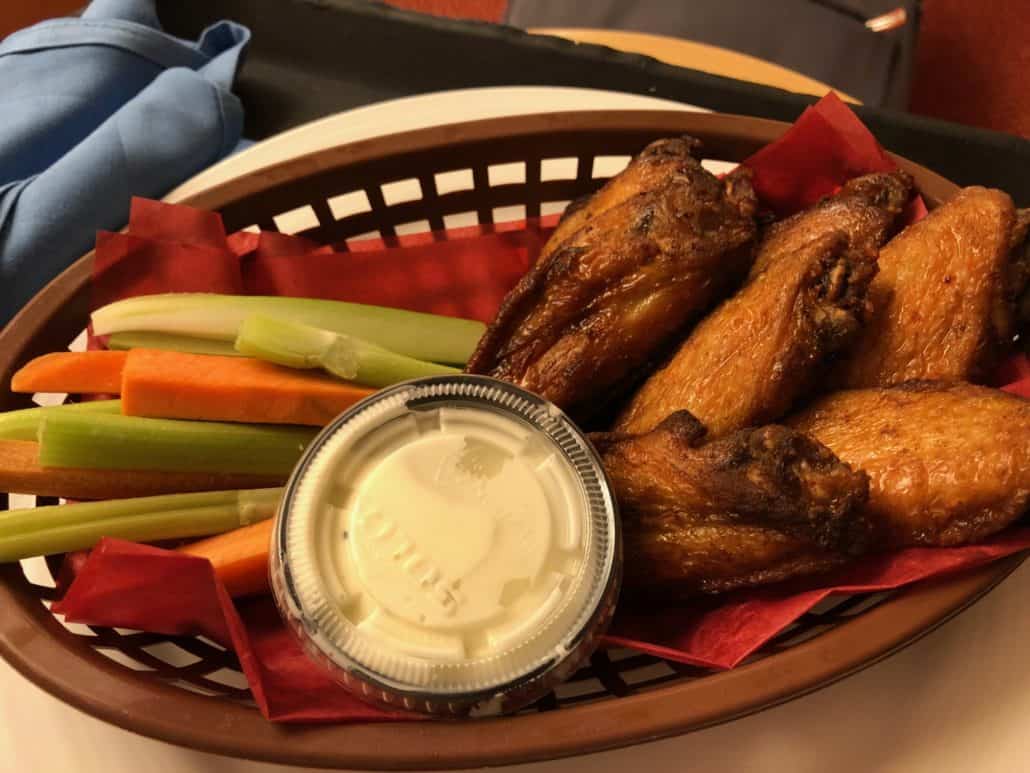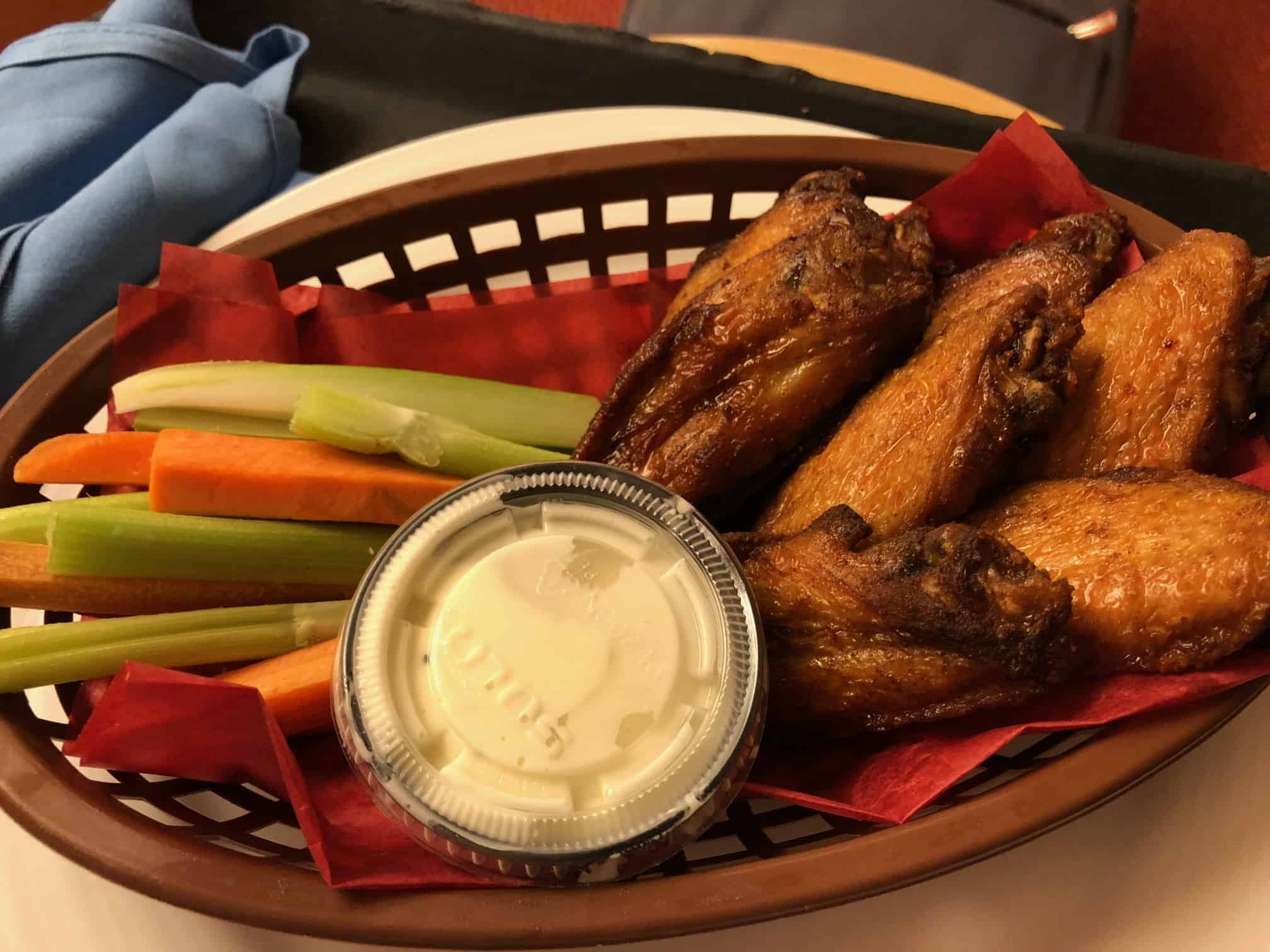 The chicken quesadilla ($5) was also good (although it didn't have much kick to it), and it was served with sides of guacamole and salsa.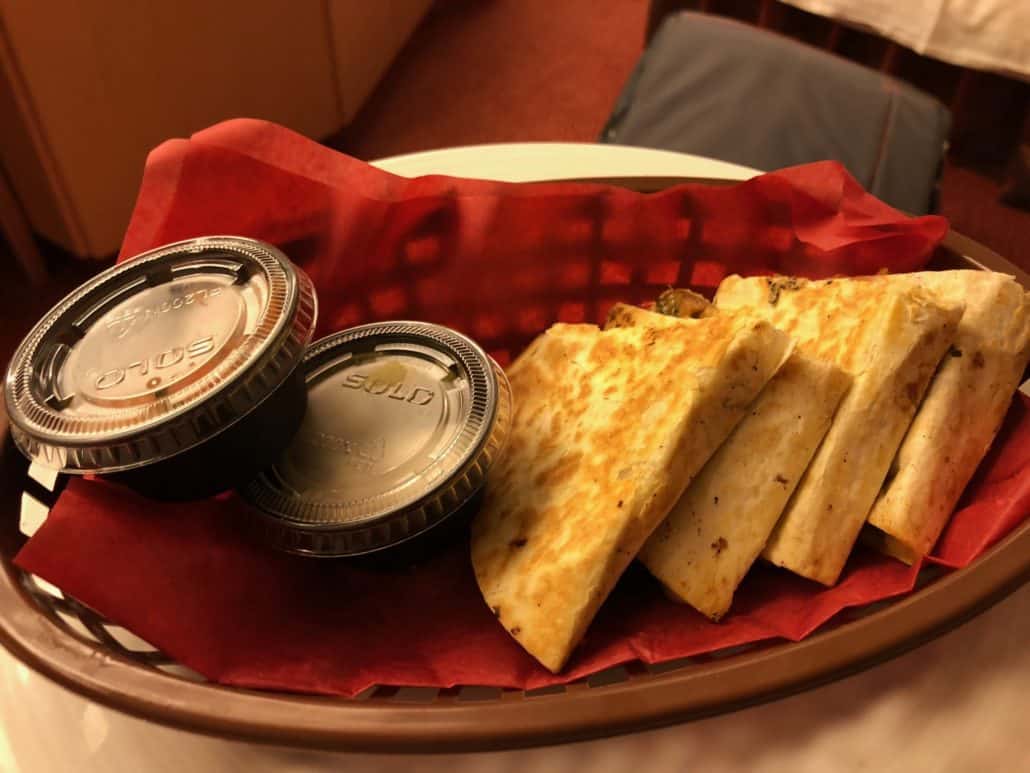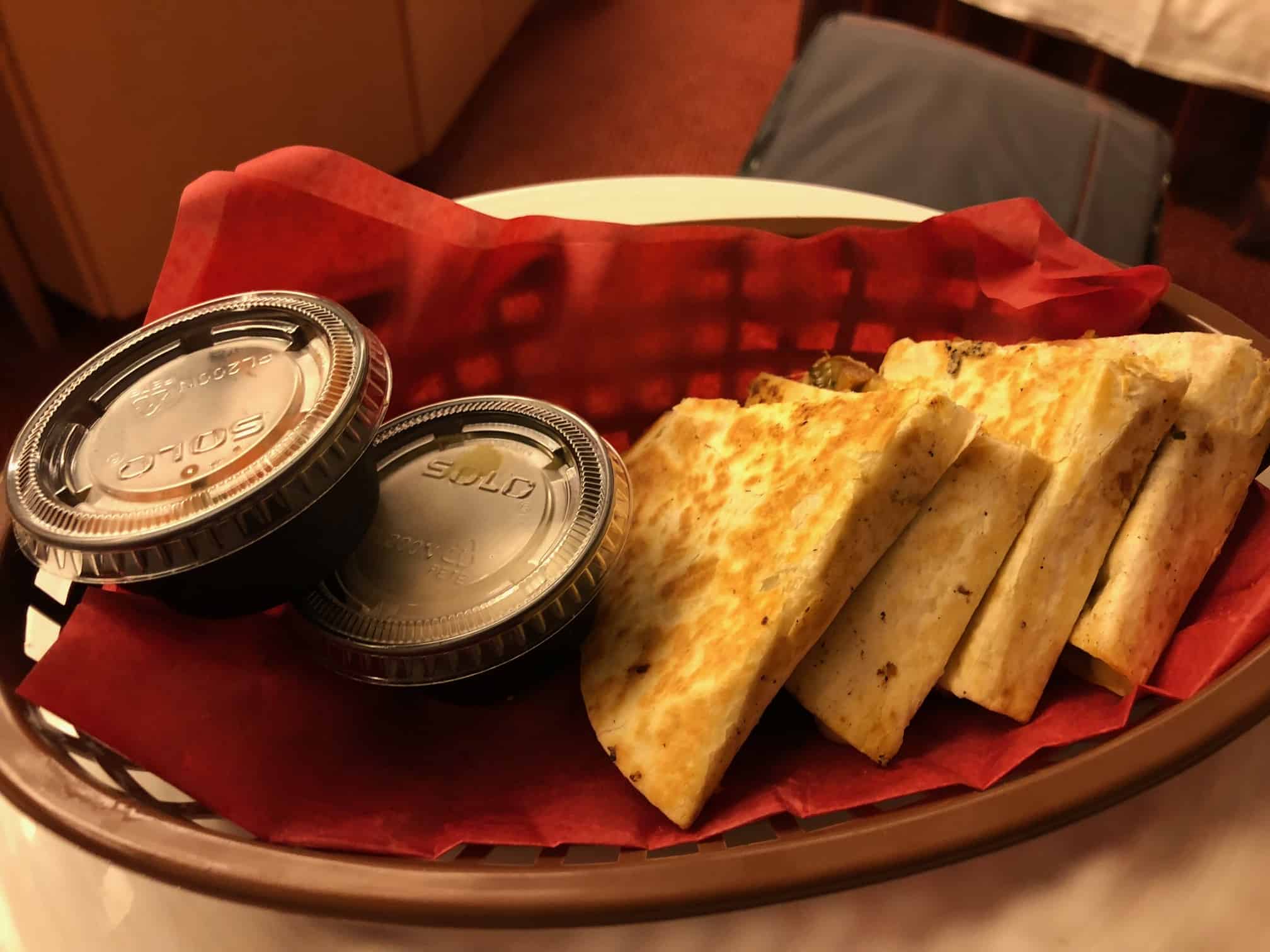 And then there was the doughnut sandwich ($3). To be honest, I thought it was going to be something completely different from what it turned out to be. I was picturing meat in the middle of it, although in hindsight, that would probably have been weird… especially for something listed on the dessert menu! Instead, it was a strawberry glazed doughnut cut in half and stuffed with sliced strawberries, chocolate, and vanilla ice cream, served with a side of strawberry glaze.  I wound up licking the icing off and eating the strawberries but didn't actually eat the doughnut.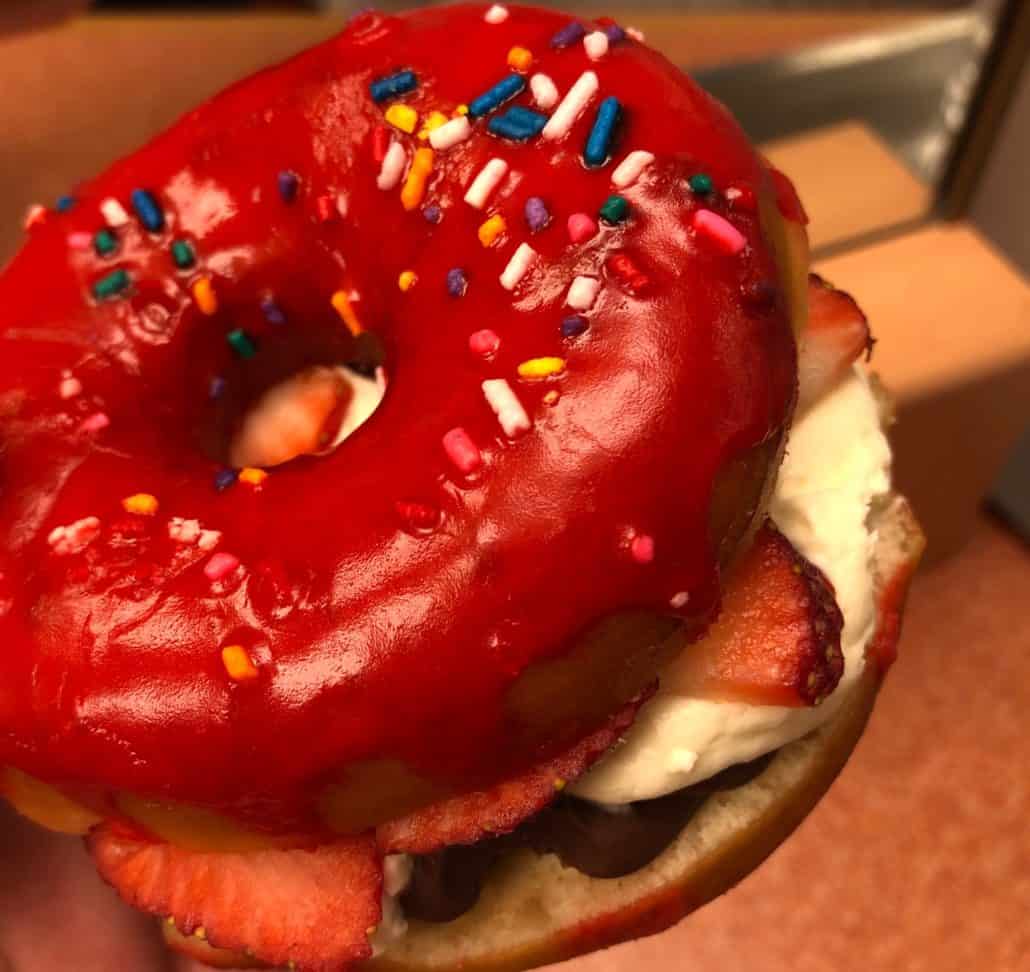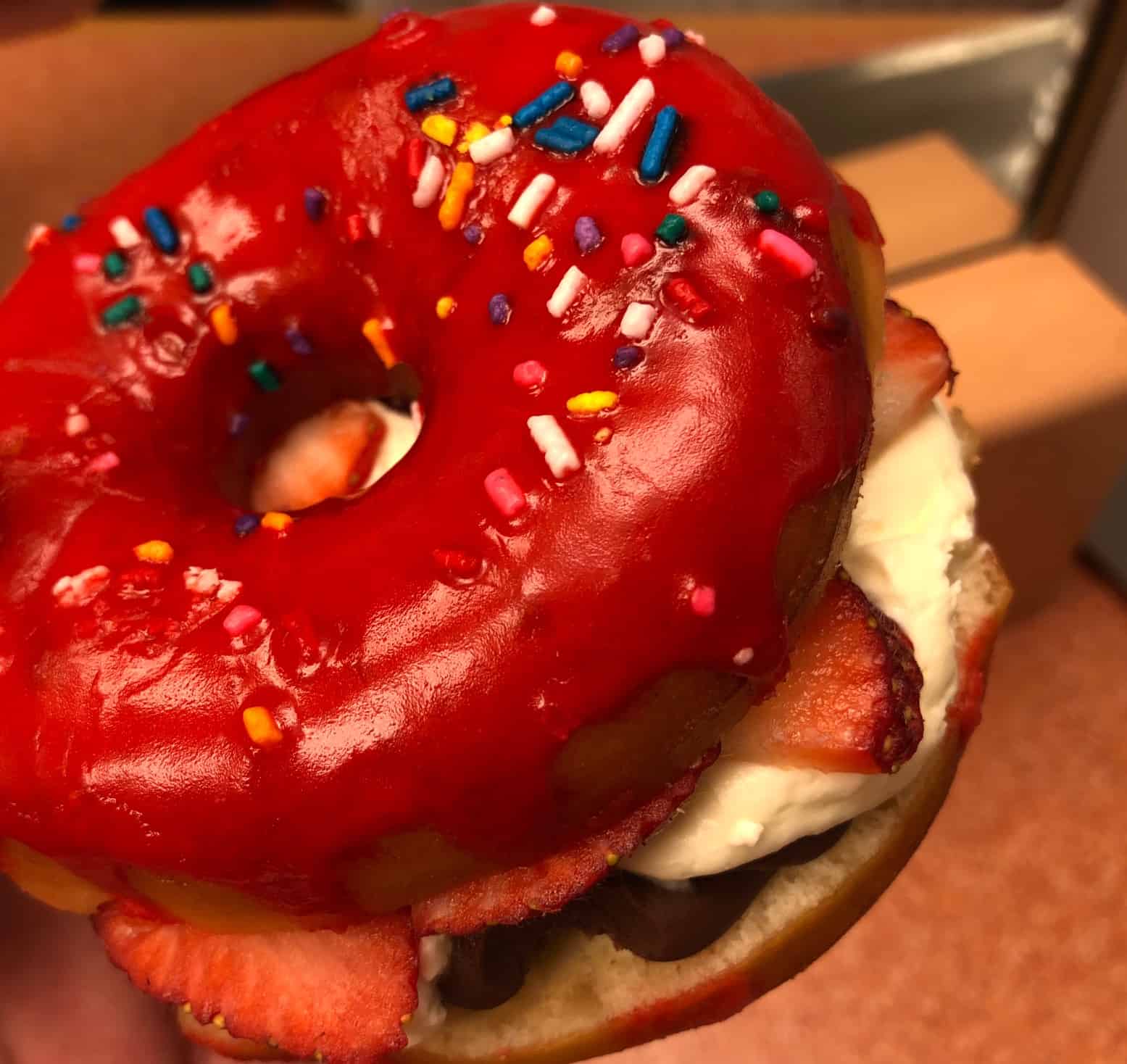 When you order room service on Carnival, the receipt gives you the option of adding a tip, which comes in handy if you don't happen to have a couple bucks to slip the delivery person. I considered only tipping a buck since it took quite a while for the food to arrive, but I know how hard these guys work and how understaffed their departments can sometimes be. Plus, I always feel like you kind of have to be generous with the people who are literally bringing food directly to your door.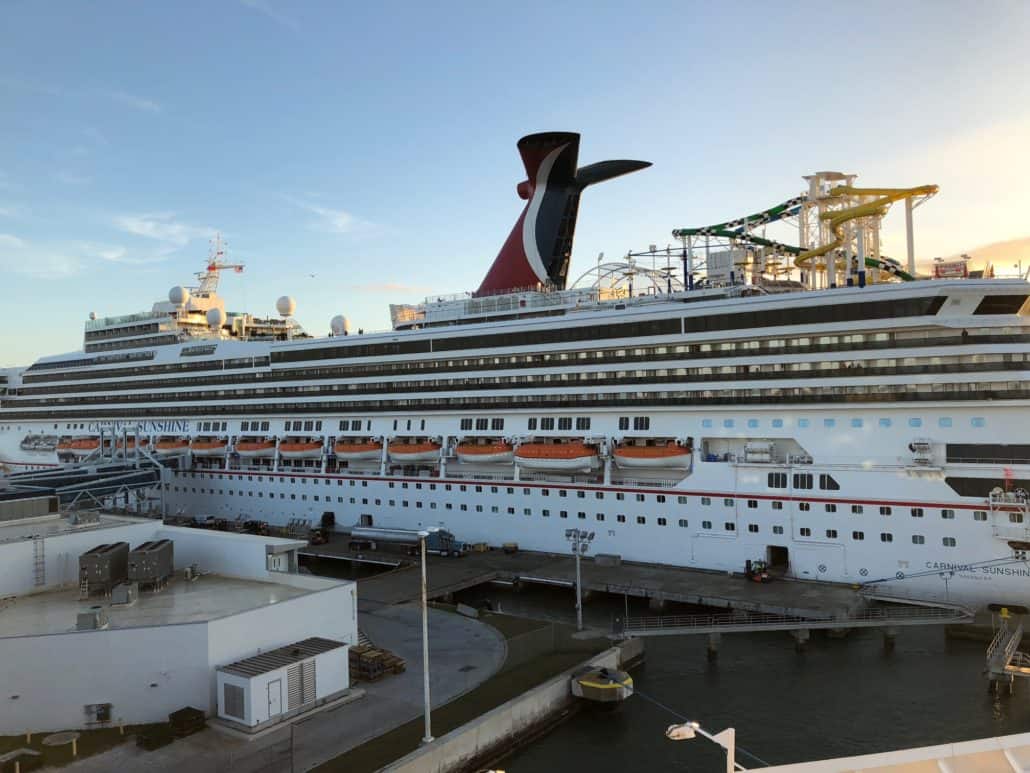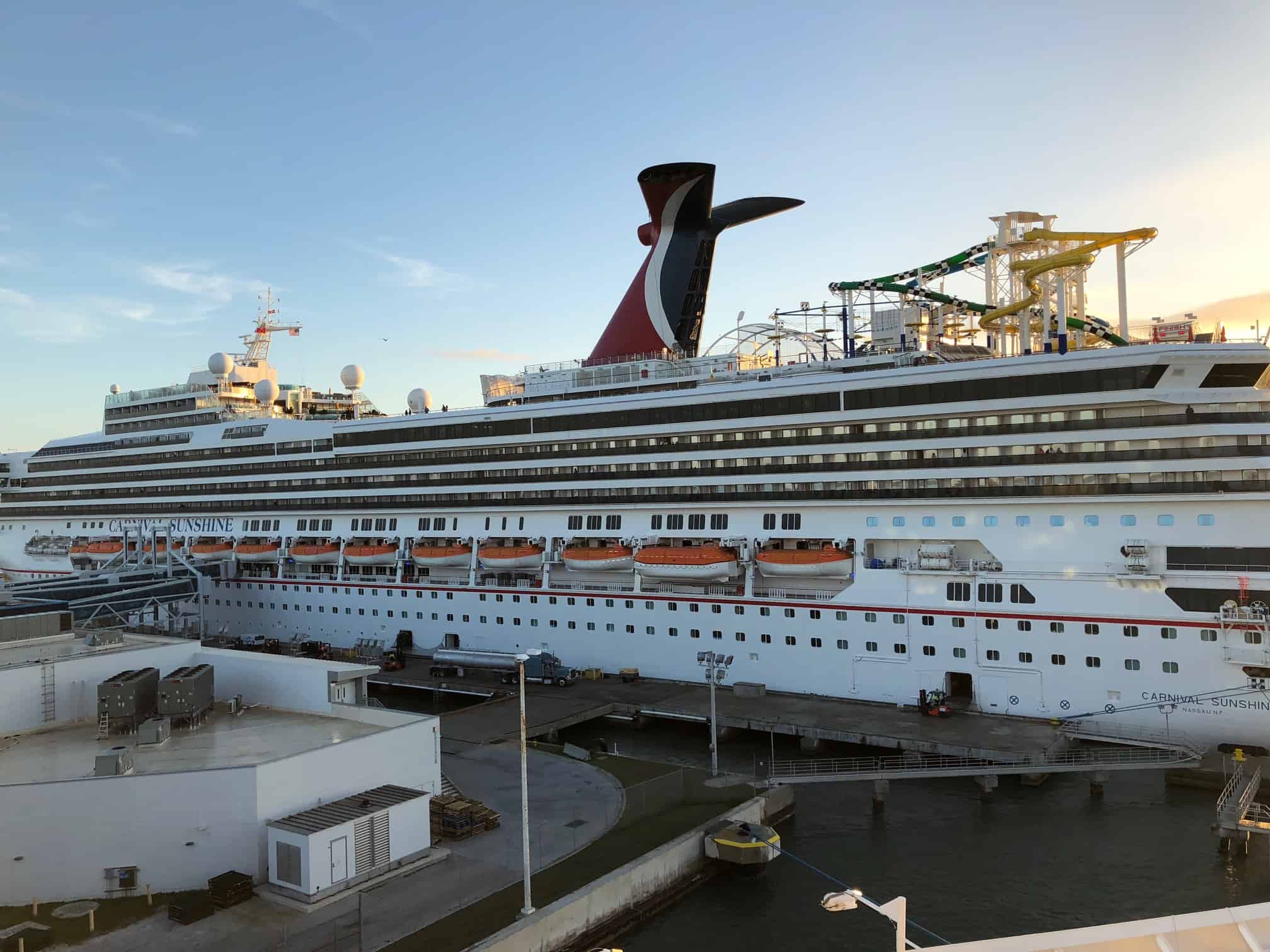 This morning I woke up just as we were pulling into port. We wound up docking next to the Disney Fantasy and Norwegian Epic. By the next time I looked out the window, the Carnival Sunshine had also arrived. And that was when it hit me… the cruise was over. No more Fun Days at Sea. No more awesome excursions, nothing. Pretty much the only thing I had to look forward to was the fact that before leaving home, I'd made my bed.
When it comes to embarkation, you can either do self-assist (meaning you can walk off with all your bags and as the name implies, no assistance from the staff) or have them pick up your bags the night before and you reunite with them once off the ship. I almost always opt for self-assist and this was no different… although I wasn't about to leave the ship without grabbing one last breakfast.
Heading To Breakfast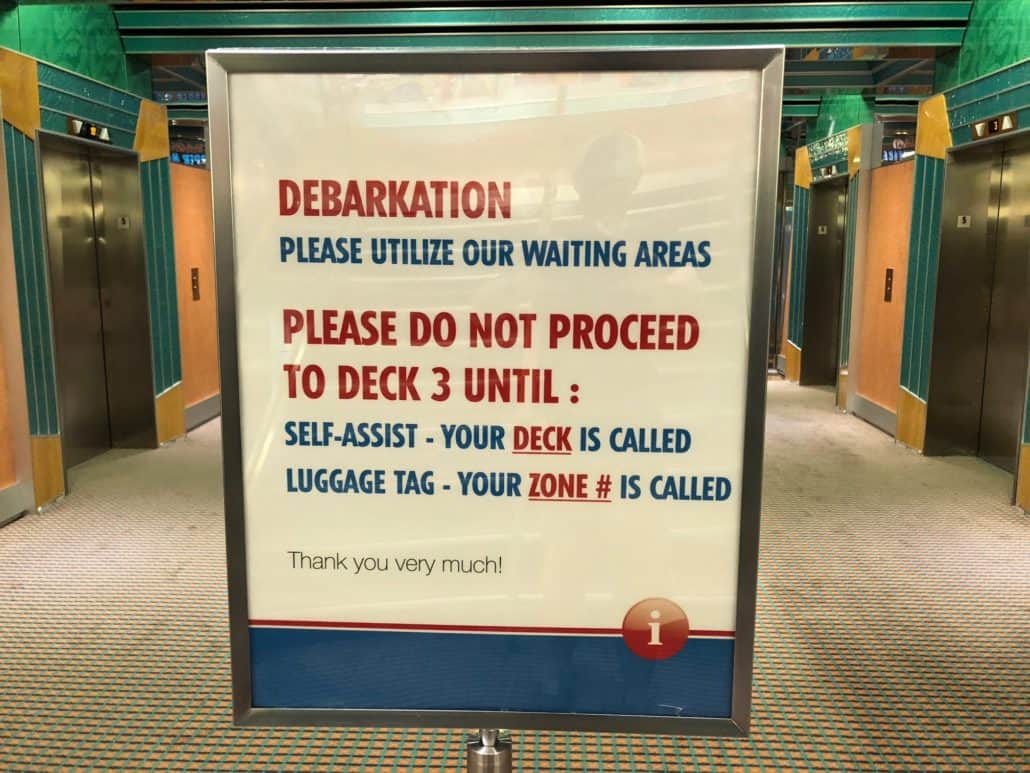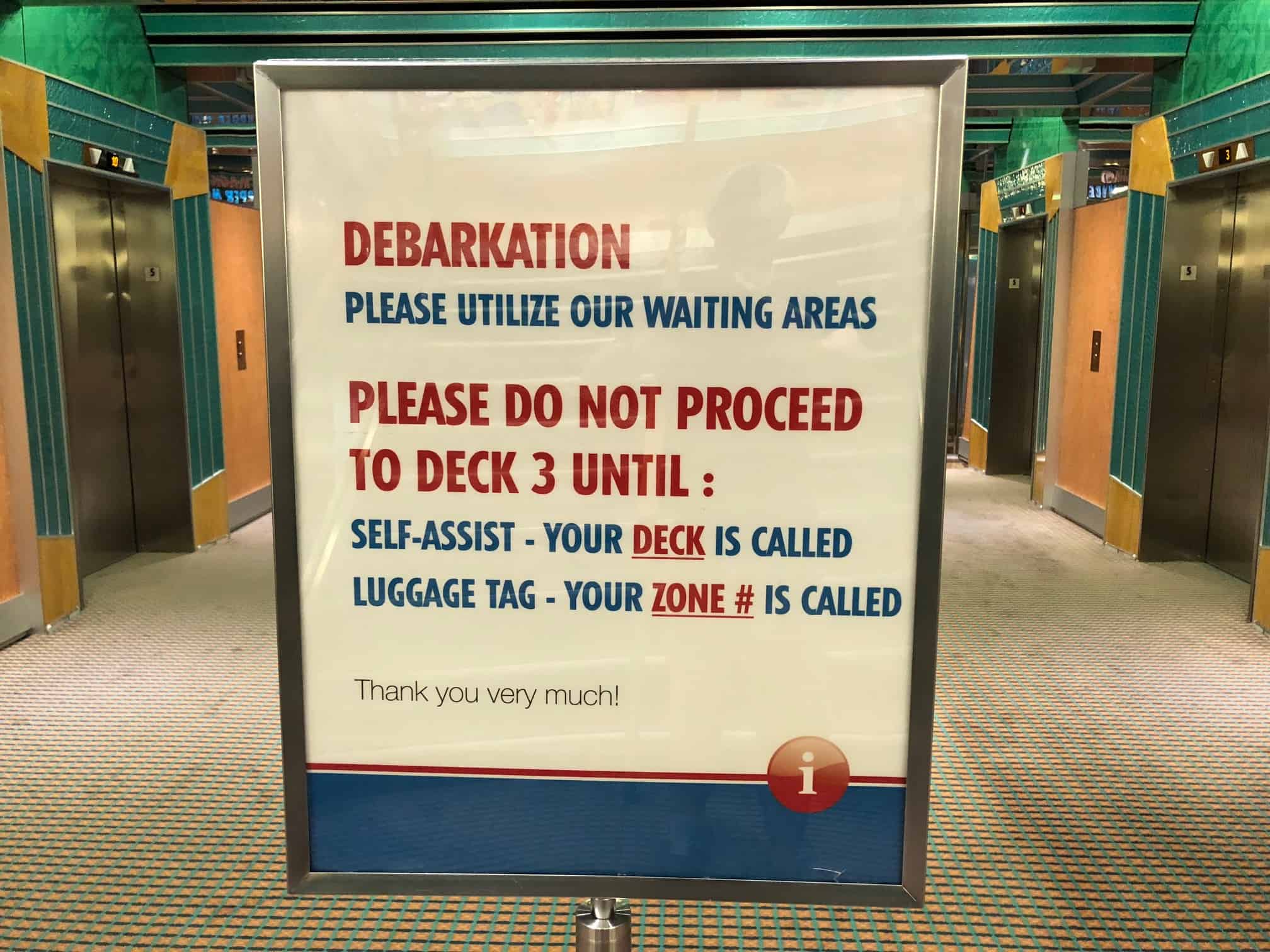 My long-standing ritual is to hit the main dining room before disembarking, if only so I can take advantage of one final opportunity to have someone else make and present me with breakfast. So when the dining room opened at 6:30 a.m. — an hour before self-assist debarkation was set to begin — I was pretty much the first one in line. (On my way to breakfast, I noticed my room steward in the hallway and told him if he wanted to go in and strip the cabin, I was done in there. Sure enough, by the time I returned to pick up my bag, he'd done his thing. It's incredible how quickly they are able to turn the ship over for the next group of passengers, isn't it?)
I strayed from my usual cracked egg sandwich off the port day menu, instead going with salmon on a bagel and a cup of coffee. One thing I forgot to do on this cruise was use the free drink coupon they offer returning guests. I don't even know if you can use it on debarkation morning, but I wasn't going to try since I'd be driving in less than an hour.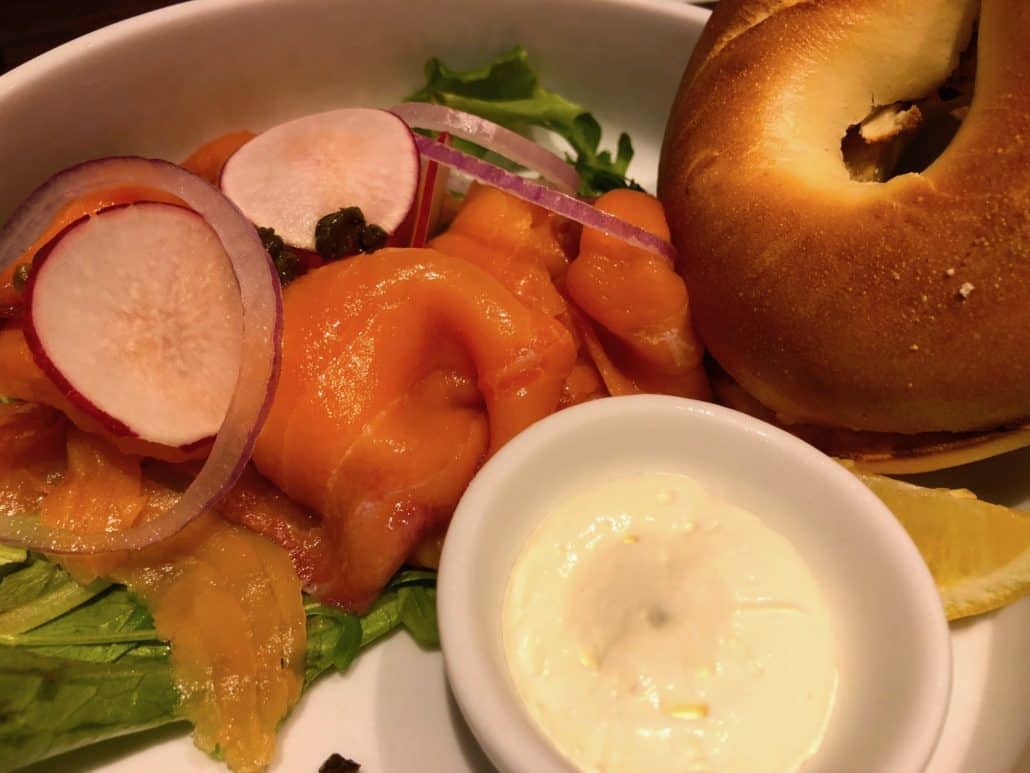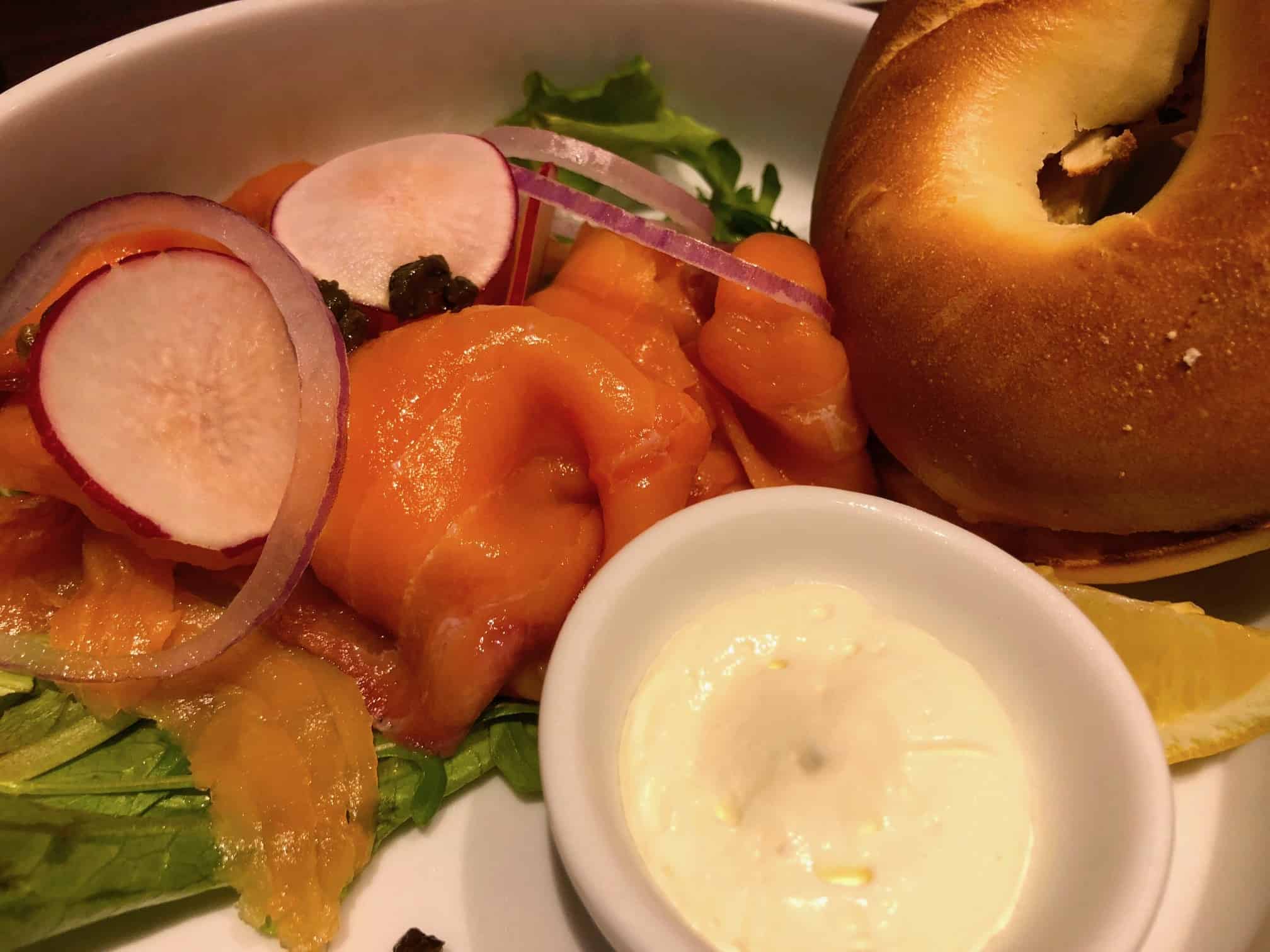 Breakfast service was fast. It's funny how on top of their game the wait staff is on debarkation morning, because they know it's all about the turn-and-burn. By 11 a.m., they need to have the dining room ready for the 4,000 guests anxious to start their vacations!
After breakfast, I ran up to my stateroom on deck six to grab my bag and headed downstairs. Props to the debarkation team, because it was flawless. I carried my luggage down to deck three and joined the quickly-moving line. A quick swipe of my sail and sign card and I was making my way down to the customs area. Just that quickly, my sail-and-sign card went from my all-access pass to a very expensive souvenir.
We didn't need to fill out a blue customs form, so all we needed was our passport and luggage when we got to the customs agent. A few questions later, and you're on your way.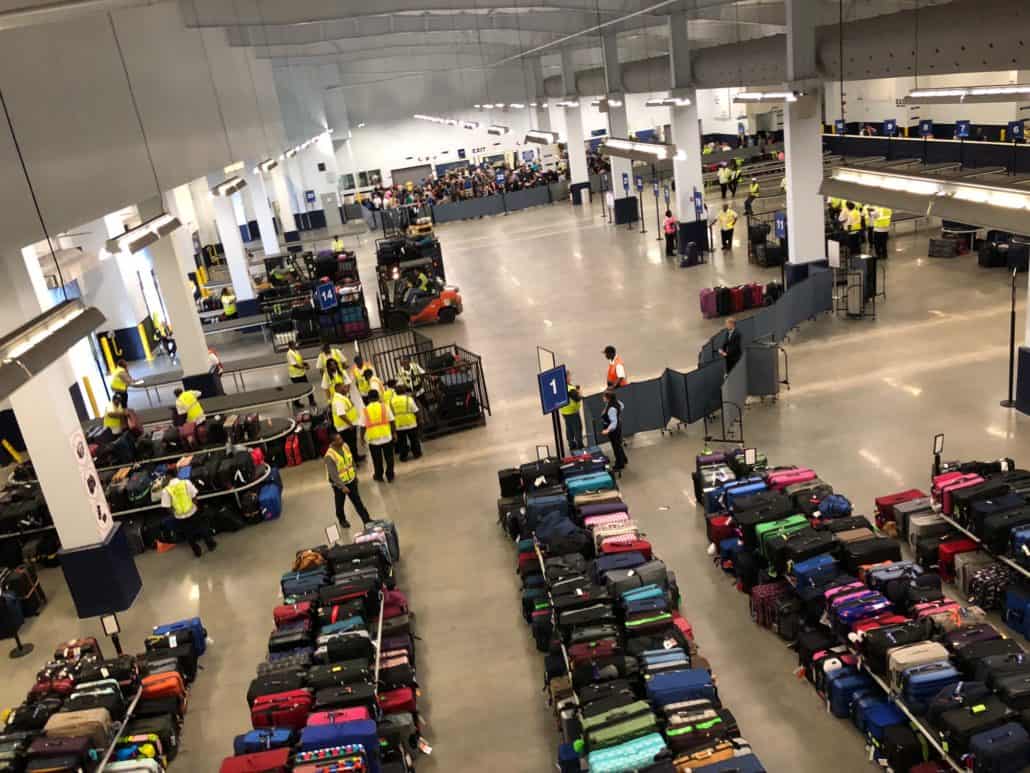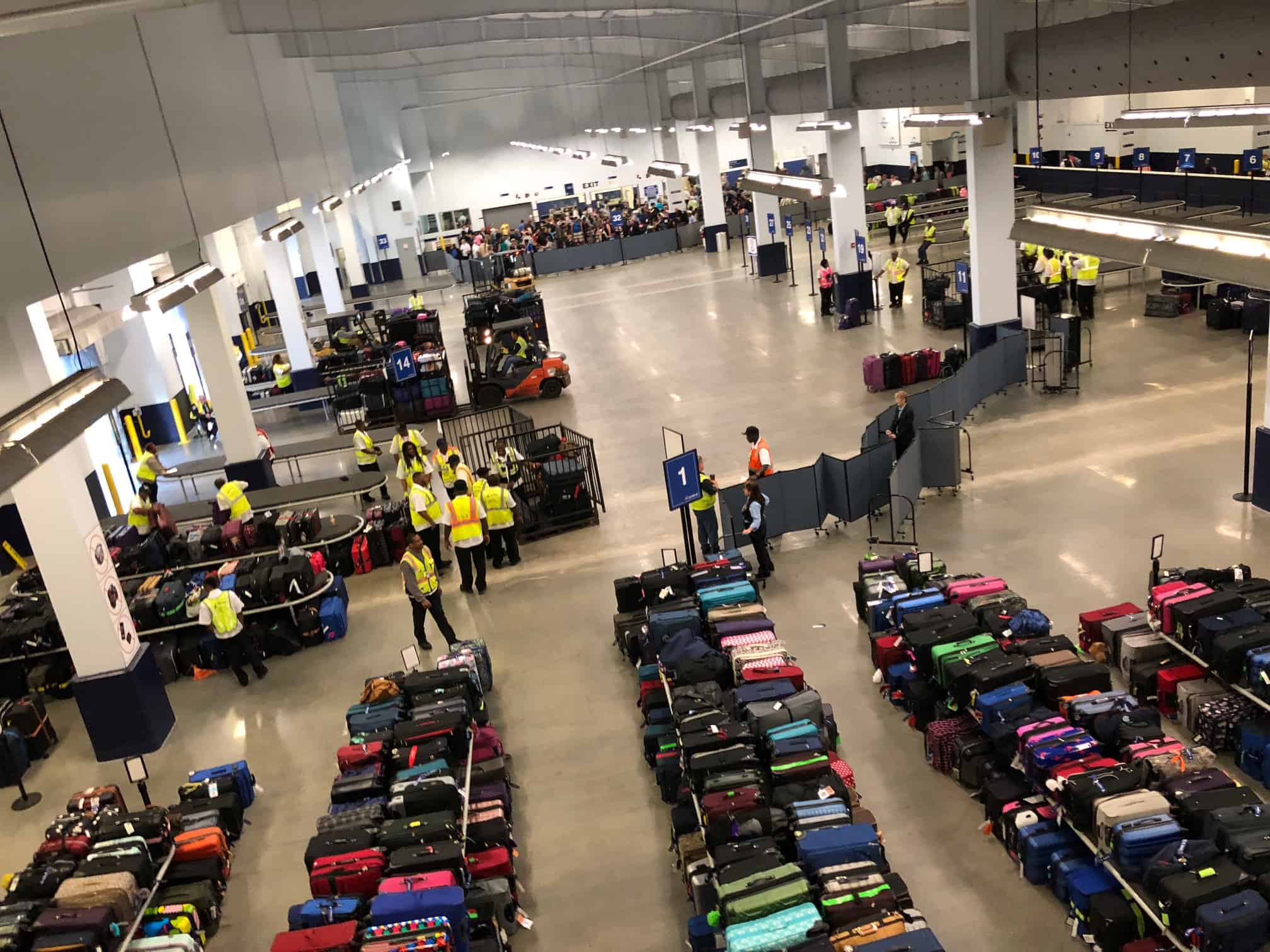 In total, it took me 26 minutes to get off the ship and to my car. The parking situation has changed since last I sailed out of Port Canaveral. At that time — last fall —  I prepaid for parking at the gate before I was allowed into the lot. They have reversed the process now, so you have to wait until after your cruise before paying. Frankly, that seems like a bad idea. Do they realize that ships have casinos and bars and all sorts of other places in which a passenger could really easily spend all their money? Get that cash up front, rather than risk them coming off with empty pockets. Parking for a seven-night cruise was $136.
More To Come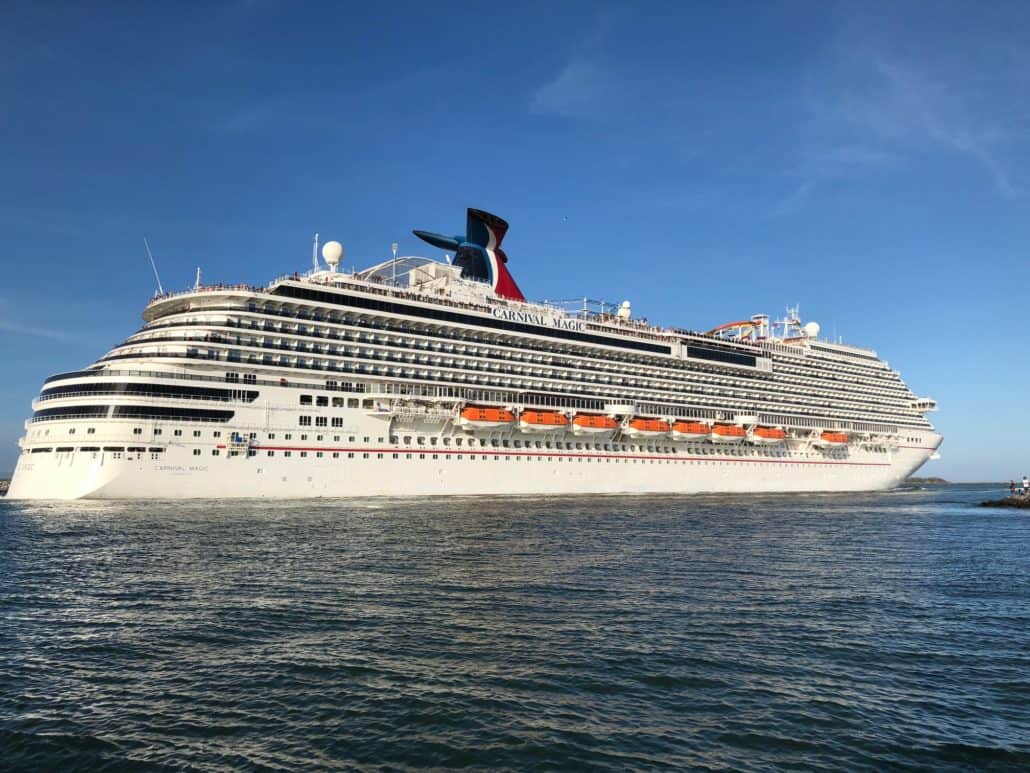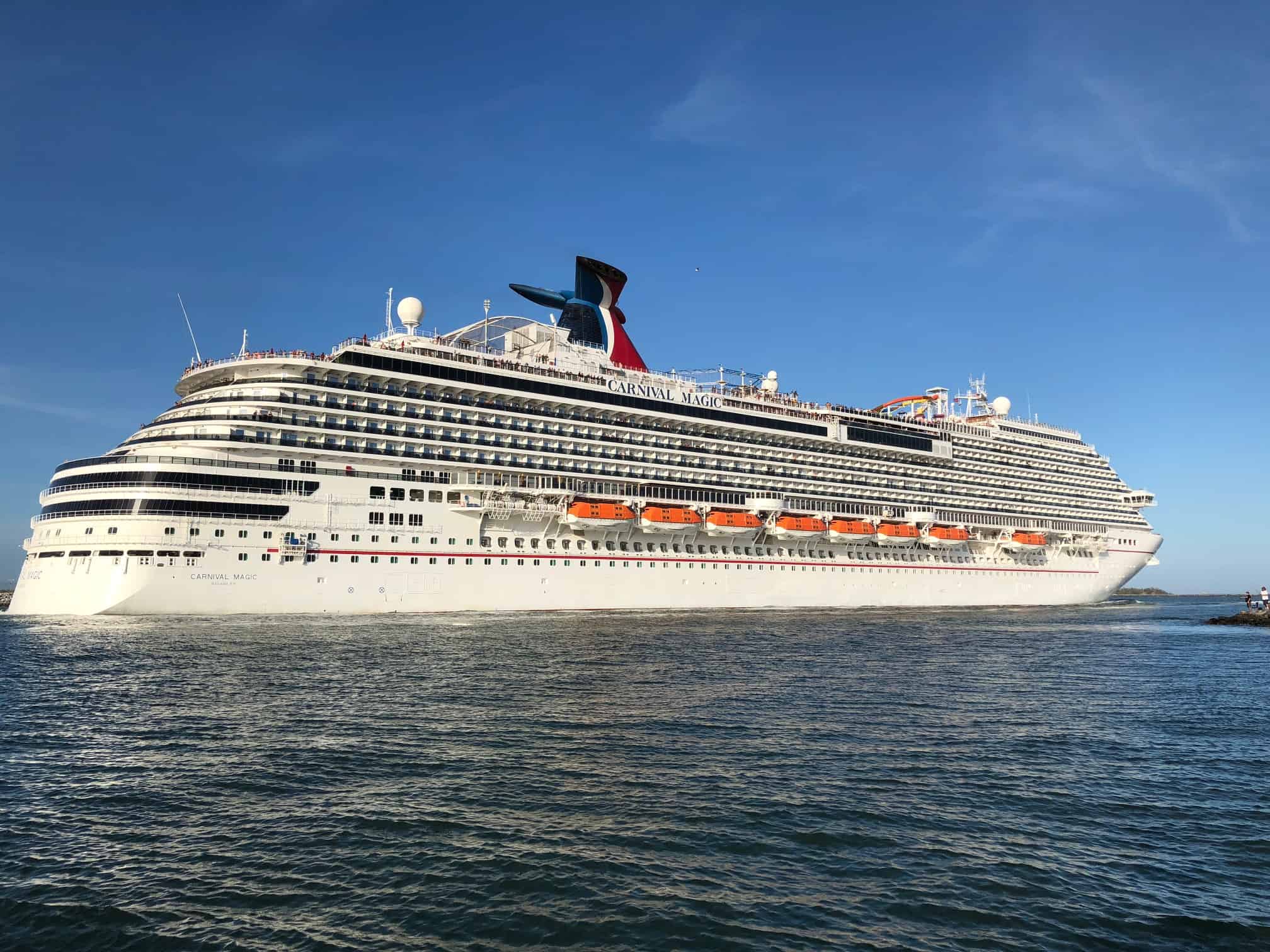 While there's a lot more Carnival Magic coverage coming — including interviews I conducted over the past week, answers to some of your burning questions, additional reviews and more. But for now, this is where I say goodbye and thank you for joining me, if only vicariously, on this journey.  I also want to send a shout-out and a "thank you" to Carnival's brand ambassador John Heald, comedian Al Ernst and the folks who so graciously put up with me as I tagged along on John Heald's FFS Cruise.