Well, it's our last day on the Carnival Magic and, as it happens, it's what Carnival calls a Fun Day at Sea. Wanting to make sure I didn't sleep this whole day away, I went to bed with the curtains open so that the sun would serve as my alarm clock. As a result, I woke up around 8 a.m., just in time to head for one of my favorite meals: the Sea Day Brunch. During the week's previous sea day's, I'd missed the brunches because I was attending events hosted by John Heald. So this was my big chance to dive in and make up for it.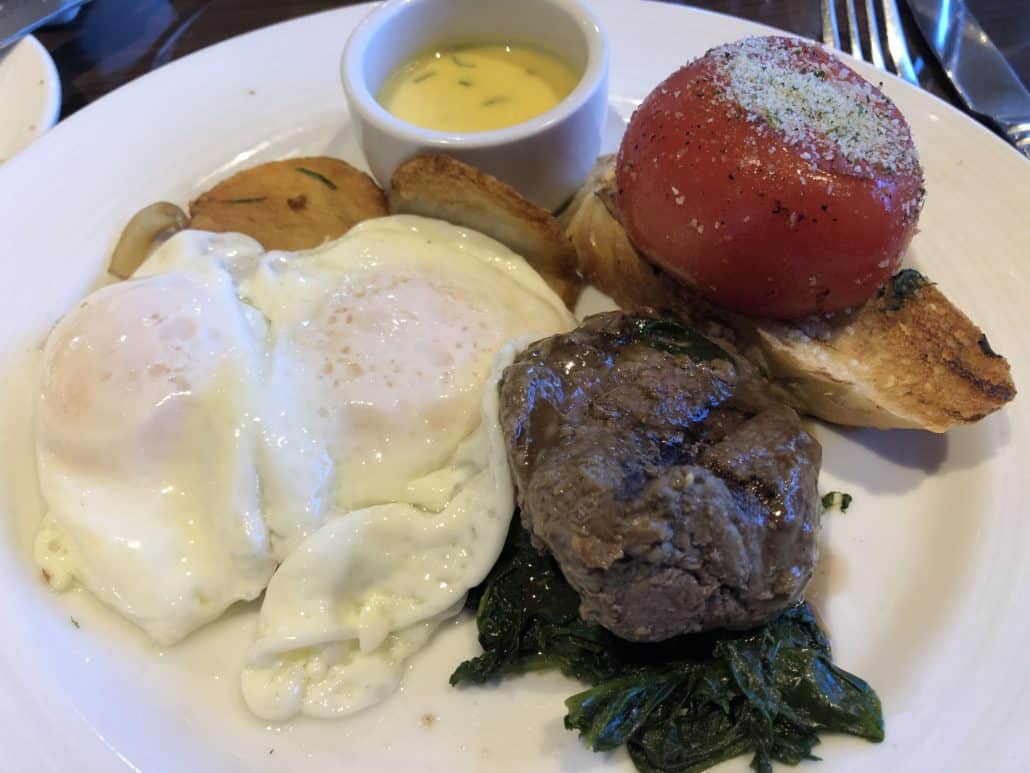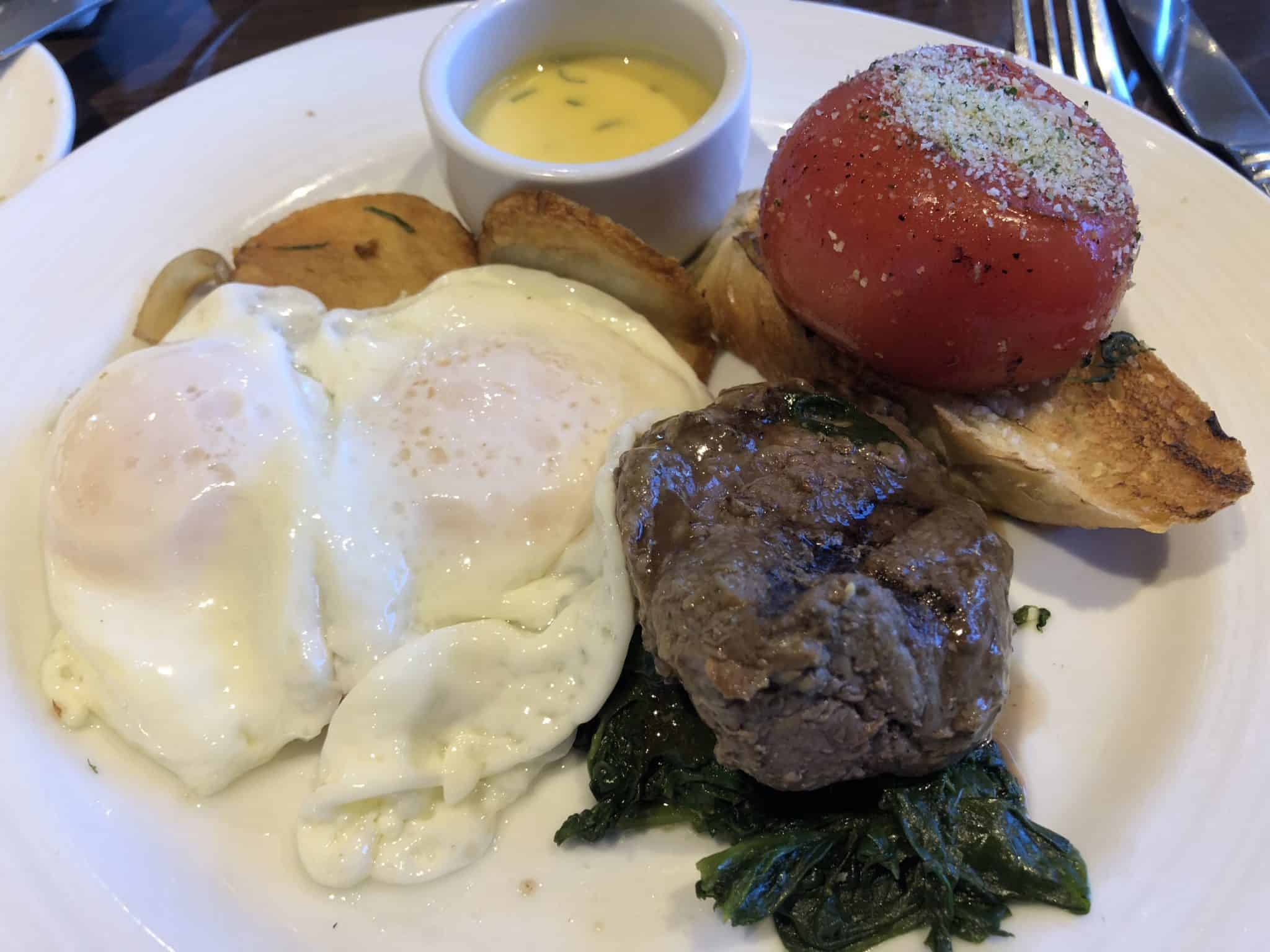 Aboard the Magic, brunch is held on the first floor of the Southern Lights dining room toward the aft of the ship. While there was a line when I arrived, it moved pretty quickly. Once seated, I went with the flaming tomato soup as a starter and the steak-and-eggs main course. Although the banana cream pie (and possibly the cheesecake) were calling my name, I decided that, given how much I've eaten this week — and how many more opportunities to do so were still ahead —  I should skip dessert.
Brunch was only barely over when I began facing the next great food conundrum: What would I have for lunch? (As you can see, I spend a lot of time on ships dealing with self-created food-centric crises.) Did I want a Guy's Burger? Maybe something from Mongolian Wok? Oh, and what about the always delicious BlueIguana Cantina? While each of these options was viable, I think any longtime reader knows that in the end, BBQ was going to win out.
Time For Another Meal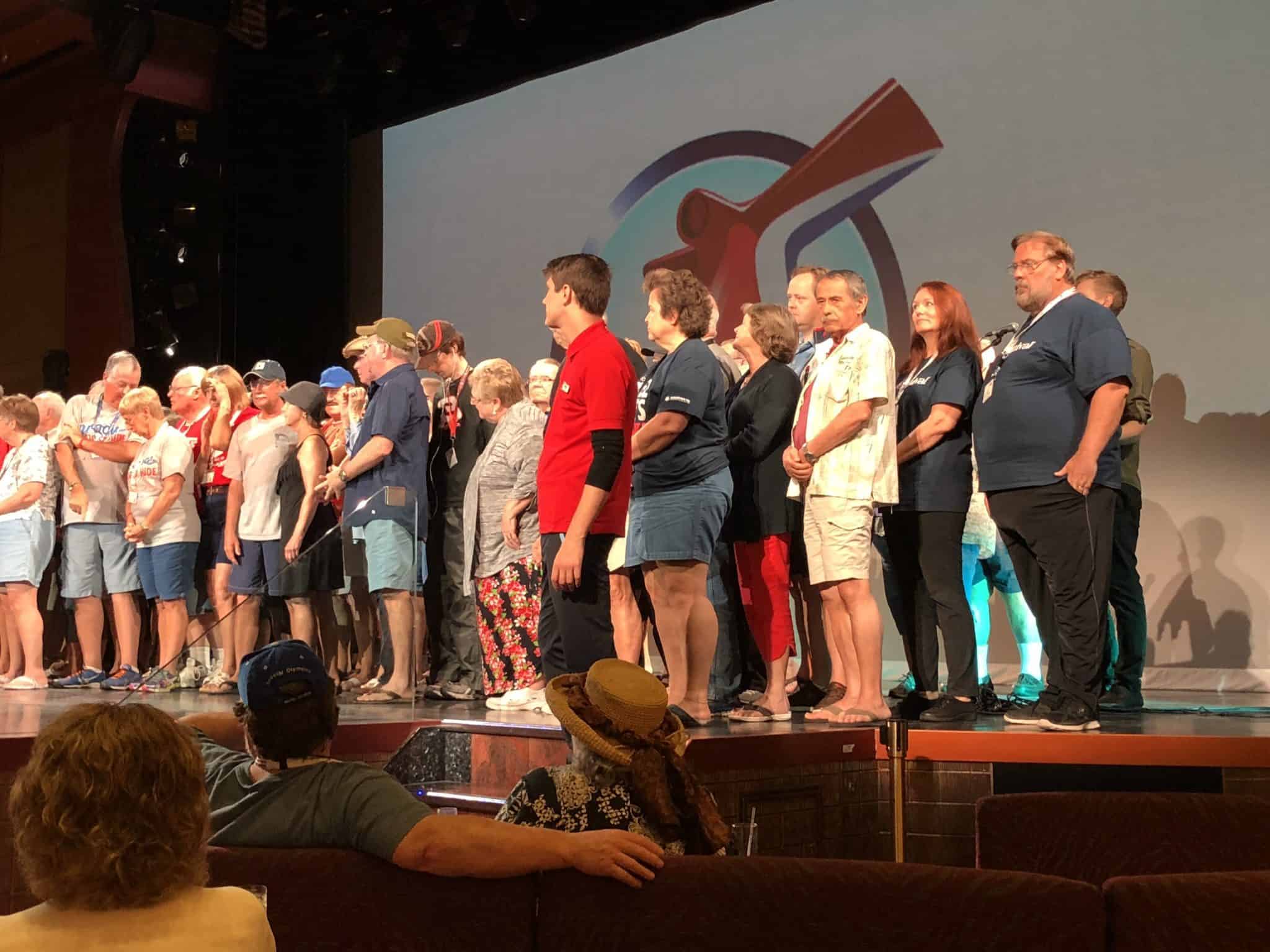 Because the Welcome Back party — Carnival's way of thanking platinum and diamond-level cruisers for their loyalty — was at 11:45 a.m.,  I wanted to be the first in line at Guy's Pig & Anchor so I could eat my food and get to the theater for the big event. As it happens, there were only a few people in line at Guy's, so I needn't have worry. I can only assume that either everyone was upstairs chowing down on one of the food options I'd rejected, or maybe they'd eaten so much this week that they were easing into the afternoon/evening. Either way, it worked out well for me, because there was virtually no line at all.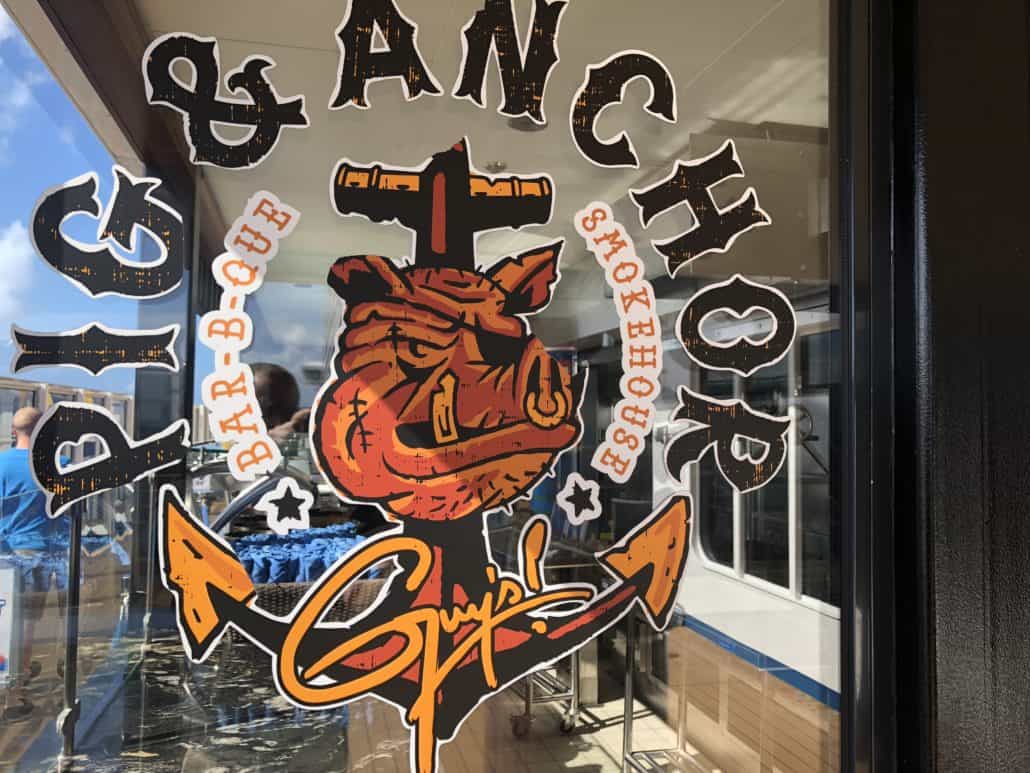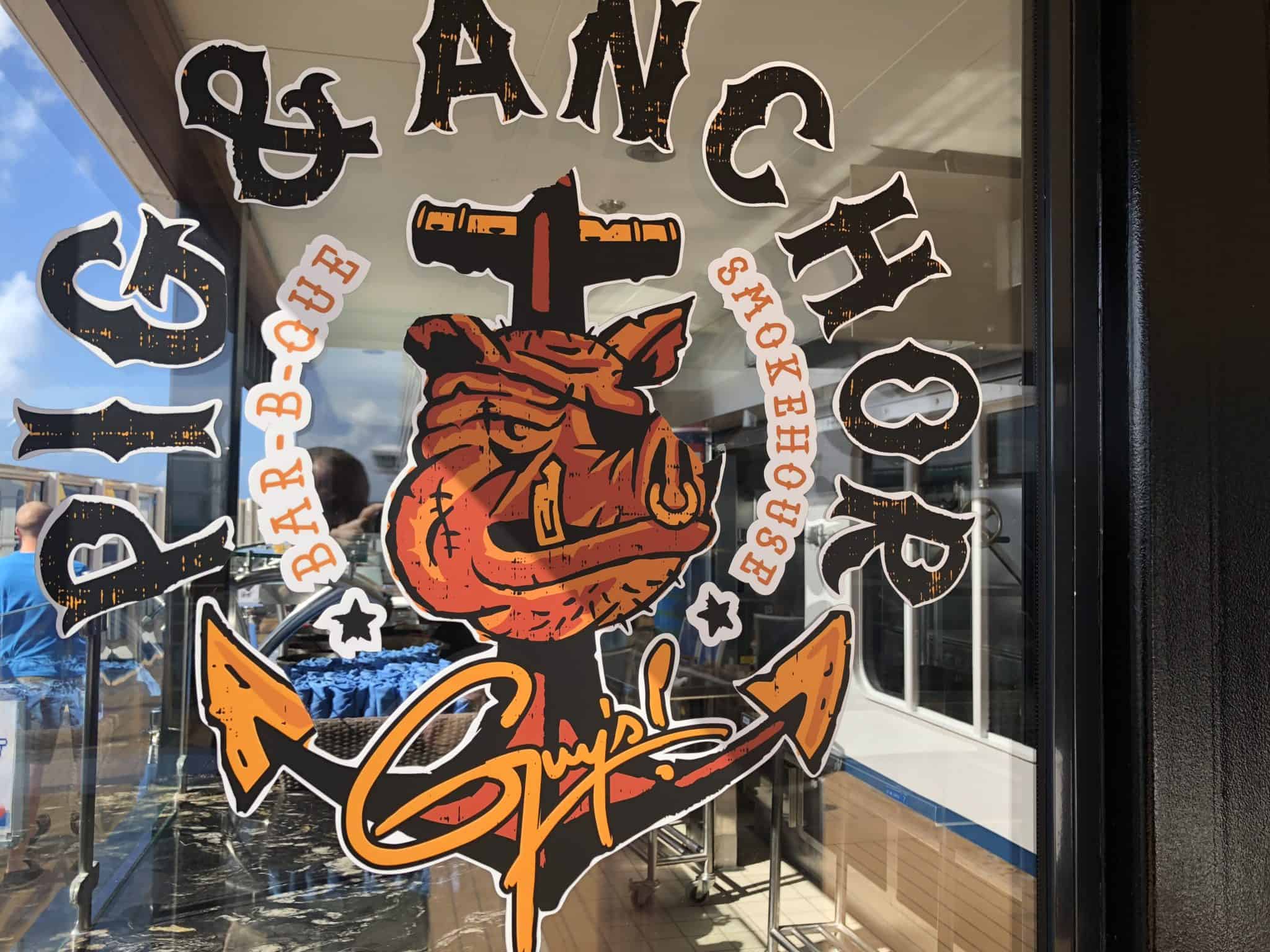 Fun fact: Although deck five wraps around the whole ship, no one ever hangs out at the very back. Occasionally you'll see a jogger go by, but during the day the only time people are really on deck five is if they're enjoying the hot tubs, sitting outside the RedFrog Pub or Ocean Plaza, or in line for Guy's Pig & Anchor. So this is a great place to spend a little time if you're looking to escape the more crowded areas of the ship… or just hide out from the loved ones you need a break from.
Welcome, Welcome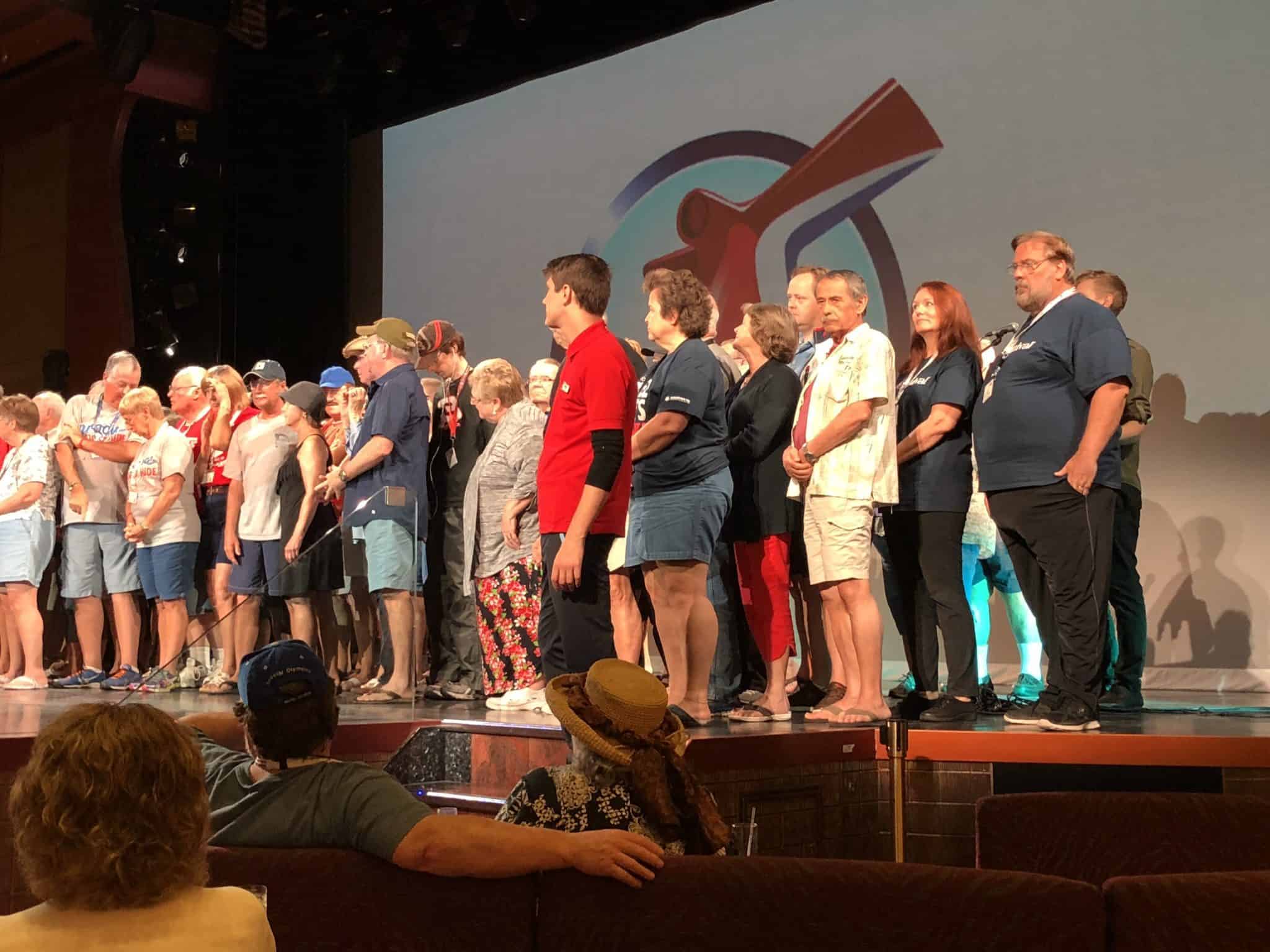 At the Welcome Back reception, I learned a couple of things. The most important: You don't have to drink the Fun Ship special, or the red and white wine offered. You can basically order two of whatever it is you prefer to drink. Armed with this new (and extremely valuable) information, I ordered a Tito's and vodka (and then another!). I suspect the servers actually prefer people opting to order at the bar, as it means they aren't mobbed every time they walk in with a tray filled with glasses! They also had various appetizers at the party, including sushi, shrimp tarts and pork sliders. All of it was amazing… and yes, I tried it all.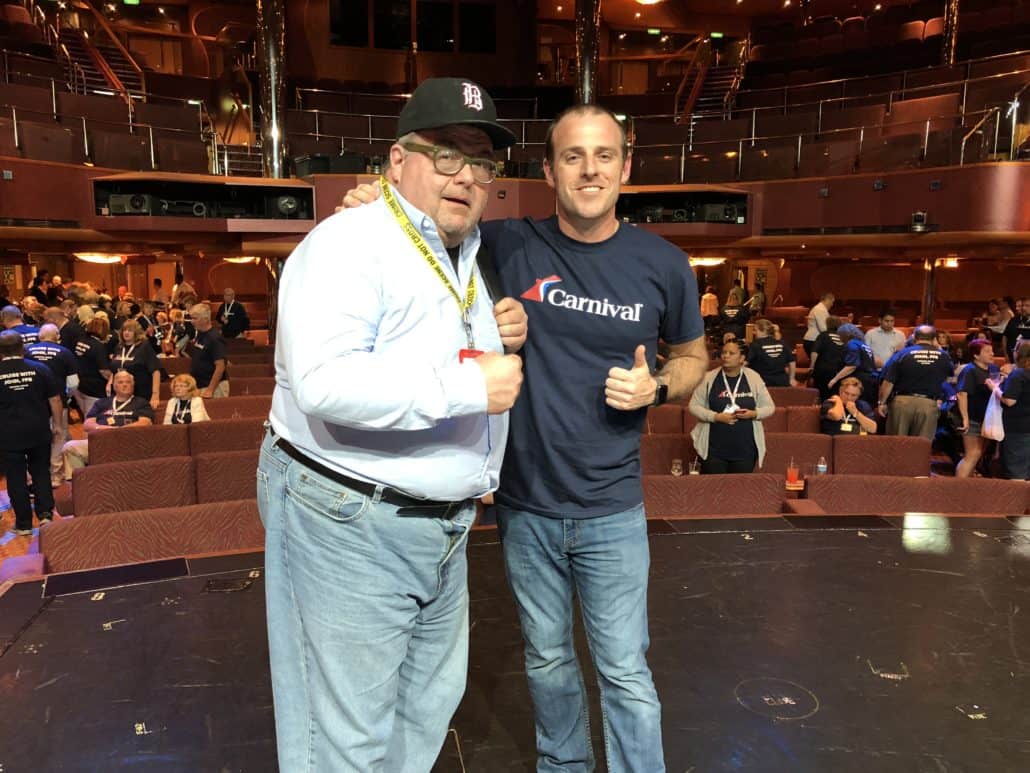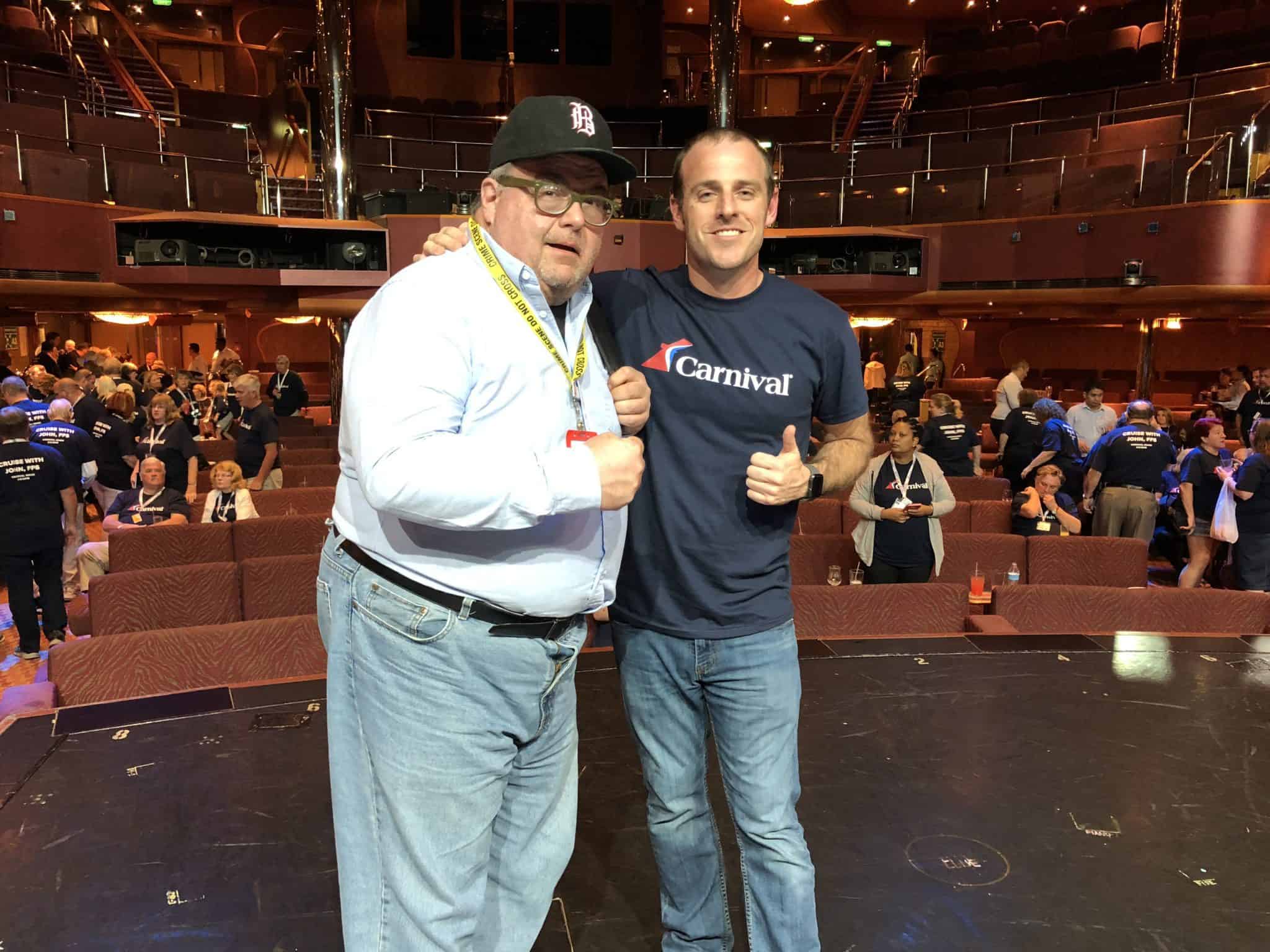 Next up was a 2 p.m. interview I had scheduled with comedian Al Ernst. We got together in the piano bar, thinking it would probably be empty. But there were a few too many people hanging out there, so we went to the back lounge. What I thought would be a quick interview turned into a 45-minute chat during which Al told a lot of great stories and answered some questions from listeners. Look for the interview to be posted soon.
At 3 p.m. was afternoon tea time and I thought that I would be able to make it but by the time I did, people were leaving. I did get there just in time to hear to a guy freak out because he was, as he obnoxiously and repeatedly pointed out, a diamond-level cruiser and yet could not pick his own table. He vowed to write "a strongly-worded letter." Good luck with that, sir.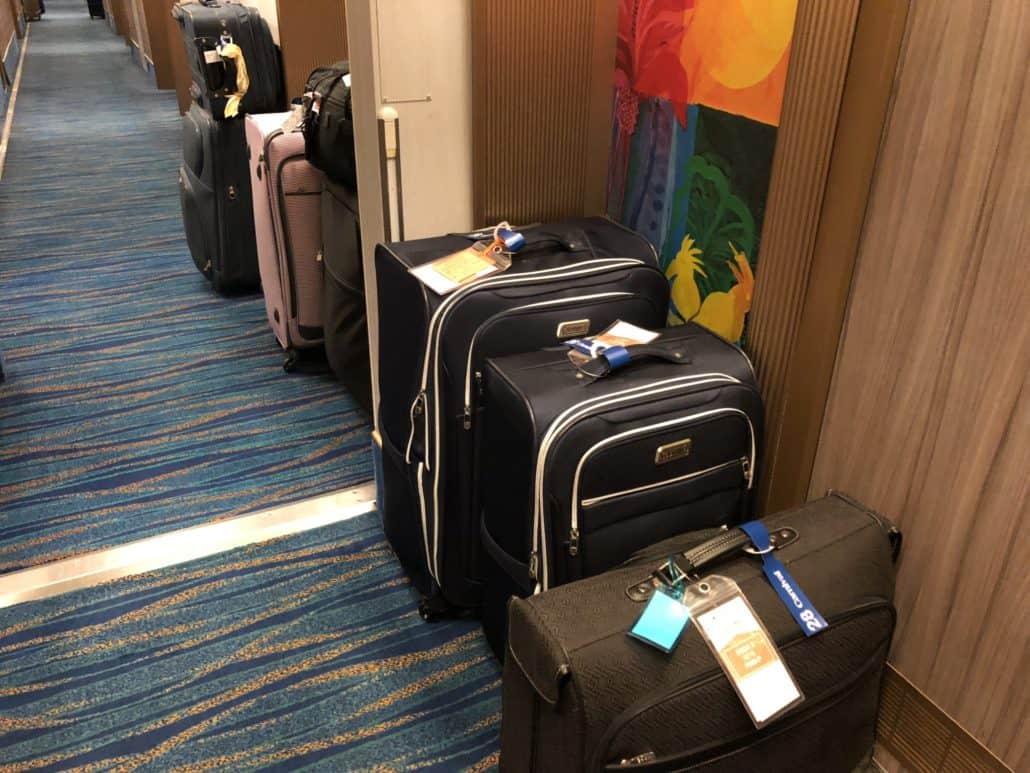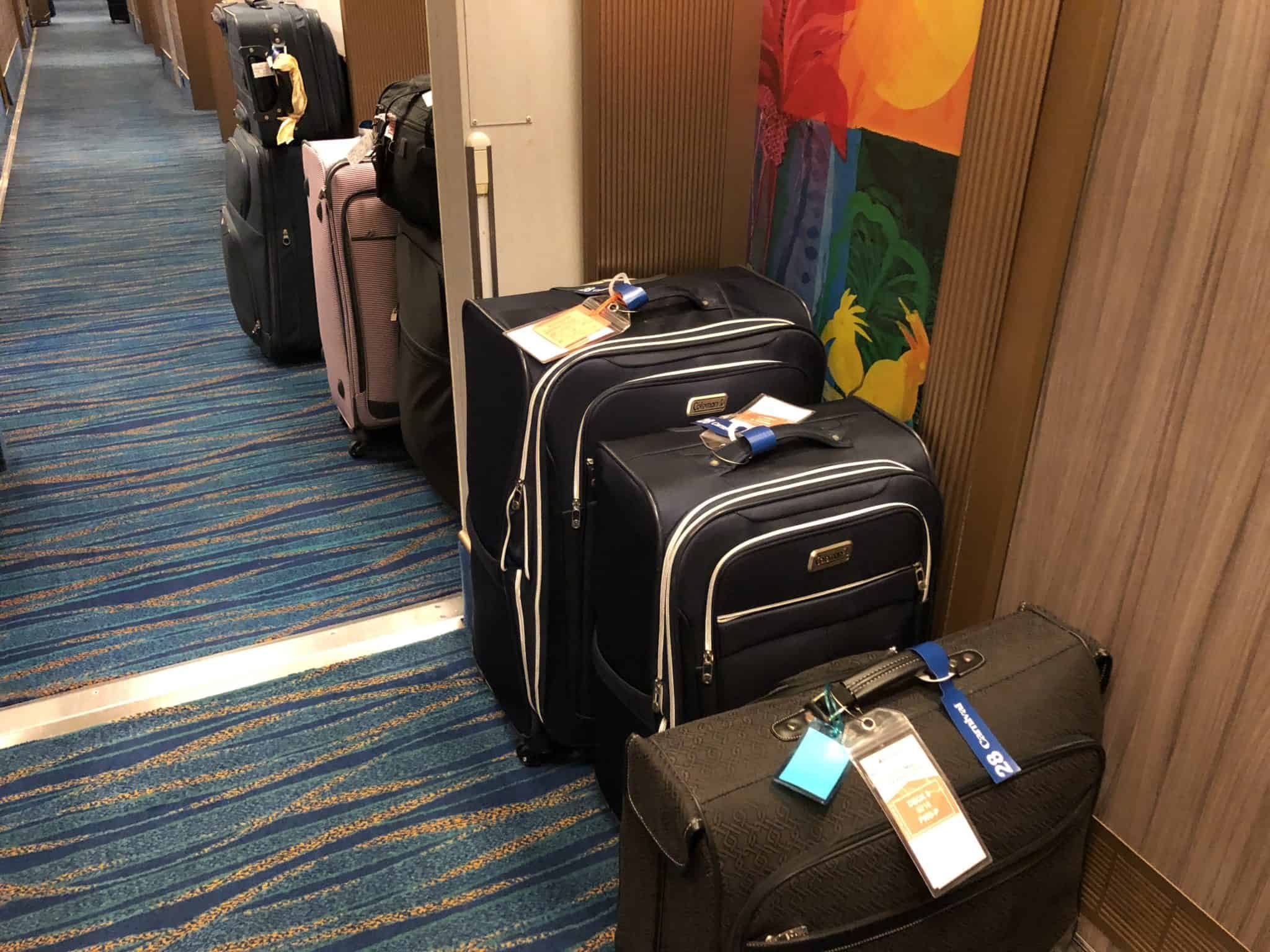 Wanting to pack since we'd be getting off the ship tomorrow, I headed back to my room, where I quickly came to a few conclusions. The first? I packed way too much. The second? Despite my having packed more than I could possibly have needed, my stateroom easily accommodated all of it. There was plenty of storage space. Yes, I was traveling solo, but there was a ton of storage space. Also, I realized that I never once turned on the television. Actually, strike that… I did turn it on once, but only to check out our location on the navigational map.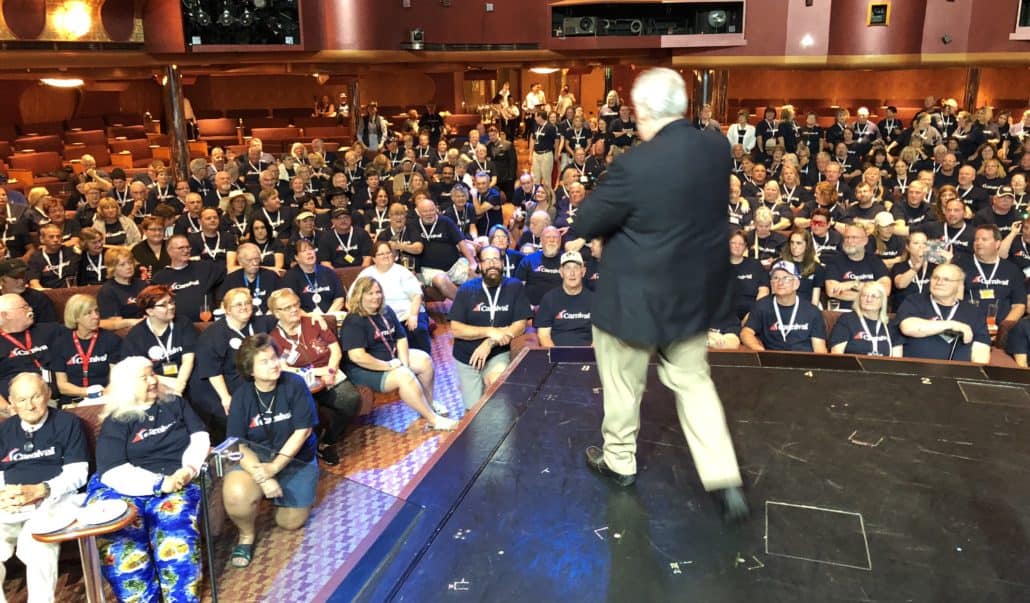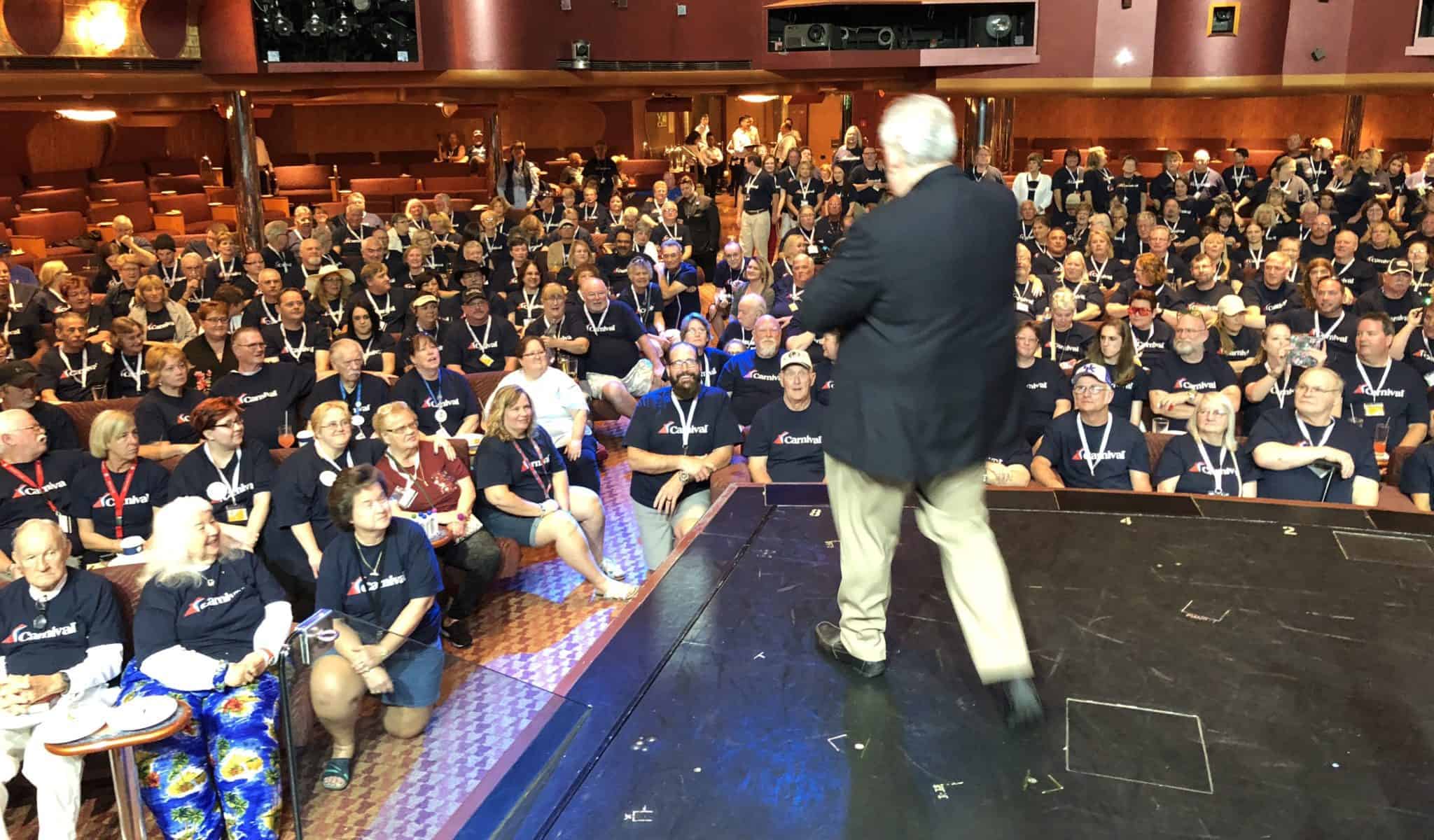 John Heald's Farewell Party was very similar to the Welcome Aboard Party held a few days earlier… although this time there was a group photo taken, and they announced that next year's John Heald FFS Cruise will be held on the Carnival Breeze on February 9, 2019.
Food, Food & More Food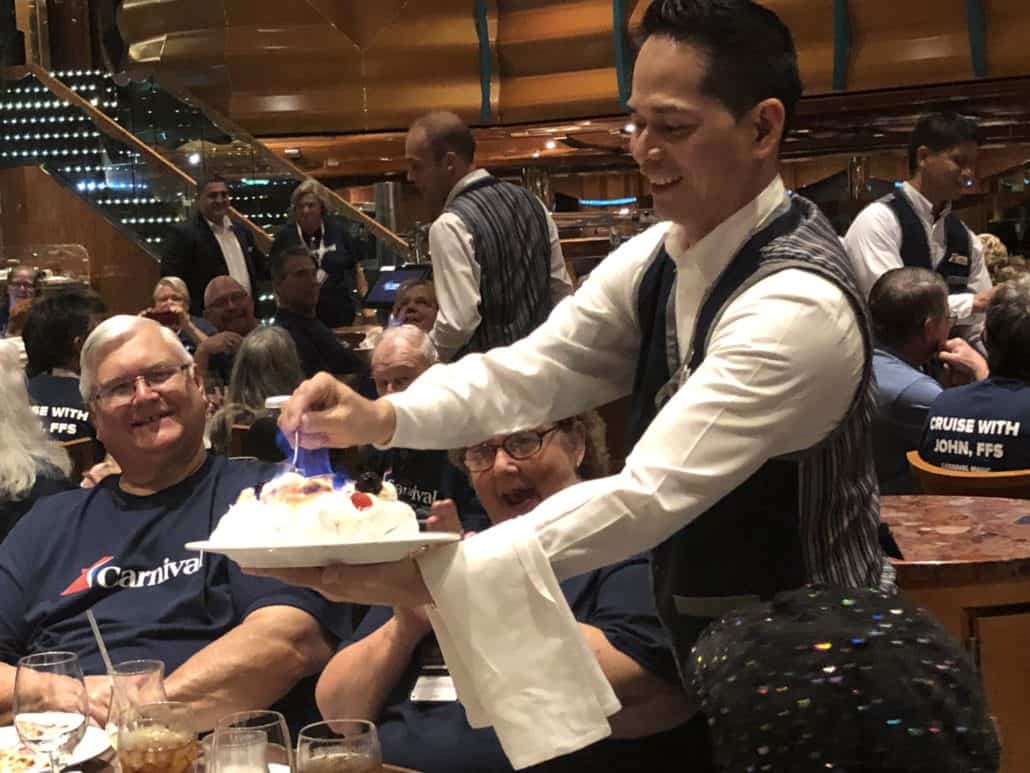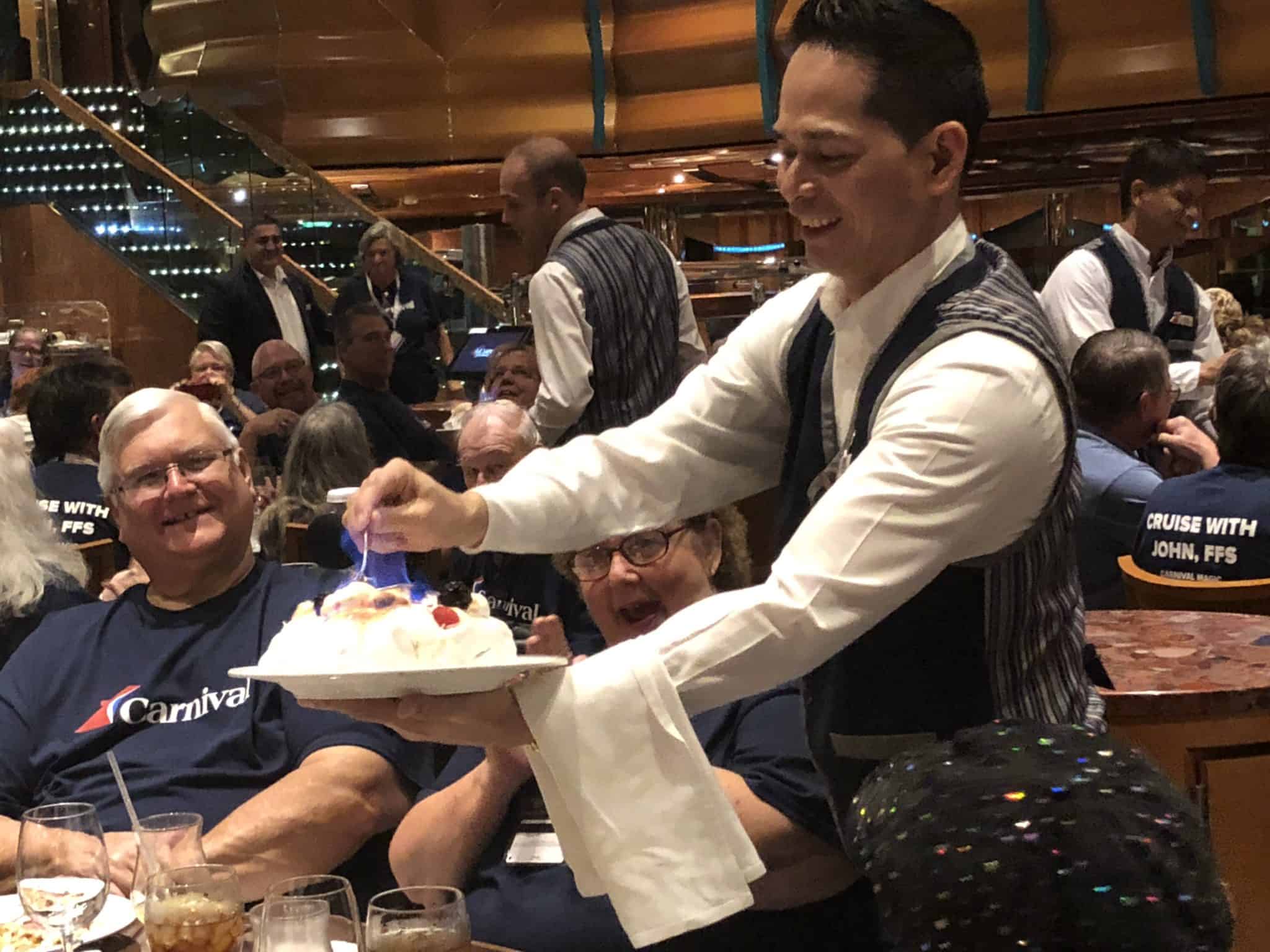 I headed to the main dining room for dinner or — as we dubbed it at our table — The Last Supper. I went with the salmon, although to be fair, calling it a final meal wasn't exactly fair. Why? Well, after the show I went to catch Al Ernst's show and, after doing a bit more wandering around, went to my room. But if you think once there I called it an early night, you'd be mistaken because I decided there was time — and room — for at least a little bit more food. Dialing up room service, I ordered a donut sandwich ($3), wings ($5), and a quesadilla ($5). Stuffed to the gills, I headed down to the casino to cash out my (not-so-big) winnings before heading to bed for one last peaceful slumber. I'll show you the room service tomorrow, I really need to finish packing!
Until tomorrow's dreaded d-word (disembarkation), good-night.