They say it's a woman's prerogative to change her mind, and Mother Nature is no exception. This morning, the weather was miserable and nasty, and as the Carnival Magic pulled into Mahogany Bay, I was pretty bitter, thinking the whole day was going to be a wash. It was raining so hard that the drain on my balcony couldn't keep up. And thanks to the wind, it was one of those rains that came in sideways, meaning you couldn't even enjoy sitting on the balcony to watch it pour down! And yet… 20 minutes later, a decent sunrise unfolded and a rainbow crossed the sky.
Because sometimes, that's just how things go in the Caribbean.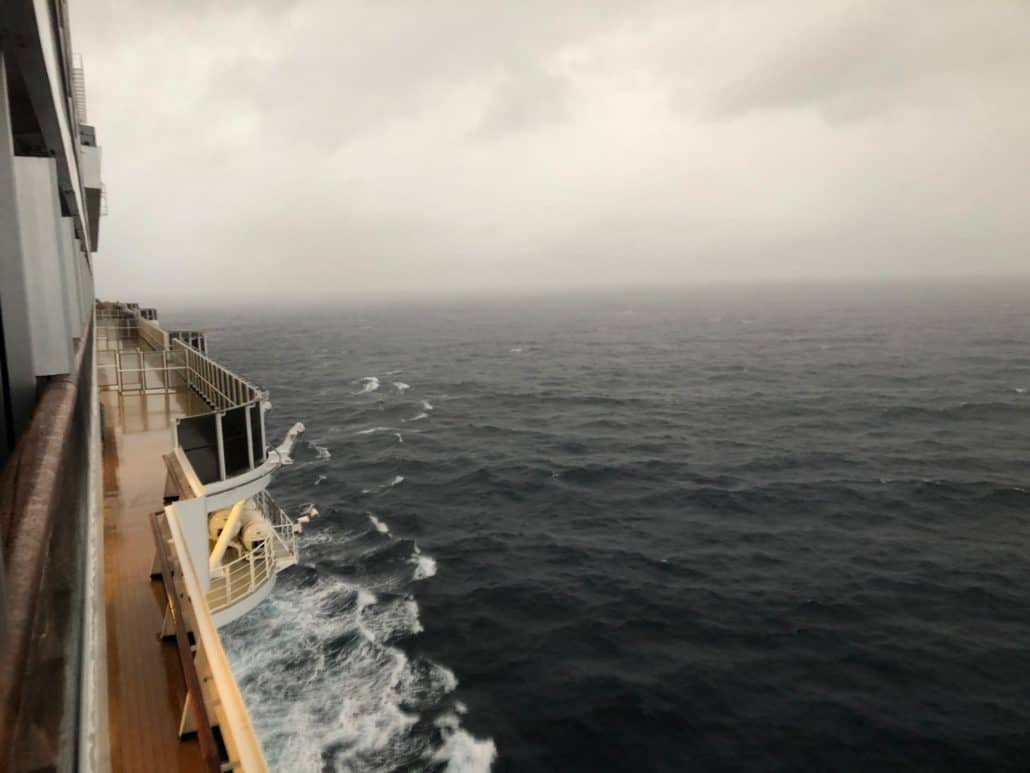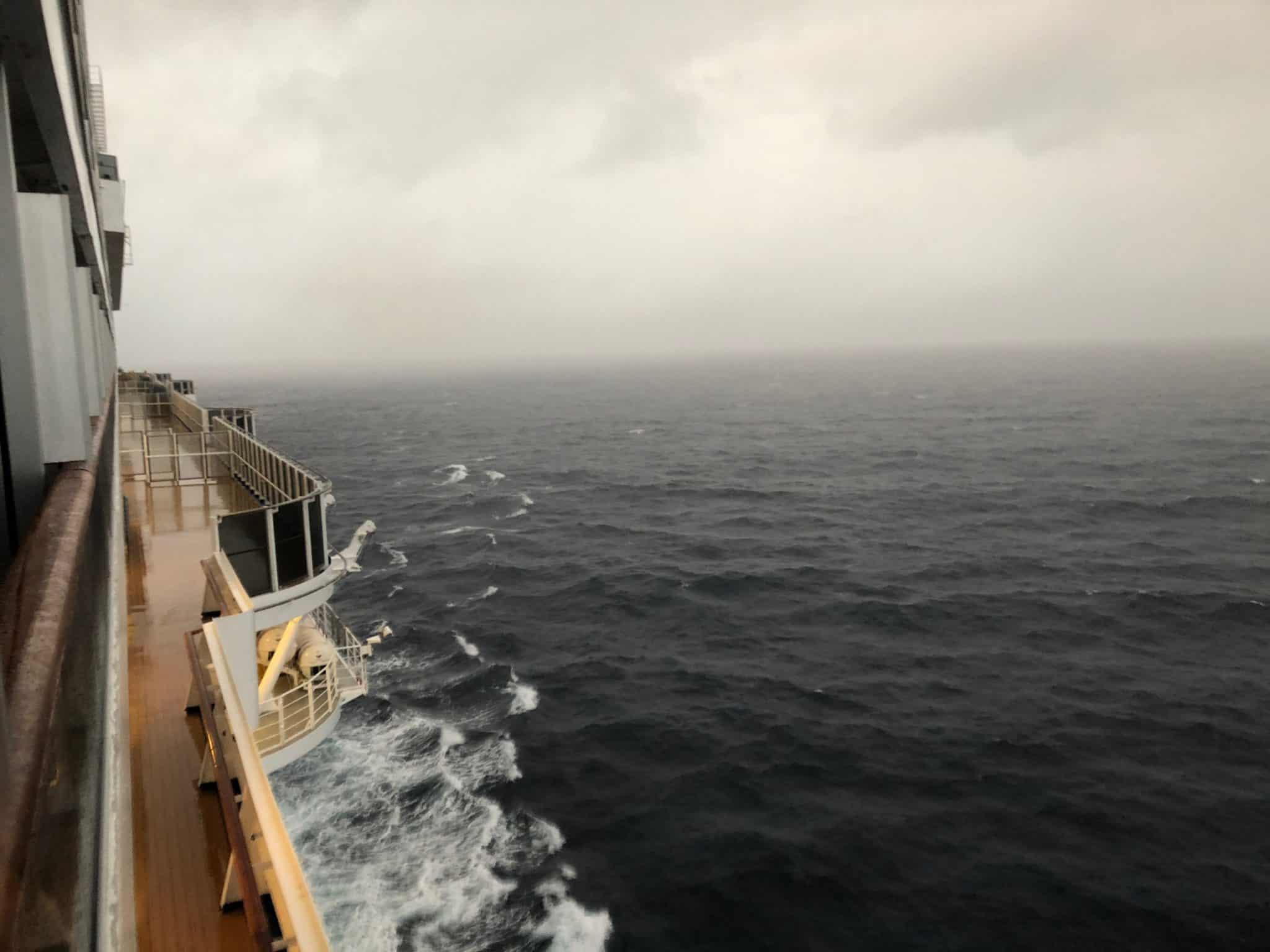 Carnival Magic is one of the ships which has the port day breakfast menu the line began rolling out in late 2017, featuring items such as avocado toast, a broken egg sandwich, vanilla French toast, a breakfast bowl and smoked salmon. I've become a fan of the broken egg sandwich, which is a panini with two fried eggs, bacon, cheddar cheese, greens and a side of hash browns. Unlike the dinner service, this morning's table service was pretty quick. (Of course, that's sort of the point of the new port-day menu… to get you in and out as soon as possible so you can enjoy your excursions.)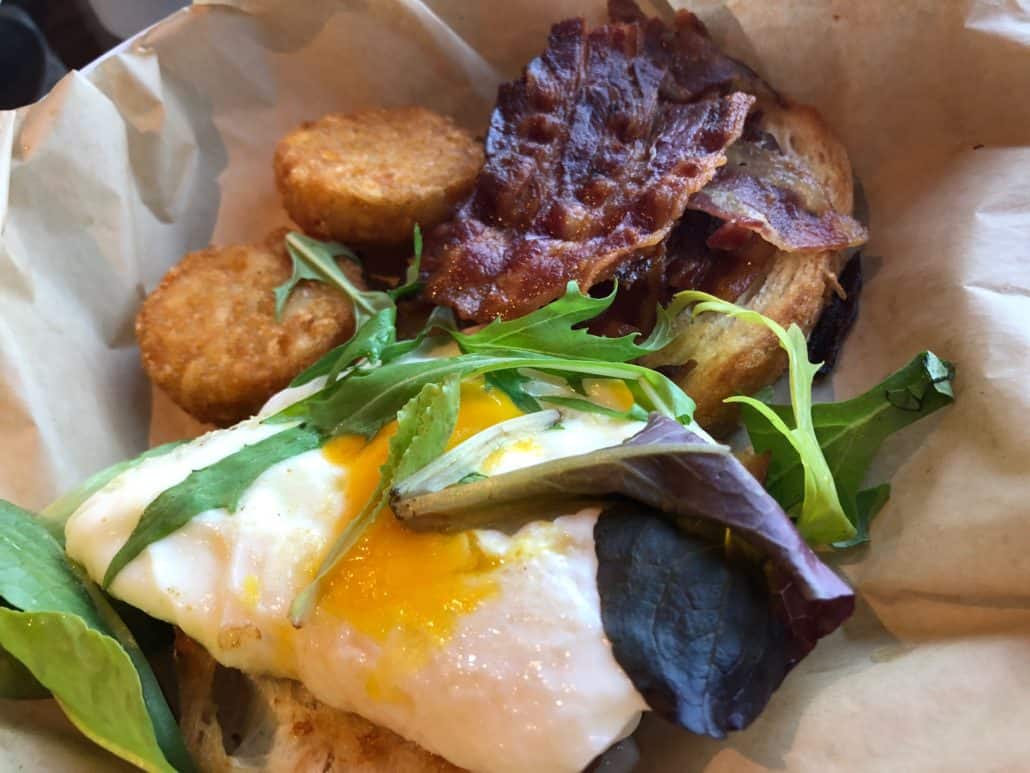 Morning Fun with John Heald
Last night was a signature John Heald event called Cigar's Under the Stars where his group took over the Serenity deck from 10 p.m. until midnight, smoked cigars, ate Jamaican patties, and sipped whatever one sips while smoking cigars. Brandy, maybe? I crashed out after the show, so I missed it, but a lot of people went. Listening to the buzz around the ship this morning, I really regret having slept through what sounds like a very fun night.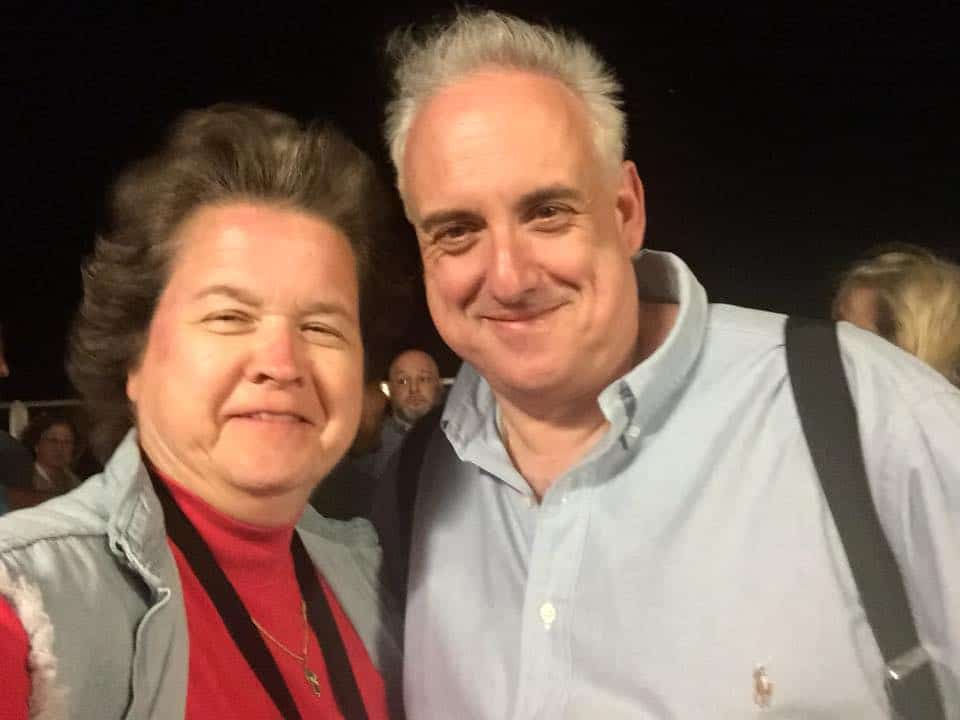 Heald held another chat session this morning at 9 a.m., but with my excursion starting at 9:15, I was only able to pop my head in. A guest kicked things off by singing God Bless the USA, and she had everyone on their feet. This morning's special guest was comedian Al Ernst, who's very popular with John's followers. I haven't yet had a chance to catch his act, but I'm hoping to later this week. What followed was sort of a chat between the two funny men, very casual with no real agenda.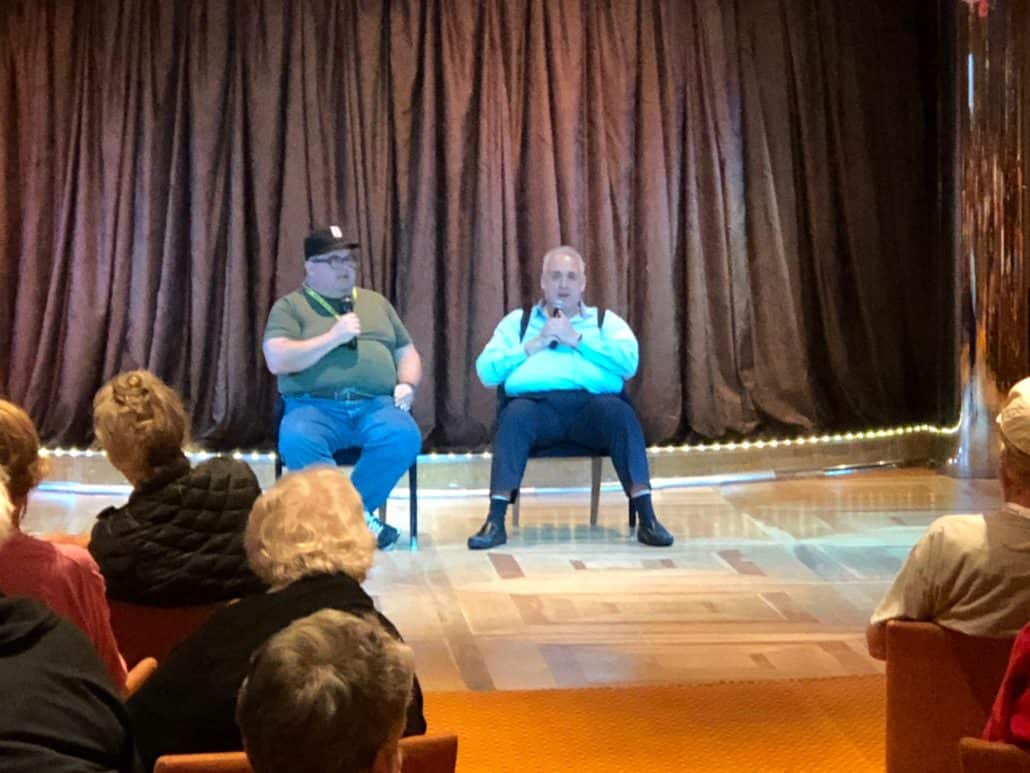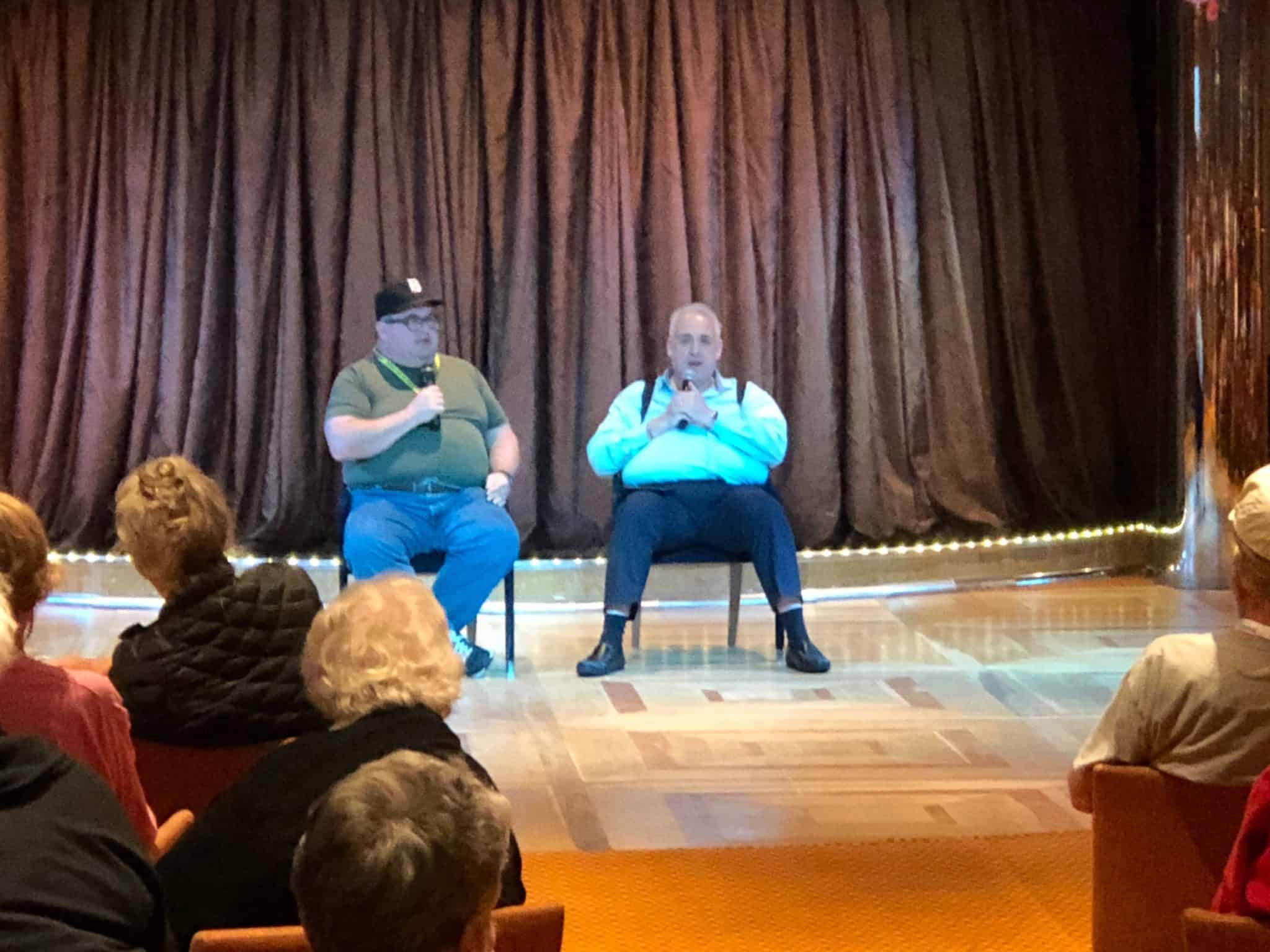 As we were getting off the ship, Holland America Line's Rotterdam was docking for the day. It's nice being the first ship in because you have run of the place and don't have to deal with the crowds which will form as other ships arrive.
Little French Key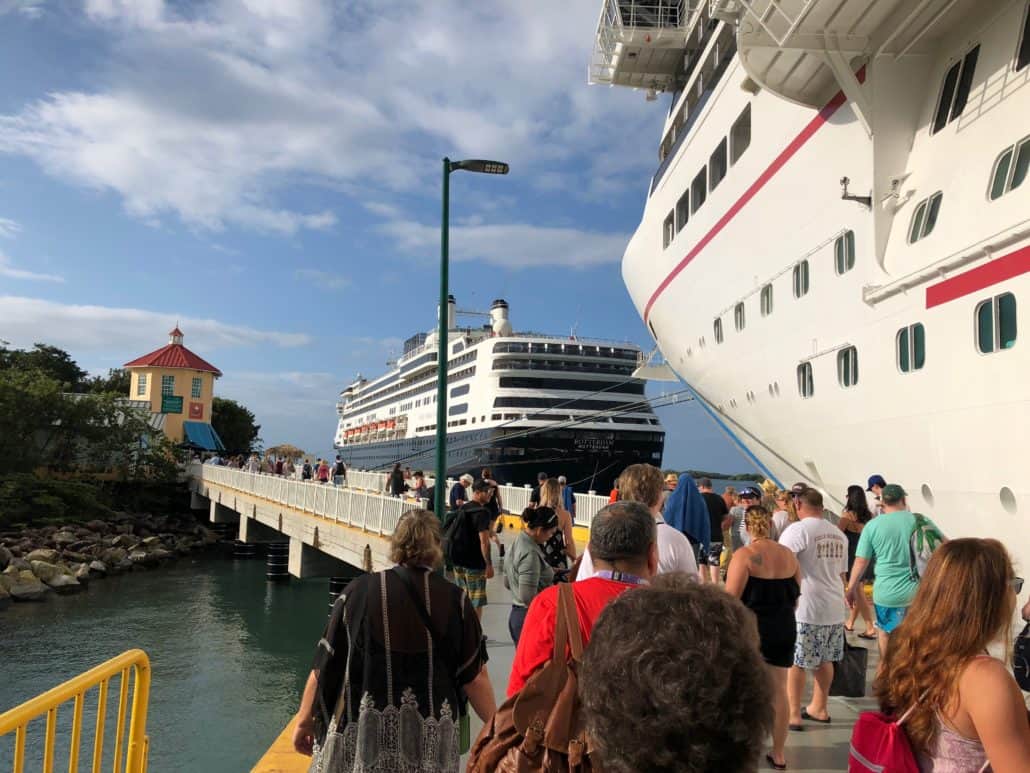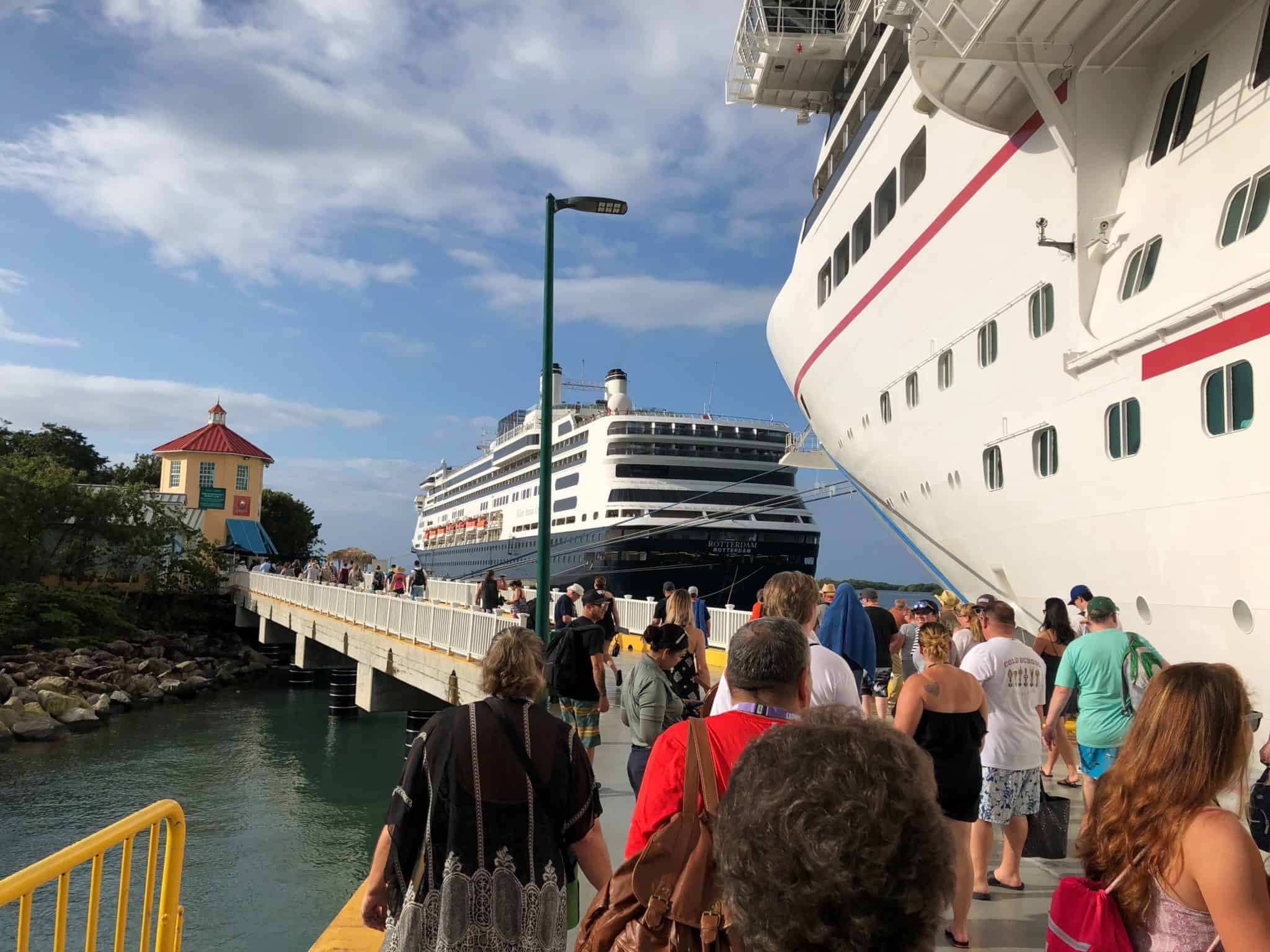 Our excursion today was about 20 minutes away from the cruise port at Little French Key. I'm going to do a full review on this later, but the highlights included swimming with a Jaguar, jumping off a high dive into unbelievably blue water, and being on an island surrounded by a reef. The package included two drinks, lunch, use of stand up paddle boards, and you could opt to book other side tours while we were there.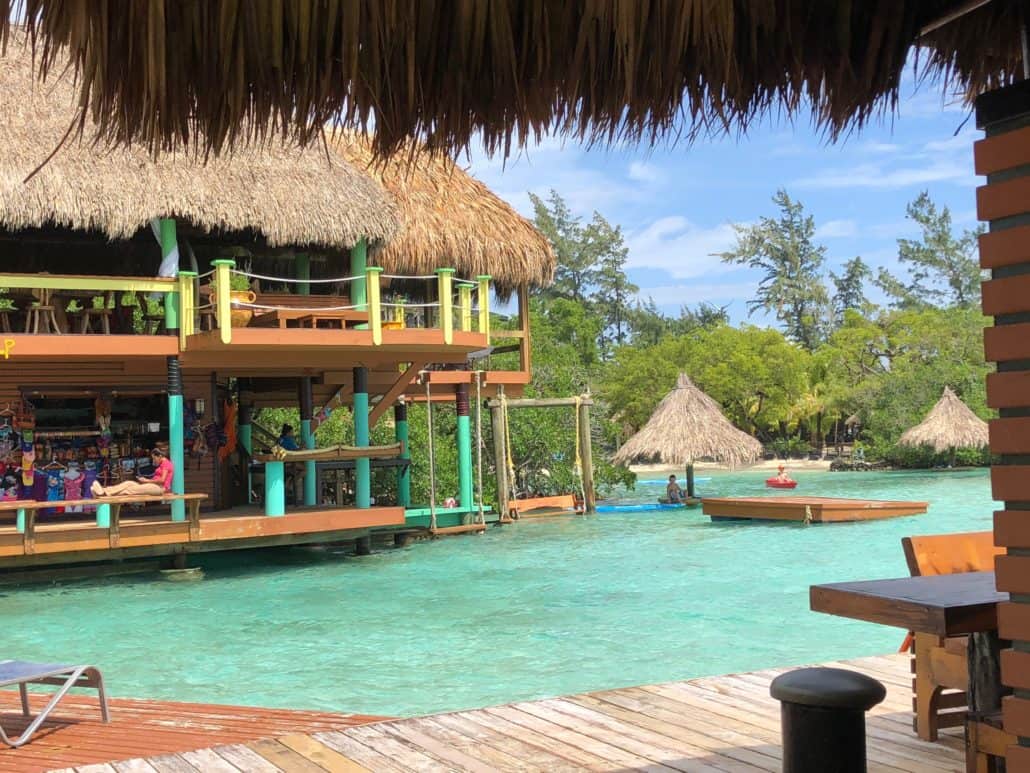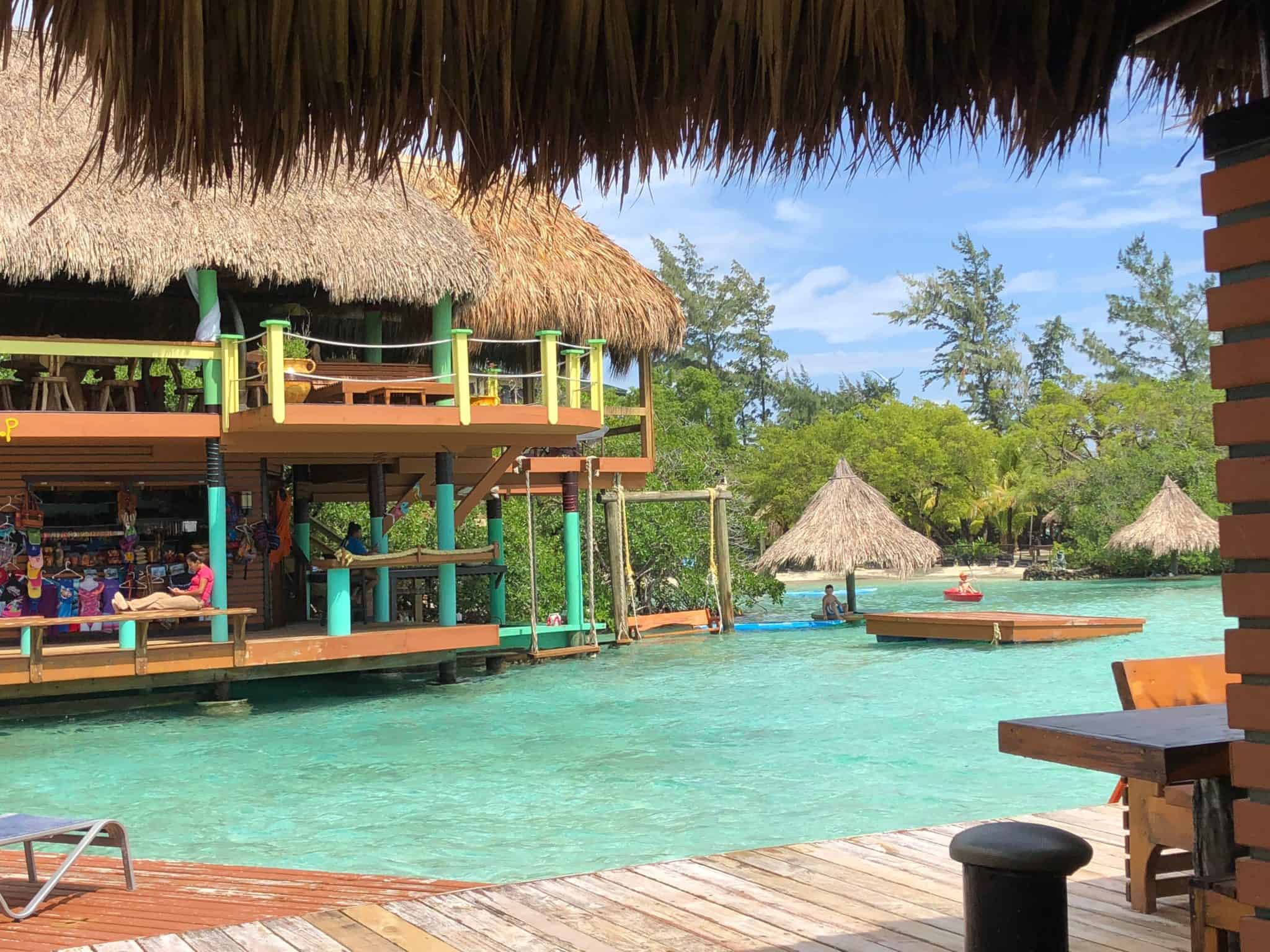 For the first couple hours it was raining on and off sporadically before it eventually cleared up and turned into a beautiful afternoon. This is one of those picturesque islands with the blue water, palm trees, and cold drinks which make the Caribbean legendary. You can't really ask for a better day.
Back on Board the Ship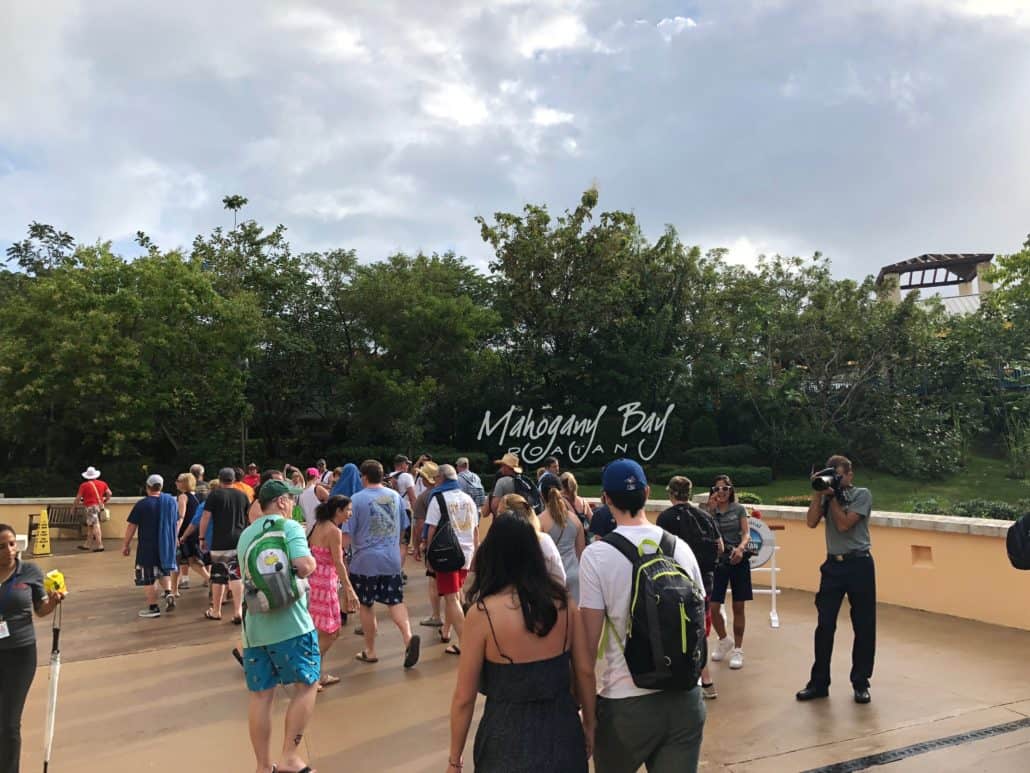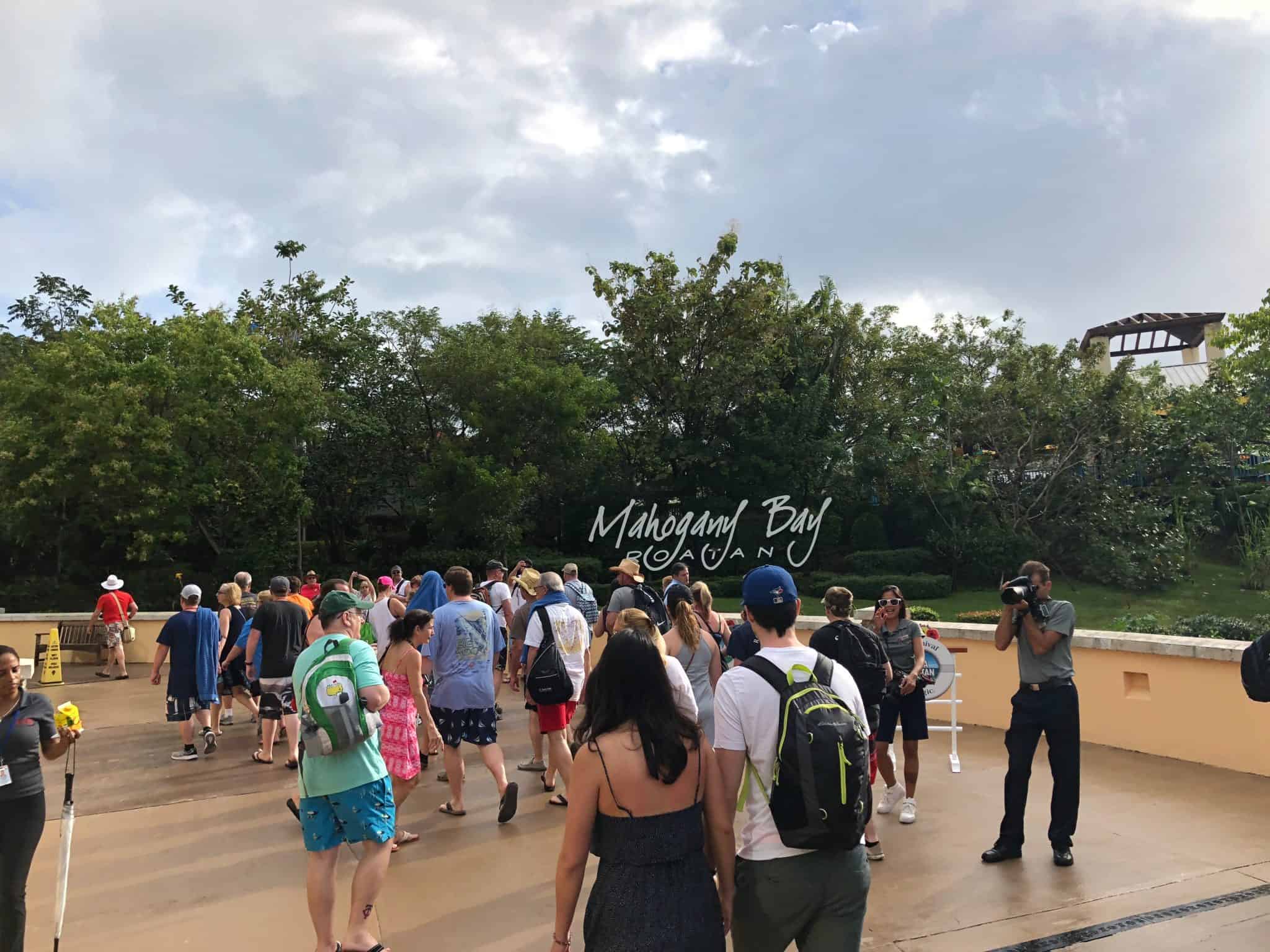 There are 4,100 people sailing this week, but you'd never know it from the crowd flow. Getting on and off the ship is a breeze. When we sailed Vista in December, sometimes it took over 30 minutes to get back onboard because of the long lines. With the Magic this week, you can basically walk right up one of two gangways, scan your card, go through security and you're good to go.
I got back onboard at 4:30 and headed to the Escape Bar to do a little bit of work, then did a few interviews before heading to the main dining room for dinner.
Dinner Time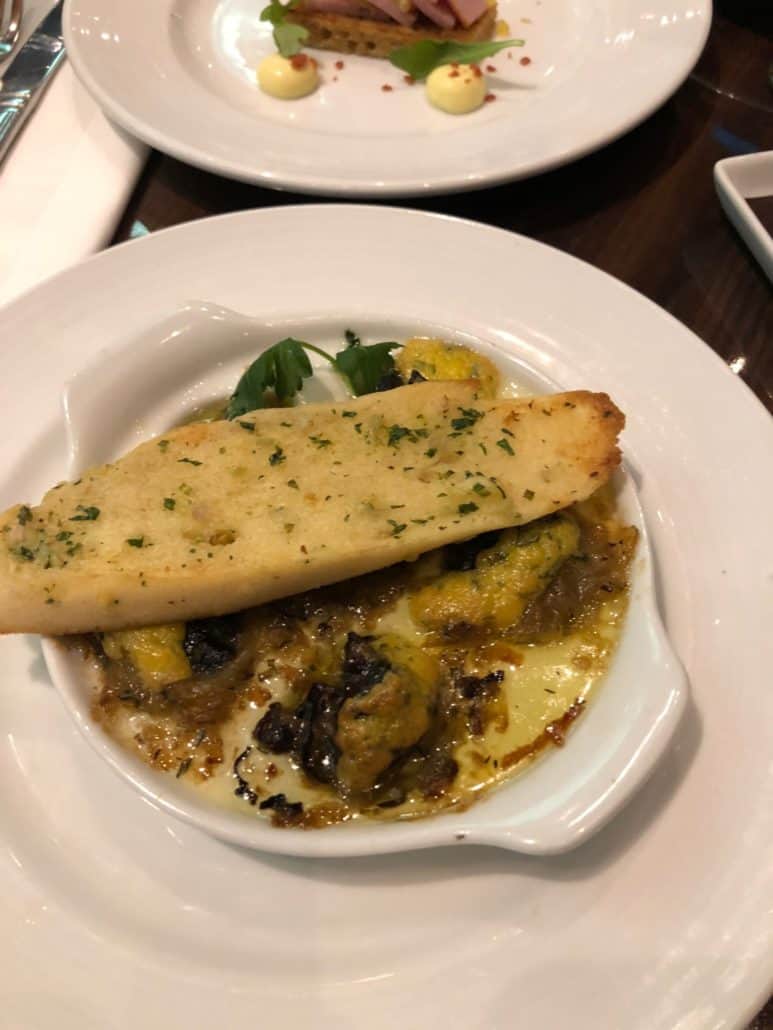 Tonight they are serving escargot in the main dining room and that is always one of the highlights of the cruise for this snail lover. I'm sure that there's probably no other preparation of snails that I'd find appealing, and I definitely don't want to think about what they look like before being cooked. But when you cover them in garlic and butter, it's one of my very favorite dishes.
Dinner service was a little quicker tonight, in part, I suspect because we made sure to tell the servers that we would really appreciate expedited service so that we could see the evening show. I skipped dessert and was out of there by 7 p.m., considerably quicker than has been our experience on previous nights. I wound up going with two orders of escargot and sliced ham, and a salmon entree with broccoli.
Tonight's Show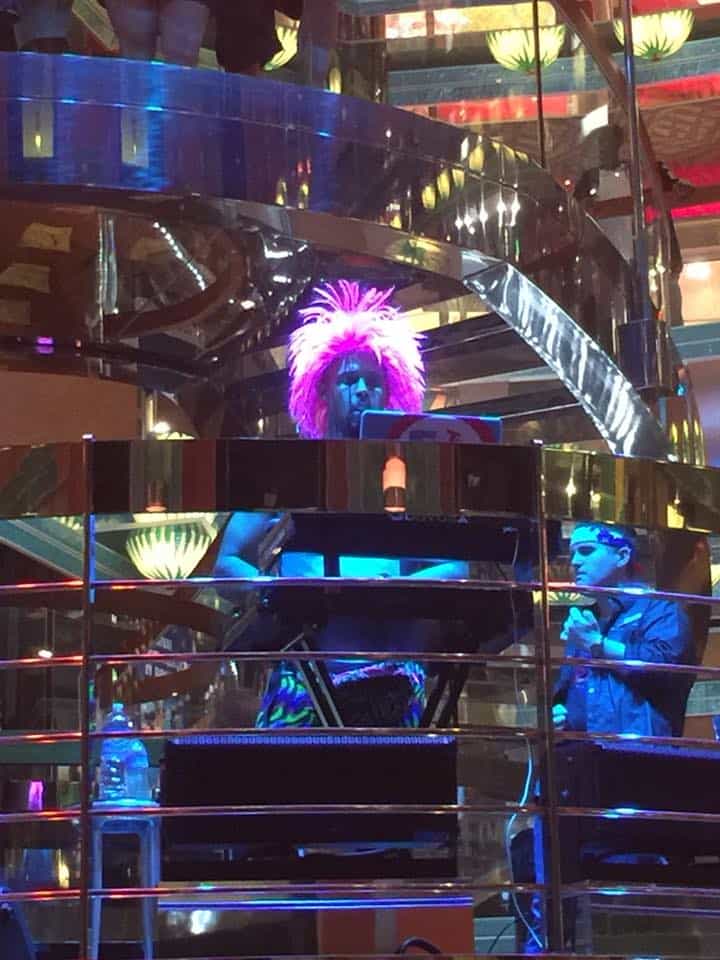 Tonight's show was America Rocks, one of those music-centered productions that take you on a trip through several decades of rock music and feature a live band. It's nice to see Carnival migrating back toward live music as opposed to pre-recorded bands, and I hope it continues. I remember during my 2005 sailing on the Carnival Celebration, they had an entire orchestra which played with the live shows. At the time, I took it for granted, but now I want every ship to have live orchestras!
Immediately following the show there was 70's and 80's trivia in the atrium. The cruise director is an animated guy who just brings every event to life and keeps everyone laughing. Somehow, his dance moves during trivia turned the entire event into a big sing-along.
A listener asked via Snapchat: How is the internet onboard?
It's safe to say that until they make a major change, the internet onboard the ship is only good for the social media plans. And of course, that's something they're pleased with, given that they want you to post to Facebook, Twitter and Snapchat to tell everyone back home what a great time you're having. That's free advertising for them. A speed test on he second evening gave the results of 1 MBPS up and 1 MBPS down.
Now, to be fair, I use the internet for a lot of web-based applications like accessing my website and uploading audio files to my audio server, and those tend to be slow processes on board. But if you're wanting to use the social media functions, you'll be fine.
Also, if you wake up at 4 a.m. — as I often do — and have no competition for the bandwidth, things are going to be much faster than during the day, when things slow down to a crawl. This is the latest I've stayed up during this cruise trying to upload the show by the publication deadline. It's now midnight and my files are 27% uploaded. Fingers crossed…
Tomorrow is Costa Maya and we dock at 6:45 a.m., so it's going to be a late night and an early morning… something tells me I may be dragging a bit tomorrow.